How to sell things on eBay for Beginners: Complete Guide (2023)
Running short of time? Get PDF of the blog in your mail.

Play Now
Starting a journey to connect with people worldwide and grow your business is amazing. Your online shop on Shopify is like a cool place on the internet, and it's a great way to meet lots of potential customers. Websites like eBay can also help you reach even more people and make exciting things happen.
Navigating the eBay marketplace, however, can prove somewhat intricate, especially for newcomers. Knowing how eBay works is super important to sell things there and make the most of its good reputation.
Let's delve into the know how's of selling stuff on eBay for aspiring entrepreneurs as you embark on your digital commerce journey.
The Magnificence of eBay
eBay may be your best option alongside your Shopify online store to take your business global. However, for newcomers, understanding how eBay works can be daunting. In this guide, we'll explore the basics of selling on eBay for beginners. You'll learn everything from setting up your account to optimizing your listings.

How does eBay work for beginners?
eBay is the leading diversified online marketplace, generating a staggering $9.94 billion in revenue last year alone. It caters to two main types of vendors:
New sellers: These merchants are just starting and offer a limited selection at a fixed price.
Experienced Sellers: These are the pros on eBay. They put in a lot of work to find, package, and send items, and they're experts in how eBay works.
No matter if you're just starting or you've been at it for a while, eBay is a big platform where people from all over the world can see what you're selling.
Selling Fees on eBay Marketplace
Making an eBay account doesn't cost anything, but when you sell stuff on there, you might have to pay some fees. Similar to offerings to the eBay deity, these fees come in various forms.
Insertion Fees are levied each time an item is listed for sale. Sellers on eBay usually have a limit of up to 250 free listings every month, but there are some exceptions, like for real estate and cars.
Final Value Fees kick in when a transaction is successfully concluded. eBay claims a humble proportion of the overall transactions. This includes the basic cost, the money it takes to run things, the delivery costs paid by the buyer, taxes, and any other extra charges.
Payment processing fees pop up when buyers use credit cards, debit cards, or other ways to pay. Even when eBay refrains from charging these fees, payment processors might claim a slice. Opting for eBay's in-house payment system incurs an additional fee.

Embarking on Your eBay Journey
eBay is a straightforward affair to start selling on eBay. The eBay website portal beckons you with the 'Register' or 'Sign In' options atop its interface. Signing up is really easy. You only need to give some basic information, and there are no tricky questions.
Creating Your eBay Store
The establishment of an eBay Store mirrors the start of an upscale online store. Here, your merchandise can flourish while strengthening your brand. Your online store should look nice and go well with the stuff you're selling, so it's easy for people to shop.
Having an eBay Store comes with some great benefits. You pay fewer fees, get more free listings each month, and can use extra tools to make your business stronger.
eBay Store proprietors wield specialized tools, lending their products a competitive edge. Personalized eBay profiles and seller IDs evoke professionalism and individuality. Noteworthy perks enjoyed by eBay Store members encompass:
Reduced transaction fees, translating into a healthier bottom line.
Enhanced visibility within search results, increasing the odds of customer engagement.
Access to discounted shipping supplies, enabling efficient order fulfillment.
Full control over the aesthetics of store pages, permitting the infusion of your brand's identity.
Adhering to eBay's Rules
Navigating eBay's thriving marketplace necessitates unwavering adherence to its code of conduct. If you don't follow these rules, your listings might not get noticed, and in serious situations, your eBay account could get suspended. Several rules are self-evident, yet others may elude casual observation. The cardinal directives encompass:
Prohibition of illicit items, including controlled substances, counterfeit merchandise, and recalled products.
Exclusive use of original imagery for product listings, dispelling reliance on external sources.
Conduction of all transactions exclusively within the eBay ecosystem, eschewing off-platform agreements.
Prudent reservation of order cancellations as a last resort.
Punctual dispatch of orders in alignment with stipulated timelines.
Diligent response to buyer concerns, ensuring satisfactory issue resolution.
Being honest and clear in your product listings is important. Don't include extra contact info, outside links, or wrong details.
Understanding eBay's Restrictions on New Sellers
eBay has certain limits for new sellers to make sure everything goes smoothly. When you first start, you can only list up to ten items each month, and you can't use all the eBay listing tools until you've been selling for 90 days and have received ten positive feedbacks from buyers.
While these rules might seem strict, they're in place to make sure everyone has a good experience on eBay. Once you've proven yourself as a reliable seller, you'll be able to list more items.
Selecting Your Products for eBay
The choice of merchandise for your eBay inventory is a pivotal decision. A multiplicity of paths presents itself:
Staying on Top of Trends: Make sure your products match what's popular on eBay by keeping an eye on their trend indicators. Sell things that people really want.
Using Terapeak: Use Terapeak's analytical tools to figure out when certain products are most popular during the year. This way, you can time your sales just right.
Selling Secondhand Items: eBay started as a place for buying and selling used stuff. Take advantage of this tradition by selling things like used electronics, vintage clothes, video games, and rare books.
Appealing to Collectors: Build a following of enthusiasts by offering rare collectibles, whether it's coins, watches, or stamps.
Vintage Goods: Embrace eBay's history by selling vintage items, from old records to timeless memorabilia.

Setting Your Product Prices for eBay
On eBay, sellers enjoy the liberty of establishing their eBay sales pricing strategies. This undertaking bifurcates into two distinct avenues:
Option 1: The Online Auction
Auction-style listings on eBay are like exciting contests where buyers compete by placing bids. Sellers start by setting a minimum price they want, and then buyers try to outbid each other. The person with the highest bid wins the item. This format works well for rare and highly wanted items, creating excitement and competition among buyers.
Option 2: Buy It Now
Another way to list items on eBay is called a fixed price listing, which is similar to a regular retail store. Buyers can buy the item right away without going through a bidding process. This "Buy It Now" feature is great for items that people usually buy regularly or items that are widely available.
Payment on eBay caters to buyer preferences and accommodating:
Apple Pay
Credit and Debit Cards
eBay Gift Cards, Vouchers, and Bucks
Google Pay
PayPal Account and PayPal Credit
Spendable Funds
Sometimes, different payment methods might be used in certain cases. These can include checks, escrow services, money orders, or various online payment options.

Crafting eBay Business Policies
Constructing your eBay listings necessitates careful deliberation on various business policies. These policies resonate through your storefront, influencing profitability, customer satisfaction, and online reputation.
Payment Policies: eBay's payment process has become more efficient with managed payments. Now, you can use various payment methods like credit cards, Google Pay, Apple Pay, and PayPal to make your purchases. These established payment methods cater to the majority of buyers, simplifying transactions.
Shipping Policies: Buyers prefer faster shipping these days, fitting with the modern desire for quick satisfaction. To make your listings more appealing, consider offering accelerated shipping options, and if possible, provide free shipping. If you sell larger items, think about offering combined orders to help reduce shipping costs.
Return Policy: It's crucial to have clear return policies that specify how long returns are accepted. Being transparent about who covers the cost of return shipping builds trust with buyers and encourages more people to engage with your listings.
Even though they might seem small, these policies can have a big impact on your success on eBay, so it's important to choose them carefully.

Managing Your Product Listings
Keeping track of your active listings and inventory can become a challenging task, especially as your sales grow. While some people who love spreadsheets might find them helpful for smaller product counts, high-volume sellers face more complex challenges.
That's where feed management applications come in. They're like digital magic wands that make it easy to organize your product information and send it to eBay. This is especially useful for sellers who use platforms like Shopify. These applications take the manual work out of listing management, acting like a skilled assistant.
Navigating eBay Orders
Order management is a cornerstone of successful eBay endeavors. Maintaining scrupulous order records ensures you never commit the cardinal sin of selling items you do not possess.
Feed management applications really excel in creating a smooth connection between your orders and your online store. This guarantees that every order is promptly synced immediately, helping you maintain your reputation as a reliable seller. CedCommerce's achievement of Silver Solution Provider status for eBay further emphasizes its expertise in creating seamless connections for sellers, making it a top-notch integration solution.
Getting Paid On eBay
The grand finale of any eBay transaction centers on payment collection. This three-act drama unfolds as follows:
Sale Completed: When a buyer pays, your Seller Hub becomes a kind of treasure trove, marking the start of the packing and shipping process.
Funds Available: eBay rapidly makes funds accessible, generally within two days, post-validation of buyer satisfaction.
Payout Initiated: Finally, decide when and how you prefer to receive your funds. This flexibility dovetails with your unique schedule and financial objectives.
Optimizing Your Listings for eBay
Creating listings that captivate prospective buyers and stimulate their purchase impulse is an art. Think of it as narrating a compelling story about your product. The process unfurls as follows:
Choose the Right Category: Ensure your product finds its place within eBay's categorical framework. An apt analogy is placing your book on the correct shelf within a library.
Showcase with Imagery: Buyers yearn to visualize their prospective purchases. Hence, investing in high-quality, well-lit images is paramount to garnering interest and averting disputes.
Craft a Magnetic Title: Your listing title functions as the headline of your product narrative, thus warranting a meticulous selection of descriptive terms and intriguing phrasing.
Narrate in the Description: A comprehensive, articulate, and informative product description, infused with relevant keywords, elucidates your offering, stimulating buyer confidence. Employ short sentences to enhance readability.
Detailed Information: The devil lies in the details. Furnish comprehensive information about your product, sparing no vital particulars.
Employ All Available Tools: Leverage eBay's formatting options to highlight essential aspects, reinforcing your product's value proposition.
Boosting Listings with Promotions
Sellers possess two invaluable tools: Promoted Listings and Seller Hub Promotions. These serve as potent instruments to augment sales and augment visibility.
Promoted Listings function as a mystical enchantment, propelling your products to top positions within eBay's search results. Enhanced visibility translates into more clicks and, ideally, more sales.
Several sellers have reported a 36% surge in visibility by embracing this feature. Remarkably, this magic incurs a fee only upon the consummation of a sale, akin to saying, "I'll pay you a token when success graces my endeavor." A number of supplementary tools facilitate the monitoring and optimization of your promoted listings.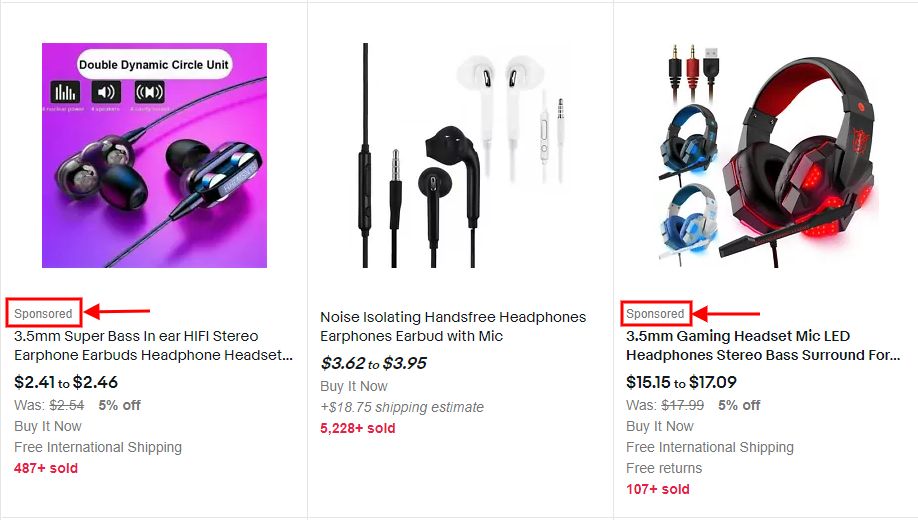 Seller Hub Promotions act as a specialized toolkit, permitting the implementation of enticing incentives for buyers. This toolkit empowers sellers to:
Extend graduated discounts for increasing order quantities.
Institute Buy One, Get One Free promotions.
Stage expansive sales events to beckon shoppers.
Offer discounted shipping to enhance affordability.
Harness coupons without the necessity of secret codes.
Using a Connector App to Simplify Management
Connector apps, sometimes called integration apps, act as the link between your online store and external marketplaces such as eBay. These are specialized software solutions designed to make it easy for data to flow back and forth smoothly between your e-commerce platform and eBay. In simple terms, connector apps allow you to handle your eBay listings, inventory, and orders right from your online store's dashboard.
Benefits of Using Connector Apps
The benefits of utilizing connector app for Shopify and eBay are manifold. Firstly, they save you time by automating tasks that would otherwise be done manually. This time can be redirected towards strategizing and growing your business. Secondly, connector apps enhance accuracy by minimizing data entry errors.
Furthermore, they enable you to maintain consistent inventory levels across multiple platforms, ensuring that you don't oversell or undersell your products. Lastly, they provide valuable insights through integrated analytics, helping you make data-driven decisions.

Conclusion
The collaboration between eBay and Shopify, made even stronger by CedCommerce's recognition as a Silver Solution Provider, gives online entrepreneurs the tools they need to grow and improve their businesses.
When you're working with eBay, it's crucial to follow their rules, manage fees wisely, and build a good reputation over time. Picking the right products, setting competitive prices, and making your listings as good as they can be are all key strategies.
Integrating eBay with platforms like Shopify is like building a magical bridge that connects different online marketplaces. Succeeding on eBay takes planning, following the rules, and sticking with your entrepreneurial journey no matter what.