Selling fees on eBay: How much does it cost to sell on eBay?
Running short of time? Get PDF of the blog in your mail.

Play Now
Are you excited about selling your products on eBay? Before you embark on your eBay selling journey, it's crucial to understand the selling fees on eBay. This blog aims to simplify things for you.
This guide will walk you through the different types of eBay fees, including insertion and final value fees. You'll understand how these fees are calculated and get tips on how to save money. By the end, you'll understand eBay fees and be ready to start your successful selling venture on this popular online marketplace.
Types of eBay Seller Fees
As an aspiring eBay seller, it's crucial to familiarize yourself with the various fees associated with selling on the platform. This section will explore the different types of eBay seller fees you should know.
Insertion Fees
Final Value Fees
Optional Listing Upgrades
Fees for Classified Ads
Fees for Real Estate Listings
Dispute Fee
International Fee

#1. eBay Insertion Fees
When selling on eBay, one of the fees you'll encounter is the insertion fee. This fee, similar to a posting fee, applies to each listing you create on the platform. Every month, eBay grants sellers a certain number of free listings or zero insertion fee listings, allowing them to post items without incurring additional costs. However, once you surpass this limit, you must pay an insertion fee for each subsequent listing.
The specific amount of the insertion fee depends on several factors, including the type of product you're listing, its price, and the category you choose. Therefore, if you have an eBay store, the number of free listings you receive may be higher based on your store subscription.
#1.1 Auction Style Listing Insertion Fees
Understanding auction insertion fees is crucial if you plan to sell items on eBay through auctions. eBay allows sellers to customize the duration of their auctions, ranging from 1 to 10 days. Shorter durations, like 1 or 3 days, are ideal for time-sensitive items such as event tickets or movies.
Once the eBay free listings get exhausted, you must pay the insertion fees for each item you list. Auction insertion fees on eBay are calculated based on the item's category. Additionally, additional fees may be involved if you opt for optional listing upgrades like bold fonts or subtitles. You can effectively price your eBay auctions by considering auction insertion fees and optimizing your listing strategy.
#1.2 Good 'Til Canceled
eBay offers a convenient listing option called "Good 'Til Canceled" for sellers who prefer fixed-price listings. With Good 'Til Canceled, your listings automatically renew each month until you decide to end them. This feature streamlines the selling process, saving you time and effort.
To utilize Good 'Til Canceled, sellers pay the initial listing fees and any applicable optional fees during the first listing. Starting from the following month, the listing automatically renews, eliminating the need for manual relisting.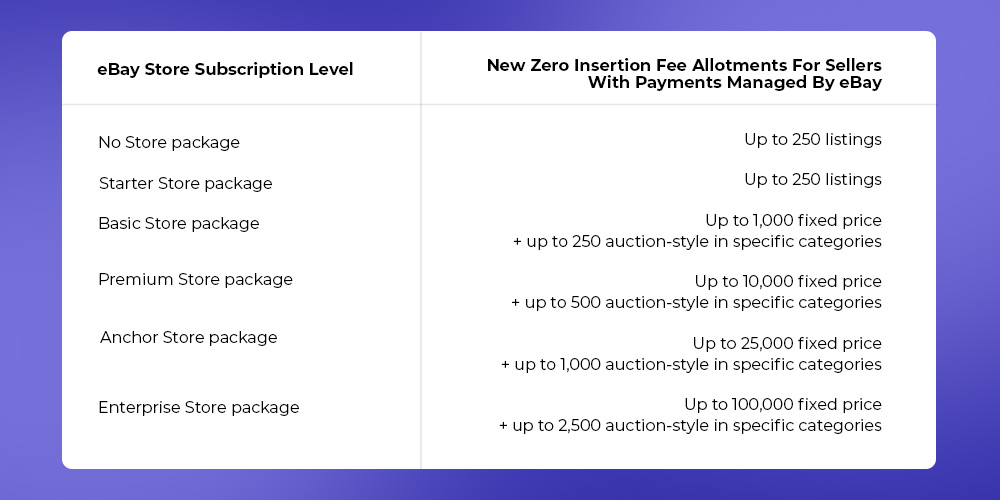 #2. eBay Final Value Fees
Final Value Fees are charges you must pay when selling on eBay. When your item sells, eBay takes a small percentage of the total amount you earned from the sale, and they also add $0.30 per order. The total amount includes the item's price, any extra charges for handling, the cost of shipping, taxes, and other fees.
The percentage they take can differ depending on what kind of item you sell and how much money you make. Some things like books, movies, music, coins, jewelry, art, and special NFT items have a fixed fee of 5% on the total amount.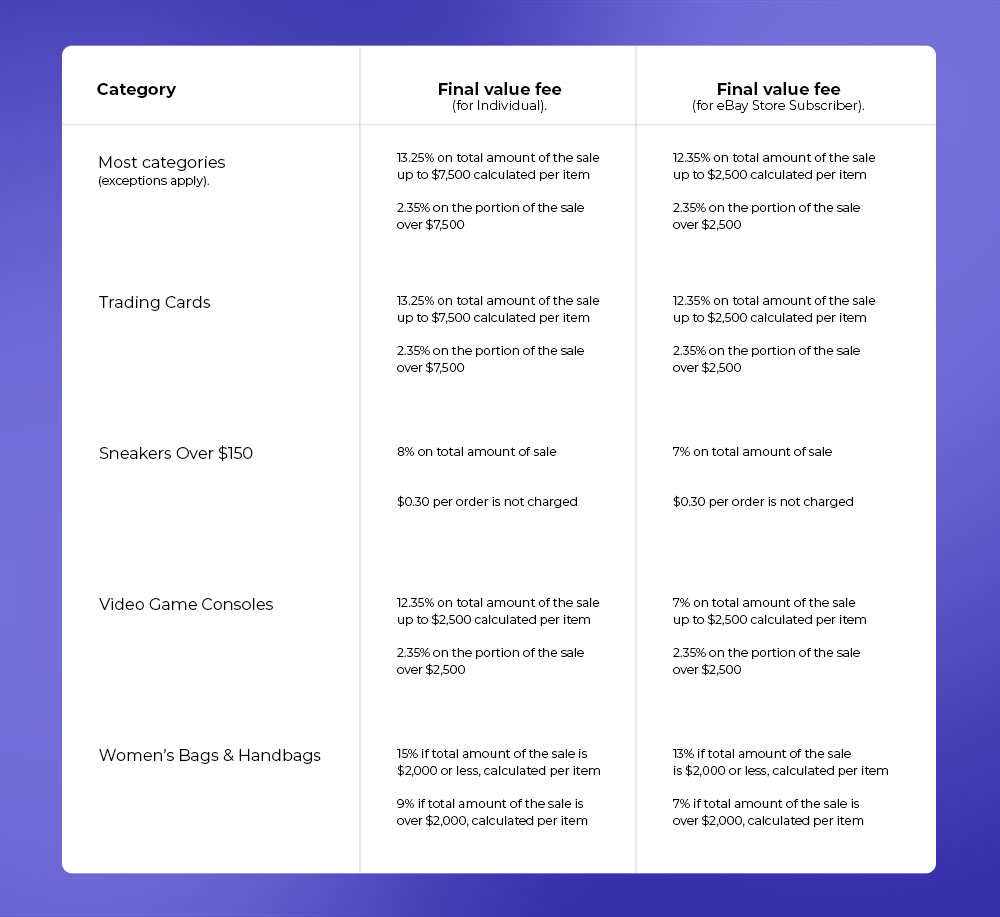 #3. Optional Listing Upgrades
You can improve your listing with some optional upgrades when you want to sell something on eBay. These special upgrades help your item stand out and attract more buyers.
For example, you can add a subtitle or make the title bold to make it more eye-catching. There's also a feature called 'gallery plus' that shows bigger pictures of your item. These upgrades come with additional fees.
The cost depends on how much your item is priced, how you list it, and how long your listing stays active. If you list your item in multiple categories, you must pay extra fees for each category.
#4. Fees for Classified Ads
When you post a classified ad, you pay an insertion fee of $9.95 for a 30-day listing. eBay lets you provide a price, the interested buyer contacts you, and you complete the transaction independently from the eBay platform.
Also, you do not have to pay a final value fee, so you can keep all the money when your item sells. It's a cost-effective way to reach potential buyers and sell your items hassle-free.
#5. Fees for Real Estate Listings
When you list a real estate property on eBay, fees are involved. These fees depend on the type of listing, how long it will be active, and what features you choose.
First, there's an insertion fee, the cost of creating the listing. Then, there's a notice fee charged unless certain conditions are met.
You can use the eBay fee calculator to get an idea of how much these fees will be.

#6.Dispute Fee
A fee might be involved if there's a dispute regarding a transaction on eBay. This fee is called a dispute fee, and it costs $20.00. You may be responsible for this fee if you are found to be at fault for the disputed amount based on eBay's policies.
For example, let's say someone purchases from you, but later they request a chargeback through their payment method. If eBay's resolution center determines you are responsible for the disputed amount, you might be charged the dispute fee.
#7. International Fee
You won't be charged an international fee if you sell items on eBay and offer international shipping. That means if someone from another country buys something from you and you can ship it to them, there's no extra fee.
However, if you choose not to offer international shipping or the buyer's address is outside the United States, a small fee of 1.65% will be automatically deducted from your sales. This fee helps cover the additional costs and services of shipping items internationally.
You can use the eBay fee calculator to check how much these fees are for your sales. It's a helpful tool that can give you an idea of the costs involved.
How to Calculate eBay Fees: A Practical Guide for Sellers
Calculating eBay fees accurately is essential for sellers to understand their costs and maximize profitability. By figuring out these fees, sellers can make informed pricing decisions and optimize their selling strategies on the platform.
Firstly, consider the critical components involved in eBay fee calculation. These include insertion fees, final value fees, and any optional listing upgrade fees.
To explain the eBay seller fees calculator process, let's take an example: You're selling a smartphone with a starting price of $300, and you choose to include a Buy It Now option for $400. So the Total selling price becomes $424 after comprising a 6% sales tax on $400.
The standard insertion fee for most categories is $0.35 (for auction-style or fixed-price listings).
The final value fee rate is 13.25% of the sale price (applied to the item price if free shipping is offered).
Total fees = Insertion fee + Final value fee = $0.35 + $56.18 + $0.3
Total fees = $56.83
In this example, the total fees for selling the smartphone on eBay amount to $56.83. You make a total of $343.17 on the sale. Therefore, it amounts to a profit of $43.17.
eBay Fees Calculator
When selling on eBay, it's important to understand the various fees associated with your listings. Calculating these fees manually can be time-consuming and complicated. That's where an eBay fees calculator saves time and helps you know how much you will pay when selling an item.
Using an eBay fees calculator, you can input details such as the item price, shipping costs, and category, providing an accurate breakdown of the fees you can expect to pay. This includes insertion fees, final value fees, and any additional optional listing upgrade fees.

Conclusion
Selling on eBay can be a good venture. Still, it's crucial to understand the associated fees and how to save on them. We've discussed the different types of eBay seller fees, including insertion and final value fees, and provided practical examples to help you understand the calculations.
Firstly, you can minimize expenses and maximize profits by using an eBay fees calculator and implementing cost-saving strategies like optimizing your eBay store subscription, using free listing options, and monitoring optional listing upgrades. Stay informed about eBay's listing fee policies and continuously adapt your selling strategies. Above all, with the proper knowledge and approach, you can steer the world of eBay seller fees and succeed in your online business.