A Winning Streak of Five: CedCommerce Ranks in Deloitte Tech Fast 50 Again.
Running short of time? Get PDF of the blog in your mail.

Play Now
That's a fantastic start to 2021! As We bring home the spectacular Quintuple trophy in Deloitte Tech Fast 50 India 2020.
Proud and Enthralled We Stand at 28th.
So what exactly happened was, we had already wrapped a lot from the previous year and were ready to put it up for you. But as we set our feet into 2021; each new day turned out to be a stepping stone that finally led us to hang our heads high with amazement. Not a quarter went by in 2021, and we are intrigued by the euphoria that struck us; as we heard CEDCOSS named as a winner in Deloitte Technology Fast 50 India 2020 Awards.
It is the fifth time in a row that CEDCOSS, the parent company to CedCommerce, MakeWebBetter, BotMyWork, and MageNative, has bagged this notable pride home. The persistent efforts and sheer dedication of all our workforce and peerless support of our clients and partners even at the hardest of times; resulted in the whopping 177% growth that we achieved.
A Quintuple Winning
11th March 2021, the sweet 16 Deloitte India unfurled its Tech Fast 50 Awards. What started as a global program in San Jose became the benchmark being hosted in 30+ countries now. Amidst the global pandemic; it was the first virtual setup from Deloitte and we were glued to the live session as it started. It was not long when we heard our name and we were captivated by the joy, triumph, and glory all at once. At number 28, we stand tall among the fastest-growing tech pioneers in India.
About Deloitte Technology Fast 50 India
The Deloitte Technology Fast 50 India program was launched in 2005 by Deloitte Touche Tohmatsu India LLP (DTI LLP). It is a sub-event for the APAC Technology Deloitte Fast 500 Programme. The program recognizes the Deloitte fastest-growing tech companies in India based on their percentage revenue growth over the past three financial years.
Read our winning tale here
CEDCOSS – An Old Friend to Deloitte
It was the year 2016 when we got into this rat race and won our first prestigious award. From then till now, we have been climbing this ladder up just to find ourselves excelling along each frontier. Here is a quick breakdown of how well we have positioned ourselves: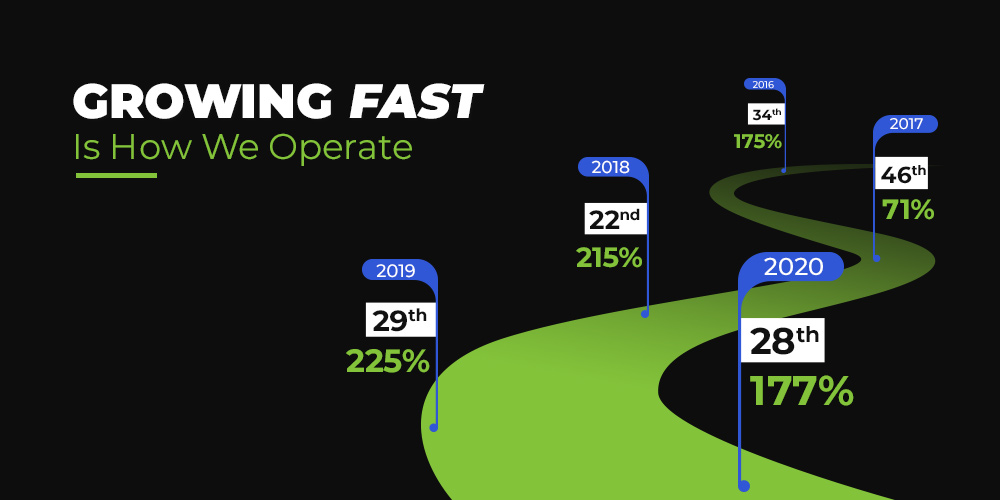 How CedCommerce Shares the Success of CEDCOSS
With a superfluous upswing being put up by all the sister companies into the strong foundation of CEDCOSS, CedCommerce has been on the spinning top when it comes to contributions and achievements. Catch up a sneak peek at some of them.
2020: It was Best of Times and Hardest of Times
Last year was nothing short of a landmark for all of us.
The sudden trauma of COVID-19 caused many small and new businesses to crash down. The world's economy huddled past just around the home necessities. But brands focused on the digital world flourished. And this pushed us at CedCommerce, to work harder and help hundreds of thousands of clients and sellers from all over the world survive and visualize growth.
Starting with the most significant transitions into work culture, we empowered businesses of all sizes, introduced more solutions, exchanged happiness while apart, and ignited creativity, teamwork, and innovation with our extended community.
Five Things that Made Us: Win
Difficult roads often lead to beautiful destinations. We are the achievers today, but we attribute our success to the plight and fortune of the previous year. It was a hell of a ride and we take pride in how we made the bigger impacts. Let us know how?
Inevitable Support to Businesses in Need
The year was harsh, majorly for the physical businesses. Some were forced to lay off staff while some even shut their doors. This paved the path for merchants to get their Online Stores or grow with Marketplaces.
Catering to this, the Digital Marketing team helped brands establish their online presence. Whereas, the Multi-Vendor team handled quality leads preferring online Grocery store solutions. Out and out, it was our exceptional Support Team that went tooth and nail to address each query of businesses in need from all the parts of the world, including the UK, India, US, Nigeria.
Together, We Empowered Small and Medium Businesses
As the demand for products like masks, home improvements, gardening, cookwares, electronic accessories, and toys jumped up. We, at CedCommerce, handled numerous projects on setting up the new online web stores, improved sites through Shopify experts, and digital marketing services.
With "Buy On Google" going commission-free, and Facebook surfaces "waiving off selling fees," – Small businesses got cost-efficient tools to bring their business online. Nonetheless, with CedCommerce's multi-channel solutions, businesses of all sizes tapped into multiple channels by integrating their stores to marketplaces and scaled their revenue to heights.
Record-Breaking Surge in Clientele
The market closure and deserted streets brought a substantial rise in the number of clients and projects we dealt with at CedCommerce. We recorded an almost 200% increase in Shopify apps installation, which gradually hiked up the revenue to 175% up compared to last year's.
No end to this, there was a significant peak in M1 to M2 migration along with a 50% surge in Magento clients who wished to set up online shops from brick and mortar. Vendors were opting for mobile apps, personalized chatbots, social media marketing, and much more to grow beyond the increased competition.
Part of Partner's Ecosystem with Facebook and Instagram
We were delighted and ecstatic to become part of Partner's ecosystem with Facebook and Instagram in 2020. In the wake of Pandemic, this budding partnership came out as a savior for Small Businesses.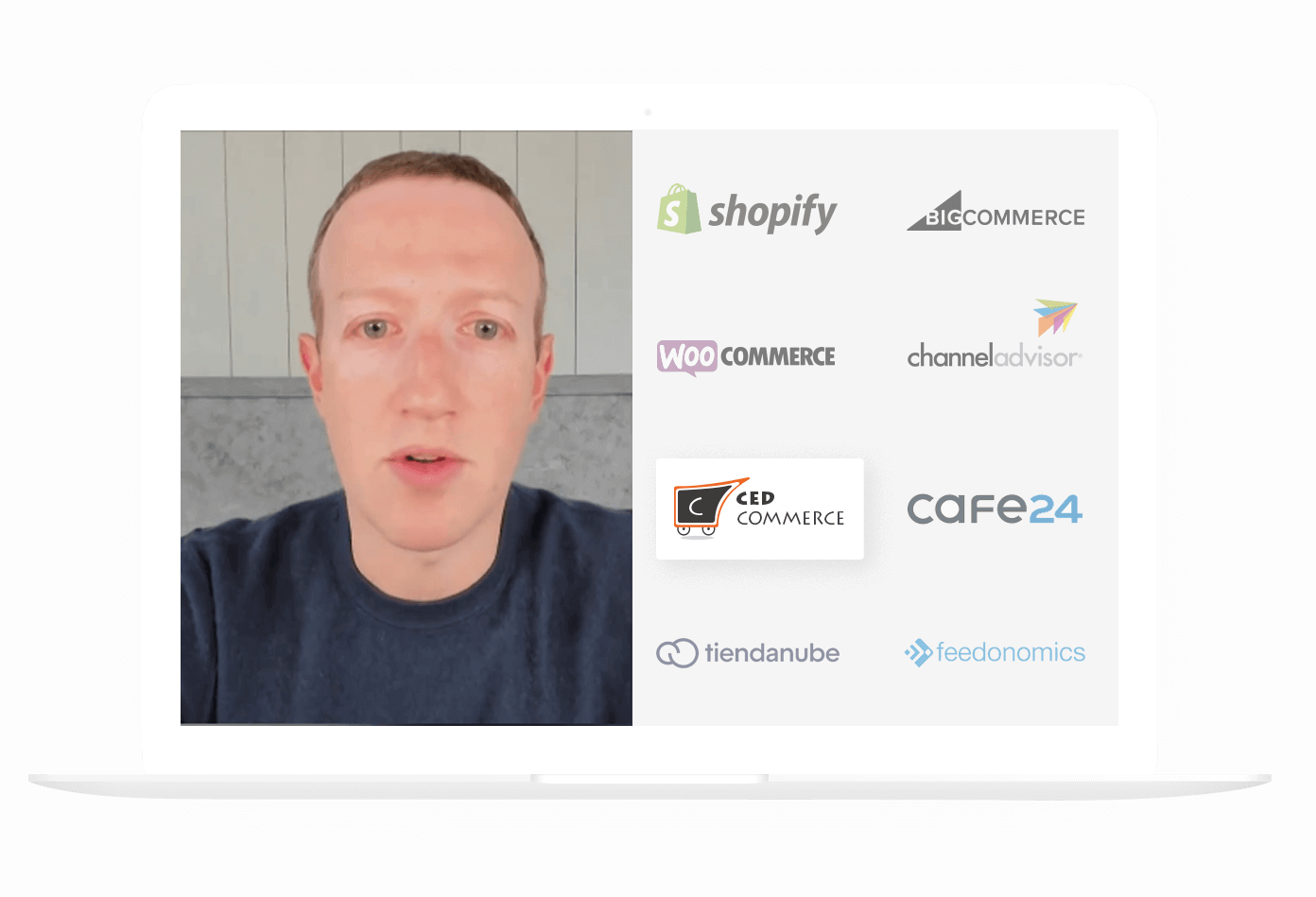 CedCommerce got named among the esteemed partners of Facebook commerce; enabling small merchants to leverage the newly launched Facebook Shops, Instagram Shopping, and checkout. We launched multiple solutions for merchants based on Shopify, Magento, and WooCommerce and helped them connect as seamlessly as possible to the new growth channel.
We're working with partners like @Shopify, @BigCommerce, @WooCommerce, @channeladvisor, @cedcommerce, Cafe24, Tienda Nube and @Feedonomics so small businesses can get the help they need to run their businesses digitally

— Facebook (@Facebook) May 19, 2020
Stronger Community with Added Brains
The COVID-19 and the subsequent lockdown slacked off the world's pace, but there was no stopping for us. While many organizations were laying off their members to meet their limited finance, we at CedCommerce held four successful recruitment drives.
Around 150+ trainees joined in and are currently in their learning phase. We also onboarded 100+ new minds virtually both in technical and non-technical teams. Standing at 350 before the pandemic hit, we are now an army of 630+ members, including developers, designers, content marketers, project coordinators, business analysts, and the list goes on and on.
We Came together to Make Commerce Easy
2020 was also the year of coming together to battle, one of the greatest crises of modern times. And so, despite our restricted movement; we walked the aisle as one team, one breath even when it was all virtual.
On Foot or Couch: We Made Our Presence Felt
The virtual events took center stage in 2020 and became the only way to connect with far-off folks and the community. The year brought us outstanding opportunities to listen from the great minds and learn from their experiences.
Starting with the "Meet Magento India 2020" in Mumbai, which we could attend in person. We make our presence at almost all the virtual events such as Shopify Reunite 2020, WooCommerce Community Volunteers and Meetups, Magento Meetup, Facebook Commerce – Webinar, and Google Partner Meeting. Along with some awe-inspiring learning, our team members stacked many noteworthy certificates from the sessions.
Partnered up to Produce Meaning and Value
To build a lasting relationship and create a valuable impact, we joined forces with almost 16+ industry leaders. We expanded along with the partners; in terms of solutions, reach, and innovation enabling more and more merchants to utilize resources to grow far and wide.
In early 2020, we earned the "Google Premier Partners" badge. Furthermore, also became one of the "Facebook Marketing Partners." We didn't slow down and grabbed Adobe Bronze Solution Partners' place. Apart from the leaders, we also joined hands with marketplaces such as Facebook Marketplace & Instagram, Onbuy, Shopify Experts, Zalando, Real.de, and so many more to become a one-stop leader in the eCommerce regime
Celebrations: We Were Together, Forget the Rest
We at CedCommerce went through a bustling 12 months despite the uneven modulations. Just as the coronavirus affected the pace of the world; our magicians at CedCommerce responded to it as fearlessly as possible with utter zeal and courage.
The amazing HR team did know when to give us a break from all the WFH scenes. They kept the lights and glittered on with fun and festive carnivals round the year with utmost precautions and safety.
Achievements: There are no Traffic Jams Along that Extra Mile.
A little progress each day adds up to significant results. We, at CedCommerce, try to keep this belief up. While we continued to ship some unique features across our existing solutions and services; we launched around 50+ new solutions for different platforms and marketplaces.
Nonetheless, we got listed as vendors on WooCommerce official; creating an important place for our products to live on WooCommerce Extension Store. MageNative – the mobile app front, also crossed 300+ reviews on the Shopify App. It also launched a Shopify panel with Drag & Drop features, AI product recommendations, and so much more.
Looking Ahead: Better Things are Coming
A lot has happened and happened for good but we strive for even more.
Looking ahead, on our path are some of the major accomplishments we are always preparing for. With the winning energy intact, we are delighted to share another great news with you. We will soon be opening doors to our new office. New Place, New Vibes, and New People with newly designed infrastructure; reflects our firm belief and aspirations to inspire and grow far and beyond.
Alongside this, our internal teams are as demanding in terms of excellence at work and the scale of impact we create. We hope to extend our range of solutions to all the global marketplaces and elevate our services as Shopify Experts. Moreover, we are focused on expanding across Europe and LatAm regions and work closely in automating and optimizing the overall experience for merchants.
We extend our heartfelt gratitude to each of our clients who believed in us and awesome partners who supported us during all these times. We, at CedCommerce, are forces knitted well into a thread of commerce and community at each end. And our hearts belong to one family – CEDCOSS.