What, Why and How's of eBay Seller Account Suspension
Running short of time? Get PDF of the blog in your mail.

Play Now
Selling on eBay can become an intricate task, especially if you do not follow the policies or be ignorant of the basic requirements you need to fulfill on eBay. Why do I say this? It's because not paying heed to the basics can lead to seller account suspension on eBay. Often Leaving you questioning, "Why is my eBay account blocked or suspended?"
If eBay restricts your account while you already have live listings, you lose access to edit them. Apart from that, suspension on eBay can make you lose your bidders very quickly. Buyers get to withdraw from bids. In contrast, you won't get an opportunity to connect with the buyers or respond to their queries until you reinstate the eBay account.
If eBay finds you guilty of a severe breach of policy, you might face an early end to your listings, i.e you can even remove it from eBay.
There are three different ways eBay selling restrictions get imposed on a seller account.
eBay Account Holds
eBay Account Restrictions
Full Suspensions on eBay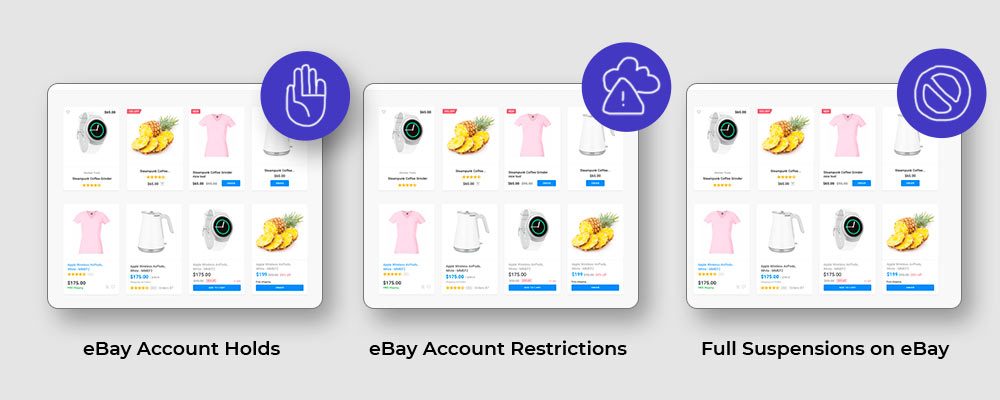 eBay Account holds
The account holds on eBay are because of minor transgressions, often induced due to payment concerns that you might have committed.
The eBay seller accounts get reinstated in a jiffy once you verify the payments information. You can also face the issue when you're a new seller. To work on getting it removed, you can mail eBay requesting the same.
eBay Account restrictions
You get Account restrictions on eBay when your selling metrics do not meet the eBay standards.
Getting the eBay Account restrictions can prevent you from taking the Best Match position on eBay. eBay does it to restrict the number of orders you receive, limiting your sales such that you can work on improving your service standards and metrics. This step also helps eBay protect its shoppers from getting at the risk of poor services like shipments or orders issues.
Try getting better at services and order fulfillment standards because eBay may never reinstate your suspended account if you don't.
Full suspensions on eBay
Account suspension on eBay gets imposed based on the level of violation you've been found guilty of. Based on the infractions your account may get a suspension for,
07 days
10 days
30 days
Permanent suspension
eBay accounts getting permanent suspension usually happens when there's a severe violation of policies set by eBay. However, you can also face the heat when you constantly underperform in the most horrendous way possible!
Moreover, it would be best to remember that getting your eBay account suspension can affect other connected accounts. Suppose you have been receiving frequent warnings. You better consider it your last chance to turn things around before getting your eBay account permanently suspended.
Why eBay suspends the Account?
There's not one but many reasons that may lead to your eBay account getting suspended. Here is a list of the most common reasons that get you a suspended account on eBay compiled to provide you with the list of things you should watch out for!
#1. Shipment
eBay will permit only a 7% delay in your order fulfillment.
Handling time and the order fulfillment duration play a significant role in establishing your service experience with a buyer. Suppose you've set a handling duration of 2 days but are shipping orders from your store after 5-7 business days. Or, supposedly, your order fulfillment takes 15 days against a 7 days delivery promise.
#2. A high Transaction Defect Rate
The transactional defect arises when you end up canceling the orders on your end due to some issues. eBay keeps a keen eye on the performance metrics like Transaction Defect Rate and only permits you a 2% defect rate for the orders.
So plan a proper strategy to fulfill orders by stocking inventory, planning shipment, and avoiding order cancellations at all costs.
#3. Unresolved Customer Issues
Sometimes the customers try their luck with sellers. It often ends with an escalated issue, agitated seller, bad reviews on eBay, and top the list – a suspended eBay account!
Yep, anything can lead to a suspension of an account on eBay. If your buyer takes things up a notch and reports the problem to eBay, it can damage your performance metrics. When on eBay, you get a margin of only 0.3%. It means you can leave only 3 unresolved issues out of 1000 that get raised against you.
Getting yourself an impeccable customer service strategy can work wonders. Also, immediate responses are vital in winning customers' hearts.
#4. Forcing buyers to manipulate seller metrics
A good seller metrics equals a lot of happy customers and is paramount in getting you a tag of the most respected "Top Seller" on eBay.
Sellers often try to pull stunts that they shouldn't be doing to get to it. Manipulating a customer into leaving positive feedback or, even worse – forcing them to change their bad feedback can take you straight down a slippery road of eBay account suspension.
#5. Listing prohibited items
eBay has a long list of banned items one needs to keep an eye on before they end up listing a product from it.
It may seem obvious, but sellers might not realize their products aren't allowed.
#6. Counterfeit merchandise
A zero-tolerance for counterfeit or fake merchandise is eBay's most significant policy. eBay says, "We don't allow replicas, counterfeit items, or unauthorized copies to on eBay."
#7. Unpaid seller fees
It might have the simplest solutions compared to all others; just pay your outstanding fees on time, period.
Not paying the seller fees on time is the easiest way to get restricted from selling on eBay. The managed payments by eBay happen to be one of the best introductions that can save you from the issue. It auto deducts the fees from your account and keeps you from doing all the rigorous work.
#8. Violations of eBay policies
Policies are often something that goes unnoticed. eBay expects its sellers to follow a set of policies strictly to keep their accounts from suspension. Here's a list of the most common form of violation that we can find,
Verified Rights Owner (VeRO) is an intellectual property rights policy where owners can request eBay to eliminate listings that violate the policy. One such example is the usage of the word "Velcro."
Images containing nudity, foul language, or stock images do not represent the product at the offer. It can lead to account suspension.
Using foul or offensive language that can get perceived as a threat to an individual is strictly prohibited on eBay.
#9. Duplicate items from two accounts
Often, sellers come up with ideas like selling the same product using multiple accounts or two. Although, It's all good until you get caught! But, sometimes, the most brilliant ideas can land you in trouble.
eBay is too swift in suspending accounts when found guilty of such an act. It would be best if you didn't indulge in such acts.
eBay Account Suspended: Reinstating Account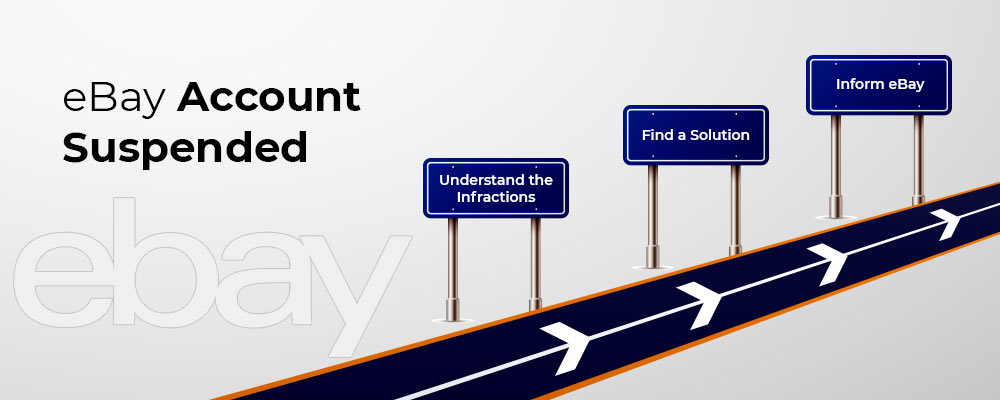 Step 1: Understand the infractions
Read and understand what eBay charged you with, causing your eBay account's hold, restriction, or suspension.
eBay provides a detailed report on why your account got suspended. Once you've analyzed and understood the defects in your service, make an action plan you find fit to tackle the upcoming concerns. Moreover, if you believe it was a mistake, you can appeal the judgment by responding.
Step 2: Finding a Solution
When you've analyzed, concluded how to rectify the problem, and are ready with an action plan, start working on it immediately.
Step 3: Inform eBay of the updates
When you can't identify the problem or a viable solution to the issue, get connected with the eBay resolution center and seek guidance from them.
Although you'll have to wait for eBay to lift the restrictions, you'll know for a fact that once the amendments get implemented, eBay won't come after your account for the same errors again.
Start managing eBay Multichannel selling on Shopify, BigCommerce, Opencart, Prestashop, WooCommerce, or Magento store. CedCommerce gives you an integrated solution to get started with easy-to-operate multi-channel sales from a centralized location.
What if the suspension is unwarranted?
Mistakes are what make us human!
The same holds true for the employees working for eBay. Occasional mistakes due to unfair customer feedback or other circumstances may arise that can adversely affect you because of an out-of-the-blue account suspension, holds, or restrictions on eBay.
You shouldn't panic. The most important part is to assemble every possible document that can prove that your suspension was unwarranted. Once completed, connect with the eBay resolution center with all the relevant data and records to support your claim.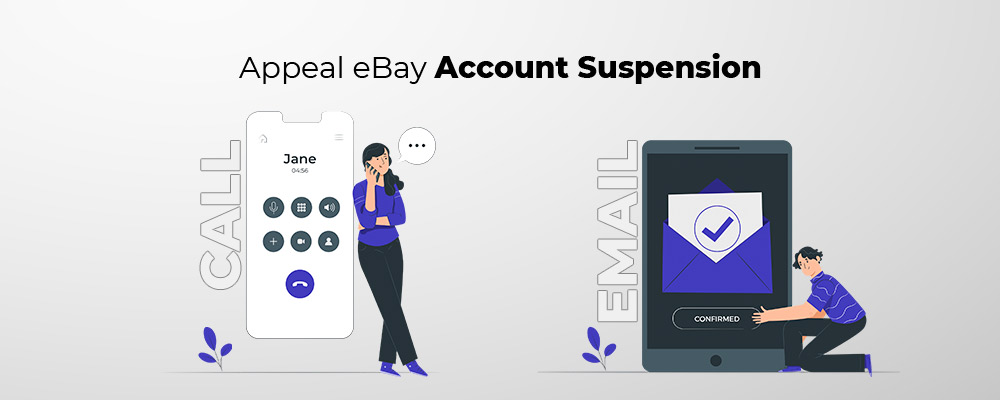 Appeal eBay Account suspension: Call
Connect with the eBay resolution center immediately. The sooner you inform the authorities of a possible mistake, the better for your business.
Keep cool and do not lose your calm demeanor when discussing the situation with the officials. Plan and assemble all the necessary files and facts before you make that phone call.
If you get to know of the mistakes on your part while selling on eBay, the possible reason behind the suspended eBay account, pretending to be naive, and acting unaware of the situation is not something that you should do!
Discuss and offer solutions that you want to incorporate into your business model to facilitate your buyers, improving their experience on eBay.
Appeal eBay Account suspension: eMail
eBay at all times is to be treated like a partner. Once you make a mistake, you should work on improving the errors to rectify the concerns. Make sure you connect with the eBay resolution center and communicate clearly.
Watch your tone when you write the email to eBay appealing a suspension. Try sticking to a word document when you get frustrated and angry. Draft the mail and re-read to ensure if that is the kind of mail you would happily receive. Using the word document will make it impossible to hit the send button by accident. saving you from deteriorating the situation even more.
Suppose, eBay wrongfully suspended your account. Make sure you attach in the mail the supporting documentation that provides enough evidence to prove your innocence and the wrongful eBay suspension through your message.
Offer a viable solution to the problem you want to work upon and offer to reinstate the eBay account.

Conclusion
Account suspensions and restrictions become something that eBay can impose on anyone irrespective of the fact whether you're a seasoned seller on eBay or a new seller venturing into the vast unknown of ecommerce on eBay.
However, when eBay imposes a hold, suspension, or restriction on the eBay seller account, you can reinstate it by changing what and how you sell. Meanwhile, simply wait for the suspension period to end while improving the services. However, accounts suspended as a result of more outrageous infringements need more time to settle.
The best practice includes you going through the eBay policies and educate yourself on the rules.