Everything About eBay Account Suspension and Restriction
Running short of time? Get PDF of the blog in your mail.

Play Now
Selling things on eBay can be a complicated task. It usually happens when you avoid the rules and policies set by eBay. If you ignore the basics, eBay might suspend your seller account. They block you from using your account because you didn't follow their rules.
"Why is my eBay Account Suspended?" It is the most common question we come across. If eBay restricts your account and you have items listed for sale, you change their details.
Types of eBay Account Suspensions
If eBay catches you doing something terrible according to their rules, they might stop your listings before they end.
Getting suspended on eBay can also make you lose potential buyers quickly. They might cancel their bids and stop being interested in what you're selling. Plus, you will be able to communicate with buyers or answer their questions once you get your eBay account back.
There are three selling restrictions on eBay that you may face:
eBay Account Holds
eBay Account Restrictions
Full Suspensions on eBay

eBay Account Holds
Sometimes, eBay puts a hold on your account because of small mistakes, often related to payment issues.
You must confirm your payment information to get your eBay seller account back. This can also happen to new sellers. To try and remove the hold, you can email eBay asking them to help you with it.
Selling Restrictions on eBay Account
eBay may restrict your account if your selling performance doesn't meet their standards.
When you have account restrictions on eBay, you won't appear in the Best Match position when people search for items. eBay does this to limit the number of orders you receive. It's a way to make you improve your service and performance. This step also helps eBay protect their buyers from the risk of poor service, like issues with shipments or orders.
Improving your services and meeting the standards is essential to avoid eBay account restrictions. If you don't, eBay may never reinstate your suspended account.
Full Suspensions on eBay
eBay can suspend your account for different lengths of time based on the severity of your committed violation. The suspension can last:
Seven days
Ten days
Thirty days
Permanent suspension or getting suspended indefinitely
Permanent suspensions on eBay usually happen when their policies are severely violated. However, you can also face suspension if you consistently perform exceptionally poorly.
It's important to note that getting your eBay account suspended can also affect other connected accounts. If you've been receiving frequent warnings, consider it your last chance to turn things around before your eBay account gets permanently suspended.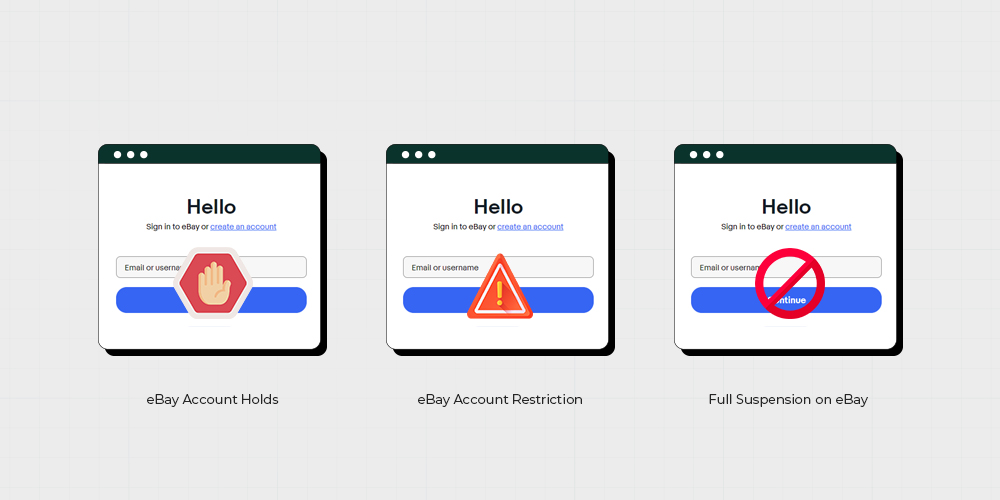 What happens when eBay Account is suspended?
When your eBay account gets restricted or suspended, certain things may happen. It depends on why your account was restricted or suspended. Here's what you might experience:
#1. Limited Activities: When your eBay account is restricted, you can't bid, buy, or sell things. It means you can't join auctions or make purchases. You also can't make new listings.
#2. Communication Limitations: If your account is restricted or suspended, you can't leave feedback or talk to others on eBay. You may not be able to reply to messages or contact bidders.
#3. Payout Holds: If you're a seller, any payments you receive from buyers may be put on hold until the restriction or suspension is lifted. This is done to ensure the safety and trust of eBay's marketplace. Make sure your payment methods are sorted.
#4. Early Listing Removal: eBay may remove your active listings depending on the reason for your account restriction or suspension. This could happen if your listings violate eBay's policies. In such cases, you may not be eligible for fee credits and could lose any fees paid for the listings.
Why is the eBay Account Suspended?
eBay can suspend your account for various reasons. Here is a list of the most common reasons eBay may suspend your account. Pay attention to the reasons listed below to avoid any issues!
#1. Shipment
eBay allows only a 7% delay in order fulfillment.
The time it takes to handle and fulfill orders is essential for your buyers' experience. If you have set a handling time of 2 days but end up shipping orders from your store after 5-7 business days, or if your order fulfillment takes 15 days instead of the promised seven days, it can lead to account suspension.
#2. High Transaction Defect Rate
Having a high transaction defect rate can lead to account suspension. This happens when you cancel orders due to various issues. eBay keeps track of performance metrics like the Transaction Defect Rate. As a seller, you are only allowed a 2% defect rate for your orders.
To avoid issues, plan your inventory and shipments and minimize cancellations as much as possible.
#3. Unresolved Customer Issues
Sometimes customers may create problems or raise unresolved issues, harming your account. eBay has a very low margin for unresolved issues, allowing only 0.3% of raised issues to remain unresolved out of 1000.
Having a solid customer service strategy and responding promptly can make a big difference in avoiding account suspension.
#4. Manipulating Seller Metrics
Good seller metrics are crucial for earning happy customers and gaining the prestigious "Top Seller" status on eBay. However, manipulating customers into leaving positive feedback or coercing them to change negative feedback can lead to account suspension.
#5. Listing Prohibited Items
eBay has prohibited a lot of products on its marketplace. Sometimes sellers may not be aware that their products are prohibited. It's essential to check the list of banned items before listing a product to avoid any issues.
#6. Counterfeit Merchandise
eBay has a strict policy against selling counterfeit or fake items. Replicas, counterfeit goods, and unauthorized copies are not allowed on eBay.
Selling counterfeit merchandise can result in account suspension.
#7. Unpaid Seller Fees
One of the most straightforward reasons for account suspension is not paying your seller fees on time. Paying fees on time is the best way to avoid account restrictions due to unpaid fees. eBay's managed payments can be helpful as it automatically deducts fees from your account.
#8. Violations of eBay policies
eBay has specific rules that sellers must follow to avoid their accounts from being suspended. Let's take a look at some common violations:
Verified Rights Owner (VeRO): This policy protects intellectual property rights. If a rights owner believes a listing on eBay violates their rights, they can request its removal. For instance, using the term "Velcro" without permission can lead to account suspension.
Inappropriate Images: Listings with images containing nudity, offensive language, or unrelated stock images can be against eBay's policies. It can result in account suspension.
Offensive Language: It is strictly prohibited to use foul or abusive language. Simply put, you can not use language that may be seen as a threat to someone on eBay.
To maintain a healthy eBay account and avoid suspension, it is crucial to abide by eBay's policies.
#9. Duplicate items from two accounts
Some sellers may consider selling the same product using multiple eBay accounts. However, this strategy can lead to trouble.
eBay takes swift action in suspending accounts found guilty of such behavior. It's important to avoid using VPN to alter IP addresses as eBay can access it. Do not engage in such activities to prevent any issues with account suspension.
How to Reinstate an eBay Suspended Account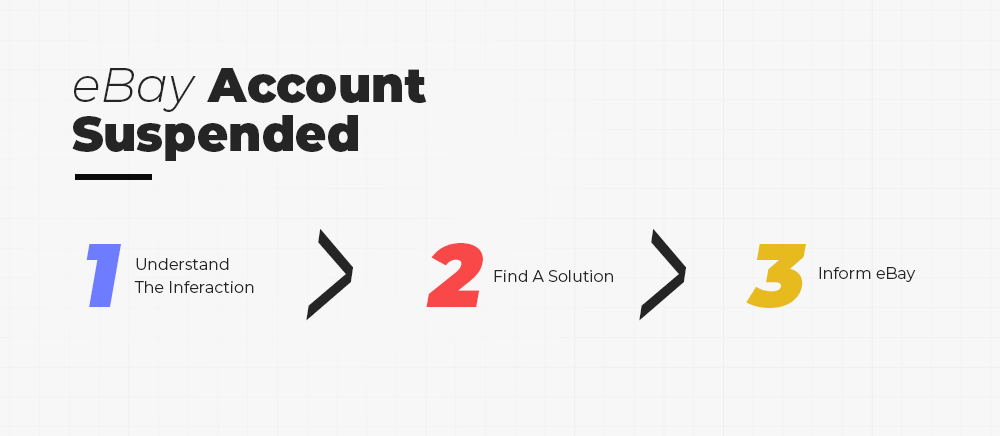 Step 1: Understand the infractions
The first step is understanding why eBay has put a hold, selling restriction, or suspension on your account. eBay will provide a detailed report explaining the reasons. Please take your time, go through the details, and find the issue. You can appeal eBay's decision to account suspension by appealing against it.
Step 2: Finding a Solution
First, you need to understand the problem by figuring out what's wrong and why it's happening. Then, you should make a plan to solve the problem, deciding what steps you need to take. Finally, start working on the plan, taking action to fix the problem.
Step 3: Inform eBay of the updates
If you need help fixing the problem, ask eBay for help. You can contact their resolution center. Once you've made the changes eBay requested, you might have to wait for them to lift the selling restrictions. But don't worry, if you do everything right, eBay won't punish you for the same mistakes again.
Following eBay's rules is important to avoid future account suspension or selling restrictions.
Resolve eBay Account Suspension due to Outstanding Seller Fee
You must clear all your dues by making a one-time payment to fix an eBay Account suspension. Here's how you can do it:
Go to the "Payments" section in "My eBay" or "Seller Hub."
Choose the option for a "One-time payment" to make the payment.
If you can't find the One-time payment option, add a new payment method.
Source: eBay
What if the account suspension on eBay is unwarranted?
Sometimes, mistakes can happen, even to those working for eBay. It's possible to face an account suspension, holds, or selling restrictions on eBay that are not fair or deserved.
The important thing is to gather all the documents and proof showing that your suspension was unwarranted. Then, contact the eBay resolution center and provide them with all the relevant information to support your case.
Appealing eBay Selling Account suspension: Call
Contact the eBay resolution center immediately to inform them of the possible mistake. The sooner you tell them, the better it is for your business. Stay calm and composed when talking to the officials.
Plan and gather all the necessary files and facts before making the phone call. If you make a mistake, it's important to admit it and try to get better so buyers have a good experience.
Appealing eBay Selling Account suspension: Email
You should treat eBay like your business partner. If you made a mistake, focus on improving and addressing the issues. Contact the eBay resolution center through email and communicate clearly. Be careful with your tone when writing the email to appeal a suspension.
If you feel frustrated or angry while writing the mail, write your thoughts in a Word document first. It'll help you avoid accidentally sending an email you might regret. Attach supporting documentation in the email to prove your innocence and show that the eBay suspension was wrongful. Offer a solution to the problem and request reinstatement of your eBay account.
Stay calm, providing evidence, and offering solutions when dealing with an unwarranted eBay account suspension is essential.

Conclusion
Sometimes, you can get your eBay selling account restricted or suspended, whether experienced or just starting. There are ways to fix it and get your account back.
If eBay stops using your account, you must change how you sell things. If you make those changes, they will let you start using your account again. You might need to wait for a specific period, but you can use that time to improve your services. If your account got suspended for more serious reasons, it might take longer to resolve.
Learning about eBay's rules and policies is a good idea to avoid account issues. Understanding and following them can prevent suspensions and keep your account in good standing.