eBay's global shipping program: International sales made easy!
Running short of time? Get PDF of the blog in your mail.

Play Now
If you're an eBay seller, you most probably are familiar with eBay's global shipping program.
Yes, you got it right! It's the program that deals with international shipping. Why is the Global shipping program popular? The sellers have reported an increase of 15% in their sales. It takes your product and puts it in front of over 100 countries, to 60 million global users. At the same time, you sit back and relax, given that you only need to ship your product to the shipping center. Moreover, you can select the products you wish to list under the global shipping program. The best part, eBay protects you from negative feedback when enrolled under global shipping.
So let's get you the necessary information you'll need when starting on the global field.
An introduction to eBay global shipping program
International shipping is complicated. There are terms and conditions, shipping formalities, customs, taxes, and whatnots to consider before you start giving your international buyers a chance to purchase from your listing. Global Shipping Program is an attempt on eBay's part to make things simple for its sellers, i.e., you.
Upon signing for the Global Shipping Program, you have to select the item you wish to list for your global customers. Once you've successfully listed the item, you need to ship it to the global shipping center allotted for your respective country. It is the sorting facility that looks after the Global Shipping for eBay. Once received, a company named Pitney Bowes handles the international part of the shipping. The program looks after all your shipping needs once your product reaches the facility.
List of Countries from where eBay can ship on your behalf includes:
Australia, Austria, Belgium, Bulgaria, Canada, Croatia, Cyprus, Czech Republic, Denmark, Finland, France, Germany, Greece, Hungary, Ireland, Israel, Italy, Japan, Lithuania, Luxembourg, Malta, Netherlands, New Zealand, Norway, Poland, Portugal, Romania, Russia, Slovakia, Slovenia, Spain, Sweden, and the USA.
How much does eBay's Global Shipping Program Cost?
eBay does not charge you for the listing. However, if you're a non-managed payment seller, one has to pay:
eBay selling fees, and
PayPal fees, including fees for cross-border transactions.
While for a managed payments seller, one needs to pay:
eBay selling fees, and
International fee.
Also, the final value fee you pay depends on,
The selling price of the item,
Shipping charges to the Global Shipping Center, and
The additional amount that you may charge the buyer.
The selling fee does not include the Sales tax.
How does it help you as a seller?
eBay looks after its sellers. It's not just a statement; eBay has made sure you don't have to sweat dealing with errors you were not a part of. When you opt for Global Shipping Programme, you qualify for,
5-star cover on postage and dispatch on providing free domestic postage to the Global Shipping Centre.
5-star protection on delivery time on posting with 1-day dispatch and upload tracking details within one working day of receiving cleared payment.
Protection against neutral or negative feedback in some instances.
You won't be responsible in case of item loss or damage once the item reaches the Shipping Centre.
Once an item gets shipped from the Shipping Centre, you're no longer responsible for delays and delivery issues.
Global Shipping: The steps to follow
Once you sell a commodity, you'll receive the address along with a unique reference code.
You need to print or create your label that includes this unique reference number.
Ship your product to the Global Shipping Center.
Collect the international tracking details, and relax; eBay will take care of the rest.
There are certain eligibility criteria that you need to fulfill to start shipping through the Global Shipping Program. It'll get easier for you to understand through an example. So, let's take a look at how Global Shipping works for a seller based in the U.S.
However, you'll need to contact eBay Help to get the respective shipping eligibility and Global Shipping policies for the region you're currently selling in.
Eligible countries if you're selling from the U.S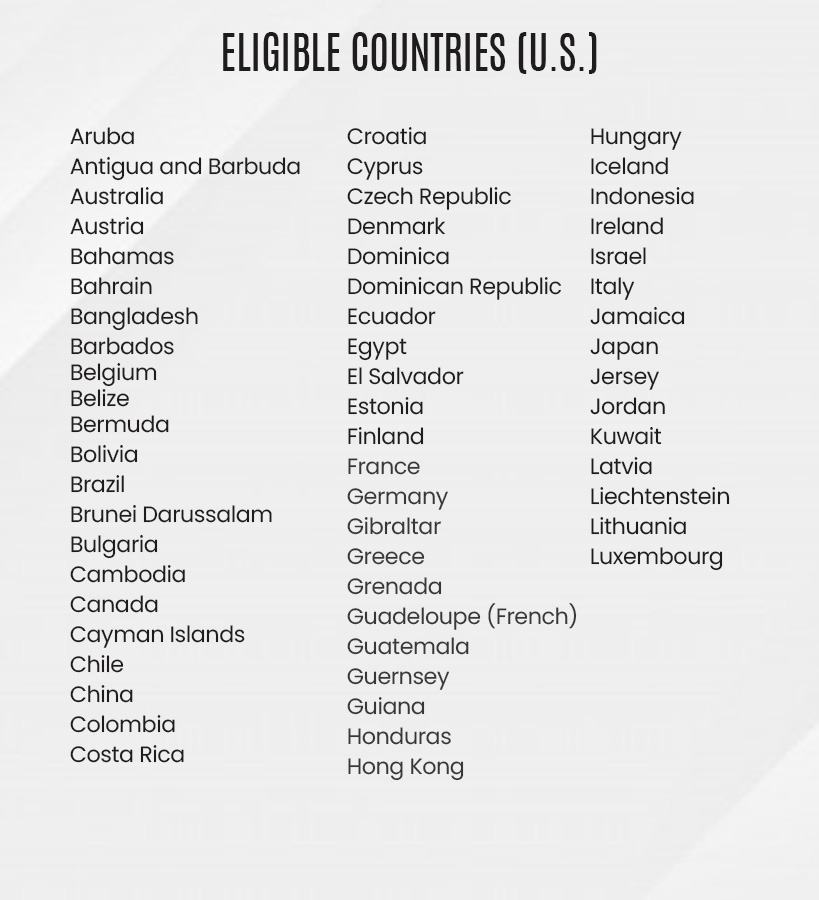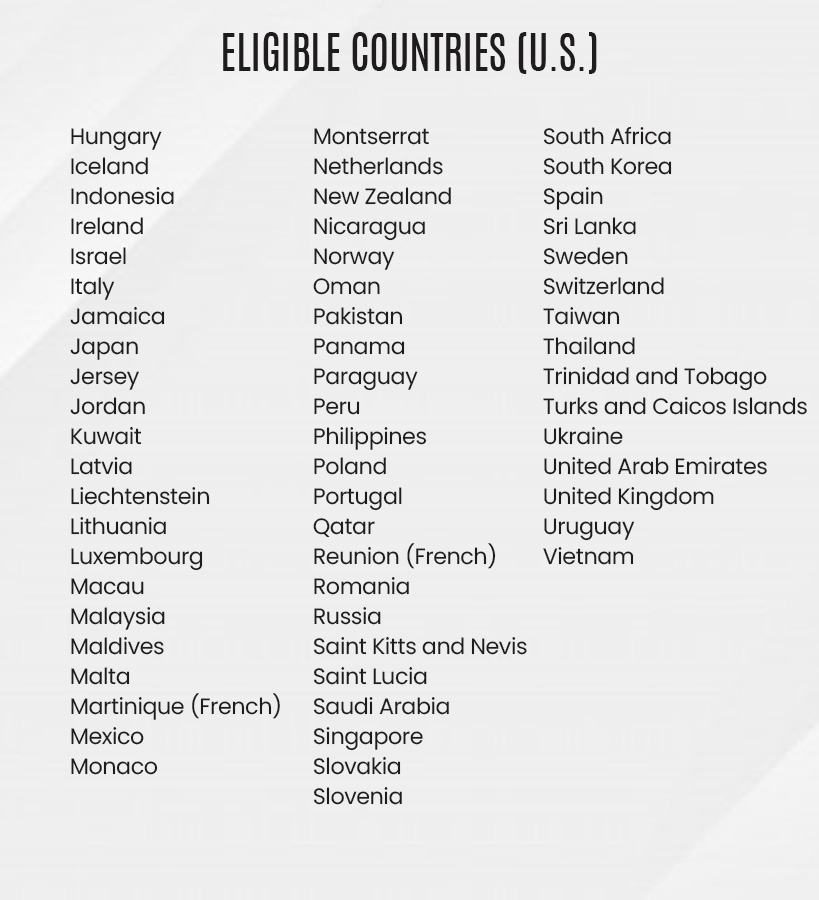 Eligibility Criteria: For Products (For U.S sellers)
Things to keep in mind when shipping from the U.S.
Your product needs to be in the U.S.
Your item needs to be on sale on eBay.
The Global shipping program should support the category you listed your item in.
The only accepted mode of payment needs to be PayPal.
The delivery address has to be either a residence or a street. P.O. Box, FPO, or APO address are not supported.
Make sure to add correct weights and dimensions to your listings to avoid delivery delays.
Let's look at how things change when you're not a U.S based seller and are shipping from a different country. We'll consider the U.K, for instance,
When shipping from the U.K.
Product weight should be less than 30kg.
Size shouldn't be greater than 125,000 cm³.
Length shouldn't exceed 120cm on the longest side.
The product shouldn't be more than £2,000.
Restrictions: eBay Global Shipping Program
eBay has some restrictions that you need to follow if you're to sell your products across the borders. These restrictions get imposed, keeping cross-border trade and specific regulations followed by individual countries in mind. You can find a list of prohibited items on eBay.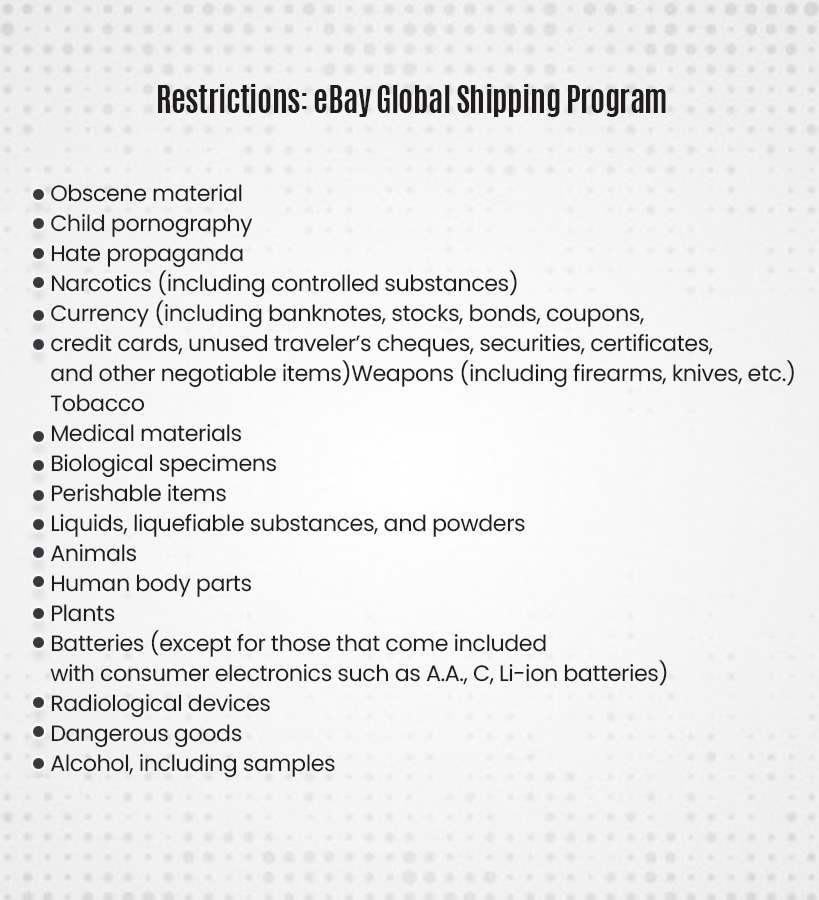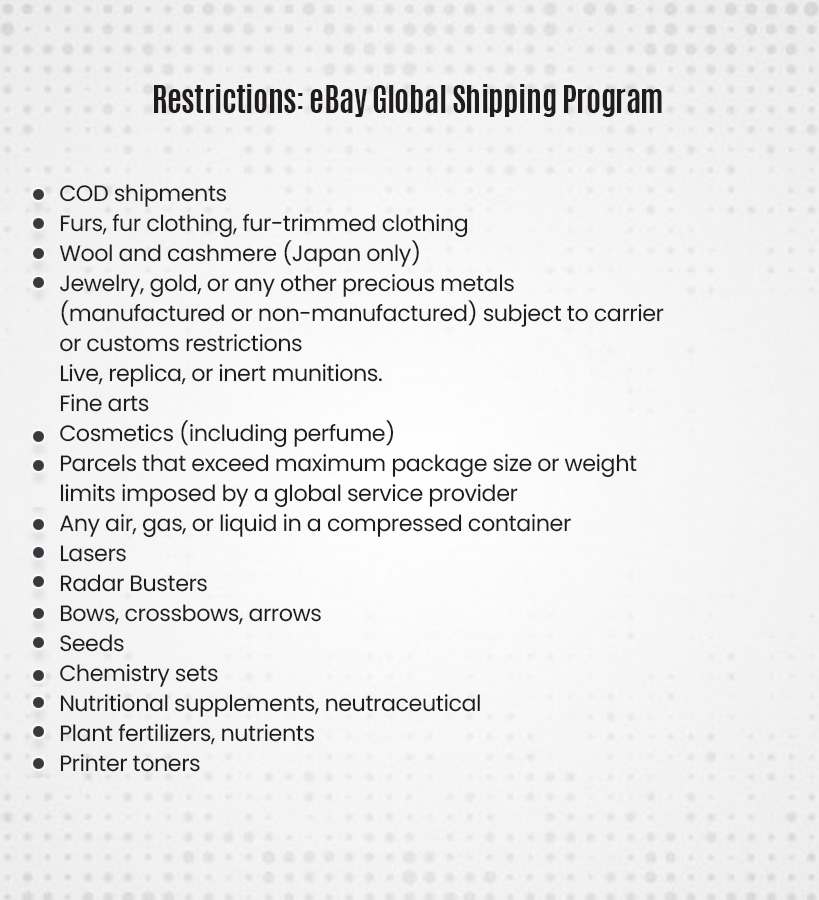 What does a buyer see?
eBay calculates the postage cost for international buyers, depending on where they live. It is this price they'll see for your listing. eBay also calculates the estimated delivery time for the buyer, including the time it will take for you to send the product to the Global Shipping Centre. Here's what the listing looks like,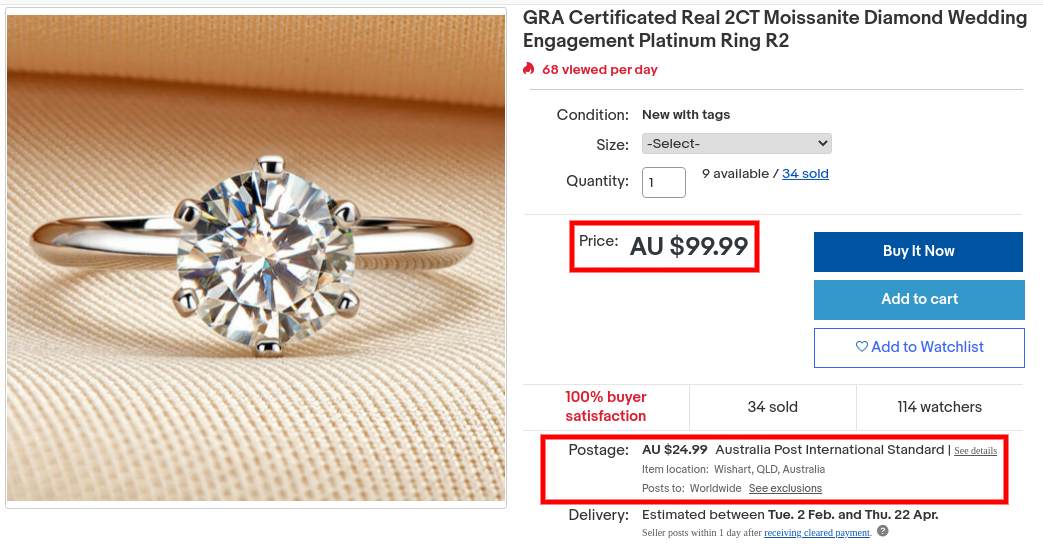 The buyer has to pay the postage fee for international tracked postage shipped from the shipping center.
All you need to do is ship the product to the shipping center, paying that shipment cost.

What is the payment procedure that follows?
Global Shipping Programme transactions are in sync with eBay and PayPal. The buyers go through checkout, and the payment gets split between you and the international postage provider. You get the full item price plus the domestic postage charges, and eBay will transmit the balance to the third-party global technology and international postage provider.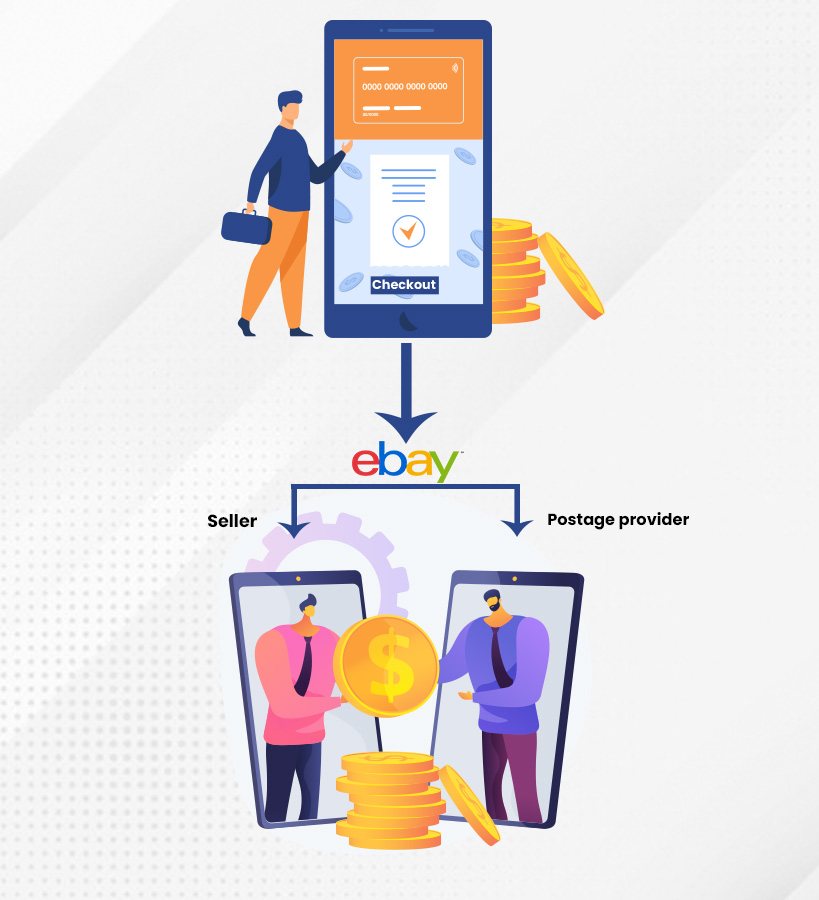 Global shipping program and Brexit
Like any other international shipment, the GSP will calculate the postage, duties, and taxes payable for European shipments. Buyers pay for it at checkout. As a seller, you ship your parcel to the Shipping Centre, and eBay looks after everything else.
It would be best if you kept in mind that to ship products from the U.K. to the E.U. After 1st January 2021, you'll need to obtain an EORI (Economic Operator Registration and Identification) number. The EORI number will facilitate the movement of goods into the European Union.
Start your Multi-channel operation with eBay through Different Frameworks. The eBay Integration is available for Shopify, BigCommerce, WooCommerce, and Magento. Try it Now!
Opting Out of the GSP
Often sellers find themselves in situations where they wish to try 3rd party logistics for international shipments. In situations like these, you can go ahead without the global shipping program eBay has to offer. In such a case, if you've enrolled yourself, you can opt-out of it whenever you wish to.
To opt-out of the Global Shipping Program.
Go to My eBay, followed by Account, finally selecting Site Preferences.
Now, Click on the Show link available on the Shipping Preferences section.
Then click edit to offer the global shipping program.
Click Opt-Out.
Review the information. If you still wish to opt-out, click Continue to opt-out.
Once you opt-out of the Shipping Program, you need to wait 24 hours to renew your enrollment.
Conclusion
Although international shipping is tough, eBay has taken a step forward, making things easy for its sellers. GSP is an excellent service, making global shipping hassle-free, simple, and user-friendly. As a seller, you need to ship your products to the destination, i.e., the Global Shipping Center, and take a breather. At the same time, eBay takes your package and delivers it for you.
eBay also provides you with some of the best policies to safeguard your interests. This makes it one of the best and most efficient marketplace to sell on. eBay makes sure to deliver the products to your international clients. So if you're planning to start and go global, eBay's global shipping program is the way forward to it.
Have you used eBay's Global Shipping Program yet? Share your experience. We'd love to hear it!