A Quick Guide: How to Sell on eBay with Shopify Integration for eBay?
Running short of time? Get PDF of the blog in your mail.

Play Now
Sellers having a store on Shopify can now boost their sales. How? The Shopify Integration for eBay offers you the chance to achieve more audience or customers, more traffic, and more sales. The App provides many features that ease the selling process. The Shopify Integration for eBay can instantly produce your listings before a whopping 182 million buyer-base of the eBay marketplace.
Why should you sell Shopify products on eBay?
eBay is the second most popular marketplace in the World. It is one of the favorite spots for sellers to sell because of fewer entry barriers, rapid order management, quick results, and excellent learning resources for sellers at each point.
Access up to 152 million dynamic purchasers around the globe.
eBay has over 1.5 billion active product listings.
As many as 19 million active sellers on eBay as per the Q3 eBay report
Advancing with eBay's versatile seller platform: Did you realize that 476 million individuals have downloaded eBay Mobile Shopping Apps?
Furthermore, eBay shopping 66 million monthly global users access eBay's website.
In addition to this, $12.0 billion comes in orders from smartphones.
63% of eBay GMV involves a mobile touchpoint.
eBay also gains popularity because of having 34.9% of shoppers worldwide selling on eBay.
Eventually, these benefits cannot be overlooked by the seller in you. It's also a common practice among sellers to indulge in multichannel operations to boost their growth and expand their business. Now, everyone knows this is a tedious task to look after your shops on multiple platforms. To begin with, you can go for Shopify integration with eBay through Shopify Integration for eBay App.
Connect your Shopify store with eBay and drive millions of visitors to your products. -List, -Sync, -Automate & Expand your sales with Shopify Integration for eBay NOW!
Automate Your Store Through Shopify Integration for eBay
Without much of a hassle, you can add new products into Shopify and customize your product data on eBay to create an eBay listing. Rather than dealing with numerous stages of listing products, you can do everything from a single spot and sell on eBay successfully.
You get to manage your inventory for your online store as well as for the eBay listings directly from Shopify Integration for eBay. Dealing with different stages that too on different platforms – Shopify and eBay can appear to be threatening. Particularly with regards to inventory. The Reports section available on the App makes it extremely easy to monitor your total income, recognizing your top of the line SKU and shipping costs.
Shopify Integration for eBay will synchronize your inventory details, so you never need to stress selling products you don't have. Ever since its launch, the Integration helps the sellers grow profoundly with the ease of operation and management. You can easily integrate Shopify with Integration for eBay App. Customizable options, a fantastic pricing scheme, and features like Templates Creation have helped the sellers get the most out of their selling experience on eBay while managing their stores as well.
Read yourself from the successful sellers who went for Shopify Integration with eBay through an extraordinary App 'Integration for eBay'.
Being one of the largest online retailers globally, eBay has an incredible online network. Hence, it creates more deals and enhances selling channels. In return, it creates an excellent opportunity for small Business owners and offline stores to mark their online presence.
Features of the Shopify Integration for eBay
What else is there to compliment the eBay integration? The App offers a thorough arrangement and management that empowers online sellers. One can upload products, customize their data, fetch orders, make returns, and offer discounts, among different highlights from their very own store. Download and install our App that comes with the following features.
Real-Time Synchronization
It makes any changes made to Shopify product details on your store to reflect on your App. It further gets synchronized to your eBay Account. You can also administer the entire process at will.
Bulk Products Upload
The integration application lets you transfer your products in bulk. Select the products you need to pick and move them in one go.
Error/Updates Notification
For all the failed product transfers, relating mistakes, ongoing tasks, and eBay listings, regular updates appear to you. It empowers you to legitimately check in at the blunders, redress them to transfer the products right away. Again, dispose of many problems — some examples like a low stock warning, order alert, and posting mistakes.
Publish or Unpublish the Products
It empowers you to restrict the sale of specific products at eBay. You can Unpublish the products, and on the off chance that the need emerges, at that point, they can again get published.
Manage Orders
The application auto acknowledges the orders and then imports them to your Shopify store.
Regular Updates
Each update rolled out by eBay for an enhanced user experience is included in the App and made available to you on our application. And all the more significantly, the updates are free and made available almost immediately on the App.
Unique Features of Shopify Integration for eBay
This Integration gives a straightforward way to utilize the interface to manage stock, import orders, and alter catalog (item) data. A few elements of this application make it a powerful tool, which gets depicted as shown below,
Fundamental eBay-driven Capacities
#1. Variant Compatible
Easily move postings and every one of its variants from Shopify to eBay.
#2. Product Relisting
If you have finished listing up an item(s) on eBay, you can relist the equivalent at any time.
#3. Delay purchase Control
Decide whether you'll accept eBay orders when the product goes out of stock on your Shopify store.
#4. Templates to Customize the Data
It offers Inventory, Category, Price, and Title Templates to reduce redundancy while filling data for specific products. Besides, at whatever point you as a merchant need to transfer data, you can get it done from the App itself.
#5. Threshold Inventory Settings
Merchants can transfer their whole inventory with only a single click. They can get their products transferred by choosing a particular profile or item type. The threshold Inventory settings also give the seller an upper hand at overselling by restricting the orders after the inventory status reaches the limit set as Threshold Inventory. As soon as the threshold limit gets met, the App also makes the product out of stock on eBay.
#6. Fixed and Auction Type
You get the option to select the listing to opt for a particular product. As you know, eBay has initially been an auction site. It allows you to list products for auctions as well as for a fixed price. And so does the eBay Marketplace Integration, which lets you control and list your products using the App.
#7. Global and Local Shipping
You have the choice to select between shipping partners based on your shipping profiles. eBay offers various shipping partners to carry out the fulfillment process like USPS, USP, FedEx, and others.
#8. Currency Converter
Allow you to convert the currency when you have different currencies between Shopify and eBay marketplace. Let's take an example where you have your Shopify store set up with UK currency and want to connect the app with your eBay U.S account. The app lets you convert the product prices on the Shopify store in accordance with the currency of the respective eBay marketplace you're selling on (In this case it'll be the U.S). So when you sell a T-shirt for £2 on Shopify, the currency converter will help to get this converted into your eBay shop's currency. Thus, this T-shirt would appear to be $ 2.70 on eBay.com.

Customer Reviews on Shopify Integration for eBay
These predominant features have helped many sellers across globe. Being small businesses or brands, the app assists all Shopify sellers in onboarding, upgrading and scaling their businesses in a short span of time.
Here are some of the reviews compiled that stands as testimonials to the utility of Shopify Integration for eBay.
Bulk Editing and Bulk Correction in Product Listing is easy and quick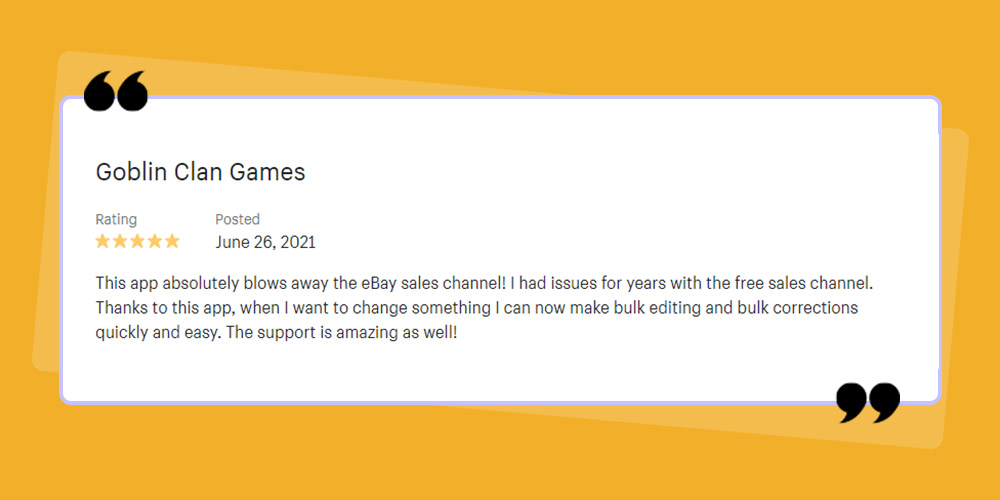 Instant Technical and Customer Support gets job done in no time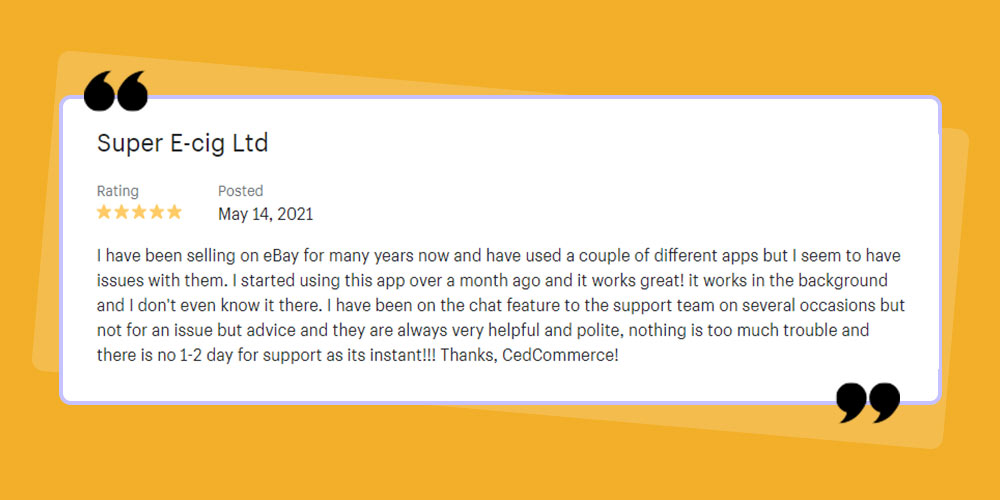 Easy, Fast, and Intuitive app to expand online business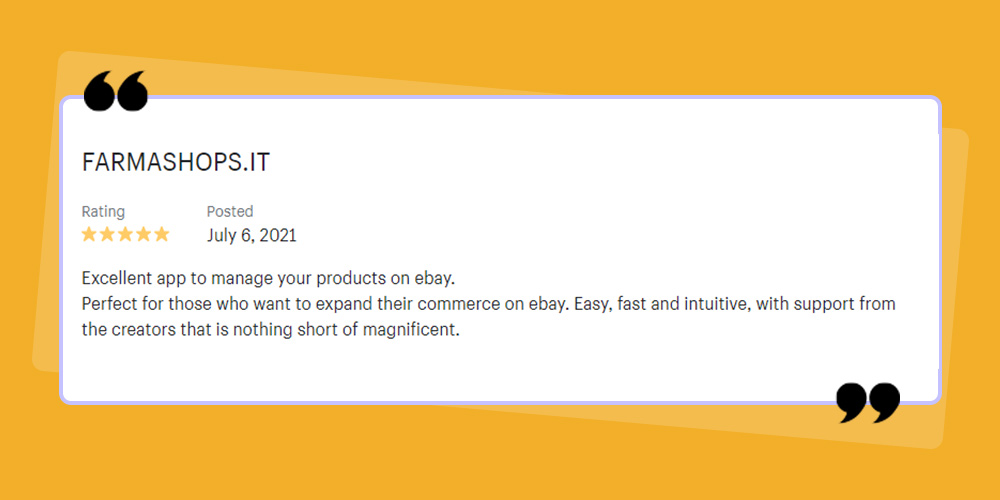 Hassle-free and Flawless Product Syncing and Order Management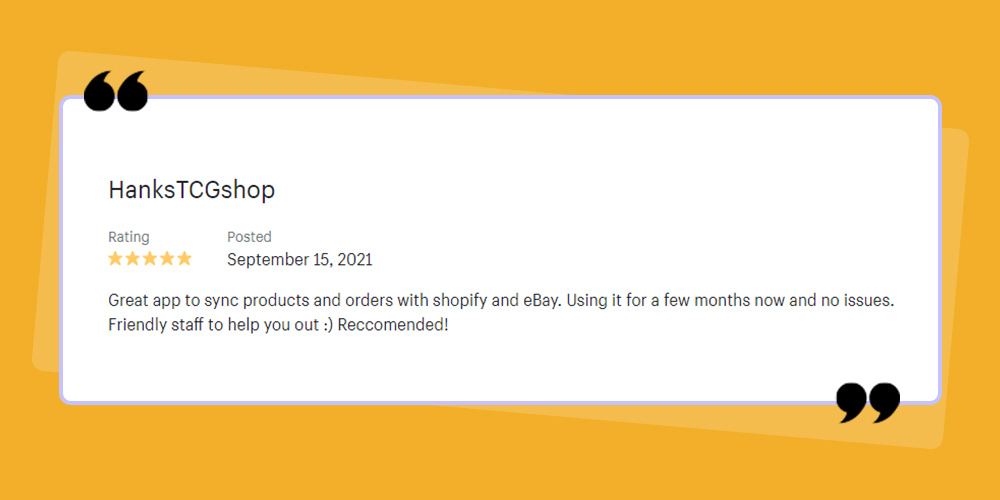 If you are one of the potential Shopify sellers on eBay and want to know more about onboarding processes, keep reading below:
How to sell on eBay with Shopify Integration for eBay
To begin with, you need to integrate your Shopify store with eBay. Shopify integration with eBay needs an onboarding process on eBay Marketplace Integration.
The onboarding process consists of:
Registration
Linking eBay Account
Choosing a Plan
Mapping Shopify store with eBay
Setting up Business Policies.
Setting up Default Category (Listings)
Dashboard
#1.Registration
The first step is all about knowing you; you need to fill in some details. To recognize you as a seller and provide you with maximum support. The registration process asks you for:
Contact Nos.
Name
Email Id
Monthly Earning
Skype Id and other related information.
#2. Linking eBay Account
You must choose the location and account type to let Shopify Integration for eBay connect your eBay account to the App. You will get redirected to your eBay account, where you need to accept the terms and conditions and move further.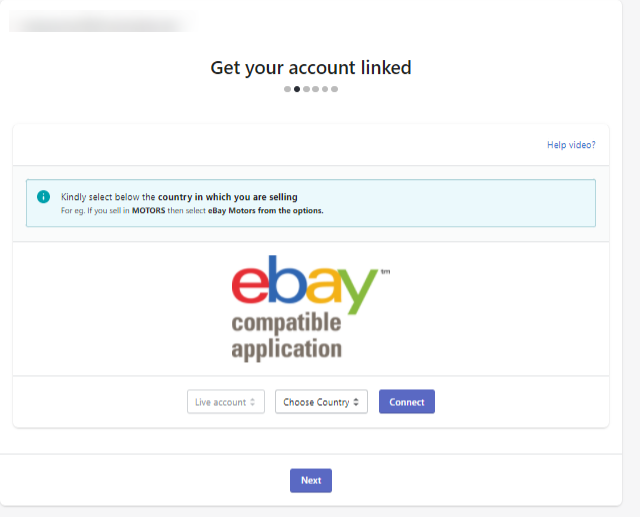 Note: You can either link your live eBay account or can register on eBay to start selling.
#3. Choosing a Plan
Shopify Integration for eBay comes with lots of packages; you may, with your convenience, choose any of the desired plans. Different options are offering lucrative benefits as Free, Bronze, Silver, Gold, and Platinum.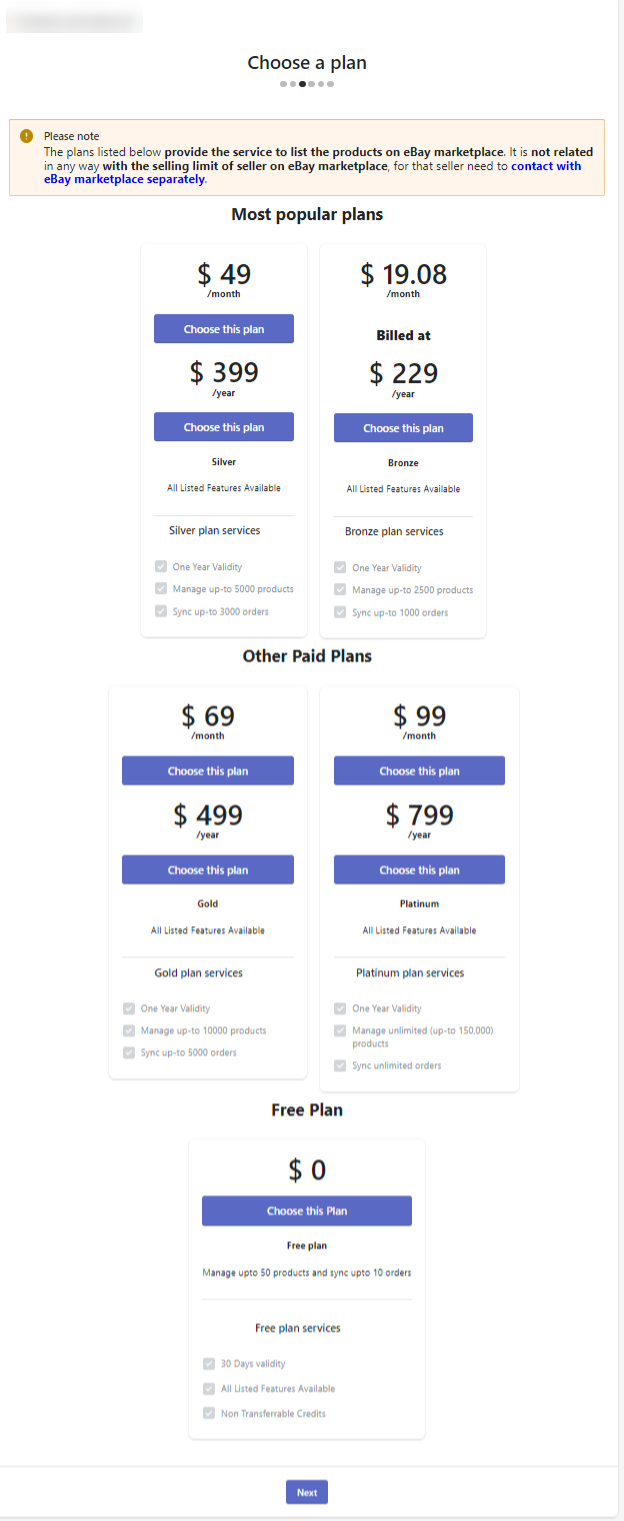 #4. Mapping Shopify and eBay
The app functionality lets you map Shopify store products' attributes with the products that are already present on eBay. The process is essential as it plays a vital role in restricting any duplicates that may occur in the marketplace when you upload your Shopify Products on eBay.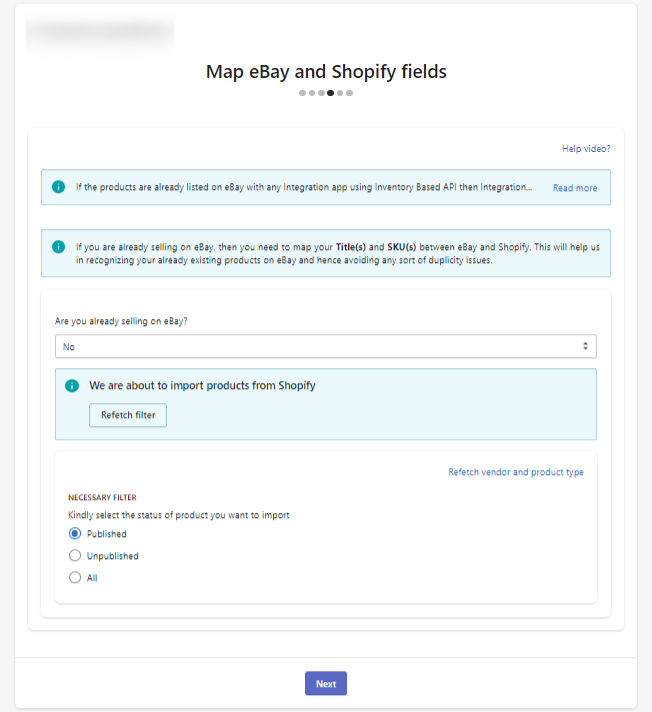 #5. Setting up Business policies
Each seller on eBay needs to have a defined business policy. A successful Shopify integration with eBay also gives the sellers this opportunity to choose between pre-existing plans or opt for the "create new" option. The Business policy involves policies regarding:
Payment Policy
Shipping policy, and
Return Policy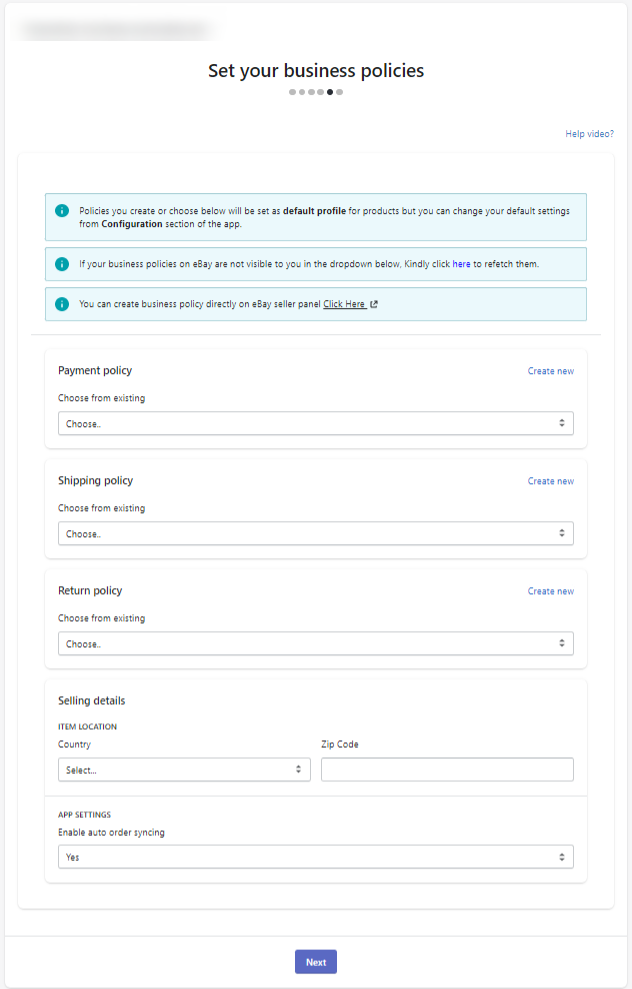 On the other hand, you can also choose whether you want to select auto-syncing of products or orders from Shopify to eBay or vice-versa.
Note: The auto-syncing 'on/off' specifically allows you to save your extra listing fees on eBay. Enjoy total control of your listings.
#6. Setting up Default Category
Furthermore, Shopify Integration for eBay also lets you set up your default product category with different attributes. The App is up to date with all the categories of eBay. So, it allows you to either choose one from the options or create your own.
Note: In addition to the categories, you can always choose listing conditions as in 'New with box/Old and Used.'

#7. Explore the Dashboard
The Shopify Integration for eBay offers an excellent interface for the sellers. On the top left corner, it has the 'Menu Panel. The panel gives you easy access to control and modify details related to your,
Products
Orders
Profiles (it's of utmost importance to get the products' profiling done)
Template
Business Policies
Configurations
The menu panel also lets you access the Pricing and Activities section.
Anytime in between your selling activity, you can easily make changes to the respective functions by entering into the dedicated tab.
In addition to this, the dashboard shows the real-time status of the Order, Product, and Credits. Any changes in them are reflected at once in the App through Real-time Synchronization. It also reflects the current plans along with the recent notifications about updates and errors.
In the meantime, reading throughout seems a challenging task for you. You can enjoy the video that shows step-by-step guidelines for integrating your Shopify store to eBay Marketplace through the dedicated App.
What makes our eBay Shopify Integration different from others?
You get the power-packed unmatched performance of the dedicated Shopify Integration for eBay and two major tie-breakers from CedCommerce. As you're selling globally, you are definitely worth the extra perks!
Individual Account Manager
Instantly after purchase, one of our account managers will join you. And while being at your service to help you through the entire process of setting up your App and start automated selling.
Get you acquainted with eBay policies and procedures.
Guide you through the eBay API actuation procedure and help you out to empower eBay to live API.
The Account Manager will help design settings, item necessary information, and item transfer procedures until you effectively complete a live request.
In simple words, we will be with you at each step to selling on eBay with Shopify.
Our Dedicated Support Team
Release quick upgrades each time eBay.com dispatches an update/feature.
You can also mail us at apps@cedcommerce.com
Have you got questions? Our Technical Support is only an email away.
Ping us instantly on Skype and WhatsApp to get connected.