Why eBay Star Colors Matter: Boosting Your Seller Reputation and Sales
Running short of time? Get PDF of the blog in your mail.

Play Now
Are you one of those sellers who spend hours scrolling through eBay, trying to analyze your competitors? Well, have you ever noticed those little stars next to each item's name? No, they're not a secret rating system for products. Those stars represent the sellers' star ratings on eBay.
You might be thinking, "What is eBay star rating system? Is it some measurement of quality?" Well, not exactly. But don't worry; this blog aims to guide you through the ins and outs of the eBay star rating system. So sit back, relax, and get ready to learn about how to get the best star ratings.

[Visit the Pricing Section in the App and enter the code: BFCM2023EBAY for your desired subscription plan]
What is the eBay star rating system?
After you sell a product, eBay gives your buyers the option to leave feedback for the seller, i.e., you. Your buyers can rate you on a scale of 1 to 5 stars, with 1 being the lowest rating and five being the highest. And let me tell you. Those stars can make or break your business from a reputation point of view.
How does it work? A seller's feedback score is displayed as a percentage, telling you how many buyers had a positive experience with them. So, if you see a score of 99.5%, that means 99.5% of the buyers who left feedback had a great time dealing with that seller!
The eBay seller's star rating is something different. It is a number that shows how many buyers have left feedback for you. The more stars, the more buyers have had a positive experience with you. So, it's an excellent way for buyers to ensure you give top-notch service.

Understanding the eBay star rating system
Consider it to be an online Yelp review for your purchasing experience. Yet, your customers rank your communication, shipment speed, and general pleasure with the transaction rather than the caliber of the avocado toast.
Moreover, similar to Yelp, those eBay star ratings are important. High-rated sellers are regarded as being more dependable and trustworthy, and their products are more likely to sell quickly. Conversely, buyers may refuse to take a chance on sellers with negative ratings.
There you have it, then. In a nutshell, the eBay star rating system. Remember, those stars add up, so ask your subsequent eBay purchasers to leave feedback.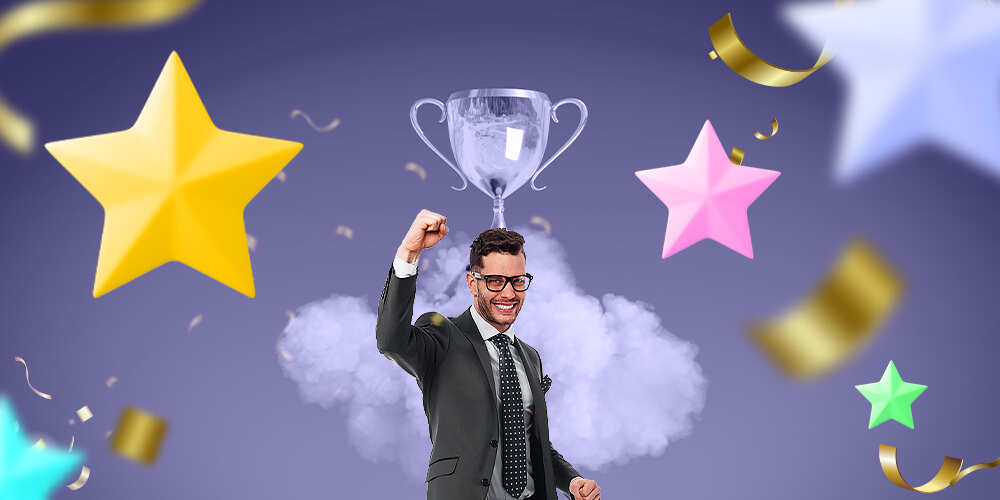 Types of eBay Star Colors
First, the color of your eBay star is determined by the quantity of customer feedback you receive. To receive your first eBay star color, a cheery shade of yellow, you must accumulate at least ten feedback points. It's like receiving a gold star in kindergarten, but for adults instead!
Yet, there's still more! Your eBay star will change colors and perhaps even unfold little shooting star lines as you accumulate more feedback points. It's as if you're some eBay superhero.
Here's the breakdown of eBay's star colors rating system. Find the feedback points to level up your eBay star colors rating. There are a total of 12 eBay star colors assigned to the ratings:
Yellow star: 10 feedback points
Blue star: 50 feedback points
Turquoise star: 100 feedback points
Purple star: 500 feedback points
Red star: 1,000 feedback points
Green star: 5,000 feedback points
Yellow shooting star: 10,000 feedback points
Turquoise shooting star: 25,000 feedback points
Purple shooting star: 50,000 feedback points
Red shooting star: 100,000 feedback points
Green shooting star: 500,000 feedback points
Silver shooting star: 1,000,000 feedback points
It resembles a video game but has customer support instead! Look at your seller feedback profile's header if you're interested in where you stand in the star game.
Which eBay stars are better?
Let's begin with the yellow star at the bottom. Undoubtedly, the yellow star is fantastic but also the most uncomplicated star. It's decent but could be more noteworthy. You get it when you earn a ten positive eBay star rating.
When you move up to the blue star, stars become more attractive. The blue star means you've earned 50 feedback scores and your customers are pleased with your product and customer service. You're like the wheat bread of eBay star colors. You're above the basics, but there's still room for improvement.
Now we're getting into the big leagues with the turquoise star. This star requires 100 feedback scores, and you're starting to establish yourself as a reputable seller. It means you've got a bit of a cult following, and people know they can trust you.
The purple star is where things start to get impressive in the league of eBay star colors. This star requires 500 feedback scores, and you consistently provide quality service. And because they know they're getting something extraordinary, customers are willing to pay more for your goods.
The red star is the next level up, and it's unlocked after you receive 1000 feedback scores. At this point, you're like the fancy bakery in town. People come to you because they know they're getting the best quality products and services.
But we're still going, folks. The green star is the top standard eBay star color, requiring a whopping 5000 feedback points to acquire. This is like the Michelin-starred restaurant of eBay star colors.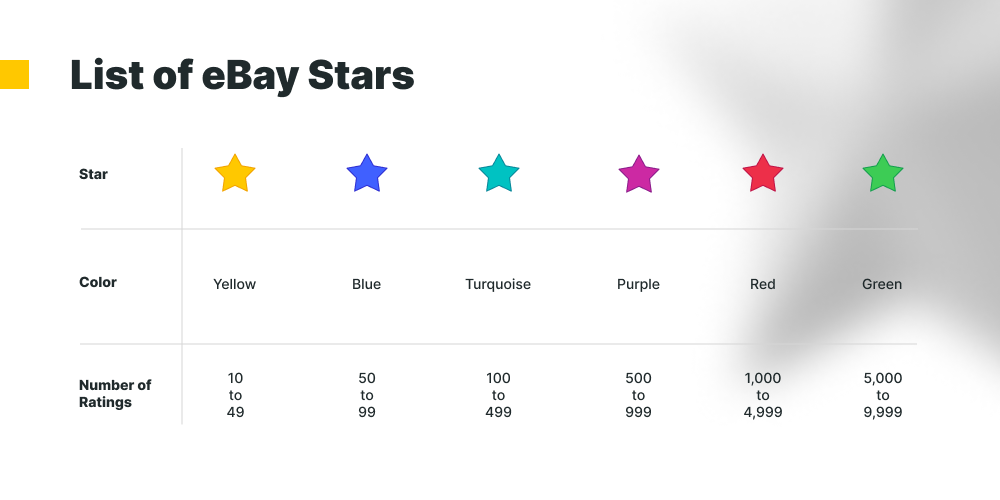 Getting eBay shooting star rating!
Now we'll be talking about the shooting star stages. The first shooting star on the list is the yellow shooting star, which requires 10,000 feedback points. It represents that you've achieved a level of accomplishment selling on eBay.
The turquoise shooting star needs 25,000 ratings to be unlocked. While to get the Purple shooting star, 50,000 rating points are required. Once you open these, people will know that anything you sell will be of the highest caliber.
On eBay, the Red Shooting Star and Green Shooting Star resemble the pinnacle of success for sellers. A Red Shooting Star requires an absurd 100,000 feedback points, while a Green Shooting Star requires an enormous 500,000 points. As a result, if you succeed in earning a Red or Green Shooting Star, you're already a legend. We're talking about becoming a superstar here, let's say, Michael Jordan of eBay's internet selling.
The silver shooting star comes last. A mind-boggling 1,000,000 feedback score is necessary to unlock this star. It's comparable to receiving a Nobel Prize on eBay.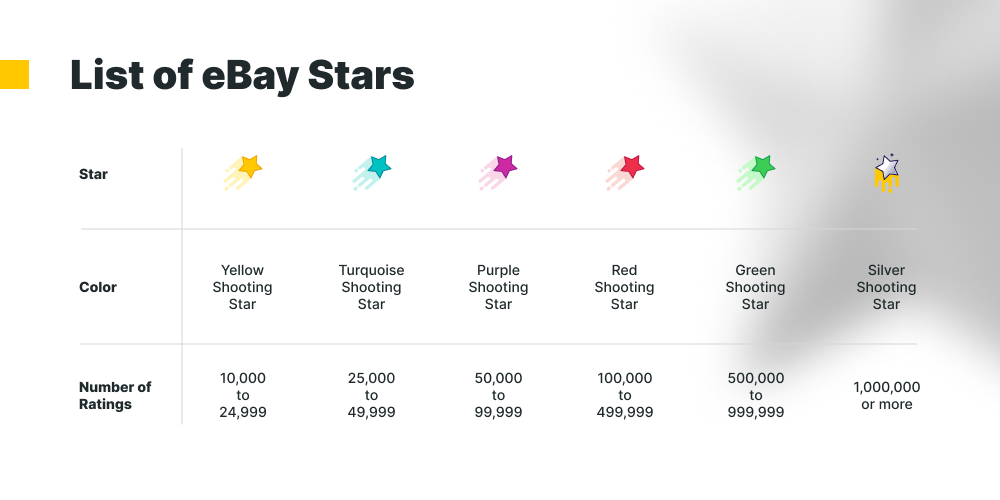 How to get better eBay feedback score and stars
You may be wondering what you can do to raise your feedback score. Make sure you're offering the best in class customer service to begin with. And by best-in-class customer service, we mean going above and above to satisfy your customers.
The fundamentals of improving your feedback and eBay color stars rating may be simple, but it requires some real work and a lot of heart.
How to improve seller feedback score on eBay?
First and foremost, always deliver the best possible customer service. It should be the kind that inspires your buyers to write you heartfelt emails (or at least leave positive feedback). Remember to follow up with customers after a sale, minimize handling time, ship products promptly, and ensure accurate item descriptions. Lastly, remain composed and professional even when negotiating with challenging buyers. These will help you build a good relationship with your buyer and increase your eBay star colors ratings.
But we all know these pointers, although we sometimes ignore them. Here are a few points that, when applied correctly, will earn you positive results quickly.
#1. Automate product listing
Automating your product listing on eBay can be a game-changer for your online business. It can also help you stay organized and on top of your listings by spending less time on tedious data entry and more time on other essential aspects of your business, like customer service and marketing.
With automation, you can set up a template that ensures all your listings have the same level of detail and accuracy. Deploying eBay-certified tools for your shopify eBay integration is one o the best moves to conquer it. CedCommerce eBay Integration is one such tool officially recommended by eBay itself. A silver-tier partner of eBay, CedCommerce provides an integration tool to help you syndicate your products and map your listings on the marketplace from Shopify. With reduced handling time and accurate inventory management, you'll always be on time with your orders. It will open doors to accumulating positive eBay star color ratings by your buyer.

#2. Seek Customer Feedback
You can also set up automatic feedback requests in your eBay account. The automated feedback setup lets you send a message to buyers asking them to leave feedback. Just personalize the message so it doesn't sound too robotic or spammy.
And finally, take feedback seriously. Showing that you're actively addressing issues can go a long way in building trust and loyalty with your buyers and getting a better-colored star on eBay.
#3. Address Customer Concerns
If you're an eBay seller, you know that customer concerns are a part of the game. Be responsive. Respond as quickly as possible when a buyer reaches out with a situation. Acknowledge their issue, and tell them you're working to address it. There'll be times when you will need more time to provide a solution. However, letting them know that you're there and listening to all their worries can go a long way in easing their concerns.
#4. Improve Customer Shopping Experience
Make sure your listings are accurate and detailed. Be sure to include high-quality photos, detailed descriptions, and relevant product information. It reduces the likelihood of returns or negative feedback.
Be sure to ship items promptly, and use trackable shipping whenever possible. When buyers have a positive experience with your customer service, they're likelier to leave positive feedback and recommend your store to others. It'll also be an excellent tool for getting a better-colored star on eBay.
And finally, consider offering a hassle-free return policy. This can help buyers feel more confident in their purchases and reduce the likelihood of negative feedback. When buyers know they can return an item that doesn't meet their expectations, they're likelier to take a chance on your store and buy from you again.
#5. Research what your competitors are doing.
As an eBay seller, watching your competitors' actions is always a good idea. By monitoring their listings and strategies, you can get valuable insights and ideas to improve your business.
You should also check your competitors' customer service and feedback ratings. How are they responding to buyer questions and concerns? Are they getting positive feedback, or are they struggling with negative feedback? Learning from their successes and mistakes can improve your customer service and eBay star colors rating.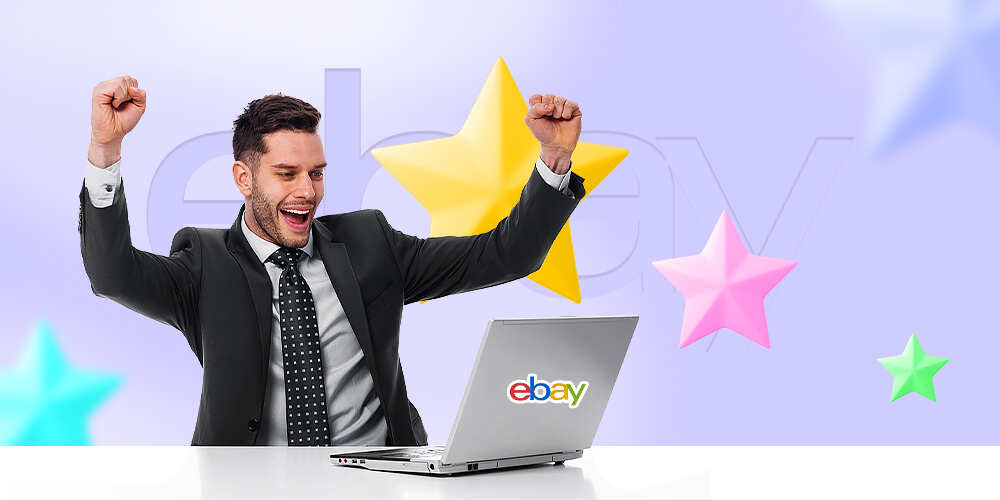 How to reduce Negative feedback on eBay?
Receiving negative feedback on your eBay account can be a real bummer. Here are some tips on reducing negative feedback and keeping your eBay reputation shiny and bright.
Buyers hate feeling left in the dark, so keep them in the loop. Respond to their messages and inquiries on time, and provide tracking information once the item has shipped.
Set realistic expectations. Only promise a speedy delivery if you know you can deliver on time.
Pack like a pro. Nothing is more frustrating than receiving a damaged item due to poor packaging.
Honesty is the best policy. If there's an issue with your item or a mistake, own up to it and work with the buyer to make it right.
Be a shining star. Go above and beyond to make your buyer's experience a positive one. Include a thank you note or small extra gift with their purchase.
Making an eBay feedback revision request
Locate the item in question. Go to your Feedback profile and find the item you want to revise. Click on the Request Feedback Revision for the negative feedback you've received and select a reason of why you're making this request.
From there, they'll take you to the Feedback revision page. This is where you'll plead your case to eBay. Explain why you feel the feedback is unjustified or unfair, and provide any relevant evidence to back up your claim. Remember that eBay only allows revisions in certain circumstances, such as if the feedback contains false information or violates eBay policies.
Once you've submitted your revision request, all you can do is cross your fingers and wait. eBay will review your request and decide based on their policies and guidelines. In the meantime, don't stress too much about it.
Should I reply to negative feedback on eBay?
First, remember that responding to negative feedback won't change the feedback itself. Once it's there, it's there. But, it can be an excellent opportunity to clear up misunderstandings and provide your story.
When replying to negative feedback, try to stay calm and professional. Please don't resort to name-calling, insults, or passive-aggressive comments (even though it may be tempting, trust me). Instead, thank the buyer for their feedback and apologize for any issues they experienced. Then, explain your steps to address the problem and prevent it from happening again.
Should I leave feedback for buyers on eBay?
It's a question that has plagued sellers since the beginning of time (or at least since the beginning of eBay). Should you leave feedback for buyers on eBay?
It's a great chance to shout out to buyers who went above and beyond or kindly remind those who may have forgotten to leave feedback for you. Plus, it's just good karma, right?
On the other hand, leaving feedback for buyers can be a chore. After all, you've got better things to do than leave feedback for every buyer who purchases from you. And what if they leave you negative feedback in return? Leave feedback for buyers on eBay. Sure, it may take some time and effort, but it's a small gesture that can go a long way.
Start Aiming for the Shooting Stars
In conclusion, the colored star rating system on eBay is a crucial tool for buyers and sellers to evaluate and make informed transaction decisions. A seller's star rating on eBay can make or break their reputation, so striving for excellence in all aspects of the selling process is essential. On the other hand, buyers can use eBay star colors to avoid potential pitfalls and ensure a positive shopping experience. You can become a successful eBay seller by understanding how the eBay star rating system works and taking steps to improve it.