Everything you need to know about eBay Return Policy!
Running short of time? Get PDF of the blog in your mail.

Play Now
eBay holds a prominent place as a renowned online marketplace. It presents an option to sell a wide array of products to a diverse range of sellers. As a result, in this bustling digital marketplace, having a well defined return policy isn't just a good idea; it's a crucial component.
Understanding eBay's return policies, such as the 30 day return policy, the 14 days window, and the rare "no return" scenarios, can significantly impact your selling experience. Join us as we delve into the ins and outs of eBay's return policies. We'll explore how they shape the dynamic eCommerce landscape in the marketplace and how to create an eBay Return Policy that aligns best with your business.
What is eBay's Return Policy?
eBay's return policy is a part of the well designed eBay business policies system that offers various options catering to sellers and buyers. Sellers have the flexibility to choose from multiple return options, including 'No returns accepted.' Although eBay highly recommends opting for more buyer friendly choices, such as eBay's return policy in 14 days, 30 days, or 60 business days. Moreover, sellers can opt for free returns, potentially increasing sales by a significant margin—anywhere from 5% to 25%.
From the buyer's perspective, eBay aims to provide a hassle-free shopping experience. This means that once you start offering more lenient return options like "eBay 30 days return policy," you may experience a noticeable boost in sales.
When buyers initiate return requests, the eBay return policy allows sellers to establish rules for quick returns and refunds for the buyer. eBay's Return Policy emphasizes the importance of balancing seller and buyer convenience.

How do Returns work on eBay?
Initiating returns on eBay involves a collaborative effort between buyers and sellers. It promotes transparent communication. When selling on eBay, you need to outline your stance on returns, specifying conditions under which they're allowed. These conditions cover aspects like return shipping responsibility and the timeframe for accepting returns post-sale.
Creating a well defined return policy is crucial. Addressing return requests instantly enhances the shopping experience, offering efficient resolutions. For sellers accepting returns, automated rules can streamline return request management. eBay's return policy for sellers serves various purposes, including:
Automatic Acceptance: You can automatically approve specific return requests while retaining the flexibility to handle others manually. This balanced automation ensures efficiency and personalized care when needed.
Issue the Refunds and Item Retention: If return shipping costs exceed the item's value, automated rules can provide an immediate total or partial refund with the option to keep the item. This approach boosts efficiency and enhances buyer satisfaction.
Distinct Return Addresses: Automated rules enable you to set different return addresses for diverse items. This feature proves beneficial for various product types or locations.

eBay Money Back Guarantee Policy
The eBay Money Back Guarantee provides comprehensive coverage for a wide array of eBay transactions, ensuring buyers have recourse in case issues arise. This policy safeguards buyers' interests, permitting them to seek a refund if the received item doesn't meet the outlined criteria.
Here's a concise breakdown of the eBay Money Back Guarantee, covering its scope, eligibility conditions, and crucial exclusions.
Eligibility for eBay Money Back Guarantee Program
The eBay Money Back Guarantee is applicable in the following circumstances:
Non Delivery: If a buyer doesn't receive the purchased item, they can initiate a case for resolution.
Item Not as Described: This comes into play when the received item doesn't align with the listing. This encompasses instances when the item arrives damaged or is different from what was in the listing.
Seller's Return Policy: Buyers can engage the eBay Money Back Guarantee process if a seller fails to uphold their stated return policy.
Seller's Obligations
Sellers involved in transactions covered by the eBay Money Back Guarantee umbrella:
You are responsible for delivering items as described in their listings and honouring your specified return policies.
When a buyer reports an issue with an order, you must provide a resolution.
Even if an item was listed on a different site, transactions completed on eBay.com necessitate adherence to the policy's guidelines and timelines.

Global Transactions
In cases where sellers offer international shipping or don't exclude international options:
Buyers and sellers are subject to the buyer protection policies of the eBay site, where the buyer completes the checkout.
This is irrespective of the eBay site where the item was listed or the registration details of the buyer and seller.
Resolving Non-Delivery Concerns
When a buyer reports non-delivery and meets eligibility criteria, eBay investigates by considering the following:
Evidence of successful delivery to the provided address in the Order details.
Proof that the buyer collected the item, if applicable.
Upon confirming unsuccessful delivery or uncollected items:
The buyer receives a full refund for the item cost and original shipping.
You should reimburse eBay for the refunded amount.
Validating Successful Delivery
To establish on-time delivery, eBay requires the following:
A tracking number from an integrated carrier is uploaded to eBay, displaying a shipping scan before the latest estimated delivery date.
A delivery status (or equivalent) for the shipment.
Date of delivery or attempted delivery.
Recipient's address, including city/county or zip code matching the one on the Order details page.
Signature confirmation for orders above $750.
Validating Item Collection
For local pickup items, proof of collection includes:
A signed copy of the eBay order details during collection.
Use the eBay app to scan the buyer's QR code or manually input their 6-digit pickup code during collection.
How to Set Up an eBay Return Policy
Effective return request management is essential for a successful eBay selling experience. You can establish automated rules for return acceptance or instant refunds to optimize this process and save time. When listing items, you must indicate your return policy and conditions, covering aspects like return shipping costs and the timeframe for requested returns on eBay. But clarity is key; ensure your eBay return policy is well stated in your listings.
Automating Return Handling
Sellers embracing returns can utilize eBay's automated rules to streamline the process. These rules enable you to:
Automatically Approve Returns: Configure rules to accept specific return requests while manually processing others automatically.
Automated Refunds: If return shipping costs surpass the item's value, set rules for automatic refunds, allowing the buyer to keep the item.
Different Return Addresses: Enjoy flexibility by assigning distinct return addresses for varying items.
Automation boosts efficiency and provides excellent customer service by promptly addressing buyer return requests.
Available Return Policy Choices
eBay provides diverse return policy options catering to different preferences:
No Returns: The buyer can not return the item, which means no returns are accepted.
30 day Buyer Paid Returns: Buyers have 30 days to request returns and send the item, covering return shipping costs.
30 day Free Returns: Buyers can request returns on eBay within 30 days, where you pay for return shipping.
60 day Buyer Paid Returns: Similar to the 30 days option, but with a 60 day time frame.
60 day Free Returns: Similar to the 30 day free returns, but with 60 days.
Certain product categories may have unique return policies, with some allowing a 14 day return policy:
Camera Drones
Camera Lenses
Collectibles & Art
Digital Cameras
Jewelry
Medical & Mobility
Configuring Return Rules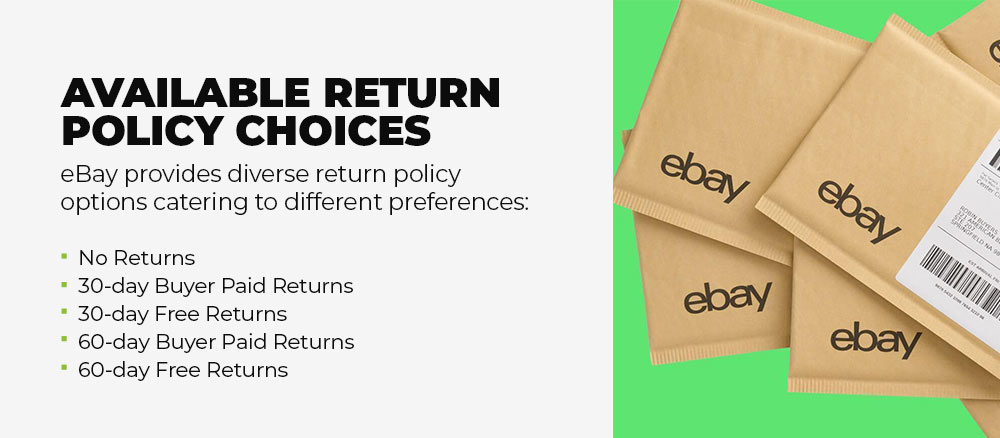 Here's a step by step guide to setting up your eBay returns:
Access your Returns preferences.
Under Send a Refund, define the refund threshold triggering an automatic refund, allowing the buyer to keep the item.
Specify applicable return reasons.
Under Approve a return, set the refund cost threshold for automatic return approval.
Indicate the return reasons for rule application.
Changes to your return rules affect future requests without impacting ongoing returns.
Setting Advanced Return Rules for eBay
For tailored automation, eBay allows the creation of advanced return rules:
Choose 'Send a refund automatically' or 'Approve a refund automatically' from the rule dropdown.
Input total refund amount(s) and relevant return reasons.
Specify items to which the rule applies.
Choose relevant selling categories.
Provide a descriptive rule name and save.
Customized rules enhance your return process while offering streamlined automation.
Addressing Misconceptions about eBay Returns
The realm of online marketplaces occasionally gives rise to misconceptions, and eBay is not immune to this. Let's clarify common misconceptions about eBay returns and provide facts.
Misconception: eBay Enforces a Universal Return Policy
Clarification: A notable misconception is the assumption that eBay imposes a standardized, one size fits all return policy for all sellers. Every eBay seller enjoys the autonomy to define their unique return terms. This translates to varying return policies across sellers. Sellers can opt to accept returns, set return timeframes, stipulate return shipping responsibility, and establish relevant conditions. Therefore, the outcome is a spectrum of return policies that align with varied seller preferences and business models.
Misconception: Singular Returns Approach for All Items
Clarification: Sellers can craft distinct return policies contingent on the item categories listed. This permits nuanced returns management. For instance, sellers can set extended return windows or specific terms for electronics, fashion, or collectables. eBay's platform accommodates these policy variations to suit the diverse products offered.
Misconception: eBay Controls Entire Return Processes
Clarification: While eBay equips sellers with tools and guidelines for seamless returns, the returns management rests with individual sellers. The sellers' responsibilities are initiating refunds, processing returns, and addressing issues. eBay's role centers on providing a platform conducive to these processes, fostering a transparent and efficient marketplace.

What have we learned about eBay's Return Policy?
In the dynamic world of eBay transactions, two key things make all the difference: talking things out effectively and making buyers happy. Unlike elsewhere, eBay doesn't force everyone to follow the same return rules. That means you can create rules that match what you sell and how you do things.
Every seller's return policy shows how serious they are about giving top notch service while recognizing the different stuff they sell. Sellers can improve things by being clear about their return rules and using automatic tools to handle certain parts of the return process. Above all, blending clear rules with clever automation moves is like making a masterpiece.