Use eBay Guaranteed Delivery To Help Your Business
Running short of time? Get PDF of the blog in your mail.

Play Now
2020 saw a sudden and ongoing shift to online shopping platforms, backed by faster and guaranteed delivery of products and hassle-free online experience on marketplaces like eBay. It proved that the millennials and even the elders are really impatient when it comes to online shopping.
Why? You ask. Faster delivery is the answer to it!
Everyone wants the products they like at lower prices, and they want it fast. Sellers who can provide the facility often find themselves busy tending to the overflowing orders. eBay taps into the buyer mindset and offers its sellers a guaranteed shipping program, something that lets sellers opt for a faster shipping option backed by eBay.
Update
eBay is all set to upgrade its delivery tags in such a way that they stand out and become more visible to your buyers. The step is being taken to make the delivery estimates clear and precise to acknowledge by the shoppers. To achieve this, it is updating the Fast n Free tag to a more straightforward design. A buyer will now see delivery estimates ranging from "Next Day Delivery" to "Upto four business days" of shipping options. The guaranteed delivery tag will also see an uplift as it gets changed to "get it by."
The new messages that'll get displayed post update are:
Offer free shipping
Offer same-day or 1-day handling
Upload your item's tracking details
Estimate arrival within four business days
The move helps clarify the shipping estimates and helps the buyers bifurcate between sellers offering different shipping options. You, as a seller, do not need to take any action to get the updated tags. If you're already selling under the Fast n' Free label, it'll automatically update to the new message.
eBay also retires the "handling time" option for Guaranteed Delivery. However, the "Door-to-Door" option will see no change and eligible listings will reflect "Get it by" for the promised delivery date.
What is eBay guaranteed delivery?
eBay officially launched the Guaranteed Delivery facility and implemented it in a phased manner, all eBay sellers can opt-in for the program when eligible over the years.
The program is simple. As a seller, it gives you the power to deliver your products within a specific duration, helping you with a rise in orders. Under eBay guaranteed delivery, the sellers offer a particular duration to provide their products by a specified date. In case the delivery fails to arrive on time, the buyer gets compensation for this delay.
eBay Guaranteed Delivery has been put in place to offer exceptional service to buyers by providing them fast, reliable, and accurate delivery duration/time. The program also enables the buyers to narrow their search results by filtering through the delivery duration they wish for an ordered item.
How does eBay guaranteed delivery works?
When opting for the eBay guaranteed delivery, you get an option to select either of the two options,
Handling Time
Door-to-door option
Both the options make you an eligible candidate to list products under the guaranteed delivery option. However, while selecting the one you like, keep in mind both the options are diverse and have different requirements.
Handling time
On selecting the Handling time as your preferred option, you agree to provide same day or 1-day handling time for all the orders that come your way.
What happens in case of delayed shipping?
Suppose a buyer pays the shipping fees and receives the item after the guaranteed delivery date. In that case, eBay takes care of the refund and returns on your behalf. The condition that applies to the scenario is that you need to make sure your package got scanned by your carrier or post office.
In the case of free shipping, if the buyer receives the package after the guaranteed delivery date and wants to keep the item, eBay compensates him with an eBay voucher. eBay also handles the customer service related to late delivery that your customer faces.
Handling Time Option: How to set up?
Opt for the same-day handling or 1-day handling time for the listings you want to put up for the guaranteed delivery program.
State the eligible carriers in the listing. Add a ZIP code such that eBay can allot a guaranteed delivery date to your customers.
Use the working days' calendar eBay offers to handle same-day handling time cutoffs.
Use eBay labels for the shipping services within the stated handling time.
Door-to-door option
When you opt for the door-to-door option, you agree that the buyer will receive their product before the specific delivery date you mention. The door-to-door option also makes it mandatory to use the shipping rate tables to explicitly mention your delivery guarantee for each region you agree to provide guaranteed delivery.
Buyers outside the regions mentioned by you in your shipping rates tables won't see the listing under the guaranteed delivery option. You can apply shipping rate tables to your listings using bulk editing tools in the Listing tab. You can also update it through business policies for your inventory.
Suppose a buyer pays for shipping and receives the product after the guaranteed delivery date. In that case, you need to provide the refund and the return label if they opt for a return. If the buyer wants to keep the product, you'll need to refund the shipping cost.
However, suppose the product delivery gets delayed for a free shipping order and the buyer wants to keep it. In that case, eBay sends an eBay voucher as compensation. Also, eBay handles all your cases, eBay sends an eBay voucher as compensation. Also, eBay handles all your ret returns and refunds for you.
Door-to-door option: How to set up?
Ensure each area you want to guarantee delivery has a "delivery speed" of no later than four days after payment.
Set up your shipping costs based on regions.
Double-check all the regions you offer under guaranteed delivery have a maximum of 4 days "delivery speed" to it.
Select the flat rate for shipping.
Now select the Use rate table.
Select the appropriate rate table.
Select an eligible shipping carrier.
Upload tracking details after making a sale.
What's the eligibility for eBay Guaranteed Delivery?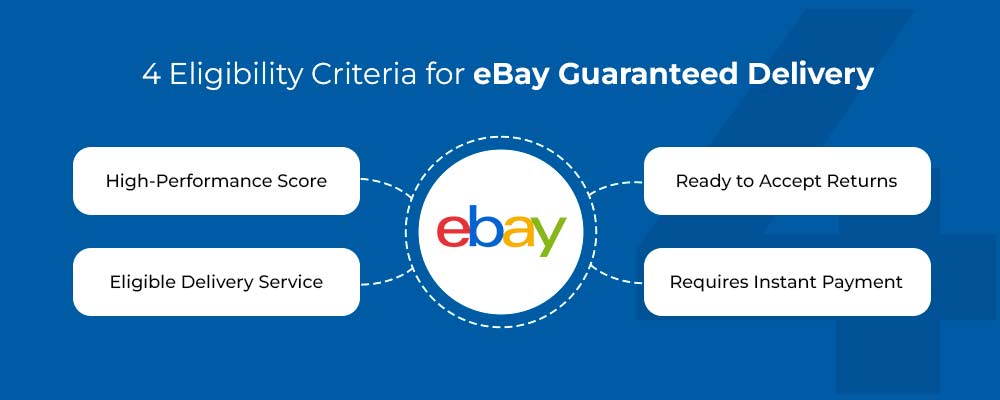 Once you're ready to start selling with eBay Guaranteed Shipping, you need to make sure you qualify with the following requirements as stated below:
High-performance score
Using an eligible delivery service that goes with the guaranteed delivery.
Ready to accept returns
Requires instant payment
After becoming a part of the eBay Guaranteed Delivery program, you should start working on your performance metrics, as eBay will keep an eye on it for sure. The best way to do so is by checking your status on the Guaranteed Delivery dashboard.
Address any tracking, handling, and return-related issues when they come up. eBay evaluates its sellers' performance once every two weeks to ensure the sellers meet all the requirements to remain eligible for the program.
Also, eBay sends you an invitation to the program once they find you eligible.
How does eBay Guaranteed Shipping help?
What does a customer want? Faster delivery and peace of mind while Sellers crave greater visibility and positive feedback. The feedback is always a great addition to their performance metrics. And, the Guaranteed Delivery caters to the needs of both parties.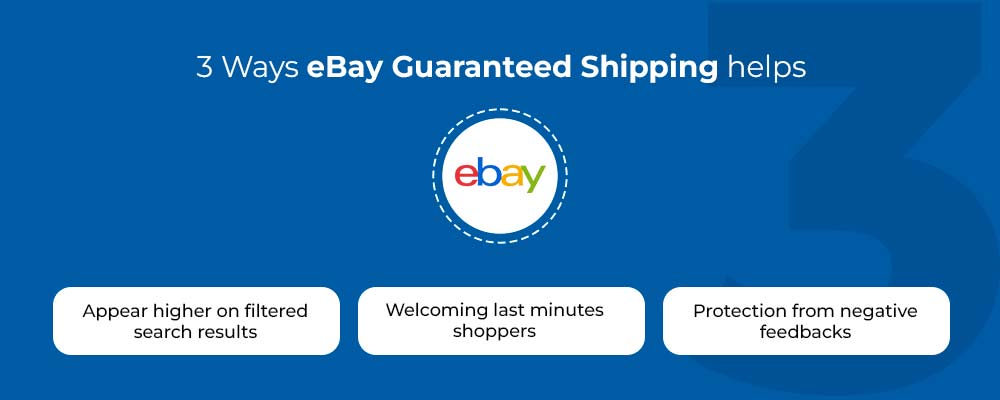 #1. Appear higher on filtered search results
Shoppers do not prefer the 2nd page of the search result. On eBay, if your listing does not appear on the 1st page, you need to optimize the images and your listings information to compete for the position.
Meanwhile, as your potential buyers aren't willing to go beyond page one what do they do if the item they are searching for isn't available on the page? Yep, you got that right! It's called applying a filter to narrow the search result. Now, suppose the filter they use is to find products with a delivery estimate of 2 days. In that case, you're someone who validates those filtered results by providing a possible shipping delivery that your shopper wants which makes your product appear high on the filtered search results.
Also, getting your account enrolled in guaranteed delivery helps you build trust amidst your customers, thanks to the promise of guaranteed delivery.
#2. Last minutes shoppers
eBay has never been a paradise for last-minute shoppers. As they never had an option to offer guaranteed successful delivery in the shortest possible period.
According to a survey. 1 in 3 last-minute shoppers said they choose their marketplace based on how soon they can get their hands on the product. Also, The shoppers who procrastinate often end up turning towards a brick-and-mortar store even though the products they seek are available at a cheaper rate online.
Yep, once again, you guessed it right! Because your potential customer fears the product won't get delivered on time, especially during the holiday season. The guaranteed delivery gives you an option to demonstrate and let the customer know that you're reliable and trustworthy, allowing you to market to holiday shoppers. It's a great way to enhance your customer retention rate too.
#3. Protection from negative feedbacks
eBay guaranteed shipping gives you extra protection too by removing negative or neutral feedback. Usually, one receives this feedback when there's late delivery. However, if you meet eBay's obligations by providing tracking labels, eBay removes them for you. The marketplace also handles most of your customer service, usually offering refunds under the right circumstances.
Opting out of eBay Guaranteed Delivery
In case you decide to reassess your logistics. Or want to try 3rd party shipping services or not use the eBay Guaranteed Shipping due to a change in your circumstances. eBay lets you opt-out of the program in very few simple steps.
Go to 'account settings'
Look for 'site preferences.'
Select 'eBay Guaranteed Delivery.'
Click 'show,' followed by 'edit.'
Now you select, 'I want to opt-out of eBay Guaranteed Delivery.'
Click on 'continue.'
eBay lets you opt-in and discontinues the services of the program as many times as you wish. The only prerequisite is that you need to qualify for it.
The eBay Integration apps provide the perfect solution respectively for Shopify, BigCommerce, WooCommerce, and Magento stores. It gives you an integrated solution to get started with easy-to-operate multi-channel sales from a centralized location.
What if Guaranteed Delivery Fails
Yes, it can. Items shipped under guaranteed delivery too fail to reach on time. It can be due to shipping delays or natural causes. Under such circumstances, the buyer can submit a claim within 30 days.
Once a claim is filed, depending on your guaranteed delivery program, they get respective options. A buyer could go ahead with either of the three options if you opted for Handling Time as your preferred choice under eBay's guaranteed delivery.
In case of Handling time
Return and claim a refund (eBay covers the outbound and shipping cost for the same)
When a buyer pays for the shipping charges and decides to keep the product (eBay refunds the shipping cost)
When the shipping is free and the buyers decide to keep the product (eBay gives a voucher in the case of free shipping)
In the case of door-to-door
Return the product (you refund everything)
When there's a shipping charge involved and the buyer decides to keep the product (you refund shipping costs)
The buyer decides to keep the item when the shipping was free (eBay gives a voucher in the case of free shipping)
 FAQs related to eBay Guaranteed Delivery
Still have unresolved questions? Here are some prominent questions that might resolve your query. 
Q1. How much does opting for eBay Guaranteed Delivery cost?
As of now, there are no additional fees on subscribing to eBay Guaranteed Delivery services.
Q2. Are all the sellers eligible for opting eBay Guaranteed Delivery services?
eBay Guaranteed services demand a good shipping and delivery services on Seller's end. A seller must deliver Fast handling time, Uploading tracking and Offering returns. Based on these 3 key parameters, eBay allows a seller to opt-in for eBay Guaranteed Delivery services.
Q3. For which kind of sellers eBay Guaranteed delivery services perform better? Small sellers or big sellers?
Under eBay Guaranteed Delivery services, there are two options to choose from – Handling Time options and Door to door option. The former option of 'Handling Time' allows sellers to use eBay shipping labels and give guaranteed 0-1 day handling time but not necessarily guaranteed delivery dates. Thus, Handling Time option works best for small sellers.
Q4. Are all items eligible for eBay Guaranteed delivery services?
As per eBay there are currently 20 million items eligible for eBay Guaranteed delivery services.
Q5. Are there any significant challenges with eBay Guaranteed delivery services?
Though eBay Guaranteed delivery services give number of benefits to the sellers, it does have some challenges attached. They are mentioned below:
Only limited number of items are eligible for eBay Guaranteed Delivery services.
Shipping partnerships and delivery chain is still building up
eBay Guaranteed delivery services is till limited to US sellers only.

Things To Keep In Mind
Fast shipping is something that is loved by all and hated by none.
Owing to it, the guaranteed delivery program initiated by eBay happens to be one of the best ways a seller can lure more customers. It gets accomplished by meeting consumers' expectations for faster deliveries.
Once enrolled, you need to make sure you follow a few steps to keep yourself from slipping up—certain things like deciding the shipping option that suits you well. Keeping an eye on the seller hub dashboard for any upset customer and maintaining impeccable handling time tops the list of advice you need to follow.
Is Guaranteed shipping Good or Bad? The guaranteed delivery can help you gain visibility along with providing a boost to your conversion rates. It rewards your efforts by placing you amidst some of the most trusted and reliable sellers eBay has. Got queries? Feel free to drop them in the comments or Contact Us on WhatsApp, Skype, and Email.