eBay Customer Retention Guide You Need This Holiday Season
Running short of time? Get PDF of the blog in your mail.

Play Now
Pareto Principle states the 80/20 rule. It's a rule you'll find highly intriguing. If explained in one line, it would boil down to "Maximum amount of results comes from a very minimal amount of inputs." But, how is this relevant to your business? You ask.
According to this principle, 80% of the revenues in the future will depend on 20% of your current eBay customer base.
The holiday season around the corner makes customer retention strategies important to gain loyalty during eBay Holiday marketing. It creates a customer base for your eBay store that consists of repeat customers who showcase brand loyalty.
Retaining eBay Customers is an essential part of any business. Increased customer loyalty of a mere 5% can give you a profit of upto 25%. It makes customer retention strategies even more important. Questions like how satisfied they are, how well you're managing your services, and how much are the chances of them coming back to you can often drive your eBay strategies.
Moreover, you get to know the mistakes you've been making and rectify them to improve significantly. Let's dive into the blog to understand how to build customer loyalty and utilise the eBay customer retention strategies as a seller in a much better way.
What is Customer Retention?
Customer Retention means being able to retain your customer over a certain period necessary. A high Customer retention rate implies the business has a loyal customer base who do not switch to another brand. To get this done.
Perks of retaining Customers on eBay
Retaining your eBay customers will mean you've built a rapport with them. They trust your services and products and are willing to make repeat purchases from you. Creating brand loyalty, in turn, gives you not only a lifetime customer but also increases your revenue.
Moreover, retaining customers is always cheaper than acquiring new customers. And, you get free word-of-mouth promotions from them too. eCommerce is an industry where mistakes come in as a part of the package. And, you're bound to make one someday while selling on eBay. The retained customers in such a scenario are more forgiving when compared to newly acquired shoppers.
Why is Customer retention strategies important?
Every customer out there is looking for a brand they can trust with their money. Gaining that trust and keeping it that way makes customers rely on your services more.
It's easier and cheaper to retain a customer than to find a new prospect.
A successful sale with a new buyer is 10-20%, while climbs to 60-70% for an existing customer.
Existing customers spend 30% more and are 50% more likely to buy a new product you launch.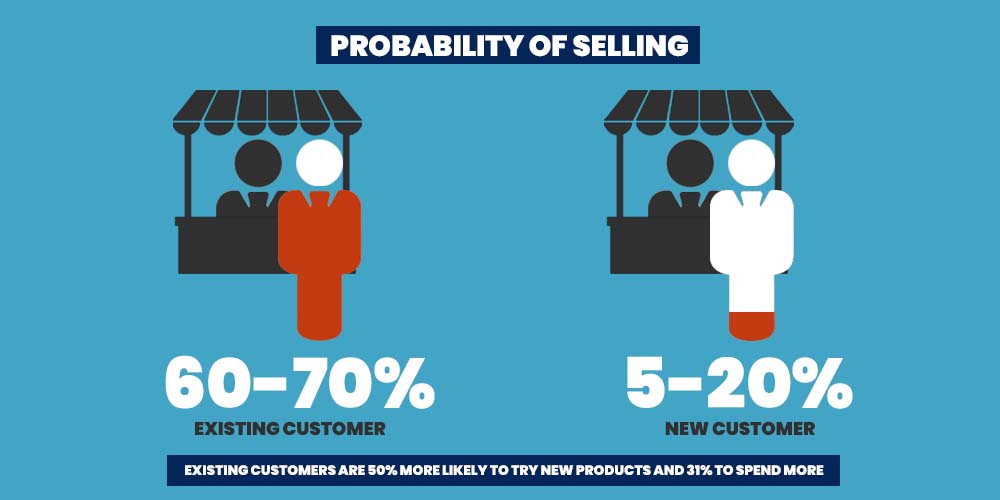 Calculating your customer retention rate
When we Calculate the eBay customer retention rate, it gives you a statistical figure to work upon. But, before we begin, let's keep in mind that the retention rate will vary if you keep shifting the range of duration for which you are calculating your business's customer retention rate. Keeping a fixed period will help you in future calculations and make comparisons easier.
The eBay customer retention rate formula that allows you to evaluate your store's performance looks like this,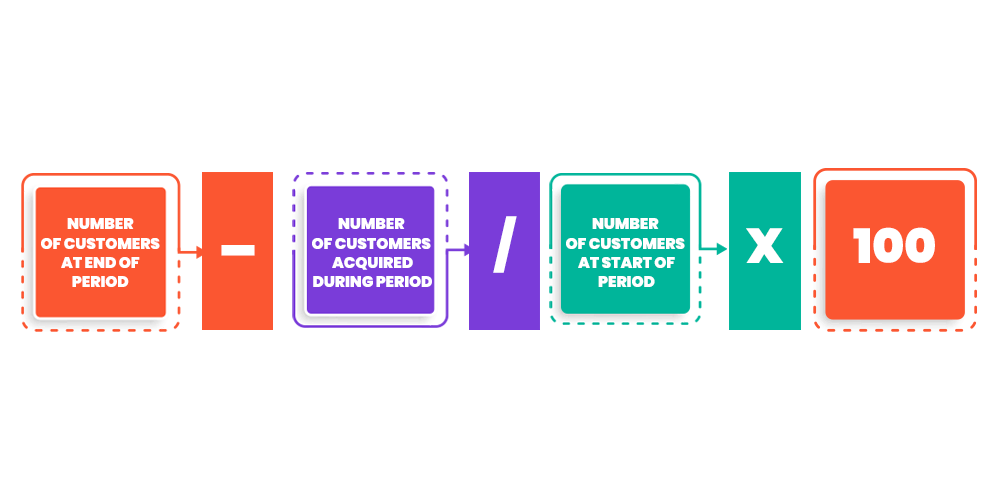 Let's understand with an example,
October. So we'll consider a few factors to calculate the rate.
The total number of customers you had before this given period started. We'll take this number as 150 (So that the calculations are accessible).
The number of customers you gained in the given period is to be considered. Let's take this to be 40.
The number of customers you lost during this period. Let's take this number to be 25 (It's sad but, you'll lose some).
Customer Retention Rate = (Customers When Period Ends – Customers Acquired in the Period) / (Customers in the beginning) X 100
Now, using the formula we get,
(165-40)/150 = 0.8333*100 = 83.33%
How to Increase Customer Loyalty?
You can work on various processes to increase customer service.
#1. Provide Impeccable Customer Service
The holiday season not only brings with it the sales, but it also brings returns too. You will have to deal with unsatisfied customers who want returns and exchanges. Having an excellent customer services team prepared to deal with the surge once the holiday season ends is of supreme importance.
During the holiday season, your response time to the customers' problems will determine your future relationship with each other.
#2. Email Marketing
Old is Gold! Email marketing may be the oldest of all the marketing techniques, but it is still effective. According to studies, email marketing still is the most effective with 4400% ROI or, in other words generating 44 times the investment made. That being said, strategies like automating the emails you send to your eBay customers can have excellent outcomes helping you in retaining them.
Try including the following email campaigns in your customer retention strategies on eBay.
Welcome email
New Products email
Upselling email
Abandoned Cart email
Thank You email
#3. Prioritize Quality
Quality has to top your list of things to acknowledge when creating strategies to operate your eBay store. A store gets judged by the product it offers and the product by its quality. Maintaining a high-quality production that serves the expectation of buyers will make them come to you automatically. It will lead to gaining their trust and advocacy.
#4. Retargeting Ads
Start a retargeting campaign. With retargeting, you can easily reach out to customers who purchased from you in the past. It is a great way to retain and reroute your customers back to shopping at your store.
With retargeting, you can also retain those who abandoned the site midway. The users can be someone who:
Already purchased from your site.
Viewed only one product and left.
Abandoned the product after adding it to the cart.
Visited your site once.
#5. Integrate Your eBay Store
If selling only on eBay, develop a store and integrate your website into the eBay account. Having an address to go to virtually makes you credible and helps in getting established as a brand. Getting an online store is pretty simple nowadays.
Integrating the store will let you manage the entire selling process from the app itself. You won't have to look out for Inventory, Shipping, Order, and other related activities on multiple platforms. The app will do that for you.
It means there won't be any unhappy customers because of cancelled orders due to overselling or shipment delays. Also, it will give you more time to tend to your customers' feedback.
So, select the framework you wish to use for your store and get your store ready from eCommerce solution providers. You can also find apps that integrate eBay stores to Magento, BigCommerce, Shopify, WooCommerce, and many other frameworks.
#6. Bag Additions
When shipping orders for your customers, insert a Thank You note or fliers. You can also send small gifts associated with your brand enclosed in the shoppers' packages as a note of appreciation.
Pens, Pocket diaries, Pocket Calendars can be some of the few things with your name on them. This way, every time the buyer will use your gift, they'll be reminded of your brand, which ultimately will make them come to you for future purchasing.
#7. Ask For Feedback And Act On It
It's a simple equation. The better your customer service, the better your chance of gaining your customers' trust. Every customer feels empowered when there is a possibility of two-way dialogue for their issues. If a customer has any problems or is unsatisfied with the services, you should be aware of them.
Knowledge is power, so use this feedback as your knowledge base to leverage your customer loyalty by improving your performance. And in turn, enhancing the eBay customer retention rate. Having better feedback and an excellent seller rating also has benefits as it helps you with product visibility on eBay.
Loyalty Program
A customer loyalty program makes its way into the marketing strategies of small or big eBay sellers alike. If you're selling on eBay, try reaching out to your customers and provide them with specific loyalty programs.
Around 69% of customers agree that a customer loyalty program influences their choice of retailer. The same stands true when selling on eBay. There are various ways to get your customers to come back for more and, in turn, retaining them on eBay. You can introduce any of the following or all, depending on your business model.
Monthly Offers
Coupons
Loyalty Cards
Points-Based Rewards
Early Access to Sale
Key Takeaways
No matter how well you plan your Holiday season sales, your first-time shoppers will vanish at the same rate they got to your store. The customer retention strategies come into play when you want them to convert into loyal and repeat customers.
Work hard to create your brand value and follow these Customer retention strategies we've covered today for your eBay account. Also, keep calculating your eBay Customer Retention Rate from time to time to calculate growth.