How eBay Business account is better than Personal Account?
Running short of time? Get PDF of the blog in your mail.

Play Now
It's always a daunting experience when you are presented with two options, and you have no idea which one's the best for you. Almost everyone selling on eBay has had this experience once. That was when you were signing up for your seller account on eBay. There's always confusion at first as eBay offers you two options, i.e., a personal account and a business account. Let us remove the confusion once and for all with which account is best suited for you when you're planning to establish yourself as an eBay seller.
eBay Personal Account vs Business Account
When creating an account, you get to select from two options.
Personal Account
Business Account
What is an eBay Personal Account?
A personal account is often employed when you're willing to sell on eBay as a hobby where you list a minimal number of personal products. The products are either antiques or are sitting idle with no use. Long story short, if you do not focus on selling on eBay for business purposes, you should consider getting yourself an eBay personal account.
What is an eBay Business Account?
An eBay Business Account is for people who want to sell items regularly on the platform as part of their business. This type of account comes with additional features and tools specifically designed for businesses, like creating a personalized online store, managing inventory, accessing analytics tools, and listing items in bulk.
However, higher selling fees and more documentation may be required to verify your business entity.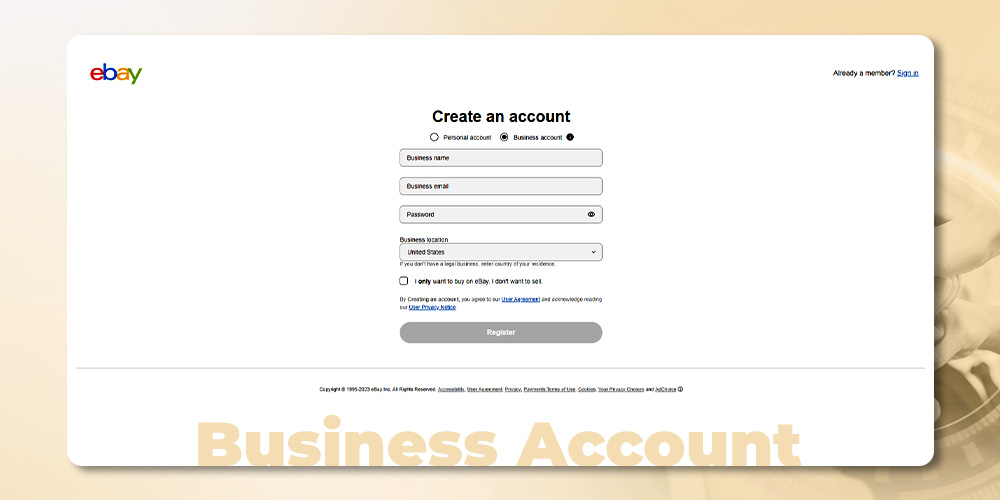 When should you register as a Business?
If you seek to sell on eBay full-time, deal in bulk sales, or resell products the business account is what you should pick moving forward. Look for these six signs in your sales if you want to register yourself as a Business but are not sure whether you should or not.
#1. Reselling
Suppose you are a reseller and deal in bulk listings on eBay. Getting yourself a business account is what you should do.
#2. Manufacturer
When you create the products you are listing on eBay (which means if you are already a manufacturer), getting yourself a business account is intelligent.
#3. Sales Quantity
If you're a seller who deals in large quantities of sales regularly, a personal account will not entirely serve your purpose. Registering to a business account will reduce the various fees levied on your products and sales and open multiple other pathways for your business expansion like having an eBay storefront.
#4. Selling items that are not for your personal use
When you're selling items on eBay that you acquired with the purpose of selling and not personal use, you should consider switching to a business account. It can be beneficial in the long run, helping you save taxes.
#5. You're a Selling Assistant
eBay gives you an option to sell for others if you fulfill certain selling criteria. So, If you're operating as a selling assistant on eBay, it is highly advisable that you get yourself an eBay business seller account. Selling products for other businesses on eBay is almost similar to selling your own products.
Having a business account means you can be flexible with the number of listings you'll be asked to handle by the product owner.
#6. Buying for your business
If you're buying items for your business, you should consider getting yourself a business account. eBay lets you conduct searches using keywords like "bulk," "liquidation," etc., for the products you plan to sell on eBay. It allows you to buy and resell the same on eBay with ease.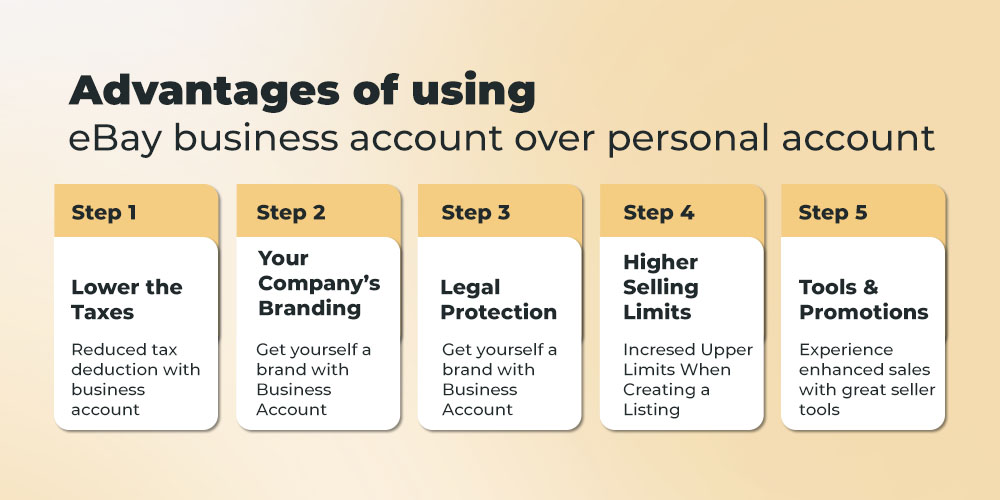 Switching: Personal Account To Business account on eBay
To switch your account type from personal to business:
Click on the My eBay tab.
Select "Personal Information" after selecting the "My Account" heading.
Now click the "Edit" link. It is located next to the Account Type.
Select the "Business" option on the Change Account Type page
Enter your details for the Business account, and then click on the Change to Business Account button.
Advantages of using eBay Personal Account
For those who want to buy and sell items on eBay occasionally, a personal account is a more suitable option due to its lower selling fees, more straightforward registration process, and ease of management. Ultimately, the decision to choose between a personal and business account on eBay should be based on the specific needs and objectives of the individual.

Advantages of using eBay business account
Having an eBay business account comes with notable advantages when compared to a personal account. The benefits that can help you grow your business on eBay includes,
#1. Lower the Taxes
When you start selling under a business account, you need to pay additional taxes other than the personal taxes that you're subjected to. It means more paperwork. However, more paperwork also means you'll get more money in terms of savings from your taxes.
#2. Your company's branding
When you register for a business account, you do not only get a better and improved listing, but you also get access to various subscriptions. The subscriptions can use it for expanding your opportunities in terms of sales, promotions, and other benefits that eBay has to offer for its sellers.
#3. Legal protection
When selling on eBay personal accounts regularly, you'll find it challenging to manage your taxes and your income when the time comes. Whereas with a business account, you attach a legal name to your sales. All your invoices and bills get connected to the business name you select. It also paves the way to various deductions and benefits when filing your taxes.
#4. Higher Selling Limits
The business account lifts many limitations that are imposed on personal accounts too. One of the most significant flaws of having registered for a personal account is getting a minimum listing limit for items set to 10. The business account raises the ceiling for the listings allowing you to sell more by listing more.
#5. Access to Better Tools & Promotions
eBay has a lot to offer when it comes to its seller. But, the problem you might face when trying to access them through a personal selling account is that they'll be inaccessible. Various tools like Promotion Manager, selling manager pro, and others can help boost your sales manifolds.
Although switching to the business account does not guarantee that you get instant access to all the seller tools eBay has to offer.
If you need any assistance, feel free to contact us on skype or drop a mail. We'll be more than happy to help.
Disadvantages of using an eBay Personal Account
There are a few disadvantages to using an eBay Personal Account. Firstly, one of the most significant flaws of registering a personal account on eBay is getting a minimum product listing limit set to 10. Additionally, you may only be able to access some of the features and tools available on a Business Account. You may also have less credibility as a seller than those with a Business Account, which could impact buyer trust and reduce the number of potential buyers. Finally, there is less protection for sellers in the event of disputes or fraudulent activity.
Disadvantages of using an eBay Business Account
There are a few potential disadvantages to using an eBay Business Account. Firstly, Business Accounts may come with higher selling fees than Personal Accounts. It could impact profitability. Secondly, the registration process for a Business Account can be a bit more extensive and time-consuming. Additionally, the tools and features available on a Business Account may only be necessary for some businesses and could add complexity to the selling process.

Key Takeaways
It's evident that business accounts stand out between the personal and business accounts that eBay offers. It unlocks better facilities, higher selling limits, and tools that would have been inaccessible otherwise.
If you're still selling with a personal account or someone who's been staring at your screen, you're perplexed about whether to select personal or business accounts. Select a Business account without any second thoughts. You should only have a personal account if you sell once or twice a month and are not considering expanding. But with eBay, why wouldn't you?