5 Benefits Of eBay Store You Need To Know
Running short of time? Get PDF of the blog in your mail.

Play Now
One way to increase sales on eBay is by setting up an eBay store. eBay storefronts benefit by creating a brand image and building customer loyalty.
Having an eBay online store allows you to list and sell more items. You get certain limitations with a regular eBay account. You can also customize your eBay store. Add your logo, colors, and design to create a unique customer shopping experience.
eBay stores offer tools and features to help you manage your business. It includes inventory tracking, sales reports, and promotional tools.
Let's dig deeper and learn How to open an eBay store? How much does spreading an eBay Store cost? And other related questions are hovering around eBay Storefronts!

[Visit the Pricing Section in the App and enter the code: BFCM2023EBAY for your desired subscription plan]
eBay Stores: An Overview
By setting up an eBay store, you enjoy the benefits of having a dedicated online shopping store on the eBay marketplace. It offers a centralized location to showcase your products, making it easier for buyers to find and purchase items. The best part is that you don't have to spend time designing a website from scratch.
With an eBay store subscription, you can access your search engine. It helps your customers search for products within your store. This can reduce competition from other sellers on eBay and increase the chances of making a sale.
Without an eBay store subscription, your listings will appear differently than those with a store subscription. However, you can offer your customers a more professional and organized shopping experience with an eBay online store. If you're looking to sell on eBay and want to maximize your sales potential, consider opening an eBay online store.

When you do not have a store subscription for yourself, the listing appears as shown above in the image,

When you get a store subscription, your listing appears as shown above. The primary difference you'll notice here is the additional option that says "Visit Store."
Why should you select the eBay store?
You can put forth many reasons to convince you why you should go ahead with an eBay store. Let's uncover some significant points you should seek for an eBay storefront.
#1. More exposure for your products
With the eBay store subscription, your products get more exposure. The exposure only means an increase in the number of your customers. eBay shared sellers saw up to a 25% rise in their sales in 3 months after switching to eBay store subscriptions.
#2. Win repeat customers
Getting yourself a store with exclusive products you have to offer leads your customers to remember it. It results in – "them returning to you" when they require that product. With a store on eBay, you can work and excel in your customer service and experience efficiently. Excellent customer service is also one of the most influential factors that pave the way to customer retention.
#3. Save money
Unlike eBay's regular selling fees, store subscribers have the upper hand in selling and insertion fees for listing. But You must remember the number of listings you deal in regularly. Here you need to evaluate your sales when subscribing. It can help you select the correct subscription type.
For instance, opting for an enterprise subscription when you only have 100 products to list. It makes no sense and will only result in imminent losses.
eBay says if you have over 50 listings per month, a store subscription can be a great way to save money.
#4. Increased credibility
Having a store represents you are here to sell and establish yourself as an entity. Also, it adds to your professional credibility. Additionally, you can increase your store's impact using the various tools that the store subscription unlocks.
#5. Personalized URL
When you go ahead with the eBay store subscription, you get to set a unique URL for your store. The URL allows your customers to easily reach your store without navigating and searching their way through the eBay marketplace.

How to choose an eBay Store subscription?
When choosing an eBay Store subscription, several factors must be considered to ensure you get the most value. Here are some tips to help you choose the right eBay Store subscription:
Evaluate your selling needs
Consider the size of your inventory, the types of products you sell, and your sales goals. Then determine which eBay Store subscription level is right for you. eBay offers three levels of store subscriptions: Basic, Premium, and Anchor.
Review the benefits
Each eBay Store subscription level offers different benefits. They include lower fees, increased visibility, and access to marketing tools. Review the benefits carefully to determine which subscription level will provide the most value for your business.
Compare fee structure
While eBay Store subscriptions offer many benefits, they also come with additional costs. To be sure you're investing wisely, weigh the subscription costs against the possible cost savings. Compare lower fees on fixed-price listings.
You can select an eBay Store subscription that meets your demands. It'll aid in achieving your sales objectives by carefully weighing these considerations. Remember, eBay Store subscriptions offer many benefits, including increased visibility and potential sales growth, so it's worth finding the right one.
How does the eBay Store on international eBay sites work?
eBay Store is an online retail store hosted on eBay. It allows sellers to list and sell their products on the eBay marketplace. The eBay Store is available on several international eBay sites, including the US, UK, Canada, Australia, and Germany.
Setting up an eBay store has many benefits. It includes increased product visibility, lower listing fees, and access to powerful selling tools. Unlike sellers without an eBay store, eBay claims that store subscribers can save up to 56% on listing fees.
To open an eBay store, sellers must choose a store subscription level ranging from Basic to Premium. Each subscription level offers different features and benefits. Higher monthly free listings, lower final value fees, and access to exclusive marketing and promotional tools are a few. The subscription fee for an eBay online store also varies based on the level of subscription chosen.
How to set up an eBay store?
You will have to start selling on eBay to get an eBay store. You need to make sure you set up a business account. If you already have a personal account, you need to update it to a business account. Once done, you can proceed with getting yourself an eBay storefront.
#1. Prerequisites
Once you have made up your mind to open an eBay Store, there are a few requirements that you must meet:
eBay seller's account is a must, along with your credit card information for the account.
Also, having a Verified Premier PayPal account becomes a must.
You cannot have a below-standard seller performance rating in terms of seller ratings if you wish to open a Premium or Anchor store.
#2. Choose the right eBay store subscription
eBay offers you five different store subscription options. So, you must select the right one when subscribing to an eBay store that suits your listing volume.
Suppose you have a few listings available to you per month. Opting for a starter store won't help you out. It is a waste of money on your part. Select a store after evaluating the number of listings, sales, and free listings per month.
Although a store provides an opening, you must ensure your investment is constructive. And helps you get the desired results instead of putting a dent in your pocket. eBay offers each seller five shop subscription options ranging from Starter, Basic, Premium, Anchor, and Enterprise.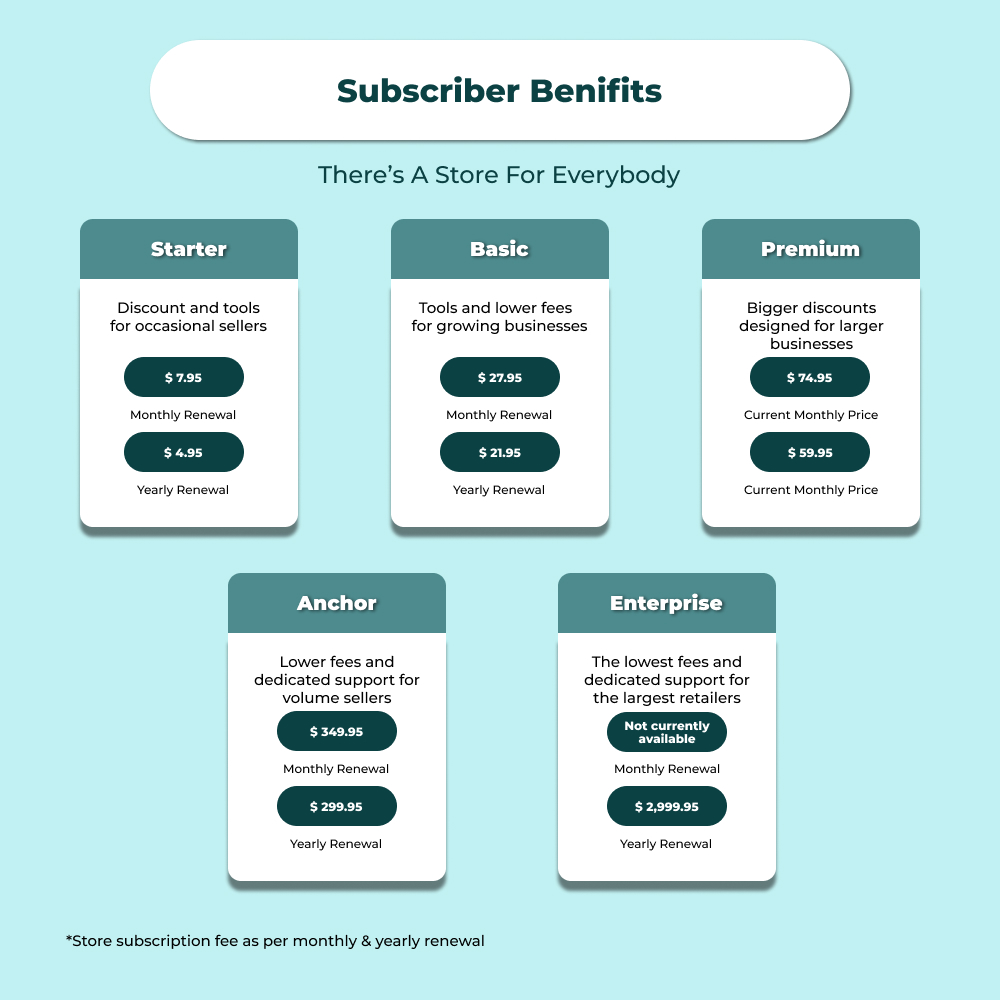 #3. Getting a Store
Getting yourself a store is pretty simple. You need to follow a few steps,
Sign in to My eBay.
Click "Subscriptions" under the Account tab.
Click "Subscribe" next to eBay Stores.
Now choose "Subscriptions" followed by selecting "Manage My Store" on the left.
Finally, select "Design My Store"/"Quick Store Tuneup."
eBay Shops (For U.K based sellers)
A similar subscription-based program is available for the sellers planning to opt for the storefront under eBay Shops' name. Here a seller can opt for a shop subscription from the option ranging between,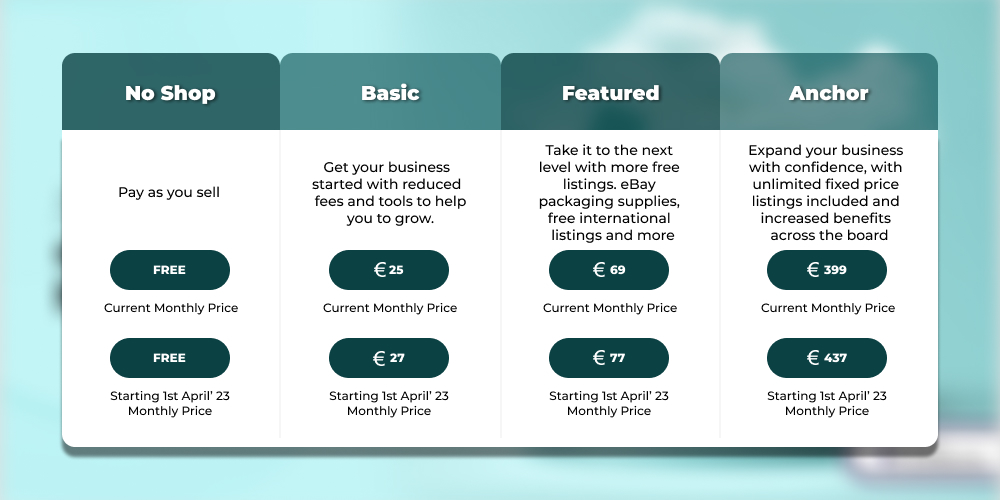 When is the eBay storefront a good idea?
Getting an eBay store is all about savings. Once you decide to walk the path of opening the eBay store, results can astonish you. You may save a hundred dollars each month if you do things correctly.
Remembering a few points before opting for the storefront can make a massive difference in your sales.
Suppose you sell many items on eBay. Or make more than $500-750 per month. Then, opening an eBay store can be a smart move.

It may help you increase your sales and earn even more money. It won't only get you brand value for your business but will also help you save money.

The eBay shop may save you a lot of money for things that sell for more than $2500-3500. For example, selling electronics with a higher final value fee. The fees are set at a maximum of $250 for store owners. Regular sellers pay $750 for not having a store subscription.

It is highly recommended that you first ensure you deal with large orders before getting yourself an eBay storefront. However, if you fail to meet the store's criteria, work on reaching the level and fulfilling the requirements.
If you're starting your seller journey on eBay, start slow and grow with time. Once familiar with the eBay marketplace and its policies, you can step up and get the store.

Is the eBay store worth it?
Setting up an eBay store could be a great idea if you want to take your business to the next level. However, obtaining an eBay store subscription only makes sense if you earn enough money to justify the cost.
Moreover, the benefits of having an eBay store include increased visibility, lower listing fees, and access to powerful selling tools. Setting up an eBay store can give your business a professional makeover with proper tools like a promotions manager. And you can take advantage of these benefits to increase your sales and profits.
If you've already set up an eBay store, we'd love to hear about your experience. Please share your thoughts in the comments below. And let our readers know if having an eBay store has positively impacted your business.