How much are eBay insertion fees and why you're charged?
Running short of time? Get PDF of the blog in your mail.

Play Now
Getting acquainted with eBay's insertion fees becomes a must when you decide to walk the path of taking your business online. As we know, eBay is one of the top marketplaces that cater to sellers and customers' needs. Having a widespread customer base of over 183+ million customers makes eBay one of the best marketplaces to sell your products. But everything comes at a cost. When we discuss eBay, the charge is the insertion fee that you pay for your listings whether it be for a regular seller or a store owner.
2020 has been a year of unexpected twists and turns, but your eBay's journey shouldn't be the same. The blog here will cover everything related to insertion fees for regular eBay sellers and store owners. Answering the question, What are the insertion fees for products on eBay? Let's move forward and remove all doubts and confusion you might have had when you came here.
Updated Insertion Fee Limits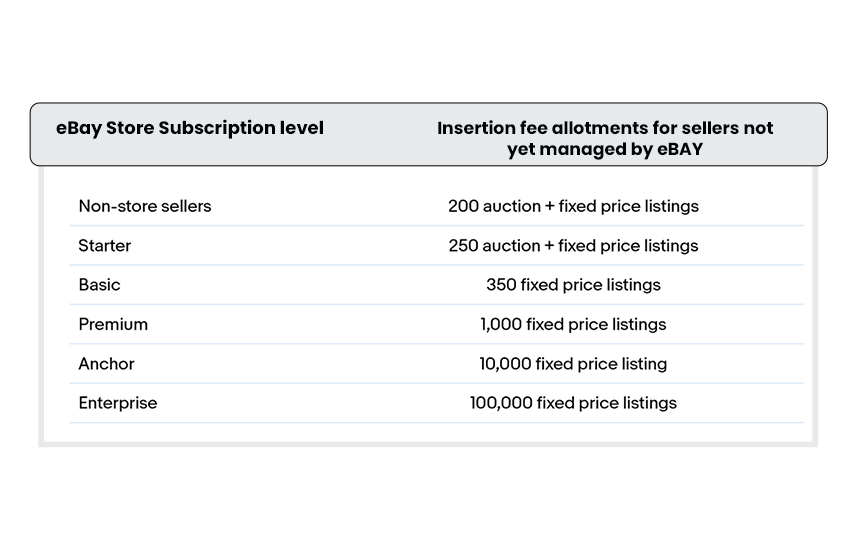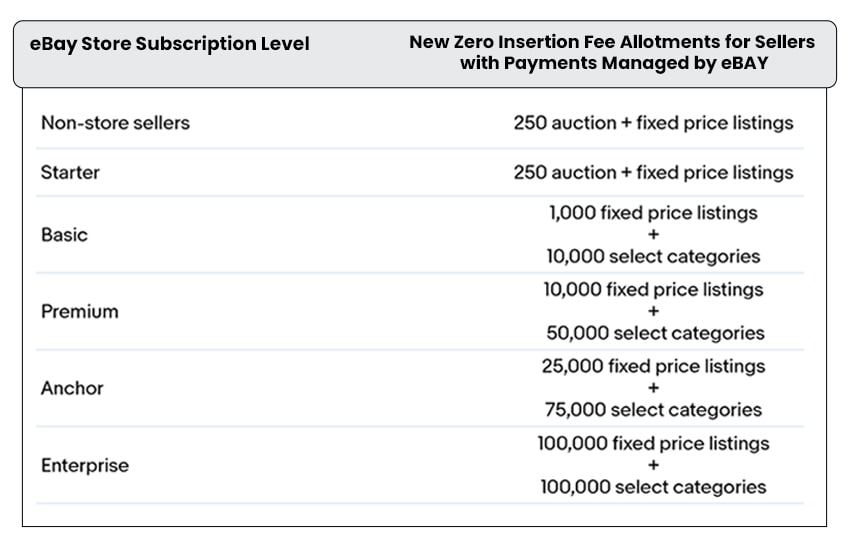 eBay Seller Fees: The Types
The amount a seller has to pay in the form of fees varies significantly on numerous factors. There are mainly three types of payments that get imposed on sellers,
eBay insertion fees

An insertion fee is a posting fee. Each seller on eBay gets a fixed amount of zero insertion fee listings based on their store and subscription. To make things clear. Let's take the example of classified ads. The newspapers post your ads only after a fixed amount of money gets paid to them for your advertisement post's position and size. The bigger the ad, the higher the price (That's your insertion fees). The same principle applies to eBay listings. Every month eBay gives 200 zero insertion fee listings to its sellers.

eBay final value fees

The Final Value fees charged by eBay get computed as a percentage of the sale value. It includes the handling charges, shipping charges, and the amount paid by the shopper for the commodity. However, eBay skips the sales tax from the calculations.

Optional listing upgrade fees

These fees apply to sellers who utilize the additional highlights like bold fonts and subtitles that eBay has made accessible and incorporate listing items in multiple categories.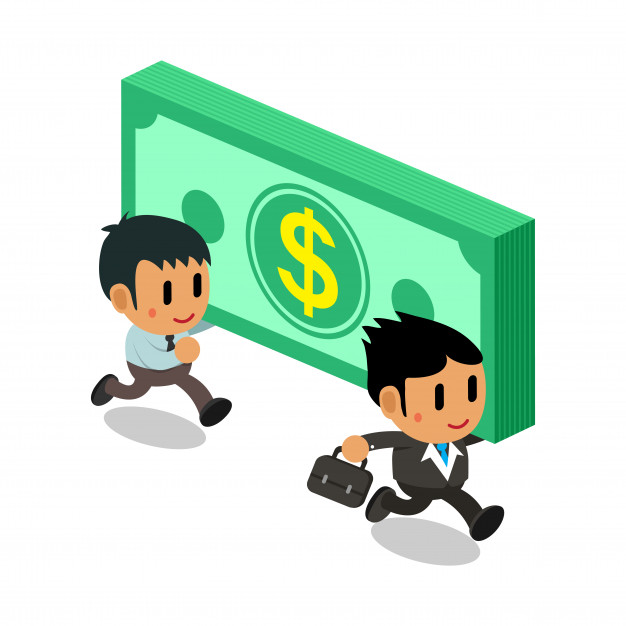 eBay Insertion Fees
Every seller, irrespective of their duration on the eBay marketplace, gets a minimum of 200 eBay listings at zero insertion fees. These insertion fees depend on the eBay store fees you're paying. Once the limit is exhausted, you need to pay for each listing. The cumulative cost that one has to pay depends on the type of product, price, and category selected for the listing.

[Source: eBay]
If you're an eBay store owner, your free listings can get capped at increased levels based on the eBay sore subscription fees you're paying. You can consider the image below to get a complete zero insertion fee listing per month detail based on the store type.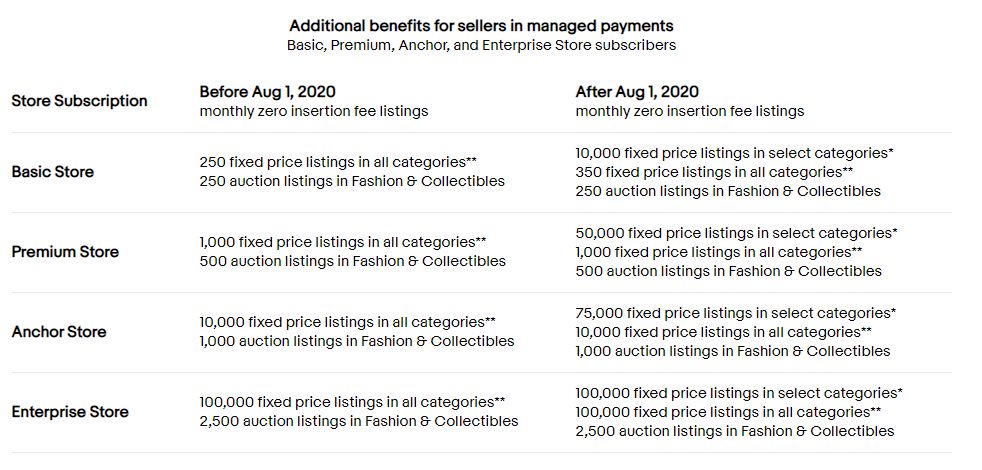 [Source: eBay]
Auction Insertion Fees
eBay offers an option to set the duration of your auction. You can select the duration of your listing from 1,3,5,7, or 10 days. Usually, 1 or 3 days listing period is used for time-sensitive items. For example, movies and concert tickets. However, you can add a Buy It Now Price for the product, but it has to be at least 30% more than the Auction starting price.
Here's the insertion fee price for various auction categories,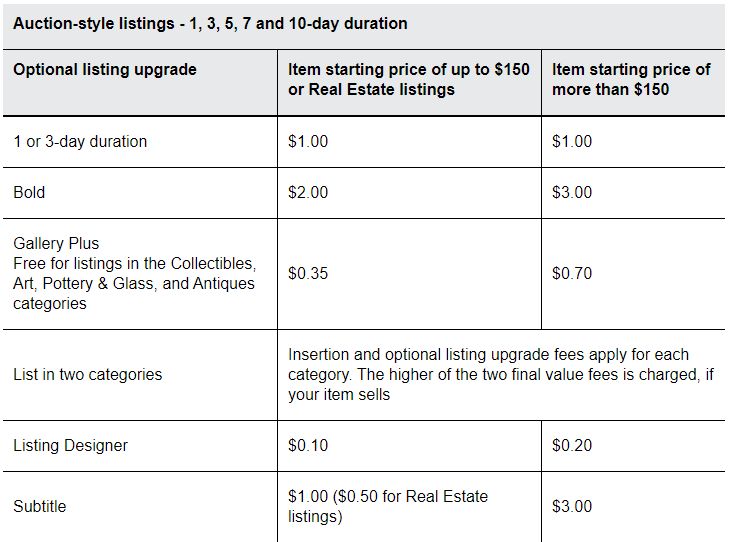 [Source: eBay]
The insertion fees also change based on the optional Listing Upgrade. Here are the listing insertion fees to it,
[Source: eBay]
Good 'Til Canceled
These are fixed-price listings that renew periodically after each calendar month. It works in a pretty straightforward way. The first time you list your products, you pay the listing fees and the respective optional fees that you are supposed to. The next month onwards, the listing and the fee renew automatically until you cancel them.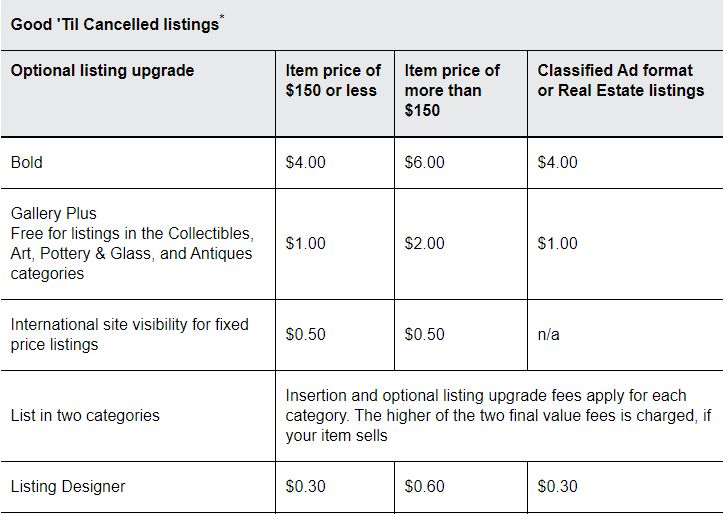 [Source: eBay]
The path is to consider every one of your costs past eBay seller fees. Moreover, the time and exertion you put into the general procedure and to ascertain and perceive how much cash you are producing by the day's end.
While selling on eBay, one needs to consider the various hidden costs and, of course, the eBay seller fees. Selecting the right store and subscribing to the right plans becomes important. Above all, everyone wants a good reap of the hard work and time they invest in something, and so should you.
Monetary Aspects of your eBay listings
It's essential to make sure you don't incur losses in your path to becoming a trustworthy and popular eBay seller. To push yourself on the right track, you need to understand how the listing fees work and how you can use them to your benefit, given you know your business's size.
The image below shows the impact each store subscription has on your listings and the facilities they bring. But opting for something that does not suit you is not something anyone in their right mind would do. So, it's better to take calculated steps and conclude before selecting the type of store subscription plan you should choose.
Compute the expense of profits as a level of your net revenue. In simple terms, if your overall gain during the current month is $10,000 and returns cost you $200 (2%). $180 one month from the next month (1.8%), and $220 the month after that, the average expense of profits to you is $200 every month or 2%.
Add 2% to the expense of your item. For instance, suppose that you are selling a wallet for $50. At that point, add $1 to the cost. When you do that, then your overall revenue is safe by the wonder of profits.
Additional minor expenses include
The majority of the small fees and costs you are paying include removing an extensive lump from your benefit. It's better to keep a precise record of every single expense that incurs and check whether, toward the end, there is an option to increase the proficiency in any given specific region.
Here is a starter rundown of things to monitor the cashflow while conceivably make savings,
Cost of merchandise sold
Consider searching for less expensive suppliers when conceivable. A few people overpay merchants without setting aside the effort to investigate a cheaper alternative that could spare you several dollars every month.
Returns cost
Commonly this is a lot less expensive and effective for the seller as you have officially made right on non-refundable government obligations and shipping on an item.
It will likewise spare you cash on return shipping, particularly if you're reluctant to acknowledge returns.
Publicizing
eBay has many publicizing and limited-time alternatives, as explained previously. Cautiously gauge each choice's advantages and disadvantages and pursue examination to check whether you are achieving your intended interest group the extent that amount goes.
Certain advancements and promoting vehicles can regularly be enormous cash pits with little outcomes. So it's better to keep track of all your cash outflow such that you don't end up with an empty pocket.
Utilities
Consider maintaining your business from home or joining an exceptionally mainstream work network. It enables you to lease a little office at a fourth of the cost with a more significant number of civilities than you could have envisioned.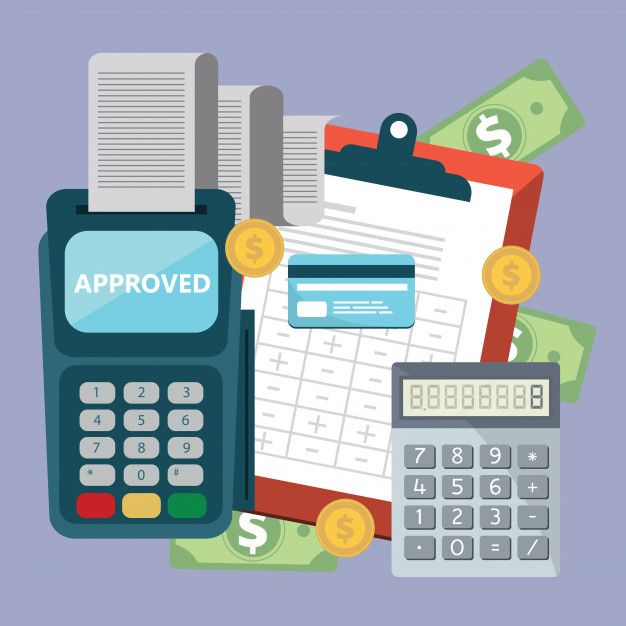 Accounting
As long as you are a private venture with little turnover, there are some fundamental expense archives you can plan and manage things alone. When the business develops to over $10,000 per month, it's time to begin utilizing experts.
Drive More Traffic and Sales from your selling by connecting your store to eBay. Innovative eBay marketplace integrations for Shopify Magento, Prestashop, Opencart, and many more.
How to get a good deal on eBay seller fees?
On eBay, you don't need to spend a lot to begin your business. It is one of the prime reasons eBay has turned out to be a standout amongst the Internet's best online marketplaces. eBay keeps fees low and product volume high.
The following are the listing fees that a seller has to pay every time they wish to list their products on various listing options available on eBay,
eBay insertion fees are negligible
After you exhaust your initial quota of 200 free listings every month when listed on eBay, each product is charged an Insertion Fee. So, when you grow and start listing more than 200 listings per month, you should think about opening an eBay Store (as long as you are selling most of the things you list).
The eBay insertion fee kicks in after those underlying 200 listings. It depends on whether you are listing fixed-value items or auctions. In case you're running a hold value auction, eBay puts together its Insertion Fee when you make a sale for each auction-style listing.
Connect your Shopify store with eBay and drive millions of visitors to your products. -List, -Sync, -Automate & Expand your sales with Shopify eBay integration HERE
So what does the eBay Insertion Fee get you?
There's no doubt that you can't escape the insertion fee for your products whether you own a store or are a regular seller. If you plan to establish your business and to eye growth shortly, you need to pay these eBay store fees and insertion fees at some point in time. Also, the zero insertion fee per month for a limited item is a great way to initiate your selling process on eBay.
However, if you're already well established and seeking explosive growth in the eBay marketplace. You'll need to subscribe to a plan to get things rolling. It'll help you with listings and be monumental in increasing your free-floating per month limit. Above all, you get to create a great looking showcase page for your store that a large number of individuals can see, appreciate, and energetically react to.