How to setup your eBay Business Policies?
Running short of time? Get PDF of the blog in your mail.

Play Now
In the ever-evolving world of online marketplaces, eBay stands out as a distinguished platform that caters to the needs of millions of users worldwide. eBay helps sellers implement robust business policies to ensure buyers and sellers get a secure and good experience. eBay's business policies, such as payment, shipping, and return policies, build trust and clarity in transactions.
Understanding, adhering to, and creating these policies is crucial for sellers to enhance the buyer experience and ensure their protection. This blog will explore the significance of eBay business policies, including eBay rate tables, return policies, shipping policies, and payment policies. We will delve into the details, benefits, and best practices to help sellers navigate these policies effectively.
So, let's dive in and discover how eBay's business policies are pivotal in shaping successful transactions.
Understanding eBay Business Policies
Business policy on eBay serves as a set of guidelines and rules that sellers on eBay must follow. These policies contain various aspects of conducting business on the platform, such as payment, shipping, and returns.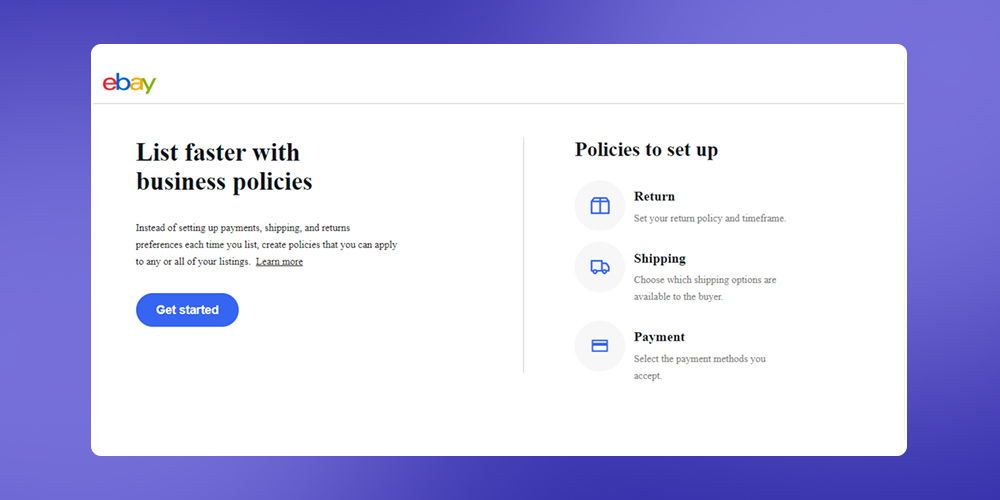 [Image Source: eBay]
What Are eBay Business Policies?
eBay business policies are predefined guidelines that sellers use to establish consistent terms and conditions for their listings. They contain different aspects of the selling process, such as shipping methods, return policies, payment options, and other essential rules. Creating and implementing business policies helps provide clear and standardized information to buyers, building trust and improving their shopping experience.
Importance of eBay Business Policies
eBay business policies are crucial in establishing trust and credibility with buyers. They help in creating a positive buying experience.
Setting up eBay business policies when listing items helps sellers streamline operations, save time, and improve the buyer experience. These policies also provide sellers with protection and mitigate potential risks.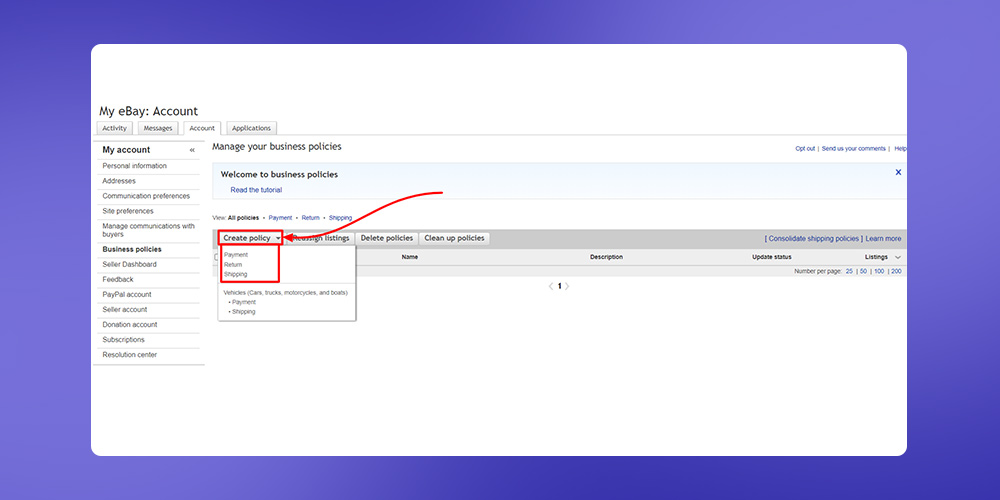 [Image Source: eBay]
How to create an eBay Payment Policy?
Setting up an eBay payment policy becomes of utmost importance when making a payment. It is a gateway to your buyers that helps them understand the options you are willing to provide during the checkout. With eBay managing the payments, you don't need to worry about the payment methods.
When creating payment policies, enter a Unique Name (64 characters) and a Short Description (250 characters) to define the policy.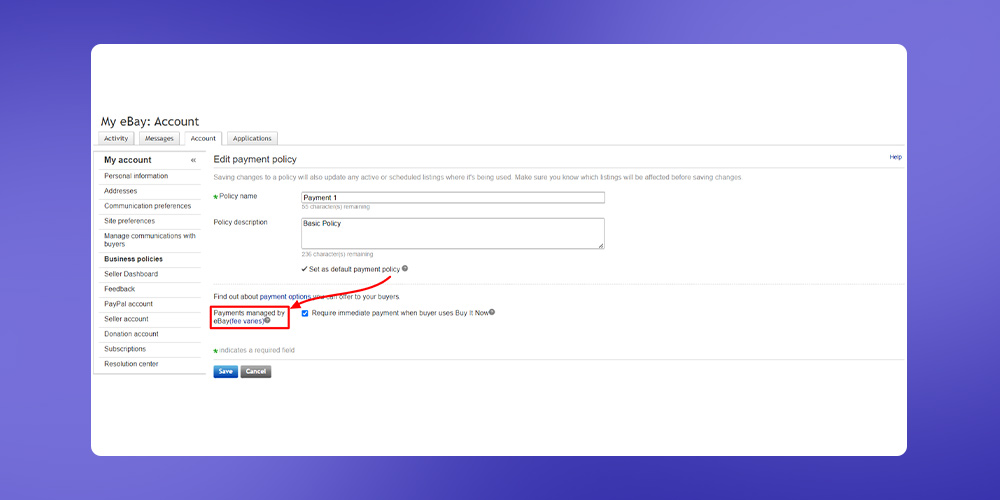 [Image Source: eBay]
How to create eBay Shipping Policies?
Setting up your eBay shipping policy becomes essential to handle all your domestic and international packages. Buyers should receive comprehensive information about shipping practices, including estimated delivery dates, shipping rates, international shipping, costs, and other relevant details.
When creating the eBay shipping policy, enter a Unique Name within 64 characters and a Short Description within 250 characters.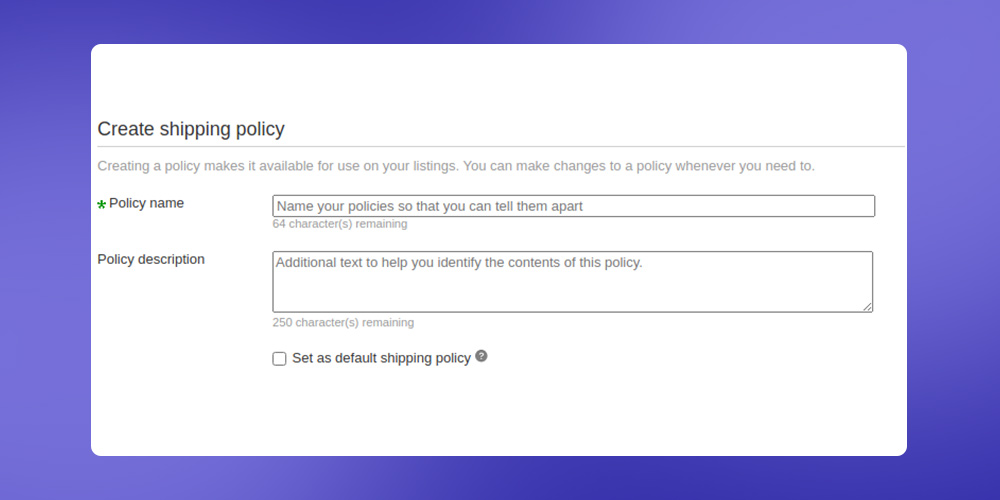 [Image Source: eBay]
Domestic Shipping Policies
You'll get a few options when setting up the Shipping Policy on eBay.
Flat Rate: Selecting the option implies that the exact shipping charge will apply to all your buyers.
Calculated: Once you select the given option, the system will charge your buyers based on their location.
Freight: You can choose the option when selling items exceeding 150 lbs.
No Shipping: Select it if you do not ship your products. The item will be available for local pickup only for the buyers.
Next, you need to select the shipping services you're willing to offer your customers. Also, enter the handling time for each order.
The shipping services give you options to select from,
Economy
Standard and
Expedited services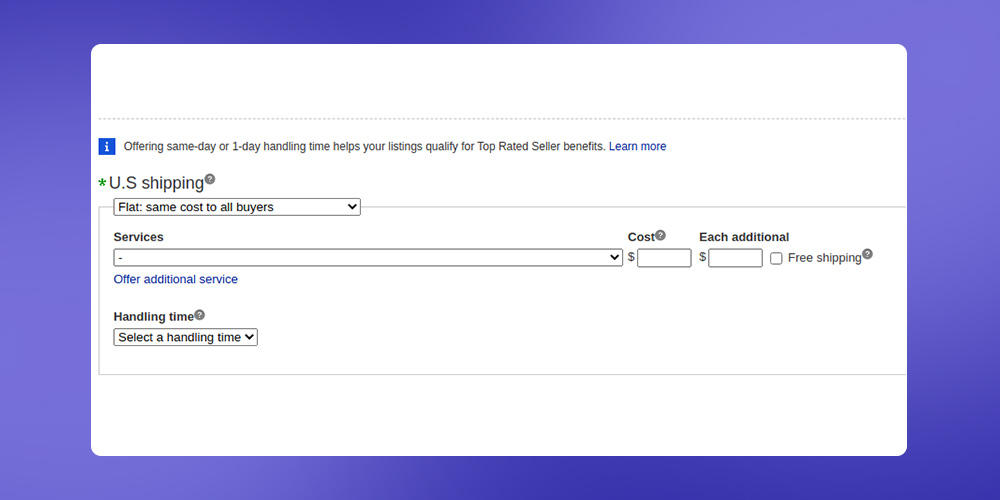 [Image Source: eBay]
International Shipping Policies
Next, you must select whether you'll provide international shipping to your buyers. You choose the appropriate shipping option from the drop-down menu. The options available to set the shipping policies include the following,
Flat: All your international buyers will get the exact shipping rates.
Calculated: The option allows you to select the shipping rates based on buyers' location.
No International shipping: Select the option if you are not selling your products to a global audience.
You establish domestic shipping rates by creating them using Shipping rate tables and arranging domestic and international shipping.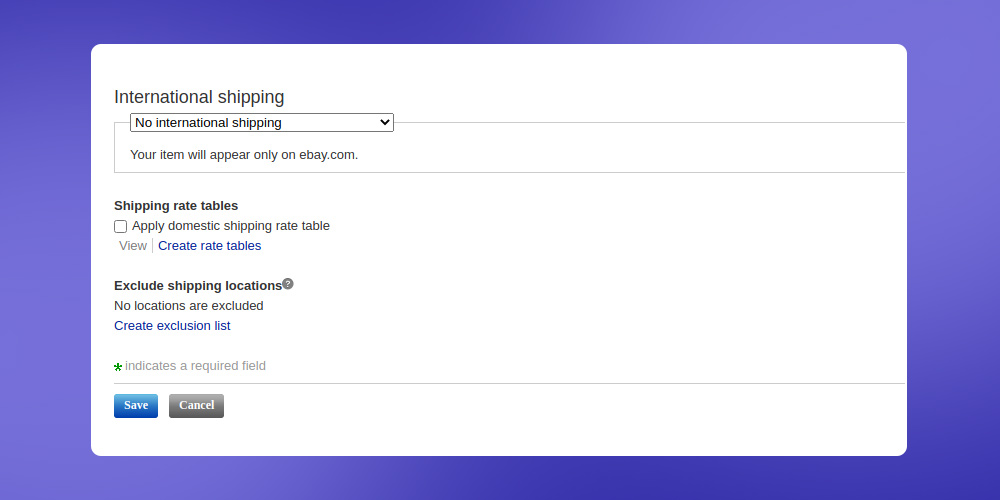 [Image Source: eBay]
Finally, fill up the exclusion list for international shipping. The list comprises the countries you do not wish to ship your products to.
Once done, click SAVE to save your eBay shipping policy successfully.
How to Create a Return Policy on eBay?
Assuming you are performing great as a seller on eBay and are terrific regarding shipping and customer satisfaction for your products. Returns are not something that'll bother you with immediate effect.
When you start issuing a refund, buyers returning the item, requesting replacement or exchange, or the product arriving damaged at their address all eat into your profit in the long run. Creating an eBay return policy helps your customers save time, move forward, and easily handle things if any discrepancies arise.
When creating an eBay return policy for sellers, you must provide a Unique Name, which should not exceed 64 characters, and a Short Description, which should be within 250 characters.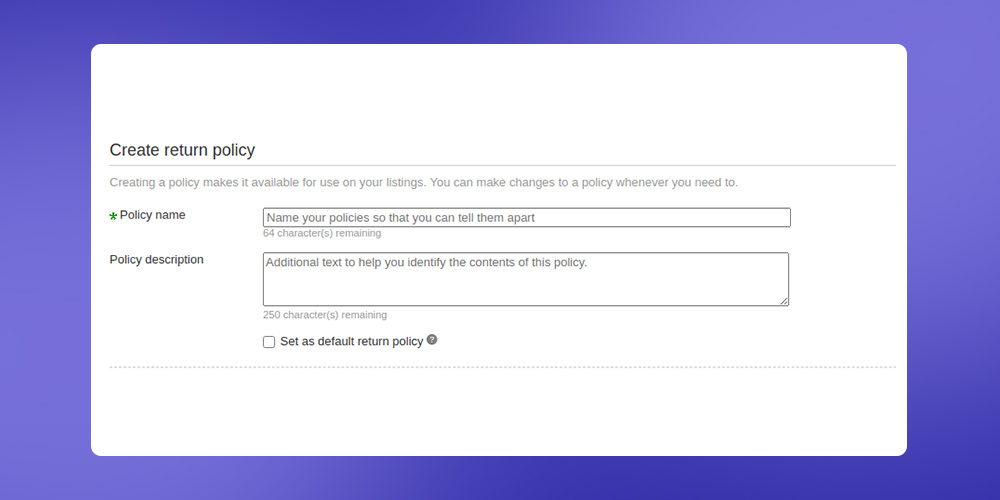 [Image Source: eBay]
The eBay return policy for sellers asks you to clarify whether you accept returns from domestic or international buyers. You can validate the checkbox next to the respective options.
When defining terms for returns of Domestic and International returns, you'll have to provide the accepted duration to request a return. You may select from 14, 30, or 60 business days. However, you need to remember that, to qualify as a Top-rated seller on eBay you need to provide a minimum of 30 days' return as per eBay's return policy.
Next, you need to clarify if you are offering free returns. You get to choose from "Buyer" and "Seller" (In case you offer free shipping).
Finally, you need to provide information stating whether you give the replacement for the products.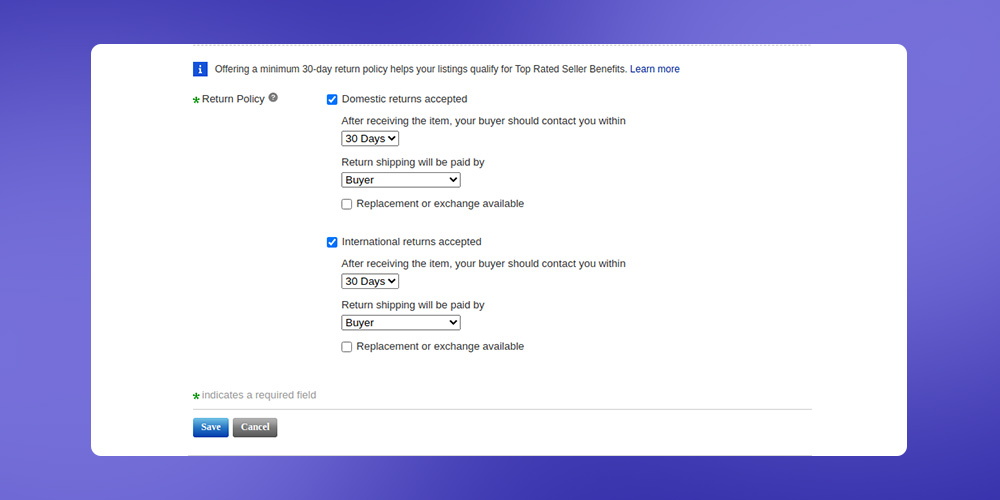 [Image Source: eBay]
Best Practices for eBay Business Policies
When setting up the eBay selling policy, sellers must ensure they cover certain aspects of their business to avoid any problems in the long run.
#1. Communicate Clearly with Buyers
Maintaining transparent and effective communication with buyers regarding your business policies can help build trust and reduce misconceptions.
#2. Align Policies with Your Business Model
Customize your eBay business policies to align with your buyers needs and requirements. Tailoring the policies can enhance the overall buyer experience.
#3. Regularly Review and Update Policies
Occasionally reviewing and updating your eBay business policies ensures that they remain relevant and effective in meeting your business's and buyers' changing needs.
Managing Business Policies When Selling on eBay from Shopify
When it comes to selling products on eBay from your Shopify store, managing business policies is a crucial aspect of maintaining a successful online presence. eBay business policies, which include shipping, payment, and return policies, play a significant role in establishing trust with your customers.
Fortunately, with CedCommerce eBay Integration, you can seamlessly manage these policies directly from the app, allowing you to streamline your operations and optimize your eBay selling experience.

Streamlining Business Policies with CedCommerce eBay Integration
CedCommerce eBay Integration offers a powerful solution for Shopify store owners who sell on eBay. One of its standout features is the ability to manage eBay business policies seamlessly within the app. Here's how it simplifies the process:
Easy Business Policy Allocation
The app allows you to allocate your business policies according to your requirements. You can set different return policies that align with each product and select shipping options that suit your customers. CedCommerce eBay Integration seamlessly integrates these policies into your eBay listings.
Real-time Updates
Managing business policies can be an ongoing task, especially when your business needs to evolve. CedCommerce eBay Integration keeps you in control by providing real-time updates. Whenever you need to update your policies, you can sync the updated policies from ebay with the app. These changes will instantly reflect across the business policies grid, ensuring you have a consistent and accurate list of business policies.
Increased Efficiency
By managing your eBay business policies from one centralized location, CedCommerce eBay Integration enhances your operational efficiency. It simplifies the listing process, allowing you to create or revise new listings quickly. You can focus on growing your business rather than getting caught up in the complexities of policy management.

Conclusion
eBay business policies, including payment, shipping, and return policies, are crucial for sellers to establish trust, streamline operations, and provide a positive buying experience.
Understanding and implementing these policies according to best practices can contribute to successful transactions on eBay. By adhering to eBay's business policies, sellers can foster a secure and acceptable environment for buyers and themselves.