How to add payment methods on eBay?
Running short of time? Get PDF of the blog in your mail.

Play Now
Are you a seller on eBay looking to streamline your payment methods? Selling on eBay offers a fantastic opportunity to reach millions of potential buyers worldwide. In the past, PayPal was the go-to payment method on eBay, but recent changes have brought about a new and improved system: managed payments. With managed payments, eBay has taken the reins, providing sellers a simplified and efficient way to receive payments directly into their bank accounts.
In this guide, we'll walk you through the process of adding payment methods on eBay, including linking eBay and PayPal, adding debit/credit cards and bank accounts, and even utilizing services like Payoneer. These enhancements aim to make selling on eBay more convenient and provide a seamless experience for both sellers and buyers. Let's dive in and explore how you can set up these various payment methods on your eBay seller panel.

[Visit the Pricing Section in the App and enter the code: BFCM2023EBAY for your desired subscription plan]
Introduction of eBay Managed Payments
You must undergo a simple registration process to set up your payment options. Once you're done, you can receive your payouts directly to your bank account. This makes it easier for you to sell and get paid quickly.
When a buyer makes a payment, the total amount they pay goes through eBay's managed payments system. eBay takes care of processing the payment and making sure everything is secure. You don't have to worry about managing payments yourself.
You'll have simplified protections and a better seller experience with eBay's managed payments. eBay handles the payment process, so you can focus on selling your items. It's a great way to sell on eBay and ensure you get paid without hassle.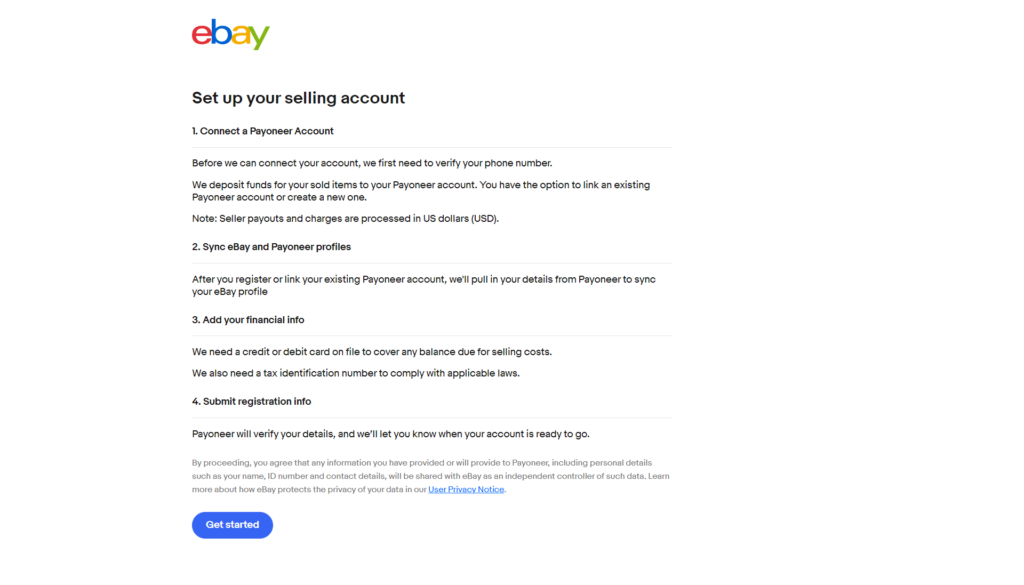 [Source: eBay]
eBay Payment Methods
eBay has always been a marketplace that makes selling easy for its sellers. Previously, sellers could follow specific steps to set up their payment process on eBay. As we know, eBay offers different payment methods to specify how buyers can pay for their purchases.
Recently, eBay has introduced new payment methods called managed payments. With managed payments on eBay, you no longer need to rely on PayPal. eBay now manages the payments directly, making the process more streamlined.
To set up these eBay payment options, go to your seller panel and follow the provided instructions. eBay provides clear guidance on adding and managing payment methods when creating your first listing. It simplifies the process and makes selling easy for sellers like you.
We'll answer your top concerning "How to's of managing payments on eBay."
How to add PayPal to eBay?
How to add a Debit/Credit card on eBay?
How to add a Bank Account on eBay?
How to add a Payoneer Account on eBay?
How to select from an existing payment method?
By introducing these new payment methods, eBay aims to provide a more convenient and efficient selling experience. So, as a seller on eBay, make sure to explore eBay payment methods, including the option to use PayPal with eBay if you've already linked them. The enhancements will simplify your payment process and improve your overall selling experience on eBay.
Now, let's dive into a detailed explanation of how you can set up these various payment methods on your eBay seller panel.

Linking PayPal to eBay
Earlier, with PayPal managing the payments for eBay sellers, one could simply follow the following steps to link their PayPal to eBay account.
Click on the top left corner of the eBay panel and then click on Account Settings.
Go under the Payments section and click on the PayPal account.
Here, you can create a new PayPal account by clicking on sign-up or linking your existing eBay account with your Paypal account.
After clicking on either option, you will be redirected to PayPal for further verification.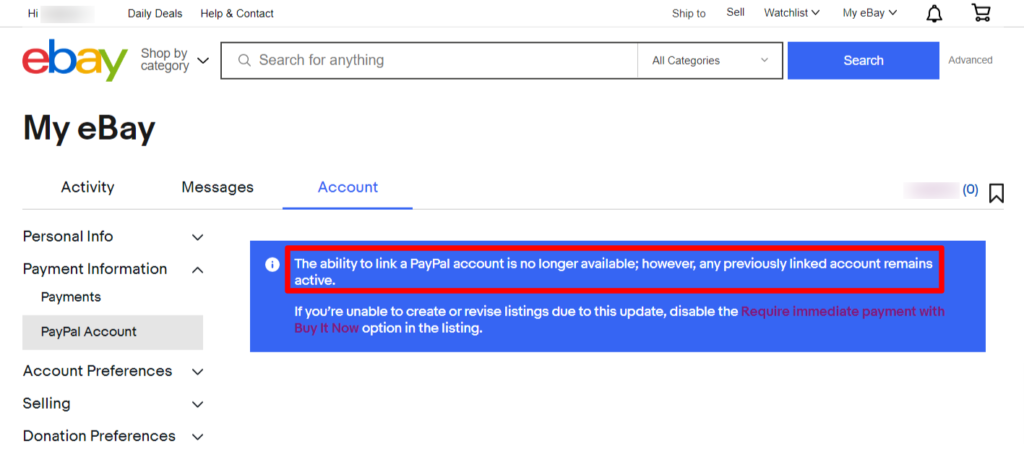 [Source: eBay]
#1. Adding a new eBay payment method
Adding a new payment method for settling selling costs includes:
Go to Payments in My eBay.
Select Add a payment option.
Under the Select payment option, select Credit card or Bank account.
Your options may vary according to your location.
Select Continue.
#1.1 Add a Credit Card for Payment Method
Enter your payment method information for a credit card or Payoneer account, and select Continue.
#1.2 Add a Bank Account for Payment Method
When adding a bank account as a payment method, you'll need to link your bank account by signing in or entering your bank details. After providing the necessary information, you must confirm your bank details and select "Continue."
After completing all the steps, you can mark this bank account as your preferred payment method for selling costs. Simply select "Preferred" and then click on "Add." However, if you prefer not to set this bank account as your preferred payment method, you can simply skip this step and proceed accordingly.
#2. How to add a Debit card or a Credit card on eBay
While PayPal covered a majority of payments option, adding a debit card included a few simple steps through which one could get
Click on the top left corner of the eBay panel and then click on Account Settings.
Go under the Payments section and click on Payment Options.
Click on the add payment option.
Select the option of Credit or debit card. After that, fill in the required information.
After filling in all the required information, click on add.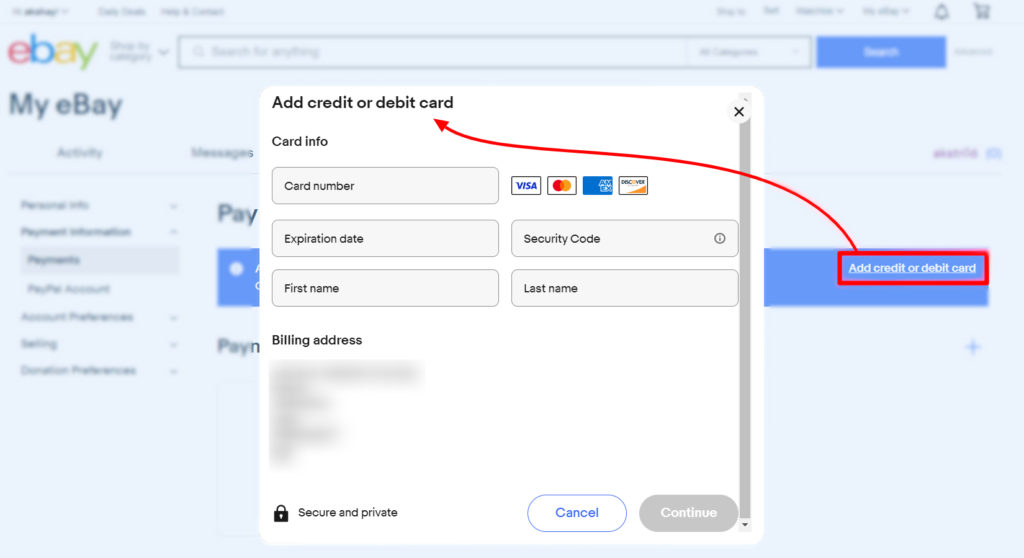 [Source: eBay]
#3 How to add a Payoneer Account on eBay
Step 1. Connect a Payoneer account: Moving forward, you'll get paid to your bank account via a Payoneer account. You have to create a new Payoneer account for every eBay account if you do not have a Payoneer account.

Note: Seller payouts and charges are processed in US dollars (USD).

Step 2. Sync eBay and Payoneer profiles: Now you need to synchronize your eBay and Payoneer profiles. After registering a Payoneer account, eBay pull in your details from Payoneer to sync your eBay profile.

Step 3. Add a credit or debit card for selling costs: Enter your credit or debit card information to cover fees and expenses arising from refunds, claims, or disputes. We need it if you have outstanding amounts owed to eBay and your funds are insufficient. To add card information, fill in the form and click Continue.

If you've already added card information, choose the proper one from the list and click Continue. Here you can also add a new card if you need.

Step 4. Submit your registration information and keep selling as usual: This will send your registration request to be verified by Payoneer. You agree to the Payments Terms of Use by submitting your registration information. After submitting, you'll be redirected to the Seller Hub.
You'll soon experience a new way to sell and get paid on eBay. Payoneer is working on getting your account approved. They may reach out to you if they need help verifying your details.
Once Payoneer lets us know everything is verified, we'll review your registration information that we have pulled from Payoneer and contact you before we activate your eBay account on managed payments.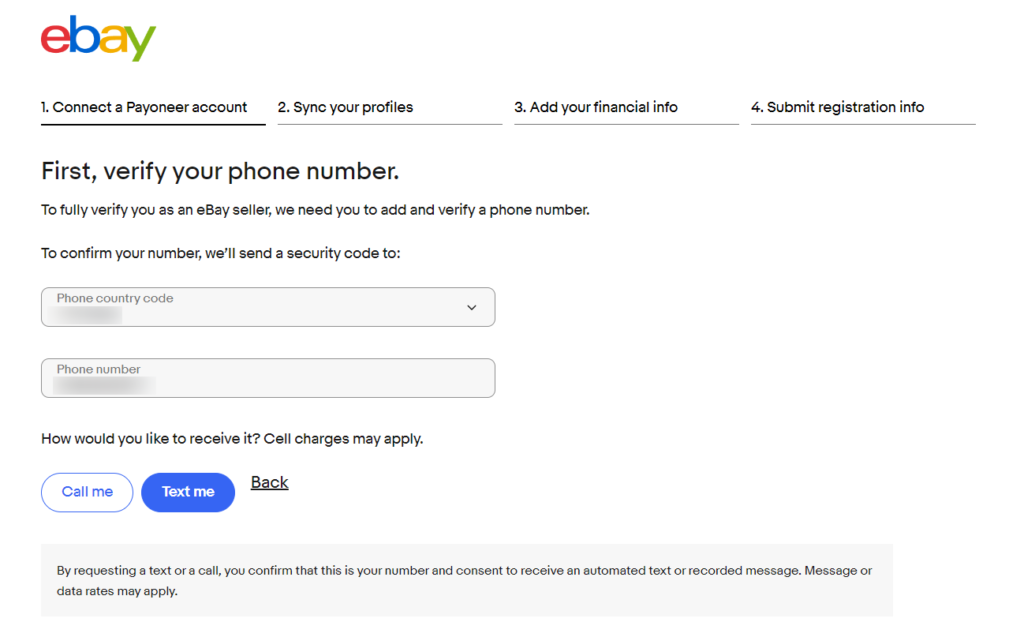 [Source: eBay]
#4. Selecting an existing eBay payment method
To set an existing payment method as your preferred paying method for selling costs:
Go to Payments in My eBay.
Under Payment options, select Manage beneath the on-file payment method you want.
Select Preferred for selling costs.
Select Done.

Conclusion
It's essential to have a payment method set up on your seller account. Previously, you had options like PayPal, direct debit, or credit card. But now, eBay has made some changes and partnered with Adyen, a top-notch global payment system. This upgrade allows eBay to manage payments directly, cutting out any middlemen in the transaction. It's called managed payments, and it's a game-changer for eBay.
Wondering how it all works? No worries! If you have any questions or confusion about eBay and its payment methods, drop a comment below. We're here to help and resolve any queries you might have. Selling on eBay should be a breeze, so let's get your payment method sorted and make your eBay experience even better!