How eBay Refurbished is the next big thing in ReCommerce?
Running short of time? Get PDF of the blog in your mail.

Play Now
Did you know that getting on board with refurbished products is like hitting two birds with one stone? Except it's a lot more eco-friendly (and less violent).
By selling refurbished items, you are financially savvy and showing your customers that you care about the environment. That's like being a superhero for the planet!
And before we get into the nitty-gritty of it all, let's first answer the question that's been keeping you up at night: What is ReCommerce? and what does "refurbished" mean on eBay? Buckle up because we're about to embark on a wild ride of learning!
What is ReCommerce?
So, what exactly is reCommerce? It means that the used item has been fixed up and restored to its former glory, like a phoenix rising from the ashes, and is now ready to be sold at a much cheaper rate. Okay, maybe that was a bit dramatic, but you get the point.
In simple terms, reCommerce is selling a product that has been previously used. You restore it to its original condition through the manufacturer or a third-party seller and list it on a marketplace or your Store. It's like giving a new lease of life to a pre-loved item!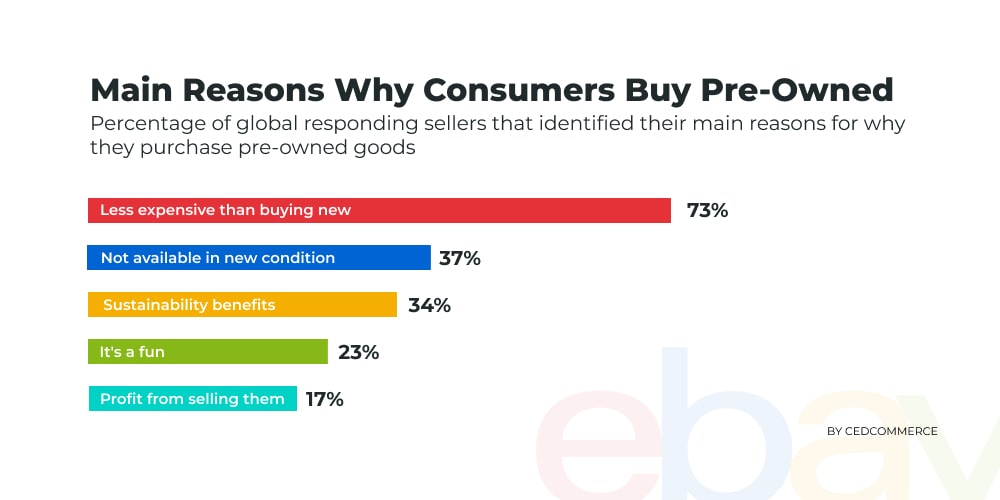 Think of it this way: Imagine a smartphone that has seen better days. It's scratched, its battery drains quickly, and some buttons don't work. A refurbisher would replace the worn-out battery with a new one, replace the scratched or damaged screen, and repair any faulty buttons or ports. They would also clean and sanitize the device to make it look like new. Ta da! The smartphone is now fully functional and ready for a new owner to enjoy. Ta-da! The teddy bear is now good as new and ready for a new home. reCommerce helps you make money by selling refurbished items instead of brand-new ones.

What is eBay Refurbished?
The eBay Refurbished program provides buyers with a consistent and seamless shopping experience by clearly stating the condition of each refurbished product. It helps streamline their purchase decisions and minimizes the likelihood of "item not as described" returns. Meanwhile, sellers benefit from having their reCommerce listings organized based on consistent refurbished conditions, making it easier for buyers to make informed decisions.
eBay is the ideal reCommerce platform for buying and selling refurbished items. Buyers trust that they will find fully functional refurbished products in various conditions, including Certified, Excellent, Very Good, and Good, all at great prices. On the other hand, sellers who are part of the eBay Refurbished program can offer products that have been refurbished either by the manufacturer or an approved refurbisher and are in conditions ranging from Certified – Refurbished to Good.
Is eBay a good ReCommerce platform for sellers?
So recently, eBay conducted a survey to generate intel on reCommerce. The survey revealed that the reCommerce trend is on the rise worldwide, with more and more sellers entering the resale market. Most remarkable was that GenZ was responsible for driving the reCommerce movement, with 80% of respondents purchasing secondhand goods and a third becoming seller.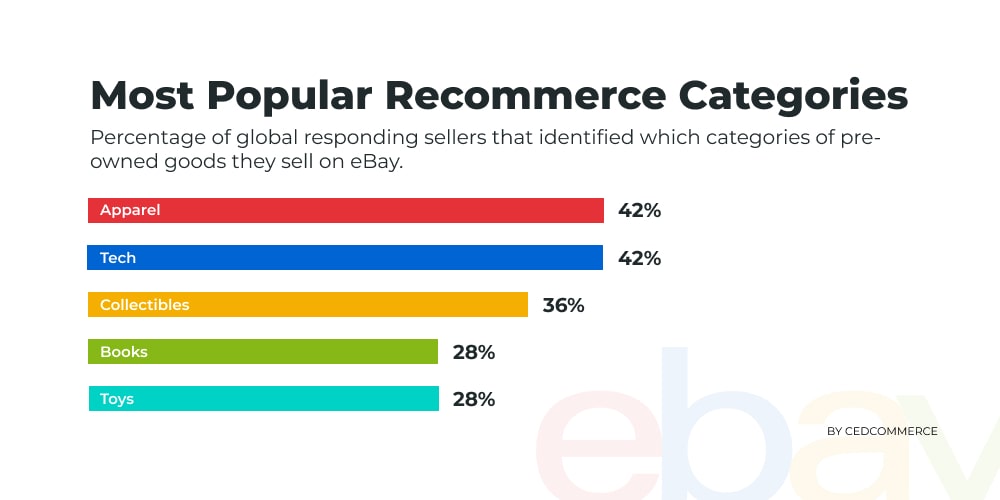 Interestingly, it's not just Gen Z driving this trend, as 12% of people across all age groups have begun selling pre-owned items online. The percentage of new sellers was even higher in 2021 for specific countries, such as Canada (22%), Italy (21%), and the U.S. (17%). However, In terms of age, Gen Z represented the largest group of new sellers at 32%, followed by Millennials at 16%.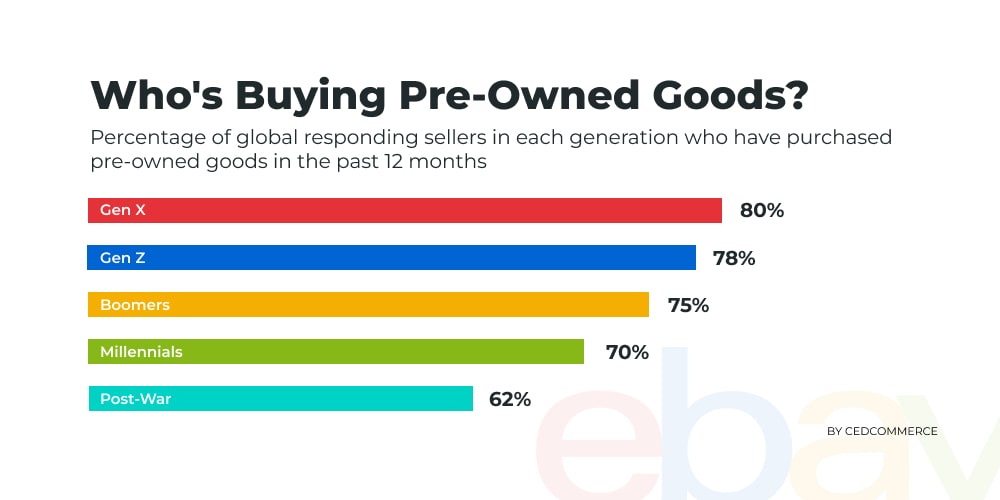 The sellers already involved in this market are optimistic about its future. 72% of respondents believed buying pre-owned items would become more common in 2021. In contrast, 64% said that selling derivative products became more manageable over the past year. Additionally, 48% of respondents reported that they were now selling more pre-owned goods than they were in previous years.

Best Seller Refurbished Categories on eBay
The question that has cropped up in your mind is: Is eBay the right place to establish my reCommerce business? Based on this information, we've compiled a list of the top brands and items that shoppers searched for in 2022 and will continue to search for in 2023. A lot has happened since eBay launched its certified refurbished program, which can be seen through these popular categories finding their top spot in the refurbished marketplace.
Your Guide to Start Selling Refurbished Items on eBay
eBay is the perfect destination to start selling your pre-loved and refurbished inventory. On the marketplace, as a seller, you can qualify to sell refurbished products when you consistently meet the refurbished product conditions requirements. While buyers get a unique shopping experience, they can browse fully functional refurbished products under four conditions at great prices. That's a win-win situation for everyone!
Certified,
Excellent,
Very Good, and
Good
Plus, let's remember how satisfying it is to breathe new life into old items. You can turn what was once a dusty relic into a hot commodity on eBay. It's like being a magician, but for stuff!
But before you start selling, make sure you have a good understanding of the refurbished condition requirements on eBay. You want to ensure you meet the standards and provide buyers with the best product. Once you've got that down, it's time to start listing your items and watching the bids roll in!
eBay refurbished conditions
Here's the lowdown on what those different "condition" labels mean. eBay awards these certificates to products based on their working and physical condition.
#1. Certified Refurbished: When you see the label "certified refurbished" on an item, it's been thoroughly inspected, cleaned, and restored to its original specs by the manufacturer or an approved vendor. So, you can expect it to be in tip-top shape, just like new!
You can use the "certified refurbished" label in your listings as a seller! If you meet the requirements, you can add the description to your titles, subtitles, and product descriptions. Potential buyers will see your items more clearly if they stand out and are easy to find.
#2. Excellent Refurbished: It means the item is in new-like condition and comes after it is carefully screened and vetted by you. So you can rest assured you're getting a quality product.
#3. Very Good Refurbished: You can expect minimal wear and tear. It could be inferior to the first two categories, but it's still in excellent shape. And once again, you have carefully inspected the product, so your buyer can trust that they're getting a good deal.
#4. Good Refurbished: This is where your buyers start to see signs of wear and tear, but nothing too extreme. You still have been vetted, so your buyer will have confidence in the quality of the product.

eBay Certified Refurbished
When you qualify for the eBay certified refurbished category, your listings will be labeled as such on eBay and will stand out with a special badge. It can attract buyers looking for a high-quality item at a reasonable price. Plus, it instills trust and confidence in your buyers since they know they're getting a top-notch item refurbished to meet high standards.
Qualifying as an eBay Certified Refurbished Seller
Are you interested in becoming an eBay Certified Refurbished seller on eBay? Great! Here's what you need to know to qualify for the program:
First, you must meet some strict requirements, including being a US-based seller, having good standing with eBay, and having an average or better service level. Additionally, you must prove that you can resell the manufacturer's products through the given points.
Your inventory needs to be top-notch, too. That means professionally refurbished with few or no visible blemishes. Plus, it must come straight from the manufacturer. The manufacturer also provides proof of purchase or authorization and a manufacturer's warranty. And remember the free shipping and 30-day returns. eBay's all about customer satisfaction here.
If you meet all of these requirements, go ahead and apply to join the exclusive club of eBay Certified Refurbished sellers. If you're accepted, eBay will contact you within two weeks.
Keep in mind that this program is currently only available for US-based sellers. If you're outside the US, fill out eBay's Certified Refurbished program application for the UK, Canada, or email officials if you're an Australian seller.
Other eBay Refurbished Conditions (Excellent, Very Good, and Good).
eBay's got you covered with a variety of conditions to choose from. However, eBay only lets the cream of the crop sell refurbished items on their marketplace. That means the products you sell should be fully functional, inspected, scrubbed clean, and spiffed up to meet eBay's high standards. Plus, your products should come with all the bells and whistles – new packaging, original or new accessories, free shipping, and 30 days returns.
eBay only lets you add Excellent, Very Good, and Good conditions, depending on the working and physical condition of the product. If you're selling under one of the conditions, remember to spice up your listings with these keywords in your titles, subtitles, and product descriptions to get extra attention.
Qualifying for Excellent, Very Good, and Good Conditions.
If you want to sell some good refurbished goods on eBay and qualify for Excellent, Very Good, and Good conditions, you must pass their test first!
We're talking about a strict set of requirements here, guys. Your inventory has to be fully functional, tested, and refurbished to a high standard. A US-based Top Rated Seller must also have average or better service level metrics and follow all eBay policies. And do not take your shipping lightly. You'll need 0-1 handling days, free shipping, and 30-day free returns to qualify.
However, if you're already an eBay seller with a Business account and think you meet these requirements, you can submit a Program Application to be vetted. But if you're not a current eBay seller with a Business account, you need to apply for manual review, where you'll get the updates within 30 days of submission.
If you make the cut, eBay will grade your items according to its criteria. You'll need to ship the products with original or new accessories in new packaging.
Calling items "Refurbished" if they aren't "Certified Refurbished."
If you're considering selling some refurbished items on eBay and are unsure if they meet the "certified refurbished" criteria. Don't sweat it, my friend – we've got you covered.
If your items don't meet the "certified refurbished" standards for cell phones, laptops, desktop computers, or tablets, you can still list them on eBay as "seller refurbished." That's right. You can still call them refurbished and attract all those savvy shoppers.
And, if your inventory doesn't quite make the cut for any of eBay's refurbished requirements, don't worry – you can still list it as "used." It's all about being honest with our buyers and letting them know exactly what they're getting.
Can eBay Refurbished be trusted?
I know what you're thinking. Will buyers trust your eBay Refurbished products? And the answer is a resounding yes! Let me tell you why.
eBay has partnered with Allstate to give your buyers a warranty that will knock their socks off. That's right, Allstate – the same guys who protect you from car accidents and natural disasters.
And get this – the warranty is included with every eBay Refurbished purchase, so your buyers don't have to worry. And it's automatically registered with Allstate at the time of sale.
Those buying Certified Refurbished items get a two-year warranty from the date of purchase. In addition, Allstate cover those who purchase Excellent, Very Good, and Good refurbished items for a year from the date of purchase.

Conclusion
eBay Refurbished is the perfect solution for anyone who wants to save the planet and make some money. With access to a range of items brought back to life, your buyers will find a great deal on your offer.
And you'll be in good company! There's a whole gang of savvy genZ and millennial shoppers out there. And they know that buying refurbished is the way to go. So, joining the party and letting eBay Refurbished take your business to new heights is not a far-fetched dream but can soon be a reality for any seller.
Remember, you'll do your part to reduce waste and make the world a little greener as well. Moreover, you'll be putting some extra cash in your pocket. What's not to love? Give eBay Refurbished a spin and see for yourself!