eBay in 2022: Quarterly Reports & What to Expect Next?
Running short of time? Get PDF of the blog in your mail.

Play Now
Since its announcement, eBay's quarterly profits report for 2022 has been making the rounds. Starting the first quarter, eBay's revenues have seen a consistent increase. eBay had one of its strongest quarters in terms of the growth of both its user base and its seller base for refurbished goods.
eBay's report card for the first two quarters of 2022
Despite the fact that there was a drop for the fifth consecutive quarter, eBay continues to design and carry out strategies that have strengthened them recently.
Q1
The Zacks Consensus Estimate of $2.46 billion was surpassed by eBay's net revenues of $2.48 billion. On a reported basis, the number dropped 6% from the prior quarter and 5% on an FX-neutral basis. It was also 5% lower than the previous quarter.
Additionally, $222 million in revenue from eBay's Promoted Listings decreased by 2% on an FX-neutral basis and 1% on a reported basis from the same quarter last year. The active customer group, which amounted to 142 million at the close of the first quarter, also decreased by 13% over the previous year for the eBay marketplace.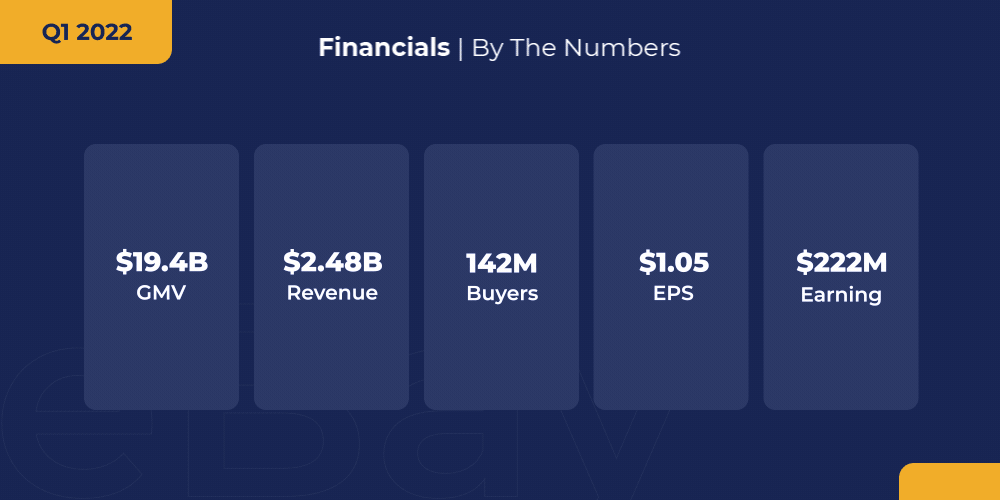 Q2
The Zacks Consensus Estimate of $2.37 billion was topped by net revenues of $2.42 billion. On a reported basis, the number dropped 9% from the prior quarter and 6% on an FX-neutral basis.
The number of active buyers, which stood at 138 million at the end of the second quarter, fell by 12% year over year for the marketplace.
Interestingly, sales from eBay's Promoted Listings reached $232 million, up 6% on an FX-neutral basis and 2% on a comparable basis from the same period last year.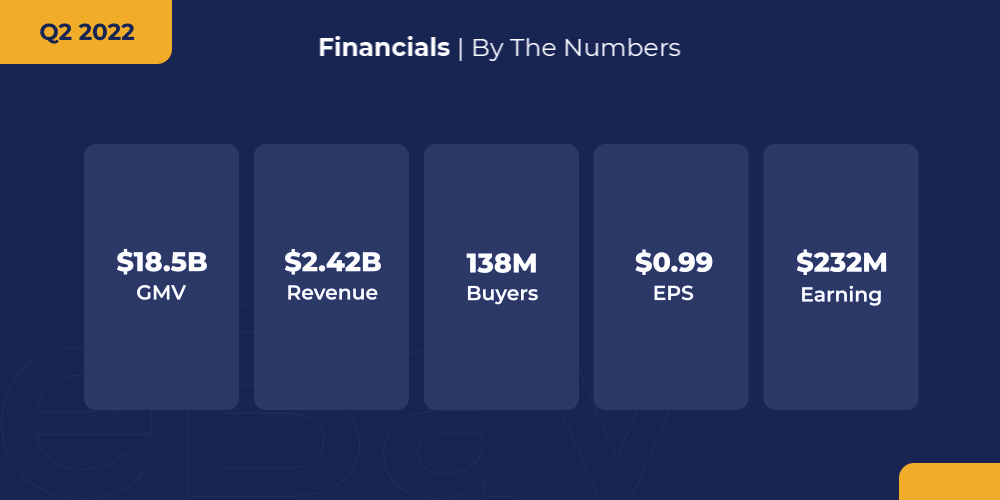 What went into the first two quarters
A cutting-edge facility and online marketplace for collectors, the eBay vault, was launched by eBay in the first half of 2022. The eBay vault is the most recent in a line of important advances that eBay has made available to its fans, fusing physical and digital capabilities to make collecting more sophisticated than ever.
Graded trading cards sold on eBay for $500 or more are now covered by eBay's enhanced Authenticity Guarantee program for trading cards. Additionally, eBay also added the UK and Australia to its authenticity guarantee program for shoes and handbags.
The first-ever New York Auto Parts Show, organized by eBay Motors in April, showcased how auto fans may create, repair, or maintain their ideal vehicle. The "Re-Concept vehicles" range, created in collaboration with some of the best constructors in the business, was also unveiled during the exhibition.
Additionally, the business expanded its eBay Refurbished program to include a variety of condition ratings for tablets, smartwatches, laptops, desktops, and other devices. The expansion featured the Canadian debut of eBay Refurbished as well.
eBay and Snapchat also came together, and now right from the eBay app, sellers can quickly post eBay listings to Snapchat.

How was the performance of eBay in Q3 of 2022
At the New York Comic Con, eBay held Live Commerce events to spotlight hip businesses like Funko Pops! and Metazoo. On eBay, the consumer satisfaction score for jewelry was above 90%. It demonstrates that customers visit eBay for excellent deals on used and refurbished goods.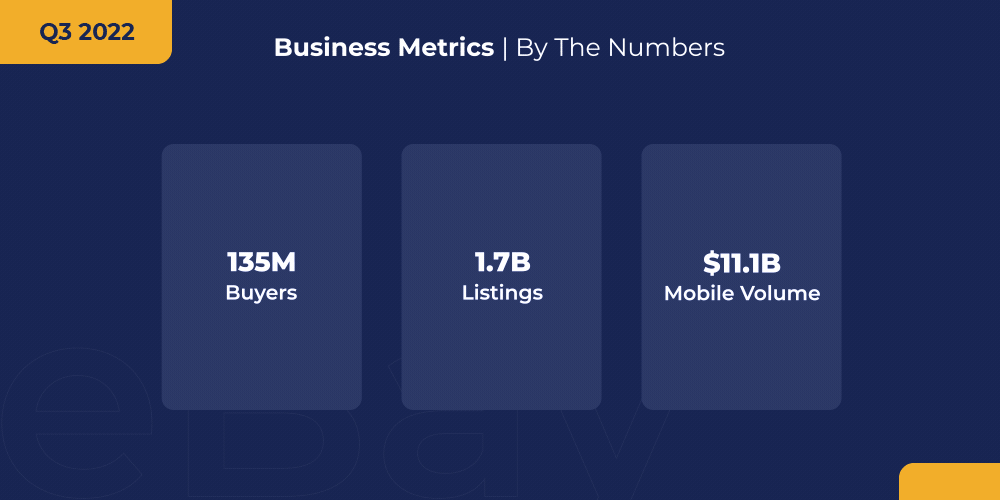 Due to a mix of market fundamentals and the effects of eBay's innovations, the Trading Cards category on the marketplace has increased more than twice as much since 2019.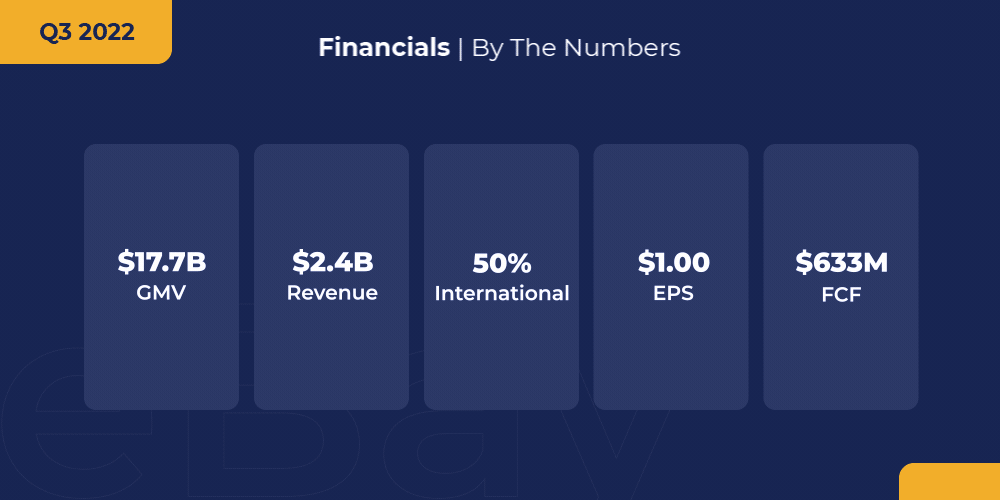 What to expect in Q4 of 2022 (eBay's Holidays Outlook)
In a poll with Vogue Business, we discovered that over 70% of customers purchase used goods, with eBay coming in the first place as their preferred vendor. 80% of Gen Z buyers say they prefer pre-owned, which is a more significant percentage. Giving antique luxury as a present will win over the hearts and minds of the younger folks on your list.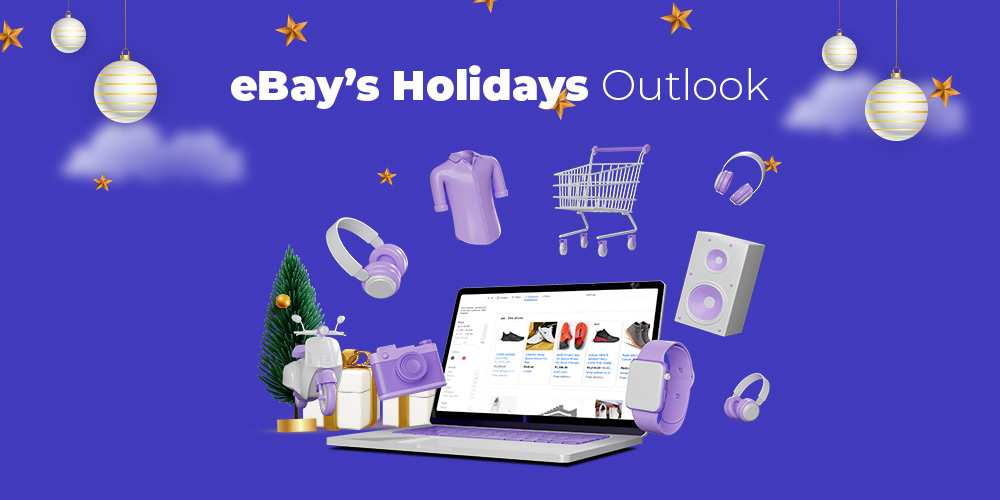 #1. Collectibles
Looking for gifts? eBay offers you everything through its wide range of collected objects, whether it be from pop culture, video games, or sports.
Fun fact: In Q1 2022, three cards were offered on eBay every second. In 2021, vendors sold 63 million trading cards on the marketplace.
To give you an idea of what will be popular this season, take a look at some of the top-selling goods throughout the category:
#2. Toys and Games
Toys and games are one of the most crucial categories during the holidays since they frequently sell out rapidly in shops, which prompts customers to turn to eBay. These groups consist of
Beanie Babies
Barbie
Funko Pop!
LEGO
Squishmallow
Not only that, but searches for Mattel's Meditation Mouse increased by more than 700% between January and September this year, while searches for Lego Star Wars: The Skywalker Saga have increased by over 500% since January of this year.
#3. Trading Cards
Trading cards of all kinds, from sports to card games, are becoming more and more common. The trendiest goods in 2022 include
Garbage Pail Kids
Magic: The Gathering
MetaZoo
Pokémon
Yu-Gi-Oh!
#4. Sports
If you have any sports-related goods from Tom Brady, Serena Williams, Roger Federer, or Rob Gronkowski in your inventory, now is the time to market them since collectors are actively looking for cards and memorabilia as a result of their retirements, unretirement, and career changes.
According to eBay, the Aaron Judge and Albert Pujols searches have increased by over 700% and almost 300%, respectively.
#5. Watches
For the watch enthusiast, the top most-sold brands on eBay include
Hamilton
Omega
Seiko
Tag Heuer
Tissot
Interestingly, searches for the Gucci 25H grew by more than 500% between August 2021 and August 2022. It makes me think – if you have one to list, now's the time!

#6. Handbags
Handbags, too, joined the Authenticity Guarantee club. 2022's top-selling brands include
Chanel
Gucci
Louis Vuitton
Prada.
Customers are just as likely to purchase used goods as new versions when browsing for some well-designer purse companies.
#7. Jewelry
Jewelry is a category that generates a lot of interest during this season of the year. Furthermore, nothing can match the timing of its addition to eBay's Authenticity Guarantee program. Every day, on average, 7.8 million fine jewelry items are listed on eBay. Shopping for glittering purchases typically begins early. In fact, searches for some companies, including Harry Winston, increased by triple figures in recent months.
#8. Sneakers
Everyone enjoys a new pair of sneakers. In fact, since January 2022, Nike Low Dunk Panda searches have averaged over 50,000 per month. As a result, this holiday season, shoes are a category to pay attention to. Following are some of the shoe sales trends we have seen in 2022:
New Balance 550s,
Air Jordans
Nike Dunk Low Panda
#9. Motors Parts & Accessories
One of the major categories on eBay has been and will continue to be eBay Motors. With approximately 500 million listings, it has become the finest giving a choice for enthusiasts. The most popular products this year include brands like
Chemical Guys Cleaning set
Craftsman Easy Read Socket Wrenches
Craftsman Mechanic toolsets
Topdon Portable Car Jumps
Vevro Car Jack
#10. Electronics and eBay Refurbished
80% of Gen Z, according to a report provided by eBay last year, were keen on buying used and pre-owned things. With searches for "refurbished" increasing roughly 25% since June of this year, devices and gadgets are arguably where this conscientious consumption is most applicable.
According to eBay, in 2022, Sony, Bose, Dyson, DJI, and Samsung will be the top-selling used electronics and appliance companies. The best-selling products include
DJI Mini
Samsung Galaxy
Bose Quiet Comfort Headphones.
Also, eBay quarterly report shared that since June of 2022, the sales of the Dyson V8 vacuum alone have increased by nearly 2,800%.

Final Thoughts
These are impressive outcomes at a time when economic problems are affecting consumers' wallets and business outlooks. Notably, they were only possible with constant enhancements to eBay's user experience, trustworthiness, and general transactional environment.
The eBay quarterly report shows that their effective strategy is one of the most heartening aspects of this quarter's performance. The average expenditure from eBay's most devoted "enthusiast" customers has also seen an upward slope, up double-digits since 2019 to a healthy $3000 per year. eBay has also started to put more effort into expanding its Focus Categories that everyone likes well.