Your Guide to Holiday Season Sales using Facebook Commerce and Instagram Shopping
Running short of time? Get PDF of the blog in your mail.

Play Now
Here it is, right on cue! As we enter the month of August, we get to see that the holiday season preparation is all decked up. For businesses, the festive season is a time that is anticipated with both joy and excitement. Everyone loves the feeling of festivities and cherishes the memories of holidays gone by. But along with it, brands do stress over the preparation, expectations, and the fear of letdowns. For these businesses who are looking for the opportunity to grow their customer base this holiday season, Facebook and Instagram is the right choice. Want to know how?
Well, Facebook being a social media platform, has a well-established audience. It has exciting tools for businesses of all sizes which help them expand and get access to their potential audience in absolutely no time. Explore further to know why Facebook and Instagram should be your preferred choice this festive season, and what you can do to make this holiday best for your eCommerce business.
What does Facebook & Instagram mean this festive season?
The holiday season always indulges the feeling of festiveness in the heart of shoppers. It brings unique merriment, spirited fun, growth, and a lot of sales. Despite the challenges that 2020 brought up, holiday magic was still not less. By 2021, customer expectations have dramatically shifted. People are diverting their attention towards online shopping and engaging visually. Get to know how Facebook and Instagram would influence the holiday season sales.
The future of mobile shopping is closing in
With every passing year, mobile plays an increasingly critical role in all of our lives. While people are getting ready for the festival season; marketers are quietly embarking on their final blitz for the holidays. Businesses like you are researching popular shopping trends, deciding on the strategies that will help you win during the most crucial time of the year.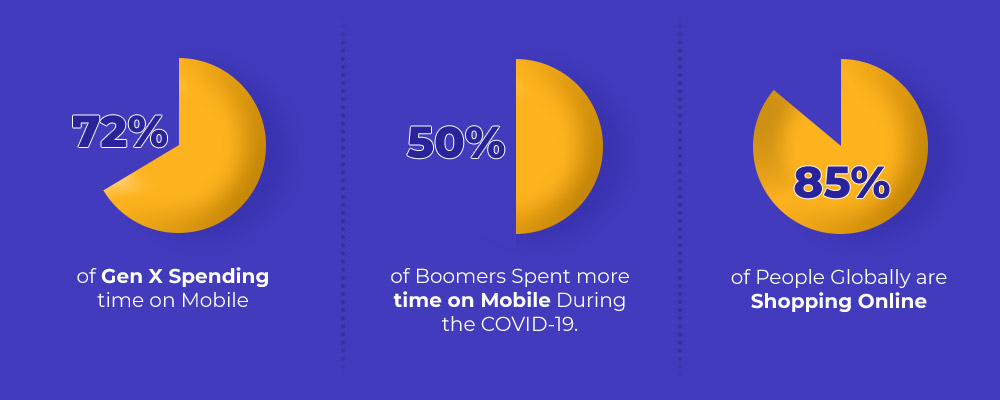 With that said, according to Facebook holiday insight, reliance on mobile devices to discover new products will deepen this holiday season. In the year 2020, we saw the massive rise of mobile shopping. Shoppers opted for social media giants like Facebook and Instagram as their trusted sources to buy and sell. This shopping behavior allows you to understand and influence your customers. Big brands are now using social media to reach their customers where they already are.
Focus on mega season sales on Facebook and Instagram
The COVID-19 outbreak in 2020 has impacted businesses and the workforce globally. People were looking for more affordable and cost-friendly products to shop for. Having said that, the year 2020 has seen a sudden boost in eCommerce sales during the major festivals. The most popular festivals were Black Friday, Cyber Monday, Single's day, and Doubles Day.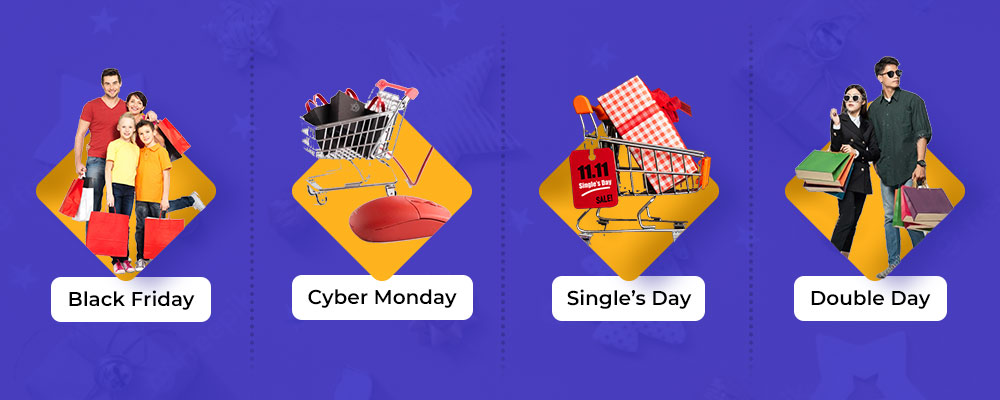 Similarly, looking at the craze for holiday season sales, we can say that the Mega Sales could be one of the major shopping events for shoppers this year. Nearly 1 in 3 customers wait for products to be on promotion, discount, or sale before buying. Last year, an average of 54% of shoppers purchased something during a Mega Sale event. This year, it is anticipated that more shoppers would indulge themselves in the sea of online shopping rather than the minimal in-store shopping.
Opt for multichannel selling
Retailers today must be agile and flexible in how, when, where they should sell. As a business, you must want to develop your brand value and engage with your potential customers. However, if your products aren't visible on your searcher's query, then you are suffering a setback.
With the concept of "sell everywhere," various businesses are going multichannel. And so should you. And what better option could it be other than selling across Facebook surfaces. Facebook has a vast range of customers, and with the launch of its eCommerce platform; it has increased the possibility of commerce. So, if you have an online presence and you wish to expand your reach, getting your business to Facebook and Instagram should be your preferred choice. You can also connect with Facebook Business Partners for a smooth selling experience.
Get ready to conquer retailer's busiest time of year with CedCommerce!
Analyze your business strategies for the holiday season sales
Despite the current global pandemic, holiday season sales are still expected to soar. Considering the past year's statistics, and with more consumers shopping online, early planning is essential. It's high time for you to start thinking about your business strategies and plan early.
The holiday season sales begin with Halloween, Black Friday, and Cyber Monday which continues to the December holidays. In that case, you would not want to miss the most important seasonal sales. That said, you now need to decide which holiday season suits your business.
Decide which festive suits your business
As the shift to eCommerce accelerates, retailers and brands must explore which festive suits their business. For example, in the West, the shopping season traditionally kicks off with Black Friday and Cyber Monday is now being extended by Asian Mega Sales days like 11.11 (Singles Day) and 12.12 (Doubles Day).

Last year an average of more than 43% of shoppers shopped for deals on Black Friday. This year, global participation is expected out of the shoppers. Besides, IGTV, Live, and Stories can bring the excitement of Mega Sales days. There are a few of the most important festivals that can be a boon for your business, so let's explore them one by one:
31 October (Halloween Day)
Today, Halloween is a great festive way to draw your customers' attention to your website. You can decorate your stores according to the theme, participating in creative competitions via social media or special discount campaigns.

11/11 (Singles Day)
If you are looking for the benefit to sell across the Southeast Asian region, then Singles day should be your option. eCommerce giant Alibaba reported Singles Day sales activity of $38.4 billion in 2019. Thus making it one of the most successful festivals for businesses.

26 November (Black Friday)
Black Friday is symbolically marked as the start of the holiday shopping season. Most of the standard products dealt on this holiday are electronics and toys. In case you have a business dealing with electronic appliances, you can use this opportunity to mark your presence in the eCommerce niche.

29 November (Cyber Monday)
Cyber Monday is a major online shopping event that takes place on the first Monday after Thanksgiving in the United States. Customers are usually in search of significant discounts during Cyber Monday. On record, by 2019, Cyber Monday grew to a record $9.4 billion in sales.
12.12 (Doubles Day)
To promote small and medium-based businesses, Alibaba's mobile payment company, Alipay, has launched Doubles Day. This mission proved to be an advantage to the businesses. Due to COVID-19, shoppers were looking to support local communities and smaller businesses.

Focus on the top-selling products on Facebook and Instagram
The coronavirus pandemic has changed the course of living. Right from minimizing the tradition of in-store shopping to getting the business online, it has affected it all. In the early start of 2020, products in the home and office categories were in great demand. As consumers adjust to their new normals of working remotely.
That said, while getting your business across Facebook, you must know the best-selling products on Facebook this festive season. This will help you in strategizing your business plan for the holiday season sales and lead to incremental sales. Some of the best products on Facebook and Instagram are:

Lifestyle: The year 2021 saw the rise of kitchen and garden accessories. Some of the best products on Facebook this festive season could be vegetable seeds, indoor plants, and bird feeders.
3D Art: One of the biggest trends in 2020 was 3D and digital art. Lots of brands have been using the concept of CGI in their new collections, this season.
Personalized fashion: This holiday season, people are more focused on exploring their creative sides. By investing time in handmade products. Products like Tie-dye and handmade jewelry have been exploding in popularity.
Focus on eco-friendly products: The role of transportation is shifting to a more eco-friendly way. People are getting updated about the health benefits. Looking after the craze for fitness, bicycles are seeing unprecedented levels of demand in the market. Besides, there is a sudden rise in sales of e-bikes in the latest months.
Create an omnichannel experience
With businesses selling across multiple platforms to increase their brand reach, there are no borders across the digital world. By using Facebook tools, businesses of all sizes can now go multinationals.
Now when it comes to year-end shopping, people are exploring products across borders. They are opting for various social media sites to promote their products to the target audience. Having said that, Facebook offers a variety of tools like:

Facebook Shops: 'Facebook Shop' helps you sell effortlessly across Facebook and Instagram by showcasing your products right from a single store.
Instagram Shopping: With the rise in Instagram features, you can now turn your passion into a livelihood by building your brands on Instagram. From where you can tag your products in the post, and stories to help people discover your offerings.
Checkout on Facebook and Instagram: Businesses using checkout on Facebook and Instagram can allow the shoppers to make a seamless purchase right from the place of discovery, without leaving the app.
Facebook ads: Facebook ads are one of the most effective tools to grow your business and create a loyal customer base. You can now reach your customers through location, gender, interests, behaviors, etc.
Sell more and sell everywhere with CedCommece!
Prepare your Shops for sale
Reinvent your Shops across Facebook and Instagram for the holiday season by enhancing your catalog according to the festive season theme. Besides, attractive descriptions, photos, and product attributes help shoppers make a decision. So, make sure your product has interesting descriptions, at least 4 high-resolution photos, 3 attributes such as color, number of material, and accurate shipping information. Also, product tags play an important role in making people find your products easily. They allow you to highlight items from your product catalog in your posts so that people can tap the tag to quickly learn more about your products. Having said this, the festive season is a great opportunity for you to promote your most valuable product of the year and highlight its features using Instagram creatives. 
How can you sell on Facebook and Instagram this holiday season?
If you are new to eCommerce or wish to expand your business, you can start with online ventures today. Facebook offers you with variety of tools that can help you grow your audience base and increase your product visibility. You can get your online product catalog on a larger social media platform, build your brand image and get incremental profits to your business. With this said, to make the selling process smooth for you, Facebook business partners come into play. The apps like Facebook & Instagram Shopping and Social Commerce help you manage your business across your eCommerce store and Facebook family of apps right from a centralized place.
By connecting with Facebook business partners, you can quickly upload your product across the Marketplace in absolutely no time, get an automated order management system, effortlessly synchronize your inventories, enhance your product catalog with attributes, and much more.
Promotional strategies to follow this holiday season 
The holiday season brings fierce competition amongst the masses causing merchants to compete with each other. Thus, bringing different opportunities for the shoppers to shop. Here's a list of few promotional strategies you can follow to increase your sales on Facebook and Instagram during the holiday season.
Plan for the content calendar. Keep track of the customer engagements, trending products, product visibility, and many more.
Use tags while uploading your products on your Facebook or Instagram Shop. This will help you drive more customers to your website. Some of the popular hashtags are #holiday, #festiveseason, #festivevibe, #festivecollection.
Give an insight for holiday season preparation by promoting behind the scene video.
Use Facebook and Instagram algorithm to rank your products amongst the right set of audiences.
Use video marketing strategies to promote your products. On average, 64% of consumers make a purchase after watching branded social videos.
Leverage Facebook ads as your ultimate way to promote your products across Facebook and Instagram.
Create a buzz with Stories. On average one-third of the most viewed stories are from businesses. Thus, you can use this feature and captivate your audience to your product.
Provide exciting offers and discounts to your customers. This will help you to retain their interest in your products.
Display countdowns of your products. As it helps in creating a sense of urgency in the shopper's mind.
Offer different gift ideas to your shoppers in the form of giveaways and raffles.
Wrapping it up
It won't be wrong to say that this year's festive season will feel different compared to the years gone by. In light of everything that has happened throughout 2020 and expected from 2021; the festive season would still be the top priority for the consumers to shop.
As you plan out your strategies and craft out your message; you need to understand your audience's behaviors and proceed accordingly. Additionally, to build frictionless, personalized experiences at scale, you can connect with the Facebook Business Partners and leverage the exciting features. That said, if you still haven't onboarded to Facebook and Instagram, this is your opportunity to connect with your potential audience and reconnect with loved ones.