Grow your product visibility across Facebook surfaces with enhanced catalog.
Running short of time? Get PDF of the blog in your mail.

Play Now
Surfacing your business across the Facebook networks helps to showcase your products to new audiences, re-engage your most loyal customers, and leverage social commerce. One way to boost your brand is by enhancing your product catalog with additional features and attributes. Explore further to understand; more about the catalog, its benefit, and how you can enhance your catalog.
Know More about the Facebook product catalog
A Facebook product catalog contains information about the products you would like to surface across Facebook networks. For example Facebook Marketplace, Instagram Shopping, Facebook Page Shop, and Facebook Shops. Besides, you can connect your catalog to different types of ads and sales channels to showcase your products to people.
Read further to know the ways you can create your catalog.
How to create your product catalog?
You can create your Facebook product catalog through Catalog Manager or Facebook listing partners and sell effortlessly across the platform. Let's explore both possibilities one by one.
Through Catalog Manager:
Go to Catalog Manager and choose the catalog you want to connect to.
In case you don't have the catalog, you can create a new catalog.
After that, you can add your products to the catalog.
Through Facebook listing partners:
In case you already have your eCommerce business. Then, connecting with Facebook marketing partners can ease your selling process. For creating a product catalog:
In case you have a Facebook page or Shop: You can connect your eCommerce store with the Shop and create a new catalog.
If you do not have your business presence on Facebook: You can easily onboard to Facebook and Instagram through the partner's solution. After that, you can create a Facebook page or shop to add a new catalog.
Now you can connect your WooCommerce or Shopify stores to Facebook commerce through Social Commerce and Facebook & Instagram Shopping apps.
How can you enhance your product catalog to reach more customers?
To deliver a seamless shopping experience to your customers; you need a complete commerce catalog. A catalog helps you to display your products to your potential customers. Additionally, enhancing your catalog makes it easier for buyers to browse a broad range of products and find the product they want to purchase; through search, filters, and recommendations. Besides, through an enhanced catalog, you can now add more attributes to your products like age, color, gender, material, size, and much more.
Features of enhanced product catalog
Enhancing the product catalog empowers you with the additional feature like: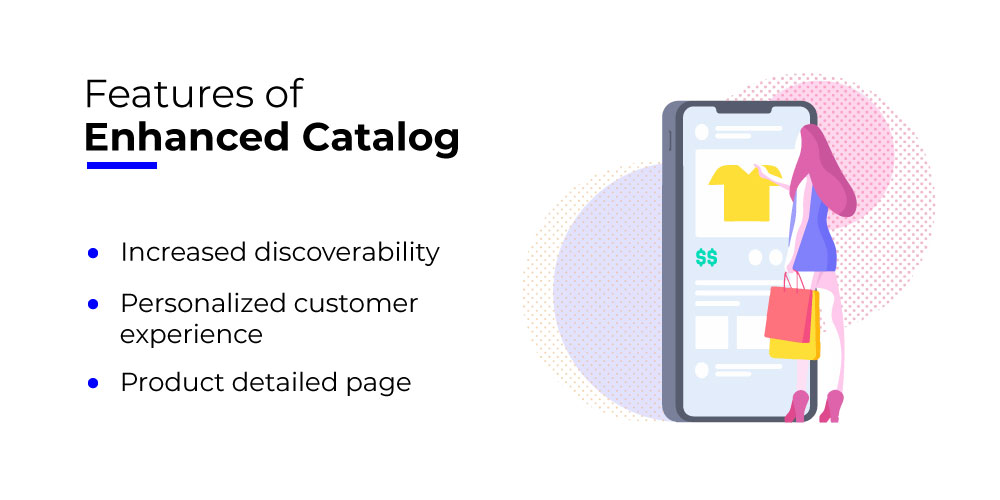 Discoverability: Improve your product discoverability by enhancing your product catalog.
Personalization: Enhance catalog helps you provide a personalized shopping experience to your shoppers.
Product Detail Page: Provide relevant information about your product on the product detail page.
What are the benefits of enhancing your product catalog?
Enhancing your product catalog provides you with a gateway to a high-quality shopping experience. Now you can make your inventories more accessible; more discoverable, and more thorough. Your buyers will be able to sort out the products through keywords like product type and colour.
There are certain benefits you can leverage through the enhanced catalog.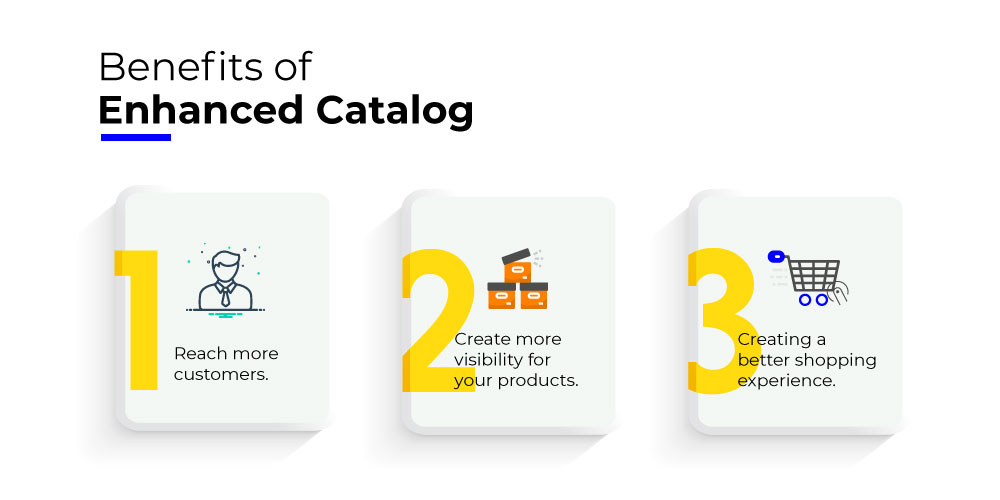 Reach more customers: Drive more customers to your Shop and captivate their interest in your products by enhancing your product quality.
Create more visibility for your product: Add the attributes in your products; and make it seamless for your customers to discover your products. Besides, enhancing your catalog helps you to match your user's search queries and show relevant results to them.
Creating a better shopping experience: Reduce the fiction in the path of purchase and provide a better shopping experience to your customers. That is to say, you can allow your shoppers to make a purchase on your website or through in-app checkout.
What is the difference between a basic product catalog and an enhanced catalog?
Facebook and Instagram allow you to categorize your products into a basic catalog or enhanced product catalog. Let's explore the features of both the catalogs, one by one.
Basic Catalog
The basic product catalog allows you to showcase the primary attributes of your products like:
Title of the product
Product description.
The status of the product.
The product images
The product brand.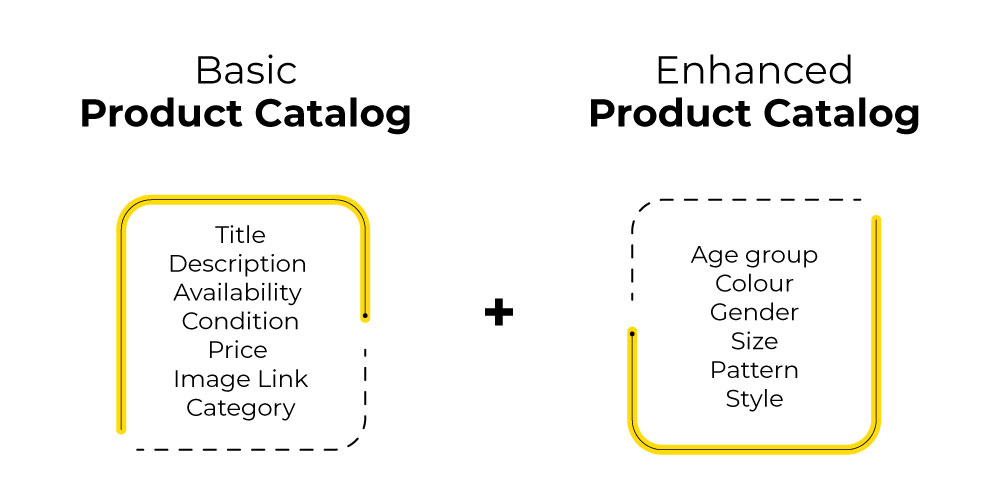 Enhanced catalog
Add category-specific information to enhance your catalog. Above all, the detailed product information enables powerful merchandising like promotions, customer reviews, and recommendations.
By enhancing your catalog, you can add additional attributes to the basic catalog like:
The age group for which the product is suitable for
Varieties of colors.
Gender
Material
Size
Pattern, and much more.
How can you leverage the features of an enhanced catalog?
To get started, connect with the Facebook Business Partners for hassle-free onboarding, and unlock a friction-free selling experience across Facebook commerce surfaces.
Besides, to enhance your catalog, you simply have to complete your product attribute mapping. The more attributes you add to your product, the easier it will be to discover your products. Try it now.