How to sell on Facebook Marketplace: An Ultimate Guide [2022]
Running short of time? Get PDF of the blog in your mail.

Play Now
Facebook has come a long way from its initial days, and stands as the world's third most visited social networking website. Facebook recorded 2.9 billion monthly active users, with an increase of 7% every year. Apart from the growing rivalry from several similar social networks, Facebook continues to be one of the most popular platforms for businesses, and used by over 200 million businesses.
Facebook now empowers individuals and businesses to make purchases and sell on Facebook through Facebook Marketplace. For enhancing buyers' experience, recently, Facebook announced "Facebook Shops" and checkout on Facebook.
How can you make the most out of it?
This guide will walk you through a plethora of information, answering all your questions.
What is Facebook Marketplace?
The giant social media network Facebook continues to expand its functions with Facebook Marketplace. "Facebook Marketplace is a convenient destination for people to discover, buy, and sell items. People can find what they're looking for by filtering their results by location, category, and price. By listing on Marketplace, you can reach buyers where they already are."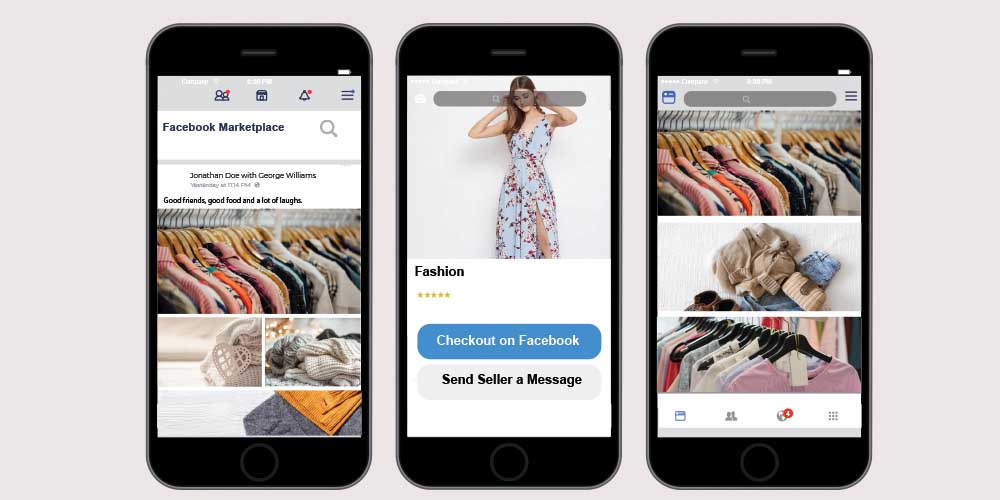 The Facebook Marketplace was first developed in 2007, with more of a C2C approach, and allowed users to post classified ads within the sale, housing, and job categories. 
Keeping the pace, Facebook incorporated the "Sell" feature in Groups in February 2015. This enabled the members to put items for sale. This became popular and was often referred to as Buy and Sell Groups. Meanwhile, Facebook Marketplace helped the then 450 million people already engaged in the Buy and Sell Group, find new things, save as a favorite, send messages to sellers on Messenger, or buy it from the brand's website.
As of now,
Facebook Marketplace, connects products to people where they shop, inspires and engages shoppers through visual merchandising, and lets individuals and businesses seamlessly transact with consumers on mobile devices and desktop.
Why should you opt for Facebook Marketplace?
As a new channel for sale, sellers have an opportunity to broaden their reach, get more purchases, and build their presence using Facebook Marketplace. Selling benefits like a personalized audience base, low selling fee, and simple transition are a few of many.
"Considering Facebook, which entertains billions of users globally, understanding how to sell on Facebook can open up an entirely new marketplace to you as a local merchant, wherever you are."
What is Checkout on Facebook?
Checkout on Facebook is a powerful feature of Facebook Marketplace, through which the customers get an option to checkout directly on Facebook without having to leave the Facebook app/page. Furthermore, without getting redirected to any other website.
For sellers, this means reaching more buyers and getting paid securely, and for buyers, this means shopping for more items — near or far.
Checkout on Facebook is currently limited to the US merchants.
The Checkout option on Facebook was introduced in the F8 Conference held in April 2019, where it allows people and eCommerce merchants to purchase, sell and ship the product from Facebook. Additionally, being paid off all within the Facebook site.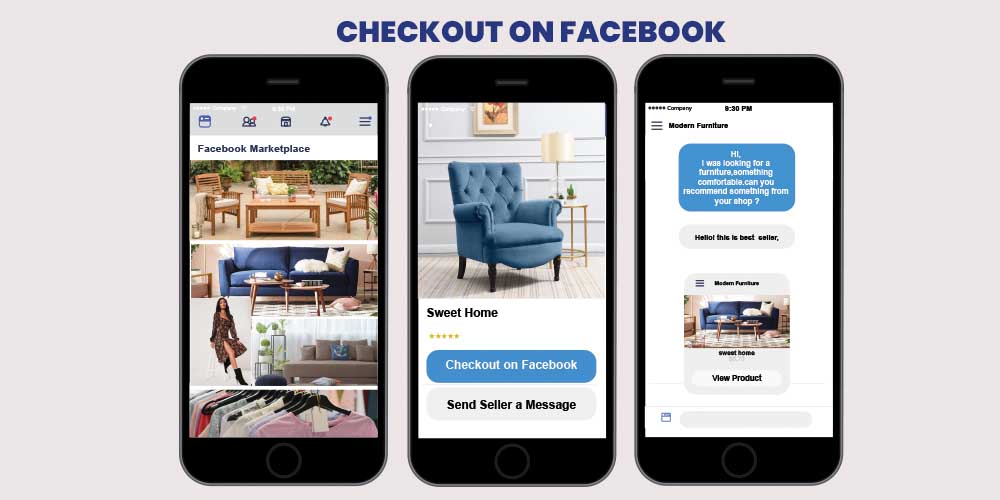 To get your products on Facebook Marketplace with Checkout on the Facebook feature, you have two options:
If you are already selling with one of Facebook's listing partners, you can get your products listed on the Marketplace with minimum effort.
If you are still new and wish to sell on Facebook Marketplace, you can set-up your business account on Commerce Manager as Facebook shops and start selling.
What are the benefits of Facebook Marketplace?
"More than 1 in 3 people on Facebook in the US use Marketplace each month, as a convenient destination to discover, buy, and sell items."
The core advantages of putting your products upfront on Facebook Marketplace are:
Extended reach: Ecommerce retailers on Marketplace will be able to get their brand and products in front of more customers. Therefore, it will provide businesses with more relevant buyers.
Personalized Customer Experience: Facebook Marketplace surfaces products relevant to consumers, helping your business find the right customers.
Zero Listing Price: One of the major advantages of selling on Facebook is that Facebook allows sellers to list the products on the marketplace for free.
Build Connection with your buyers: Being a social network, Facebook allows buyers to directly connect with the sellers. Additionally, they can enquire about the product in real-time. And this helps in building better relationships.
Improved brand visibility: Once a product is listed on the marketplace, the name of the brand is visible along with other details. Therefore, even if the buyer isn't invested in the product, your product will get a certain degree of exposure.
What Products Categories can you sell on Facebook Marketplace?
Facebook Marketplace supports extensive product categories, where you can create a listing of your products.
The supported product categories, in particular, are:

Apparel and Accessories
Arts and Entertainment
Baby Products
Business and Industrial Products
Camera and equipment's
Electronics
Food & Beverages
Furniture & Hardware
Health & Beauty products
Home & Garden
Luggage & Bags
Office Supplies
Software
Sporting goods
Toys and Games
Vehicles and Spare Parts
Others
Additionally, each category features a specialized filter to place your products under the exact type. The shoppers have the option to view all, search, or filter for a particular product. Understanding your product niche is very essential and it's not only about how to sell things on Facebook marketplace. "To know more about the top selling products on the Facebook Marketplace, you can refer to this guide, which helps you to understand what to sell on Facebook Marketplace."
What are the Requirements to sell on Facebook Marketplace?
Facebook offers you an immersive platform to tap into targeted buyers, capture shoppers' needs through real-time messenger, and sell items on Facebook Marketplace easier and faster.
Learning how to sell things on facebook marketplace comes after you have understood the prerequisites that come along with it:
If you are an individual seller, you can also list your product on Facebook Marketplace, meeting these requirements:
Note: An Individual seller is someone that does not have an eCommerce store or a physical business. These individuals create only a virtual business on the Facebook Marketplace and sell to the customers on social commerce.
The individual sellers on Facebook Marketplace DO NOT enjoy the Checkout on Facebook features.
If you are an eCommerce business, you can sell items on Facebook Marketplace, fulfilling these requirements:
US Facebook Business Account/Page
Business Name and Physical Address
US Bank Account for Payouts
US Tax ID for Tax-related information
Shipping competence to deliver in the US addresses.
Compliance with Facebook Commerce and Merchant Policies
How much is the Selling Fee?
Selling on Facebook Marketplace is absolutely FREE. When you make a sale on Facebook Marketplace, Facebook automatically deducts a fee from the payout. This fee is the only selling fee you will be charged.
There are two types of fee that you incur while selling products on Facebook Marketplace with Facebook Shops with Checkout:
Selling Fee
Selling Fee is the charge that Facebook levies every time you make a sale. Facebook deducts this charge automatically as soon as you receive the payment.
If you make a sale of $8 or less: $0.40 will be the selling fee.
If you make a sale of more than $8: 5% of the shipping amount will be the selling fee.
To support small and medium businesses during the uprecedented Pandemic times, Facebook has waived off the selling fees for all the orders until 30th June 2022.
Other than this, the selling fees include the following charges:
Taxes.
The cost of payment processing.
To support small and medium businesses during the unprecedented Pandemic times, Facebook has waived off the selling fees for all the orders until 30th June 2022.
This selling fee applies to all checkout transactions for all product categories on Facebook and helps fund other programs for a good buying and selling experience.
Chargeback Fee
Sometimes a customer files for a chargeback, in simpler terms, for a moneyback. Now filing this moneyback is subject to various conditions.
The possible situation for filing for the chargeback may include (but is not limited to):
The customer didn't receive the item.
The payment was unauthorized.
The item was significantly not as described.
The customer was charged multiple times for the same product.
The customer was charged for the incorrect amount.
You didn't follow your stated return policy.
If a customer files a chargeback to their debit/credit card issuer, Facebook may hold that particular transaction for a final decision. The amount held is $20, and the period may not exceed 75 days.
In case the Chargeback decision is IN your favor: The transaction amount plus the $20 being held by Facebook will be released and will be credited to your account.
In case the Chargeback decision is NOT in your favor: The transaction amount plus the $20 will be deducted from your account.
ALERT: If you don't respond to the chargeback within 10 days, it will automatically go in favor of the customer.
How to Sell on Facebook Marketplace?
On Facebook Marketplace, you can either sell as an individual seller or as an eCommerce retailer. While individuals have the option to list their products for sale in any condition, eCommerce retailers have certain options to list, sell, and promote their products on Facebook Marketplace.
Let's roll out each of the kind in detail:
How to use Facebook Marketplace (Individual Sellers)
If you are an individual seller, having your own "Facebook Shop," you can easily sell on the marketplace by following these steps:
Locate the Marketplace Icon on Facebook and Click on it.
Click on the "+ Sell Something" button or + Create New Listing (for new Facebook)
Click on "Item for Sale"
Enter the details of your product.

Product Title
Product Price
Location
Product Category
Product description

Add up to 10 images of your product.
Click "Post"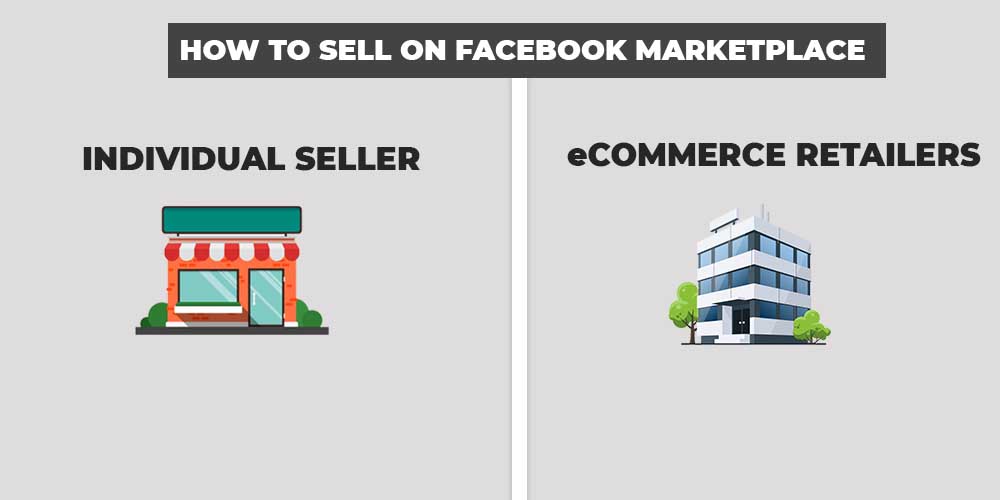 Henceforth, your product listing will go live on the Facebook Marketplace, and people around your location will be able to view/save/respond to your listing.
How to use Facebook Marketplace (eCommerce Retailers)
eCommerce retailers or businesses have ample options on Facebook Marketplace. If you are one, you can use Marketplace to:
List retail items, home rentals, vehicles, and event tickets.
Promote your store or items on the Marketplace to reach more people, even if you do not sell on Facebook directly.
Display new or refurbished items from your Facebook Page shop on Marketplace for free and let customers purchase without leaving Facebook (limited to US merchants).
You can sell on Facebook Marketplace through their listing partners, who will help you list your inventory on Marketplace easily and with minimum effort.
If you already sell on Shopify, you can seamlessly integrate your stores from Shopify to Facebook Marketplace to leverage the benefits of inventory and order management with the opportunity to sell products where shoppers already are.
The incredible Facebook Marketplace solution helps you list, sync, and manage your shop and ensures a hassle-free selling experience on Facebook Marketplace with powerful features like:
Simplified Listings: Bulk upload and add all your products in one go, along with setting up different pricing, product details, and fulfillment rules based on your Shopify inventory data.
Centralized Order Management: Orders placed across Facebook surfaces can be directly fetched to your eCommerce store through the Facebook & Instagram Shopping app. From here, you can track, retrieve and fulfill your orders from a single location.
Auto Synchronization of Product Data: Synchronize your data between Facebook and your eCommerce platform and update changes automatically between them. The app keeps you notified by synchronizing your inventory and orders in real-time and provides you with regular updates.
What is a Commerce Manager | Steps to Set-up the Commerce Manager
With Commerce Manager, you can unlock Facebook's eCommerce solutions, handle inventory, and manage product catalogs and orders.
Commerce Manager Account is a MUST for eCommerce retailers.Without it you cannot sell on Facebook Marketplace with checkout.
Meaning – Commerce Manager 
Commerce Manager is a set of tools that help you sell products and manage your business across Facebook and Instagram. Through the Commerce Manager, you can use the Checkout option, which lets the buyers purchase the products without leaving Facebook.
Commerce Manager account, let you establish a Facebook business entity to sell across Facebook Network.
Commerce Manager – Features
Whether you run your small business or you are based on a big platform, with a Commerce Manager, you can make your selling process efficient and even more effective.
The exquisite features of Commerce Manager are:
Checkout enabled Marketplace, which lets your customers discover, browse, and buy items within Facebook.
Upload inventory, and offer Purchase Protection to the buyers.
Get insights about your customers and the products they love.
See Recommendations for how to grow your sales.
Control who can access your business info and assign permissions to your team.
See all past and pending sales and mark orders as shipped.
View your balance and see when you'll get paid for your sales.
Set important tax settings and get your financial reports.
Contact support to get help with common issues.
Commerce Manager – Account Set-Up
To set up the Commerce Manager, first, you need to choose the channel where you wish to sell, "Facebook" or "Instagram," and move further with the 3 important steps:
Linking your business accounts.
In the first step, you have to agree if you have a US-based bank account, and next, you link your Facebook Business Page with the Commerce Manager. This requires two important steps:
Link a Business: You will have to enter a "Business Name" and select the "Facebook Page" you want to associate with it.
Link a Product Catalog: You will have to choose a "Product Catalog" you wish to showcase on the Marketplace.
Set your shipping and return info.
This section enables you to Set your Preferences, which helps to create shipping and return policies for your shop. Here you have to enter two crucial details:
Shipping Information: You can choose between the Standard, Expedited, or Rush Shipping options.
Return Information: You have to enter the number of days for product returns and a valid email address for customer service conversation.
Choose a bank account for payouts.
Lastly, you need to Set up the Payouts to receive the payments from the sales you made on Facebook Marketplace. To complete this process, you need four important elements:
Complete business address and email address
Product category and the State Tax Registration Number
Business type and business representative information
Bank account number, routing number, and the name of the bank account holder.
As soon as you are done with all the details, you can "Finish the Setup." After this completes, you now have your Commerce Manager Account on Facebook ready to do business.
"To learn more about Commerce Manager and how to set-up a Commerce Manager, read this helpful guide."
Order Fulfillment, Support Mechanism, and Communication on Facebook Marketplace
To manage the shipping of the orders, the post-purchase claims, the package returns, and the customer support mechanism, Facebook has some set of requirements that you must adhere to while you sell on Facebook Marketplace.
The best part is for all of this; you don't need to leave the Facebook site; you can manage and control all of it within the Facebook Marketplace itself.
let's take it one by one:
Order Fulfillment on Facebook Marketplace
With checkout on Facebook, you can sell and even ship your products to their homes. The shipping of products from Facebook Marketplace requires you to:
Ship to the US Address.
Ship within the 3 business days.
Provide the shipment tracking info to the shoppers.
Mark your order as shipped to ensure you receive the payout for the same.
You can contact any shipping partner like FedEx, USPS, DHL, YRC Worldwide, and many more. Meanwhile, you can even integrate into online shipping solution providers like ShipStation, Eurosender, and others to automate your shipping process.
"Connect your existing Shopify and WooCommerce store to Facebook for a seamless selling experience with the help of Facebook & Instagram Shopping and Social Commerce."
Support Mechanism
Facebook Marketplace facilitates the customer to request the order cancellations, order return, or reach out for any type of help like order late or missing, product damage or not as described, or for any other question.
For everything related to the post-purchase phase, Facebook connects you to the buyers directly. Nevertheless, all sellers need to abide by these terms:
Ensure that communication to the buyers takes place only with emails.
You need to respond to the queries/requests of buyers within 2 business days.
You have to follow the 30 days free product return policy.
Meanwhile, keep a frequent eye on your email accounts so that you don't miss any of the mail. Avoiding customer's disputes and responding quickly to their queries builds trust and increases your sales.
Communication
Any communication between Facebook and the shoppers are made strictly through emails. Additionally, Facebook Marketplace has come up with a set of emails for different phases of the sale. The customers will receive the details through app notifications and their respective emails.
The types of transactional emails are:
Order Confirmation Mail: email furnishing the details about order confirmation
Shipping Confirmation Mail: email for the buyer as soon as you ship the order.
Delivery Confirmation Mail: email confirming the delivery of the item.
Order Cancellation Mail: email for the buyer, in case the order gets canceled.
Return Complete Confirmation Mail: email confirming the return processed completely.
All these emails will carry your name (Seller name) and the order number. Along with these sets of emails, Facebook also notifies the shoppers if their shipment gets delayed.
What businesses can sell on Facebook Marketplace?
After you have learned how to sell items on Facebook marketplaces, you must also understand what businesses are allowed to list their products on the marketplace.
Ecommerce retailers: If you have a business that sells online i.e. an online store, then you can integrate your online store with the Facebook Marketplace, and sell your products. It is very important to make sure that the listed products do not fall under the category of prohibited products. (Refer to the next heading to learn more about Prohibited products)
Apart from Ecommerce retailers, real estate agents, and automobile dealers can also list their vehicles and real estate on the facebook marketplace.
What are the Prohibited Products on Facebook Marketplace?
Facebook Marketplace supports an extensive list of items that you can sell very easily. However, there are certain products that cannot be sold on the Marketplace.
The Facebook Commerce policy contains the list of prohibited products on Facebook Marketplace. The major categories of the same are:
Any unreal item or digital products: Anything that isn't a physical product for sale. For example, "in search of" posts, lost and found posts, jokes, and news aren't allowed.
Event tickets and services: You can only sell a service (for example, house cleaning) or event tickets on Marketplace with Facebook's written permission.
Description and photo don't match: The photos of the item must match the description and title of the listing.
Animal: Selling animals isn't allowed on Marketplace or buy and sell groups. This includes posting about animals for adoption.
Healthcare and Hazardous: Healthcare-related items or products that can cause harm aren't allowed (for example, thermometers, first aid kits, arms, and ammunition).
Before and after pictures: Items for sale on Facebook can't show a before and after picture (example: a photo showing weight loss).
Executive Summary
Selling on Facebook Marketplace has its own pros and cons. Meanwhile, You will often compare it with the other online marketplaces, but unlike others, Facebook Marketplace has come up with an innovative idea of Social Commerce.
The idea of exchange has always resulted from human connection, and Facebook has always been about building connections. With increasing competition and omnichannel selling strategies, Facebook Marketplace helps you tap into your existing network of buyers.
With Facebook Marketplace, eCommerce retailers like you can now sell your inventory and offer deals to shoppers where they're already shopping.
Any of your concerns, not answered. Drop your comments below. You will get the quickest response possible.