How to Bring Your Shopify Business on Facebook Surfaces: Step by Step Guide
Running short of time? Get PDF of the blog in your mail.

Play Now
A business's goal must be to build its brand value and engage with prospects. You may already have a Shopify store up and running and are seeking ways to expand your brand's presence through multi-channel selling across Facebook Commerce Platforms. Explore further to learn about the basic requirements and steps to connect your Shopify store to Facebook Commerce and grow your business profoundly.
Why should you expand your business across Facebook Commerce?
On average, around 2.8 billion users log in daily on Facebook for engagements, buying, and selling. People are spending more time on social media these days, thus their shopping habits are changing as well. So, if you are a merchant and not selling across Facebook Commerce, you are missing out on a huge opportunity.
Selling on Facebook Commerce makes it easy for shoppers to discover your business and complete their purchases in just a few clicks. Not only does Facebook provide a large reach, but it also enables you to tailor your efforts in a variety of ways, allowing you to reach the exact consumer base you need for your product.
How can Business Partners help you scale?
CedCommerce, being a Meta Business Partner, can help you with everything from setting up and maintaining your online store to engaging shoppers more effectively. They can also help you measure the performance of your efforts and uncover fresh insights.
Business Partners fuel your business by implementing the easiest way to sell across the Facebook family of apps. Besides, you can leverage various benefits through partners such as:
Onboard to Facebook Commerce within 24 hours.
Within a single click, you can upload products in bulk.
Manage your orders and inventory in real-time on the Shopify store and Facebook family of apps simultaneously.
Leverage in-app Checkout to customers for secure and easy transactions.
What are the requirements to sell across Facebook Surfaces?
To sell across Facebook Surfaces, you need to have:, you need to have:
For US Merchants:
Tax identification number: As a merchant, you need to provide a federal tax identification number and a state tax registration number; matching your legal name; and every state where you have a business.
Payout details: If you opt for checkout, you must have your bank account information to get your payouts.
Shipping Information: Provide your shipping information to Facebook. You can do it within three working days if you are leveraging checkout.
Return policy and help ID: Mention the return policies for the products. You can add up to 30 days of the return policy.
Business physical address: You need to provide your physical business address and a business email id.
Business representative name: Mention your business representative name along with SSN and DOB.
Additionally, you also have to follow the Commerce Product Merchant Agreement and Commerce Policies to experience effortless selling across the platform.
How to onboard your business through Facebook and Instagram Shopping app?
Having an eCommerce website provides you with an opportunity to connect your Shopify store with the Facebook network. The business partners ease your selling process with Facebook and Instagram Shopping app and assist you right from the account setup to onboard across Facebook Commerce.
Facebook and Instagram Shopping App is a feature-enriched app that flawlessly syncs your Shopify store with Facebook Commerce. You can manage orders from a single location as the app automatically fetches all your orders placed on the Facebook family of apps on the Shopify store. Facebook and Instagram Shopping App also make your listing easy with the Profile-based product listing. Apart from this, the app also helps you in real-time synchronization of inventory and orders across your Shopify store and Facebook family of apps.
Let's dive into the essential components required to onboard to Facebook & Instagram Shopping one by one:
Connect the app with your Facebook Account
The first step to onboarding to Facebook and Instagram Shopping app is to connect the app with your Facebook account. For this you need to:
Click on the Connect button.
The app will be connected to your existing Facebook account.
Post connecting to your Facebook account, you will be eligible to onboard Facebook Business Extension.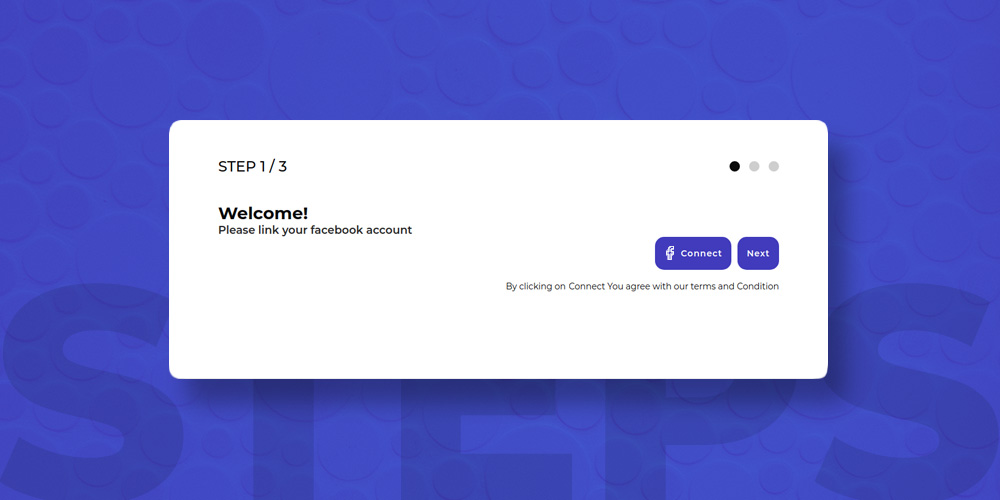 The other situation that you can face is when you don't have a Facebook account. You can create an account by signing up through Facebook.
It is advisable to use an established Facebook Account
Now, the next step involves Onboarding to Facebook Business Extension which comes up when you click on connect.
Onboarding to Facebook Business Extension (FBE)
Facebook Business Extension makes it easy for you to offer your customers a simpler way to integrate with Facebook and Instagram. Businesses can easily list products, find prospective buyers, and measure results.
To onboard to Facebook Business Extension; you need to fulfill the following steps:
i) Connect your Facebook account with CedCommerce:
By connecting your Facebook account with CedCommerce, you grant permission to CedCommerce to access information such as your profile name and business details. Click on 'Continue' to move forward.
ii) Connect CedCommerce to Facebook:
This step will let you know about the benefits you will reap post connecting CedCommerce to Facebook. By connecting your Facebook account with the CedCommerce, you can:
Get more website purchases
Find new customers
Get valuable insights
iii) Confirm Settings for your Shops, ads, insights to CedCommerce:
After linking CedCommerce to Facebook, the next step is to provide intel for the Business Manager account, connect the Facebook page to CedCommerce, connect the catalog to the Facebook page, adding an ad account and Facebook Pixel to the website.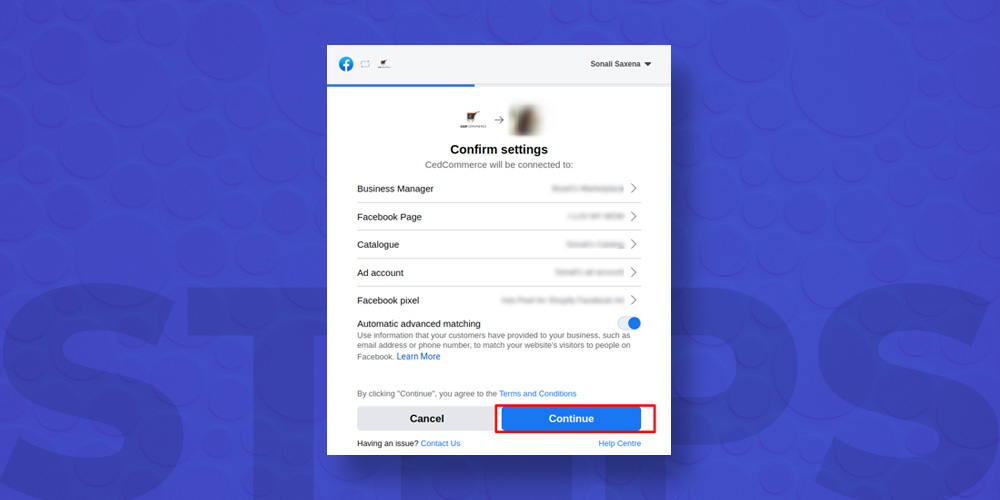 Connect the Business Manager account:
To connect the Business Manager account with the app, click on the option of Business Manager. The next screen will show your Business Manager accounts. Select a Business Manager account through which you want to manage all your Facebook Assets. Then click on 'Continue' to move forward.
Connect Facebook Page with the app:
Select a Facebook Page to which you want the app to be connected in order to link your Shopify products. (The pages that are associated with your selected Business manager will be displayed)
If you're new to the Facebook business and don't already have a Facebook page, you can create one by clicking on Create new and link it to the app.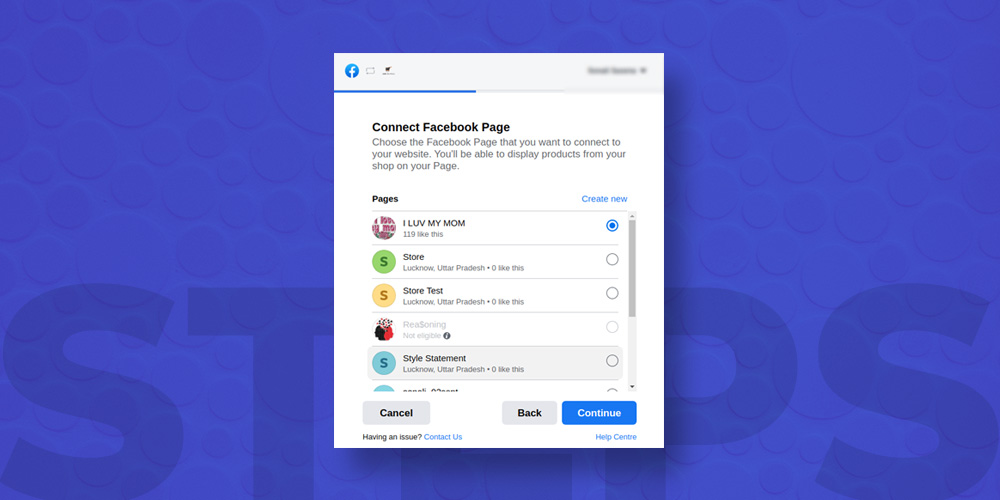 Connect the Facebook product catalog with the app:
A Facebook catalog is a container that holds information about products that you wish to promote or sell on Facebook and Instagram. You need to select here the catalog that is linked to your Facebook and Instagram shop. You can also create a fresh product catalog by clicking on Create new and link it to your Facebook Page if needed.
If the catalogue that you wish you connect is not visible then make sure that you have assigned the catalogue needed permissions in Business Manager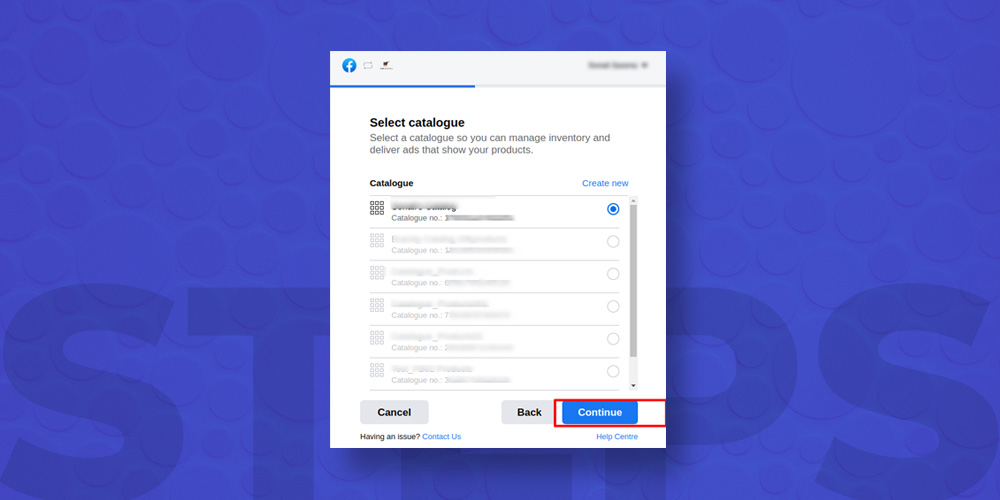 Select an ad account to connect with the website:
To run a successful ad campaign for your brand you have to connect an ad account with your website. Select your preferred account from which you want to run ads and then click on Continue to proceed.
A new ad account can also be created by clicking on "Create new" and connecting it to your Business Manager account.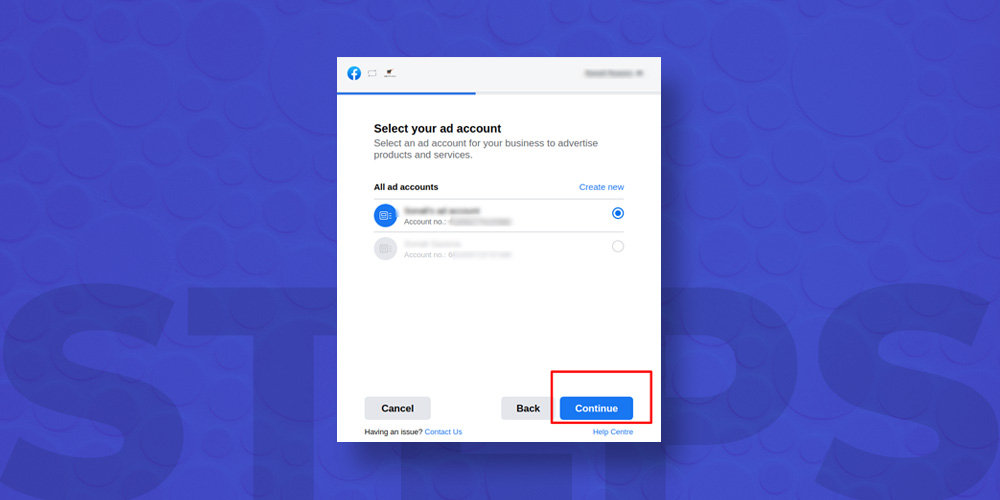 Select the Facebook pixel to connect with the website:
Among the list of Facebook pixels, select your preferred choice and click 'Continue' to move ahead. OR You can create a new Facebook Pixel by clicking on 'Create new'.
As soon as you've filled out all the necessary information, click Continue. The Confirm Setting page will appear again. Simply click on Continue to proceed.
iv) Connect to Instagram Shopping:
In order to sell on Instagram Shopping, your Instagram Business account must be connected to a Facebook business page & CedCommerce.
To proceed, click on your preferred Instagram Account to be qualified for selling on Instagram shopping, and then click Next.
v) Allow Permissions to CedCommerce:
This section discusses the permissions you grant to CedCommerce. To run advertisements, Shops, and obtain insights into all of your business activity, select Yes to all.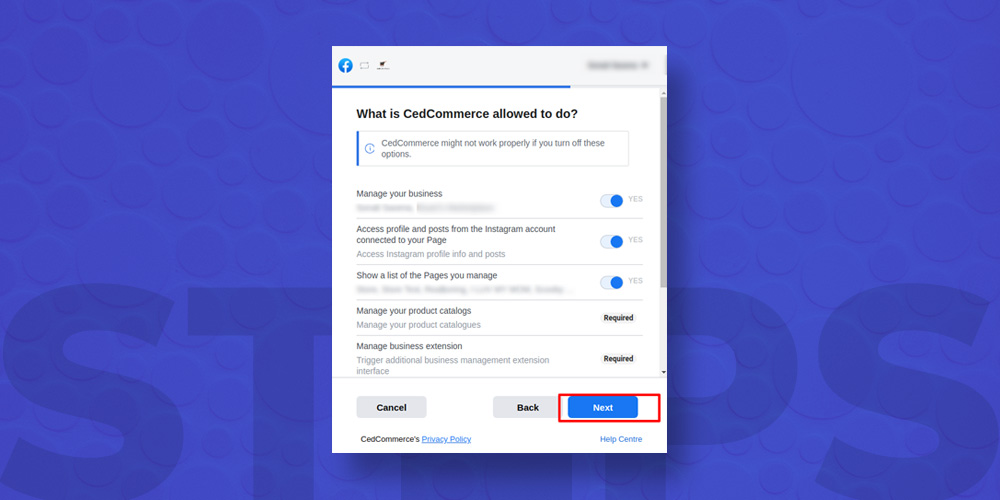 Click on Next to link CedCommerce with Facebook.
Post connecting your website to Facebook, Click on Done to complete the onboarding process.
You'll be taken to the Facebook & Instagram Shopping app after connecting and providing authorization to CedCommerce. Now you will be able to move onto the next phase of Warehouse and Category Mapping.
Step 2: Configure Warehouse Mapping and Category Mapping
Facebook Shops and Instagram Shopping default settings can be configured such that the app automatically maps your Shopify store products and warehouse location.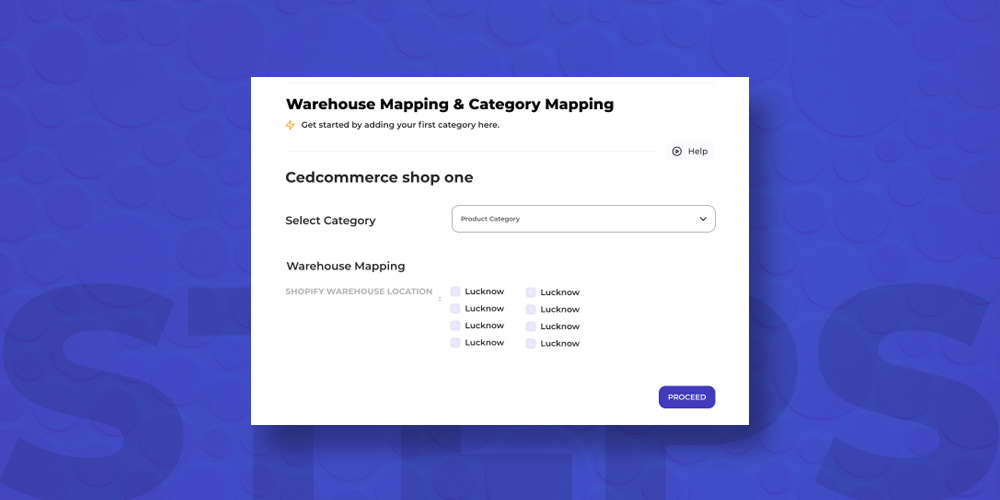 Category Mapping: This method allows you to select the product category in which you sell. It helps shoppers to easily discover your product through different search filters.
WarehouseMapping: With warehouse mapping, you can map your Shopify products' locations and manage your inventory between Facebook and Shopify store.
Make sure that you have mapped the correct warehouse location with the app, otherwise the uploaded inventories will defer.
Step 3: Attribute Mapping
Provide a gateway to a high-quality shopping experience to your customers by enhancing your catalog. You can grow your brand reach across Facebook apps by adding additional attributes to your products such as gender, material, age, gender group, etc. This will enhance the search filter for your potential customers.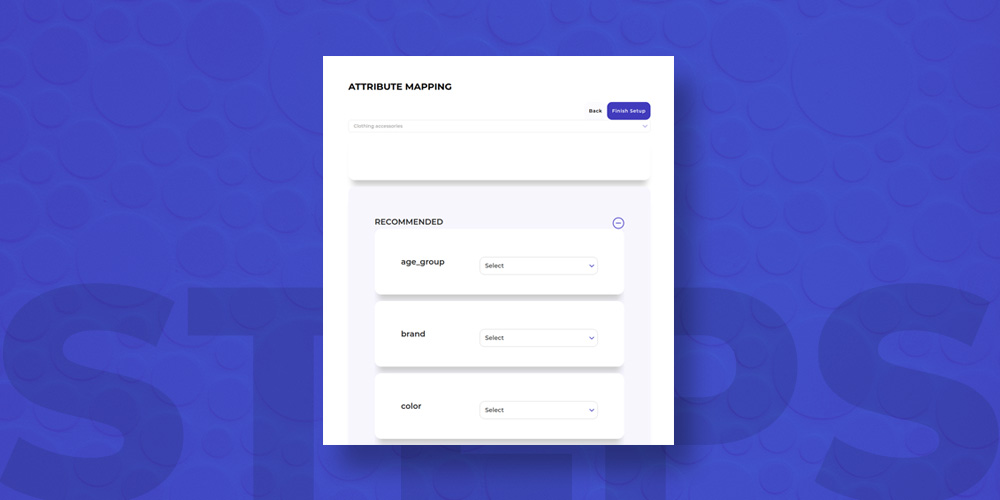 You may come across these queries:
Well, setting up your business through Facebook & Instagram Shopping is relatively easy. But sometimes, while setting up your Shop through the business partners, you might find yourself in a catch-22 situation. You may be wondering why? Because you already fulfilled all the requirements and followed every step correctly.
Worry not, explore further to know the specific conditions you might face with its most suitable solutions.
You are not from the US, can you still sell on Facebook & Instagram Shopping with Checkout?
Ans: The checkout on Facebook & Instagram is only available to US merchants. In case you are not from the US, you can set up your Facebook page shop providing offsite checkout services to your customers through our app. The Facebook Page Shop helps you get your products to a wider platform like Facebook and let them make a purchase right through your website.
You have a Facebook Page, but it is not showing up in the App. Why?
Ans: You need to have "Admin" access for the page. The App requires permission to view, and manage your page. Make sure you have given permission for access to CedCommerce.
Will your products start reflecting on the Facebook Shop and Instagram Shopping after the approval?
Ans: Soon after you get the approval, your products will pass through the manual quality check conducted by Facebook and as soon as it qualifies, it will start reflecting on Facebook Shop and Instagram Shopping.
Wrapping it up
Bingo! You've just learned how to connect your Shopify store to Facebook Commerce. What are you waiting for? Grab the opportunity to sell across the Facebook Commerce with Meta Business Partners to make stellar growth. Now! Besides, you can schedule a meeting with our experts in case of any queries; we are glad to assist you through end-to-end support. After all, your success is what we strive for !!