How to Set up Commerce Manager: A Complete Guide to Sell on Facebook in 2021
Running short of time? Get PDF of the blog in your mail.

Play Now
Let's face it. When Facebook came up with the checkout on Facebook and Instagram concept, it left you bewildered.
For so long, Facebook has been a medium to connect and share information with people, brands, and the community. This increasing engagement resulted in the emergence of Facebook as a platform to interact, buy, and sell things easily from the site itself.
To make it easier, connecting your shops with the Commerce Manager helps you extend your brand's reach and allows the buyers to make direct purchases within the App. And now you can also see an enhancement in terms of surfaces like Facebook Shops/Page Shops, Instagram Shops, Instagram Shopping.
To work on it, slide down to a complete guide concerning each topic in detail.
What is the Commerce Manager?
For instance, consider driving a car; what would it be like if there is no speed meter, no fuel information, no signal indicators, and no reverse horn. Will you be comfortable to drive? Absolutely not.
Likewise, the same story goes with the Commerce Manager while connecting it with the Facebook Marketplace and Instagram Shopping.
Subsequently, people can find the products by filtering out the results by location, category, and price. By listing on Facebook Marketplace. Besides, you can reach the shoppers where they already are shopping. Also, you can now grow your business across Instagram Shopping by tagging your products in posts, stories, live videos, reels, etc. Thus, making it easy for people to discover your products and provide an instant purchase through checkout on the website or within the Shop.
In addition, Commerce Manager is a set of tools that helps you sell your products across Facebook networks. Through Commerce Manager, you can leverage the in-app checkout feature on Facebook and Instagram (US merchants) and handle the inventory, orders, and payments from a single place.
What does a Commerce Manager do?
You may wonder how a community built out of social connections can engage in buying and selling activities. Well, time and again, Facebook came with different concepts of facilitating the exchange of ideas as well as commodities, firstly through Buying and Selling Groups, then as Facebook Shops, Marketplace and later as Instagram Shopping.
Commerce Manager integrates your selling across Facebook Shops, Facebook Marketplace, and Instagram Shopping.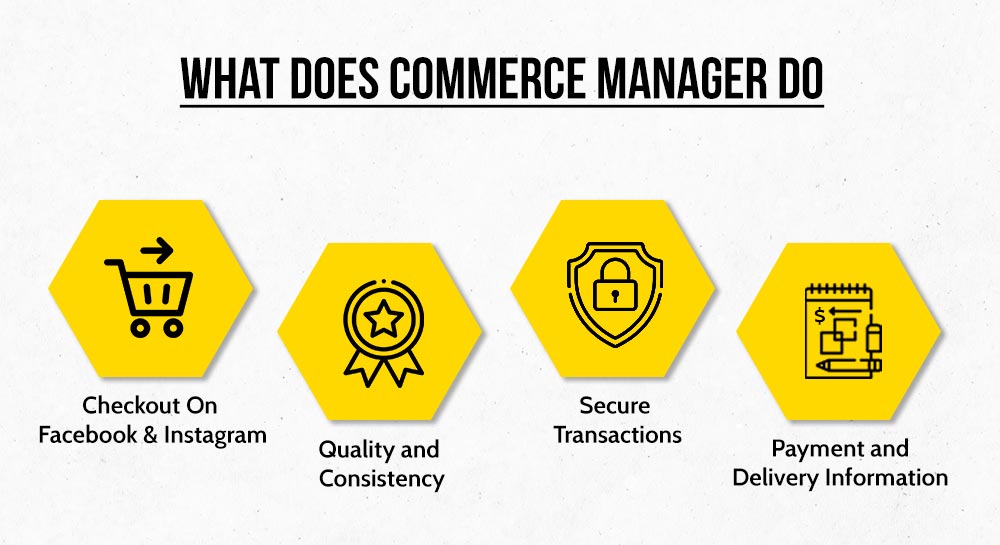 The checkout on Facebook and Instagram lets the buyers complete purchases from your business without leaving the app (US merchants). Some of the viable reasons where checkout can be valuable to your business are:
For Payment and Delivery Info: As a buyer makes a purchase using Checkout on Facebook and Instagram, they do not need to remember or re-enter the payment and delivery information each time they wish to buy.
For Security: Payment information on checkout is even more secured. Therefore customers can complete purchases without needing to log in to a different website.
Quality and Consistency: Facebook ensures that each listing's quality matches with the policies and proper consistency in the image. Product descriptions are maintained to provide a good purchasing experience for your business through checkout.
The extensive set of tools in Commerce Manager make your selling process efficient and even more seamless. Some of the exquisite features that Commerce Manager covers are:
Checkout on Facebook and Instagram Shopping let shoppers discover, browse, and buy products within the app.
Upload inventory, and offer Purchase Protection to the buyers.
Get insights about your products, sales, etc.
Control who can access your business information.
See all past and pending sales and mark orders as shipped.
Set important tax settings and get your financial reports.
Benefits of Commerce Manager
The Commerce Manager manages all the aspects of selling on Facebook and Instagram for you in one place. By setting up a Commerce Manager, you can handle sales and manage your selling activities through robust tools and support.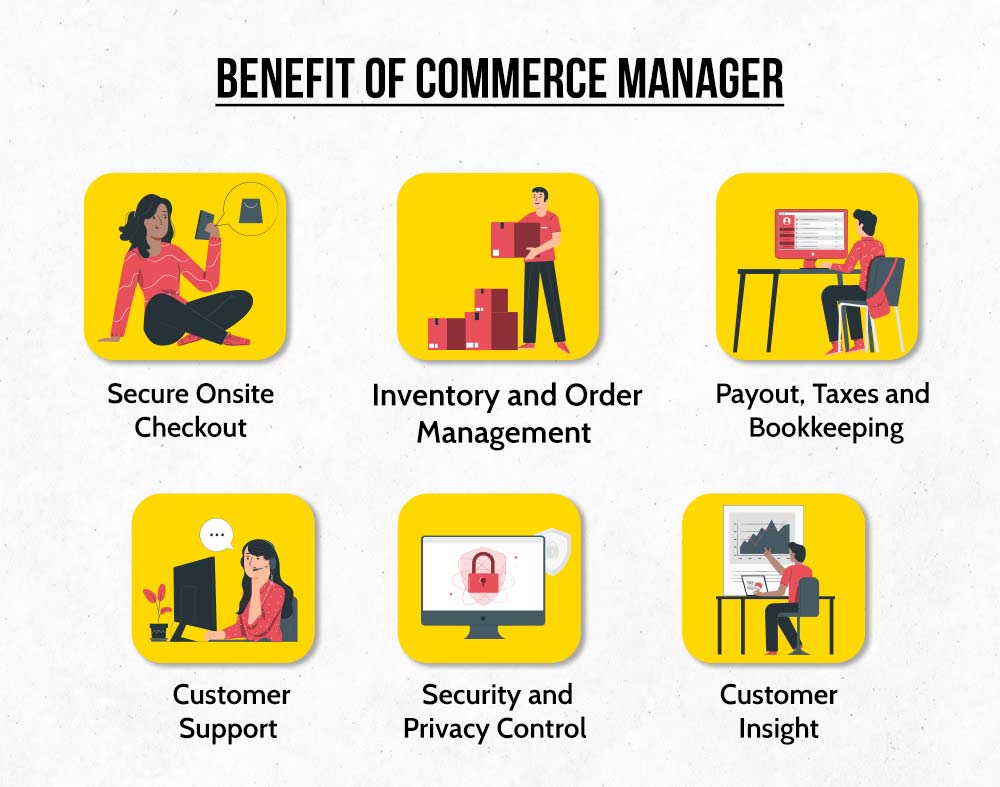 Leverage the powerful benefits of Facebook Commerce Manager, which enables you to unlock:
Secure onsite checkout: This feature makes it easy for the customers to purchase from within the App. Besides offering customers a fast, simple, and secure purchase experience, it also helps turn the connections into buyers.
Inventory and order fulfillment: By connecting with the Commerce Manager, you can upload and manage your inventory with the Catalogue Manager. Also,  you can keep track of all the past and pending sales and mark orders as dispatched so you can receive payment.
Payouts, taxes, and bookkeeping: Examining the monetary information has just got easier with reports that help you analyze your balance and verify payouts to track cash flow. You can also manage tax settings and access financial reports whenever necessary.
Customer support: Issues from customers need to be handled with care. Hence, all the concerns related to product returns, refunds, and chargebacks will be taken care of through Customer support. You can also find resources to help you with common questions.
Security and privacy controls: To secure your account, you can manage your business information and assign the permissions to the required people to access and log-in to your accounts.
Customer Insights: Commerce Manager enables you to get actionable business-level insights. In addition, you can extract regular recommendations on how to grow your sales across Facebook platforms.
What are the Requirements to Set-up a Commerce Manager?
As soon as you bring your Facebook Store to connect with the Facebook commerce platforms, you have to go through the onboarding process. To get started, you need to fulfill certain requirements:
Make sure you have all the following documents and requirements:
Account setup:
A business representative name, national insurance number, and date of birth for ID verification
A federal tax identification number that matches the business representative's legal name for IRS reporting (an SSN or EIN)
The country you operate in
Your business's physical address (if you have one)
The category that best describes your business
Your business type and name
For Payment (US merchants)
Your bank account information.
Bank routing numbers
For Customer Service
Your business email address and customer service email address
Your return policies
For Order Fulfillment
The delivery options that you offer.
The delivery charges and time frames
For Financial Reports
A state tax registration number for every state where you have a business presence
Your business's physical address (if you have one)
A business representative name, social security number/national insurance number, date of birth, and ID verification
Additional prerequisites to sell on Marketplace
In addition to standard Business details for setting up a commerce account, there are three extra prerequisites you require to roll out on Marketplace:
Ensure that your Catalog is uploaded, with at least one inventory.
Your Facebook Page shop is in the published state.
A business account of Facebook, with an "Admin" access.
How to Set Up a Commerce Manager Account?
Setting up a Commerce Manager is a process that requires seeding of all the business information at each level.
Onboarding on the Commerce Manager is possible by two methods;
Directly through Facebook
Through the Listings Partners via Connector
Commerce Manager through Facebook (US sellers)
In case you are a US seller wanting to opt for checkout on Facebook Marketplace, you need to fulfill specific steps:
Go to the Commerce Manager and click on 'Start selling.'
Next, click on 'Get started for Facebook.' Select 'Manage with Commerce Manager' for making a native Facebook Shop with checkout.
Follow the three-step process to create a Commerce Manager with checkout:

Link Business Accounts.
Set preferences
Set up payouts.
Link Business Accounts
This is the first step of the Commerce Manager account. In this step:
Connect your Facebook page with a Commerce Manager account. Or create a new Facebook Page by clicking on 'Create Page.'
Link your Facebook page to the Business on Facebook. To do so:
Set your preferences
After fulfilling your business requirements, the next step will let you update your product details, shipping, and return policy. For this, click on 'Next' to get started:
If you have an existing Facebook product catalog, you can move ahead with it.
In case you don't have a catalog or you want to create a new one. Click on 'Create New Catalog' and then add products and other details to the catalog.
After fulfilling all the information, connect the catalog with the Facebook page.
The next step is to set up shipping details, return policy customer support information.
Sellers opting for checkout on Facebook, and Instagram needs to ship within the next three working days.
Set up Payouts (For checkout)
In this last step of Commerce Manager, you have to provide your tax-related and bank account details to offer checkout to customers within the app. (Currently applicable to US merchants)
After fulfilling the information, you can send your Facebook Shop for approval. Once approved, you can list your products on your catalog and sell them across Facebook commerce surfaces.
It takes approximately take two weeks for Facebook to approve your Facebook Shop.
Set up Facebook Page Shop from Facebook for Non-US sellers
You might have noticed this situation, that sometimes when you click on a product for purchase, you are redirected to another website. This happens if you have activated your checkout on your eCommerce store. To do so, you can create your Facebook Page Shop through Commerce Manager or Catalog Manager.
Through Commerce Manager
While setting up your Facebook Page Shop through Commerce Manager, you need to:
Choose the checkout method as 'Checkout on the website.'
Connect your Facebook Page to the business and select the sales channel (Facebook Marketplace) you would like to sell on.
Submit your business email address.
Select the catalog you want to show on your Facebook Page.
Follow all Merchant's terms and conditions to finish the Facebook shop setup.
Setting up a Commerce Manager for the Non-US seller is optional. You can simply connect your Facebook catalog to your Facebook page shop through Catalog Manager.
Catalog manager
Catalog Manager majorly helps you connect your catalog with the Facebook Page Shop. For this;
Go to Catalog Manager and choose the catalog that you want to connect to your Facebook page.
Click on 'Connect Page' to connect your Facebook page with the Business Manager and click 'Next.'
Select the Page Shop from the Sales option and connect your product catalog with Facebook page Shop.
Now, select the option of whether you want to offer checkout on the website or send the seller a message.
Setting up Commerce Manager through the Facebook listing partners.
Setting up your Shop on Facebook has just become easy with Facebook listing partners. The listing partners help you in effortless selling throughout Facebook and Instagram from a single app.
You can configure the Commerce Manager through the app and easily set up your Facebook Shop or Page Shop. The app also helps you leverage checkout on Instagram and Facebook (US seller). Besides, you can also benefit yourself with the features of real-time synchronization, seamless order management, bulk uploading of products, and end-to-end customer support.
The significant five steps of onboarding to Facebook Marketplace and Instagram shopping through the app are: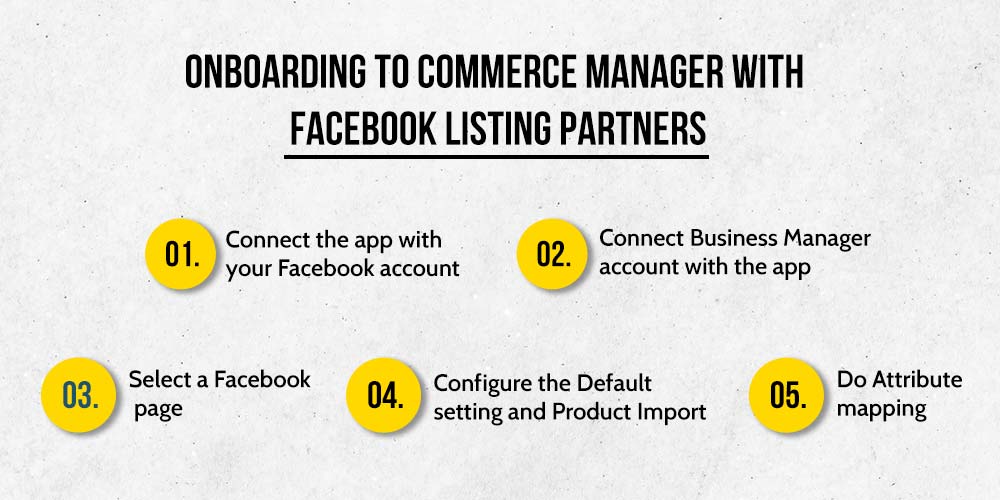 Connect the app with your Facebook account.
Connect a Business Manager account with the app.
Select the Facebook page.
Configure the default setting with the Facebook surfaces.
Grow your product visibility by adding product attributes like color, material, etc.
You can also extend your business reach by connecting your Facebook Shop to Instagram Shopping right within the app. Click on 'Connect to Instagram Shopping.'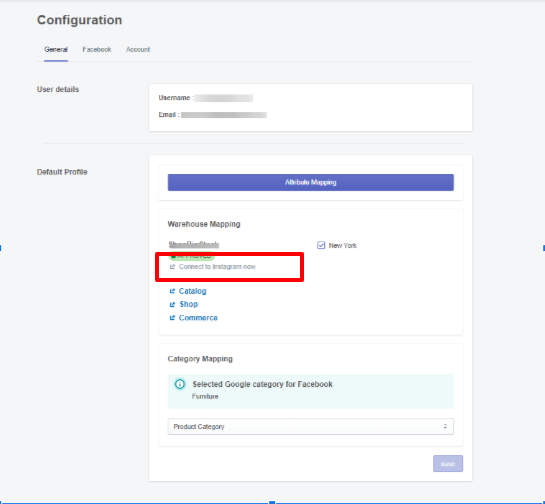 After connecting with Shopping, you can send your Instagram account for approval. Once approved, you are eligible to sell on Instagram Shopping with checkout.
Frequently Asked Questions:
Well, while setting up your Commerce Manager account, you might have some questions in your mind. So, we have compiled a few FAQs that will give you a better idea of the Commerce Manager.
Can a Facebook Page which is already connected to an eCommerce platform be used for Facebook Marketplace?
No. You cannot create a Facebook Shop with the same page that is connected to an eCommerce platform. In case you want to run a Shop on Facebook or Instagram, you need to connect to some other Facebook page or create a new Facebook Shop for a Page after disconnecting it from the previous one.
Do sellers opting for Facebook Page Shop have to fill the payment option on Commerce Manager?
No, the payment process is only eligible to US merchants. As for the Non-US sellers, you can simply create your account on Commerce Manager, a product catalog, and connect it with the Facebook Page.
However, creating your Commerce Manager account would help you to gain other benefits of Commerce Manager (Non-US seller) like view insights into your products, upload inventory, control over your business, and much more.
Why am I unable to upload the products from the catalog to Facebook Marketplace and Instagram Shopping?
If you are unable to upload your products from the catalog to Facebook Marketplace or Instagram Shopping, then:
Either your product catalog is connected to some other apps. OR
After connecting the catalog with the Facebook & Instagram Shopping app, you might have connected it with some other app.
Additionally, you can manually uncheck the permission or connect a new catalog with Facebook & Instagram Shopping to solve this.
How to manage the inventories across the Facebook network and eCommerce store?
If you have an eCommerce business, you can connect your stores with Facebook surfaces through the Business partners. Further, the Business partners provide connectors for various eCommerce platforms like Shopify, WooCommerce, Magento, and much more. Also, connecting with these synchronize your inventories across Facebook commerce surfaces.
Conclusion
As an eCommerce brand, you can use various Facebook tools through Commerce Manager and use it to your advantage. From your account setup to the time of conversion, you can also track all your Facebook Shop activities at each level through Commerce Manager.
In case you have a small inventory, you can set up your Shop or Page Shop directly through Commerce Manager. As you eventually grow your business and have a better understanding of what works well; you can evolve your eCommerce business with various other Facebook tools. Schedule a meeting with the Facebook listing partners to have an effortless selling experience across Facebook and Instagram Shopping. You can grow your business by targeting your audience through messaging or onsite checkout. So, buckle up! Get your business to Facebook and Instagram and gain incremental profit to your business.