How can Facebook Page Shop help you diversify your business?
Running short of time? Get PDF of the blog in your mail.

Play Now
Do you want to expand your business to a wider range of audiences?
Running your eCommerce stores requires you ample time and effort to reach your targeted audience. Thus, surfacing your products on Facebook Page Shop can be an appropriate choice for your business. The Page Shop lets you reach your potential customers, build connections, and surface your products to its network. Besides, you can leverage the benefits of various features offered by the Page Shop; helping you to expand your business and navigate the shoppers to your website and drive more sales.
So, let's explore the essential aspects of Facebook Page shop, its requirements, benefits, and how you can sell across the platform by setting up your page shop.
An introduction to Facebook Page Shop
Facebook Page Shop is a feature introduced by Facebook through which you can establish your storefront and display your products with your Facebook business page. Thus, making it convenient for businesses to reach their targeted audience. Additionally, to provide a seamless shopping experience and empower SMBs to a global reach, Page Shop helps you sell across Facebook & Instagram.
Some of the benefits introduced by Facebook Page Shop are: 
Facebook leverages you to add unlimited products on the page shop.
After adding your products, you can organize your products into different collections; to make it convenient for the shoppers to shop through categories.
You can provide your website information, phone number, working hours, etc. this makes it easier for your customers to contact you.
Your customers can contact you through messages in case of any queries.
How is Facebook Page shop different from Facebook Shop?
Facebook Shops make it convenient for shoppers to shop from your profile without having to leave the app. Moreover, Facebook Shops provides a checkout option, facilitating shoppers to experience an uninterrupted shopping experience.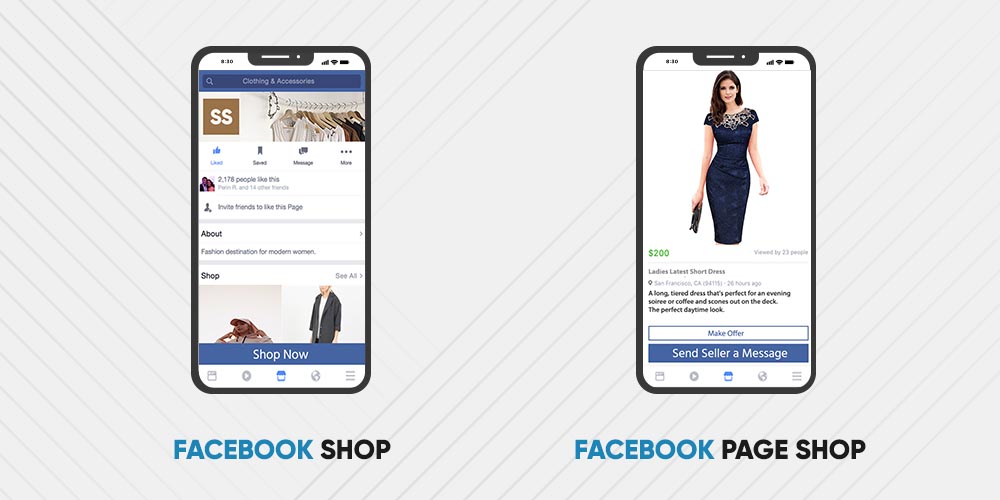 On the other hand, Facebook Page Shop is a feature provided by Facebook that lets shoppers explore the products from your profile; allowing them to make a purchase by redirecting them to your online website.
Facebook Shops are currently available for US merchants while Facebook Page Shop is available worldwide.
Requirements to set up Facebook Page Shop
To set up a Facebook Page Shop, you need to fulfill certain criteria:
You must own a Facebook business page.
Be an admin of the page.
You should own your Facebook page and catalogue in the same Business Manager.
You need to have Manage Page permission.
Sell physical products in your shop.
Comply with the Merchant Terms and Policies. 
Note: Once your catalogue is connected to Facebook Page Shop, it cannot be reconnected.
How to create Facebook Page Shop
You can set up your Facebook page shop through Catalogue Manager:
Go to the Catalogue Manager and choose the catalogue you want to connect.
If you don't have a catalogue, you can click on 'Create Catalogue' to create a new catalogue for your page shop.
After that, open the Catalogue Tab and click on the 'Sales' option on the left navigation.
You will be provided an option of 'Page Shop' at the left corner. Choose the option to connect your Facebook page with a catalogue.
Go to 'Setting' and connect your catalogue with the Business Manager.
Go to 'Sales' and select 'Connect Page' to connect your Facebook business page with the Business Manager.
Select the business page you want to connect and click 'Next.'
After that, select whether you would like to redirect your shoppers to your website for purchase or the option 'Send seller a message' on the messenger buying a product.
Select the payment process and click on 'Create Shop.'
Note: You have to upload products manually through Catalogue Manager.
How to connect your Facebook products with the products on your online store?
In case you already have your Facebook Page shop or you want to create a new Page Shop, you can connect with Facebook Business Partners; who will help you with catalog synching, price and inventory synching, error notification, etc.
For surfacing your products on Facebook Page Shop, you have to follow certain steps:
After downloading the app, you will get a notification of whether you want the app for:

Facebook and Instagram Shopping (offering checkout services. Available for US merchants)
Catalogue synchronization (offering offsite services. Globally available)

Click on the option of 'Catalogue synchronization' to sync your Facebook products with Shopify products.
If you don't have a Facebook Page Shop, you can create it through Catalog Manager; then can synchronize your products automatically through Facebook & Instagram Shopping.
Facebook & Instagram Shopping provides you various features like: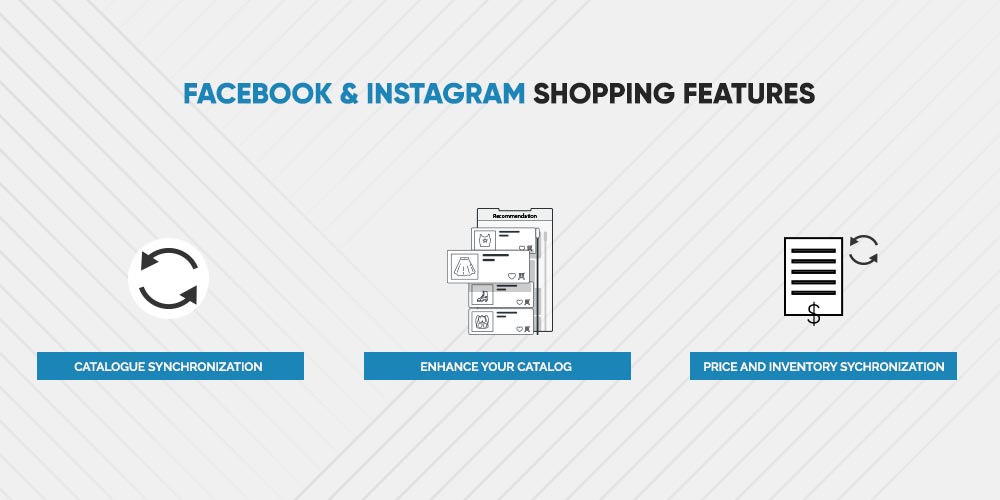 Catalogue synchronization: As soon as you set up your Page shop through the app, you can synchronize your Facebook product catalog with your Shopify products.
Enhance your catalog: Enhancing your catalog can help shoppers easily discover and consider the broad range of products using search and filters. You can now categorize your products based on age, size, gender, etc.
Price and inventory synchronization: The price and other details of products from your Facebook and Shopify store could be automatically managed through the app once you connect your Facebook Page shop through the app.
List of Allowed and prohibited product categories
All the products sold on Facebook must comply with the Community Standards. As a seller, you must follow certain criteria and list your products accordingly. A few of the products on the list are: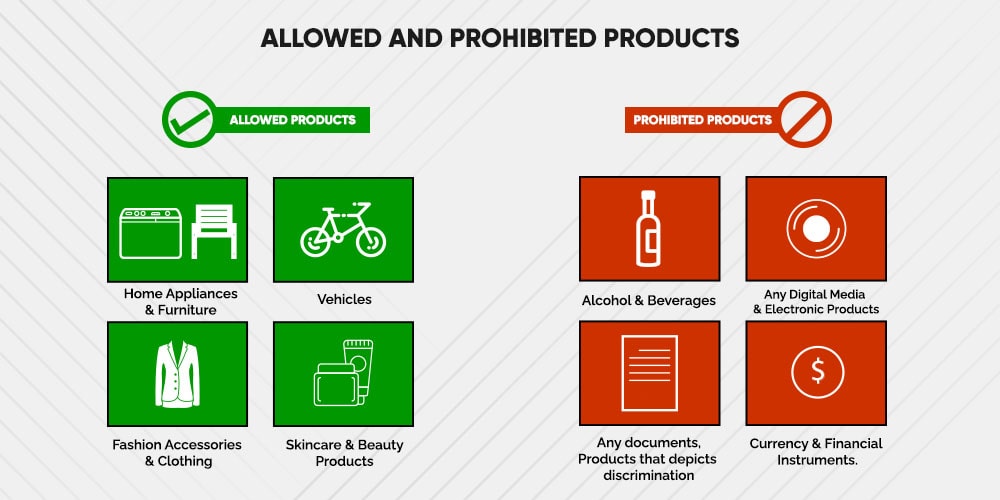 The list of Allowed products:
Home appliances and furniture
Vehicles
Skincare and beauty products
Fashion accessories and clothing
The list of Prohibited products:
There is a list of products that violated Facebook Community Guidelines. Some of the products are:
Alcohol and beverages
Any digital media and electronic products
Products that depicts discrimination
Any documents, currency, and financial instruments.
Additional benefits you can leverage with Facebook Page Shop
As a seller, you often look for various options to enhance your website and let your shoppers have a better shopping experience. Turning to Facebook Page Shop can be an apt choice for your business; as it allows you to leverage the benefit of customizing your shop through Commerce Manager, editing your shop style and layout, getting insights of your page shop visit, etc. So let's explore some of the major benefits of the Page Shop:
While setting up your Page Shop through Commerce Manager, Shop Builder lets you customize the look of your Page Shop; through which you can change the size of your shop text, the color, and the theme for your store.
Next, after you add the products and collections to your shop, you can decide how your products will appear to your customers.
You can also get insights into your product reach, customer engagement, and profile visits through Facebook analytic tools.
Tips for having a successful Facebook Page Shop
To get your products in front of a larger audience base and drive more sales through Facebook Page Shops; here are the few tips you can follow:
The username of your Page Shop represents your business.
Communicate with your customers on a timely basis. Make sure to resolve their queries.
Share your products on your page timeline. This will help you drive engagement to your website and increase your product reach.
Modify the theme of your store according to the festive season.
Update your inventory at a regular interval of time.
Finishing it up
Having your page shop on Facebook can help you reach your potential customers and drive more sales. Seize the opportunity to sell across a wider platform with page shop. You can contact Facebook or its featured partners to avoid any hassle. You can leave us your queries in the comments, in case you need support.