How to create a Facebook Shop in 2022 – A Step-by-Step Guide
Running short of time? Get PDF of the blog in your mail.

Play Now
To take your business to the next level, you must be present where your shoppers are.
But where are they?
Well! The answer is Facebook.
Over 1.70 billion individuals use Facebook daily for an average of 58.5 minutes, making it the most popular social network in the world. So, if you have an ecommerce business and aren't leveraging Facebook Shop to sell your products, you are missing out on a great opportunity.
Creating a Facebook shop is one of the best strategies to increase your product reach and grow your business. In this blog, you will learn how to create a Facebook shop, surface your products, and the ways to promote the products in your Facebook shop.
What are Facebook Shops?
Facebook Shops is a mobile-first shopping experience that allows businesses to establish an online store on Facebook and Instagram for free. It makes it easy for businesses to set up a single online store for customers to access on both Facebook and Instagram. Creating a Facebook Shop is free and simple. Businesses can choose the products they want to feature from their catalog and then customize the look and feel of their shop with a cover image and accent colors that showcase their brand.
The significant features included in Facebook Shops are: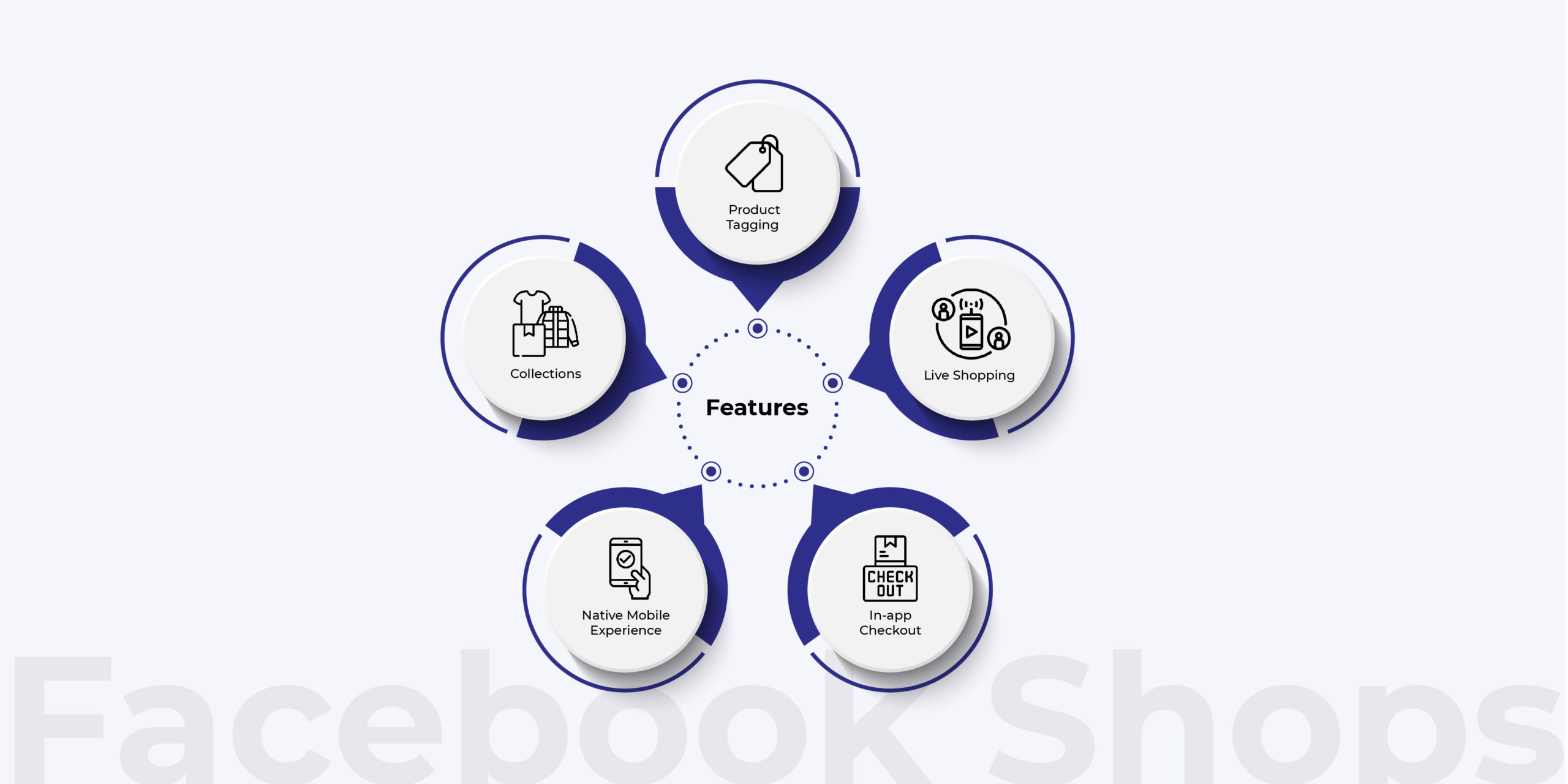 Increase social engagement:  People spend nearly an hour on the platform daily. Therefore, using Facebook Shops, you can increase your business reach by capitalizing on your customers' attention toward your products.
Product tagging on Facebook and Instagram: To generate traffic to your Shops, you can tag the products featured in your image and surface your products to a wider audience base.
Build your brand with the Collections: Personalize your collections with the products you want to feature, and utilize eye-catching images and design elements to help develop your brand identity.
Unified shopping experience: Shop customization features are unified across Facebook Commerce. This means creating a Facebook Shop helps you create a seamless shopping experience across both Facebook and Instagram. As your product collections may be visible on both Instagram and Facebook.
Native mobile experience: Facebook Shops showcase your brand and products in a native mobile experience.  So, your customers can access your products in your Shop through a full-screen immersive experience, and your collections will be shown as personalized products to customers.
In-app Checkout: Make it easier for customers to purchase from your shop by facilitating in-app checkout. The checkout option lets your customers buy products right after the moment of discovery without having to leave the app. Thereby reducing the friction in the process of selling.
Charges to sell on Facebook Shop
Selling on Facebook Shop is cost-effective. You just have to pay a selling fee of 5% per shipment or a flat rate of USD 0.40 for shipments of USD 8.00 or less.
That's it!
You get to keep the rest of what you make.
The selling charges include taxes and the cost of payment. It is applicable to all Checkout transactions across Facebook and Instagram on all the product categories.
Benefits of creating a Facebook Shop
It is easy to create a Facebook Shop. You can create collections and customize your storefront according to your preferences. Additionally, Facebook has made it easier for you to connect with businesses through Whatsapp, Messenger, etc., communicate with your customers through live videos, and initiate effortless selling. The focus is on providing a personalized user experience where the products will be enlisted according to the user's preferences.
The Facebook shop with checkout is currently available only for US merchants.
Requirements to set up Facebook Shop
To create a Facebook Shop, you must fulfill the following criteria:
You must have a Facebook page and catalog connected to the same Business Manager account.
You have to be a Business Manager admin.
You must follow the Merchant's terms and conditions.
The category that best describes your business.
You must have a tax identification number matching your legal name and business.
Your valid bank account information.
Your delivery options, return policy, and customer service email address will be enlisted.
You must deliver products within the next three shipping days.
How to set up a Facebook Shop?
To set up a Facebook Shop, you must follow one step after another.
Create a Facebook Business Page
The first step is to have a Facebook business page. For this:
You can visit 'Facebook.'
Click on the option of the 'Create A Page' option.
Choose the business category for your Facebook Page.
After this, add information such as your product pictures and a short business description. Besides, add a compelling username for your profile and an attractive About section.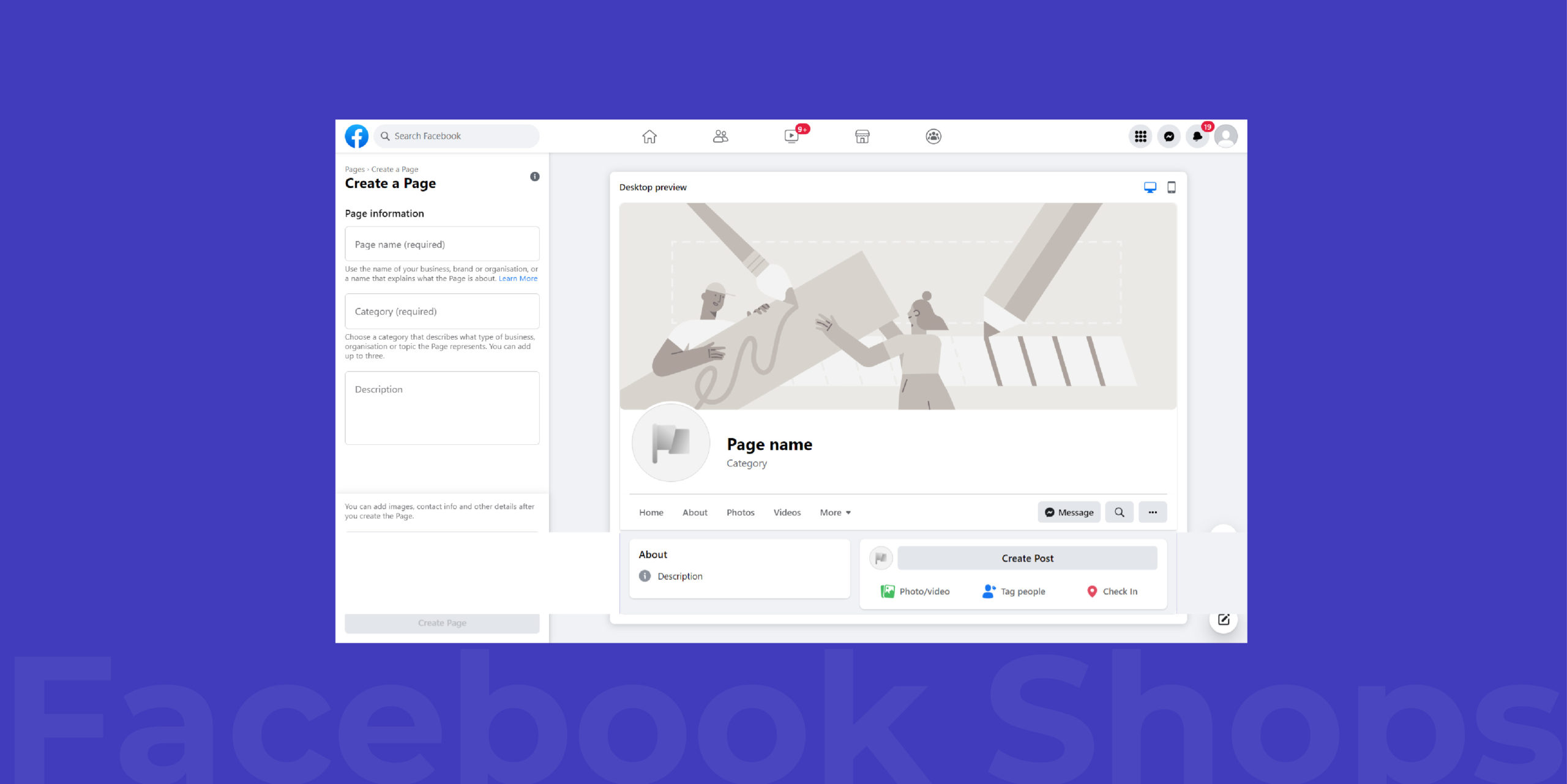 Connect your Facebook Page to Commerce Manager
To connect your Facebook Page to your Commerce Manager Account, you need to:
Go to the Commerce Manager and select 'Start selling.'
To set up your Facebook page, click on 'Get started.' Select 'Set up on Commerce Manager' for making a native Facebook Shop with the in-app checkout.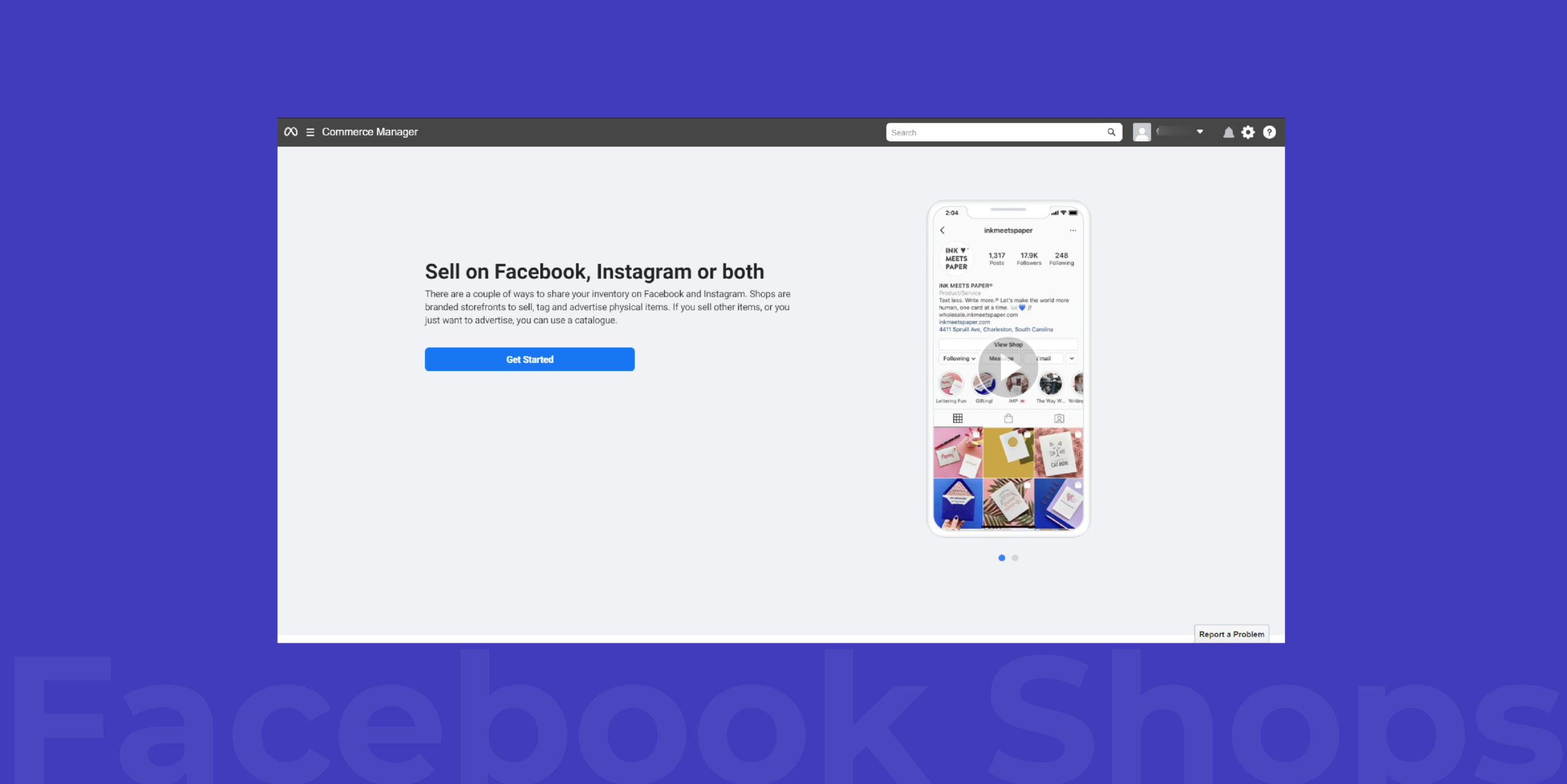 Now you have to add the following information to create a Commerce Manager account:

Business information.
Product and Setting.
Payout information.

Next, give a name to your Commerce Manager account.
In case you have a page shop setup. You can move directly to the Commerce manager account creation.
Create a Business Manager account
Next, you can add your pre-existing Facebook Page to the Commerce Manager Account or create a new one by clicking on 'Create Page.'
Now add the Business name to your account.

If you already have a Business Manager account, you can click on the existing page and move ahead.
If you don't have a Business Manager account, click on 'Create Business Manager Account' and finish your business account detail setup.
Add product details
The next step is to add your product details or create a catalog. Click on 'Get Started' in Products and Setting.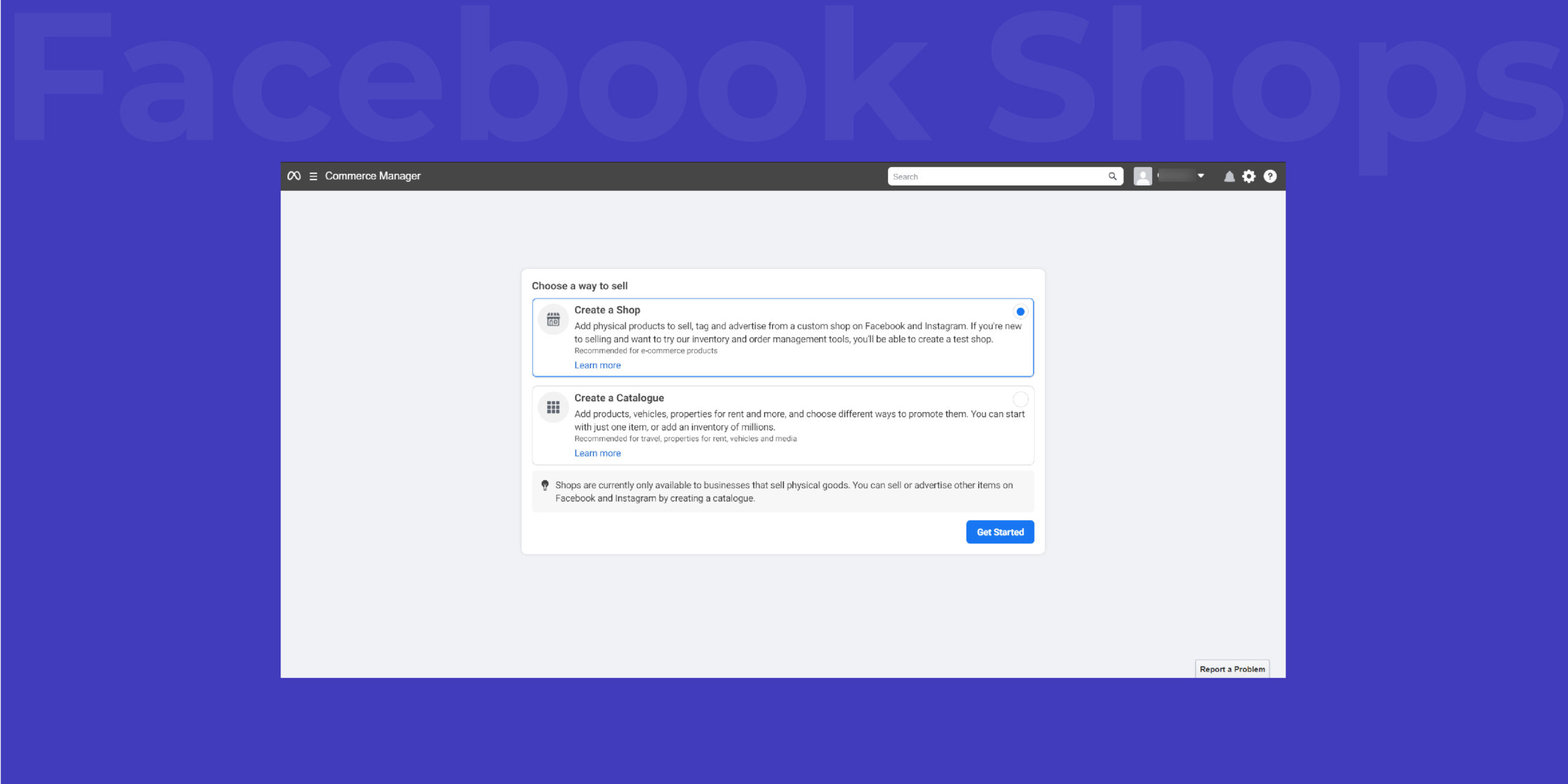 Click 'Create a new catalogue' to add products and other information to connect the catalog to the page.
After setting up your catalog, provide Shipping details, return policies, and your valid email address.
If you already have a catalog, you have an option to choose the existing catalog.
Payout
The last step is to add your payment information to set up your Facebook Shop with checkout. For this:
Add your business details, including your residence state, your business, and the website address.
Choose a Business Category that best describes your business.
Next, add tax and business representative details.
Add your bank details to complete your payment details.
It will approximately take two weeks for your Facebook Shop to be approved by Facebook.
How to connect your Facebook Shop with your Shopify account?
With your eCommerce store, if you want to extend your reach to Facebook Commerce, Business Partners can help you. The Business Partners helps make your selling experience seamless by syncing your eCommerce stores with Facebook accounts.
To connect your account with Facebook Business partners, you have to:
Connect the app with the Facebook account.
Once done, you'll be redirected to Facebook Business Extension (FBE), where you have to fulfill the procedure:

Connect your account with CedCommerce.
Connect with Business Partners to leverage Facebook business extension.
Then choose a Business Manager, Facebook product catalog, pixel, or ad catalog to manage your business across Facebook and Instagram.
Allow permissions to CedCommerce to manage your business across Facebook & Instagram.

After fulfilling the FBE criteria, you'll be redirected to the app. The app lets you configure the default settings for Facebook Shops and Instagram Shopping; the app automatically maps your available Shopify store products and the warehouse.
Besides, WooCommerce and Shopify merchants can sell across Facebook Commerce surfaces. i.e., Facebook Shops, Facebook Marketplace, Facebook Page Shop, Instagram Shopping through Social Commerce by CedCommerce, and Facebook & Instagram Shopping. And initiate effortless selling across the platform. Also, if you have your Magento store, you can simply showcase your product listings on Facebook Marketplace and initiate effortless selling through your eCommerce store.
Advantages of listing products through Facebook Business Partners
On listing your products through Facebook Business Partners, you get the following advantages: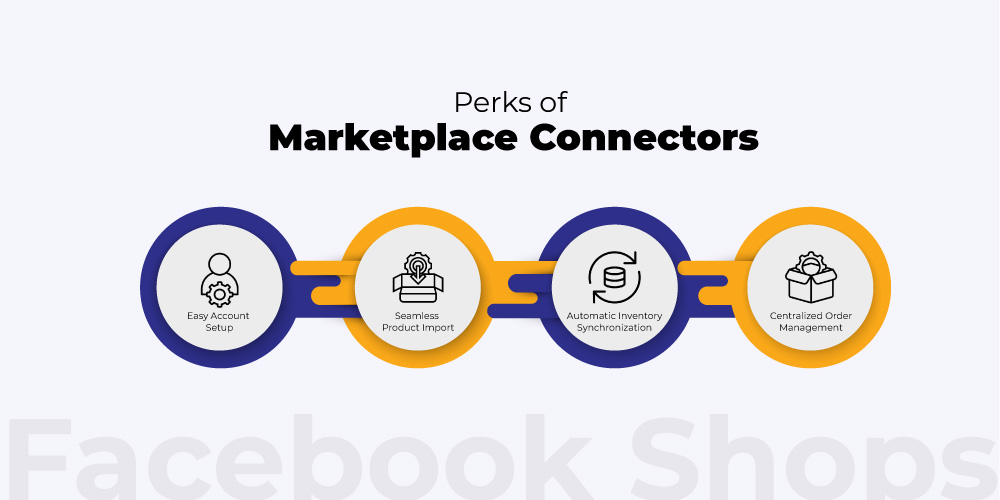 Marketplace, Shops, and Instagram Shopping: Harness the immersive shopping experience with Facebook Commerce. You can also add a catalog to the Facebook page and create and allow your listings to be visible across all platforms.
Checkout across Facebook Commerce: Simplify your shopping journey by enabling frictionless payments. If you are a business using checkout on Facebook Commerce, you can allow the shoppers to make a purchase right from the place of discovery without leaving the app.
A suite of Business Tools: By integrating with FBE, you get a broader set of data, helping you drive discovery and sales along all vertices and manage your experience on Facebook assets.
How to market your products on Facebook Shops 2022?
Facebook Shops brings you immersive selling experiences across the platform. Here are a few strategies that you can opt to market your products on Facebook:
Be active and prompt: Be active and prompt in your postings and engagement with people. This builds your image and trust among your people.
Call To Action: People can visit your page for many reasons. Give them CTA to perform some activities. For example, Book Now, Shop now, Send a message, etc.
Pinned Post: Let your users or page visitors never miss your most important posts, products, or sales opportunities.
Run Ads: You can run Facebook ads and increase your visibility among your target audience. As discussed above, you can create your own product and promotional strategies based on Facebook analytics.
Get Back linked and Verified: Backlinking strengthens your web domain, and the Facebook verification badge helps to build the credibility of your brand, and people feel confident to buy products from you.
Conclusion
Now that you have learned how to create a Facebook Shop, it's time to harness the power of the social media giant and elevate your business. Who else can help you sell more easily than Facebook Business Partners? Signup and witness exponential growth! Moreover, our customer service is available round the clock to guide you if you need assistance.