10 Advanced Facebook Ads Strategies to Witness Soaring-High Sales this Christmas
Running short of time? Get PDF of the blog in your mail.

Play Now
The merriest season of the year is just around the corner, and shoppers are already buying presents for their loved ones.
And, if you are still preparing your Facebook Ads marketing strategies for Christmas, then it's time to shift to the 4th gear and follow the advanced Facebook Ads strategies discussed in this blog to sky-high your sales.
Table of Content
Why should Facebook advertising be your top priority this Christmas?
Christmas is undoubtedly the busiest time of the year, but with so many marketing initiatives competing for consumers' attention, it can be quite challenging to stand out.
However, Facebook ads give you some outstanding features to give a tough fight to your competitors this Christmas.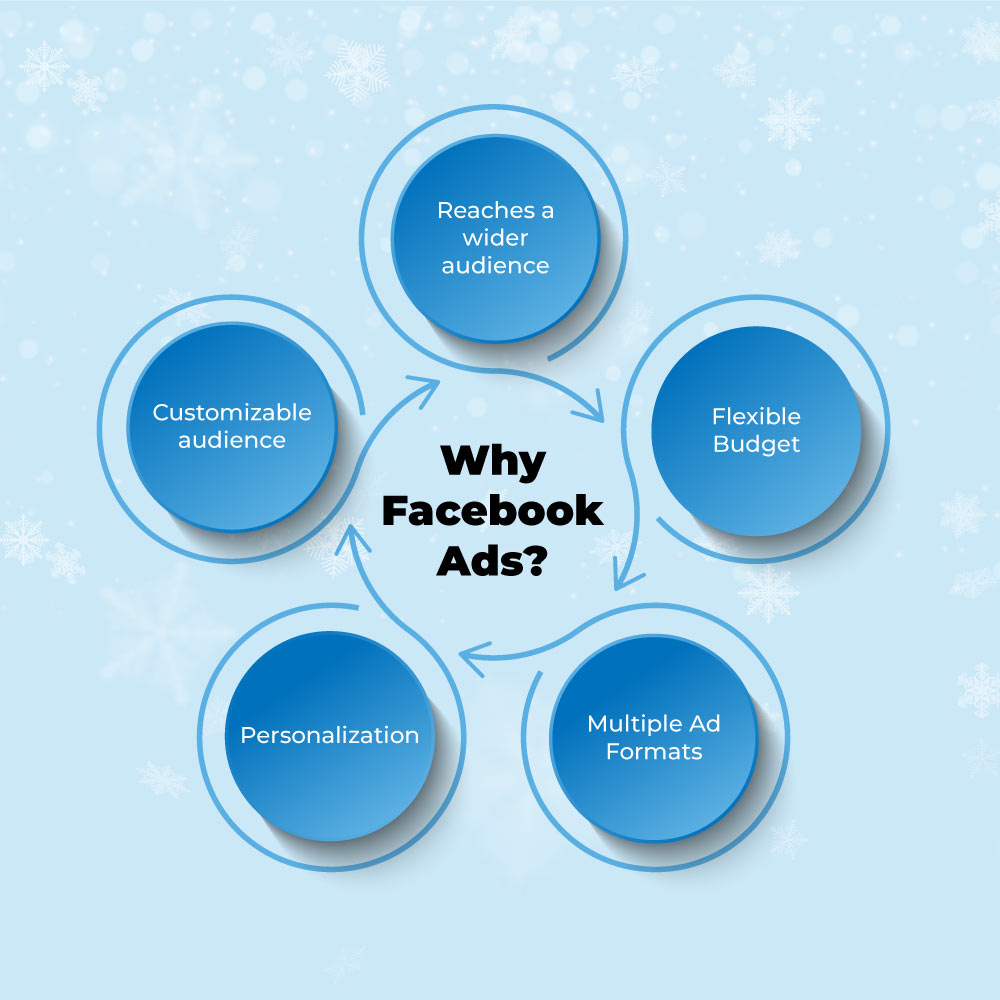 Reaches a wider audience:
Facebook reported 1.96 billion daily active users in the first quarter of 2022. With so many active users, your Facebook ad is likely to be seen by potential shoppers.
Being a social media giant, Facebook has transformed various businesses. So, you'd miss an excellent opportunity to make record-setting sales this Christmas if you don't advertise on Facebook.
Flexible bids and budgets:
Advertising on Facebook is significantly less expensive than conventional advertising. Imagine paying thousands of dollars to advertise on the radio, billboards, newsletters, or even television to reach potential customers.
Moreover, the problem is that you cannot control who sees your advertisement and whether they are your prospects.
On the other hand, you may reach 1,000 individuals on Facebook the same day your campaign is launched with a $10 spend. Therefore, even if you run a small business, Facebook ad campaigns allow you to rapidly contact prospective buyers without spending a million.

Multiple Facebook Ads Formats:
Your Facebook Ad can help you stand out when so many businesses compete for shoppers' attention during Christmas. When consumers search for gifts, a well-designed ad will grab their attention and put your company at the top of their minds.
The customizability of Facebook Ads makes it easier to try out different ad formats and placements. This allows you to find the most effective combinations that resonate with your target audience. Ad formats like Ads with Product Tags, Advantage+ Catalog Ads, Digital Circulars, and Collaborative Ads can turn discoveries into purchases.
Personalized Ads:
Facebook dynamic advertising targets users who have shown interest in products like yours elsewhere on the internet. Since they show items relevant to shoppers, regardless of whether or not they have previously visited your site, Facebook Dynamic Ads assist you in personalizing your pitch.
These ads are designed to work on desktop and mobile devices, letting you target customers on all platforms. For example, even if a shopper first views your website via a mobile device, they will still see your ads when they revisit from their desktop computer.
Customizable audience:
Facebook ads allow you to enjoy a targeting advantage, which means you can create custom audiences for each Facebook advertising campaign you create.
Reaching prospective customers is much simpler, thanks to the highly configurable targeting options available. You can target specific audiences depending on age, geography, hobbies, interests, etc.
How to drive more sales during Christmas using Facebook Ads: Advanced Strategies & Pro-tips
1. Schedule your Facebook ad campaigns in advance
Planning your PPC advertising should always come first as Christmas gets closer. Additionally, it would be best if you had your Facebook Christmas ads locked and loaded in the system in addition to planning out your campaigns.
Although Facebook typically accepts and posts each ad in a matter of minutes, it can occasionally take much longer during the Christmas season. Therefore, create and schedule your Facebook ads a few days in advance for time-sensitive campaigns like Christmas promotions to minimize delays.
2. Review Your Ad Account Limits
To guarantee that you never exceed a specified cash amount, you may set account spending restrictions on your advertising account. While it can help you keep under your budget, it frequently happens that marketers will go out of their way to spend more over the holiday season only to find that the ad limits have prevented them from doing so.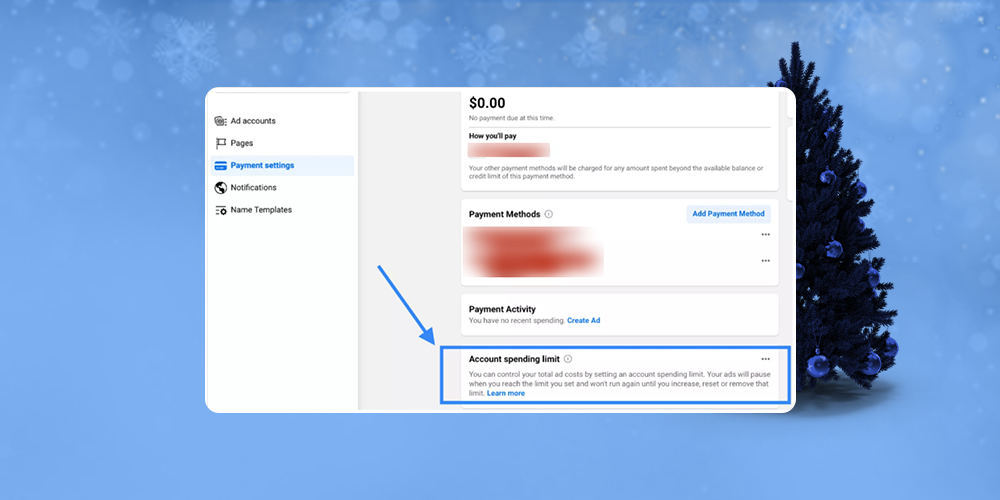 To ensure that your advertisements run constantly and are not throttled, check your ad account restrictions and billing sources in the Business Manager.
3. Create an engaging Ad Copy
It's crucial to craft engaging ad copy that speaks to the requirements of your target audience when creating Facebook Ads for Christmas. The following advice can assist you in creating advertising that performs:
Keep your ad copy concise.
Utilize compelling, benefit-focused headlines.
Utilize pictures that are appropriate for your offer.
Refrain from using cliché phrases like "season's greetings" and "good holidays."
Get close to your audience by sharing a Christmas tale or message that speaks to them.
Use a call-to-action to nudge readers toward the action you want them to do.
These pointers can help you build Facebook Ad Campaigns that are more likely to be successful in conversions.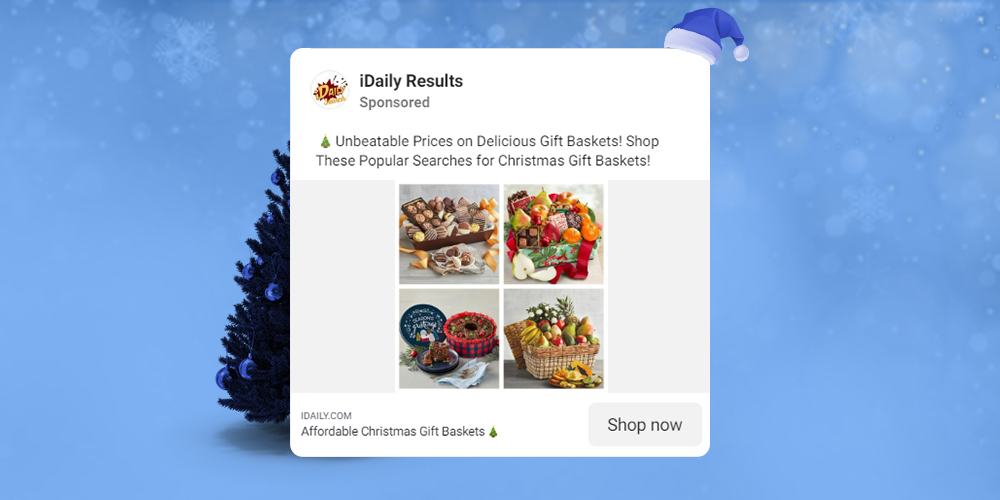 4. Use Captivating Images
Your Facebook ads should be made to stand out in people's News Feeds from other stuff. Use eye-catching, high-quality graphics to attract viewers and pique their curiosity about your products.
Your advertising should be well-written, relevant to your target demographic, and have excellent visuals. Make sure your advertisements are Christmas-themed and have a call to action encouraging viewers to take advantage of your exclusive deals.
Make efficient and stylish Christmas Facebook Ads with the above-given suggestions. So start using your imagination to promote your business using Facebook Ads this Christmas season and increase sales!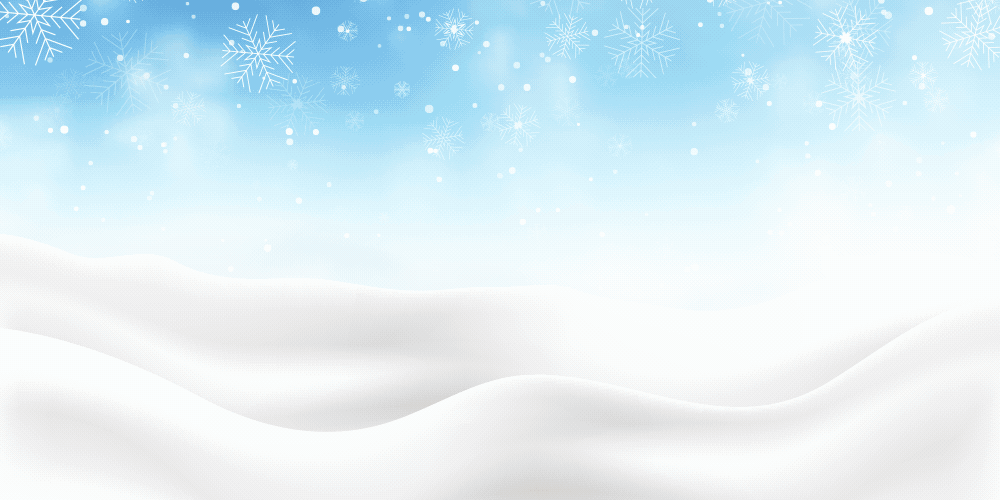 5. When Planning Your Deals, Think out of the Box!
To make soaring high sales, you can't just give customers a code for 20% off and call it good. You need fresh content and attractive discounts to keep customers coming back. Increase your average order value (AOV) and the urge to purchase.
Offer discounts and bundles.
Allow recurring customers early access.
Draw attention with enticing upsells and surprise goodies.
Use the BOGO (buy one, get one) strategy to sell more items.
Have hourly deals.
Don't forget last-minute buyers and give priority shipping deals.
6. Invest more in Facebook video ads
One of the finest methods to improve the narrative for your company on Facebook is through video advertisements. The buyers' connections are cultivated, and the video ads foster their interest in your business.
Reach the relevant audiences of shoppers by launching immersive, full-screen Christmas video advertising using the CedCommerce: Facebook and Insta App's Ads Feature.

7. Target Lookalike Audiences
Targeting a Lookalike Audience is essential to amplify your Christmas sales. Lookalike audiences are people who are likely to be interested in your business because they share similar characteristics to your existing customers. So they convert easily.
However, your target audience must be determined before you create a lookalike audience. You can use Facebook Audience Insights tool to identify possible Lookalike Audiences.
8. Do not forget to Retarget your Shoppers
Since over 70% of American consumers prefer shopping from individuals they know and trust. Therefore, your current audience is priceless. You can cut costs and take advantage of the low-hanging fruit with retargeting. It is advisable to level up your retargeting budget this Christmas.
9. Optimize Your Facebook Ads and Landing Pages For Smartphones
Over 3 billion people own smartphones, and more than half of the world's population has access to the internet. Facebook has devoted a significant amount of time, energy, and resources to researching how this generation shops because they mostly use mobile devices.
Therefore, the minimal requirements for your Facebook advertisements should be fast loading on a smartphone (this includes the landing page you will send consumers to from the ad).
10. Do not forget to test your Facebook Ads
Facebook advertising around Christmas is tricky. So, before entering the fray, be sure your audiences and ad creatives have been tested. You don't want to squander money on something that won't lead to sales.
It's time to get your slice of Christmas pie!
There you have it! 10 proven tips to rule Christmas 2022.
As it's the ideal season for shoppers to go crazy, we hope that implementing these advanced Facebook Ads strategies will give you the extra boost in engagement and sales you're looking for during Christmas!
So, don't wait anymore! Launch your Facebook Ad Campaigns now with CedCommerce: Facebook and Insta app and enjoy your slice of Christmas pie. 🥟
Merry Chr🎄stmas!