Elevate Your Retargeting Game with Facebook Dynamic Ads
Running short of time? Get PDF of the blog in your mail.

Play Now
Remember going to the mall, seeing something you loved, and then leaving empty-handed? On your way back home, you'd worry about whether you'd made the right choice or not. Ah, those were the days. Today, you can't leave an item in your shopping cart without it following you around the internet wherever you go. And who do we owe our gratitude to for this? Well! The answer is Facebook Dynamic ads.
Facebook's Dynamic Ads empower businesses like yours to achieve unprecedented levels of success. They enable you to significantly improve your targeting strategies by confining the size of the target audience to people who have viewed, engaged with, or expressed interest in your product or service in some way. That being said, let's take a closer look at Facebook Dynamic ads and how to create them.
Table of Contents
What are Facebook Dynamic Ads?
Facebook dynamic advertisements automatically target those shoppers who have expressed interest in products similar to yours anywhere on the internet. Facebook Dynamic ads work for you as long as you want. It finds the correct people for each product and always uses up-to-date pricing and availability. Facebook Dynamic Ads help you make the pitch more personal because they show people products that are relevant to them, regardless of whether or not they've previously visited your site. You can also retarget your shoppers using Facebook Dynamic ads to remind them of products they viewed but didn't buy.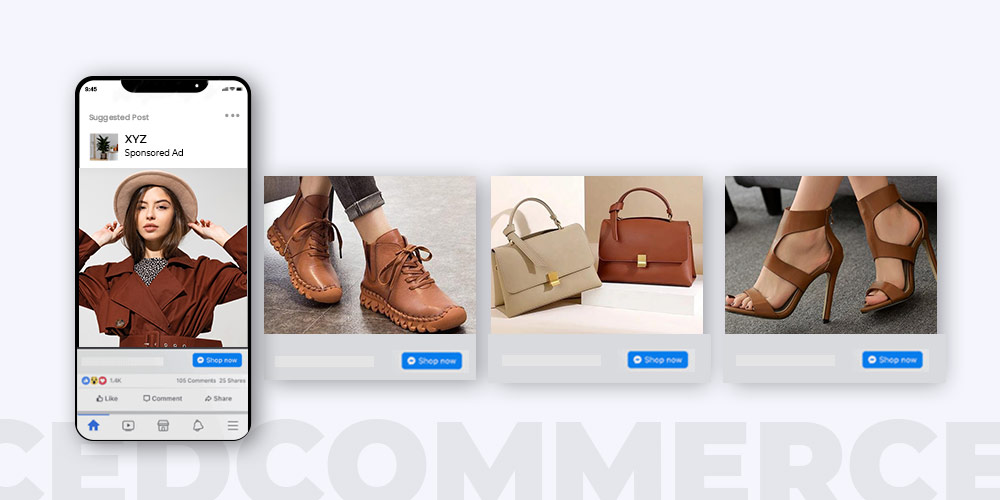 Why use a dynamic ad?
During this time of year, with increased competition and growing advertising expenses, it is more important than ever to target the correct audience and make the most of your available resources. Facebook Dynamic Ads lets you target just those individuals who are most likely to be interested in your items and who are near to making a purchase. It assists you in :
Retargeting
You can use Facebook Dynamic advertising to reach new clients who have expressed interest in your items or products comparable to yours, even if they haven't visited your website yet, since it uses wide audience targeting.
Personalization
Leveraging Facebook dynamic ads lets you show relevant information and creativity to shoppers depending on their behaviour and interests.
Always on
With Facebook dynamic ads, you can create and run automated campaigns that continuously optimize and promote all of your products without having to configure each individual ad.
Find new shoppers
Since it uses wide audience targeting, Facebook Dynamic ads makes it easier for you to reach new shoppers who have expressed interest in items or products similar to yours.
Optimized for cross-device targeting
Facebook Dynamic ads are designed to work on both desktop and mobile devices; allowing you to target shoppers on all platforms. For example, even if a customer first views your website via a mobile device, they will still see your ads when they revisit from their desktop computer.
Now let's move on to see how Facebook Dynamic ads operate and target shoppers effectively.
How do Facebook Dynamic ads function?
When you have a wide variety of products or a high number of inventory, dynamic ads employ machine learning to scale your ads. Dynamic ads help you in targeting shoppers with appropriate services or offers depending on their interests, intent, and behaviours. This method relieves you of the hassle of producing separate ads for each product you sell. You can make a catalog with all of your items instead of manually putting up 1,000 ad sets. Then, using individualized, user-level suggestions for everything in your catalogue, you can design a single campaign that drives sales on your eCommerce store. When a customer shows interest in a product from your catalogue, Facebook will create a automotive dynamic ad for them; and send it to them on mobile, tablet, and desktop.
Best Practices for creating efficacious Facebook Dynamic ads
To create effective dynamic ads, it is essential to follow the best practices.
Keep text short, clear and to the point : People check the feeds and stories on Facebook and Instagram pretty rapidly. Therefore, it is mandatory to keep the text of the ad short, clear and to the point.
Draw attention to your Image: It is essential to improve your photo's focal point, or central point of interest, to catch and hold your viewer's attention.
Choose assets that make sense together when combined: You can select up to 30 assets like Images, videos or texts for your Facebook Dynamic ads. However, it is advisable that you put quality ahead of quantity. Combining two powerful assets is preferable than combining multiple assets about which you are unsure. If you don't have a lot of graphic or video assets, combining various text content is a simple method to get started.
Use multiple call-to-action buttons: What do you want people to do after seeing your advertisement? To find out which buttons are most effective, try a few different ones.
Avoid text on top of images: It is recommended to avoid text on the top of images.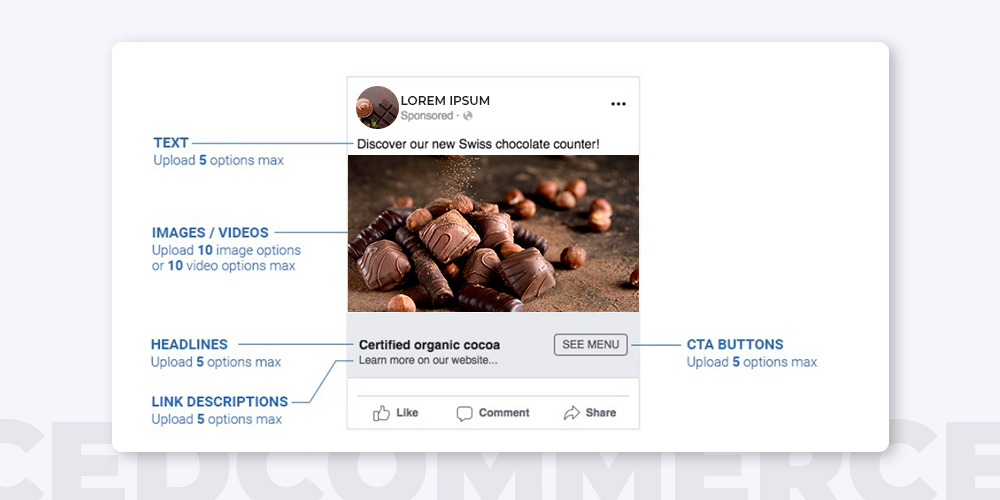 How can you create Facebook Dynamic ads using CedCommerce: Facebook & Insta?
CedCommerce: Facebook and Insta app is one stop solution for merchants. It not only assists you in hassle-free selling, but also helps in managing your inventory and orders. And now, with the newly added Ads Feature (releasing soon), CedCommerce: Facebook & Insta app will allow you to run your ads as well on Facebook. Along with running ads, you will also be able to track the performances of your ad campaigns through the Analytics section under ads.
Creating Dynamic ads with CedCommerce: Facebook & Insta is quite easy and simple. Follow the steps below to create your Facebook Dynamic ads campaign:
Navigate to Facebook Ads Section from the dashboard.
Go to Create Campaign and select "Retargeting Campaign" as your preferred choice, and then press "Create Campaign".
At the Campaign level, you have to fill in the basic details like Campaign Name, Campaign Budget Type (daily or lifetime), and Campaign Budget Amount.
At the ad set level, you need to give a name to your ad set, select your catalog & catalog set. Then select the event type as shown. The app also gives you an option of custom combination to merge more than one condition as per your preference, and then select the start & end date.
Note : The end date would be mandatory if you have selected a lifetime budget at the campaign level.
At the ad level, you need to fill in the ad name, select catalog & catalog set. Enter the primary text for your ad, the headline, description, website URL, and the CTA from the dropdown.
Now enable the Dynamic ads option. This will automatically change the order of your Facebook ads to adapt to the content and promotions specific to each user.
After everything is in place, you can preview your advertisements in various formats to see how they will appear when they go live.
To activate your Campaign, click on the Toggle button ON the status bar and activate your Campaign.
Your Facebook Dynamic ads Campaign is live now.
Conclusion
Whether your objective is to attract new audiences and introduce them to your brand and products; or to convince warmer retargeting audiences to return to shop items they looked at previously, cross-sell, or up-sell; you must give Facebook automotive dynamic ads a try and see how they perform for you. Having said that, in case you need expert guidance, feel free to schedule a free consultation with our and eCommerce and campaign experts. We are here to assist you at every step.