How To Use Different Types of Facebook Ads to Create a Successful Business Campaign
Running short of time? Get PDF of the blog in your mail.

Play Now
Targeting your potential customers through Facebook ads commands the most attention from the audience to your business. But choosing the right type of Facebook ads for your campaign is the determining factor for an ad's success.
To get the right type of Facebook ad, you must understand the objective of your campaign, the working of Facebook platforms, and what type of content does well on it. So explore further to know the different types of Facebook ads and which ad is most effective for your business. In case you are new to Facebook ads, you can collaborate with Facebook partners, and get yourself onboarded across Facebook surfaces in absolutely no time.
How is Facebook as an advertising platform?
Before creating a Facebook ad, you need to know about the Facebook placements like Instagram, Messenger, Facebook Marketplace, Facebook Shop, etc. Getting an idea of how and why people use these platforms will help you create the different types of Facebook ads that resonate with your audience.
Here are few points to keep in mind while creating a Facebook ad: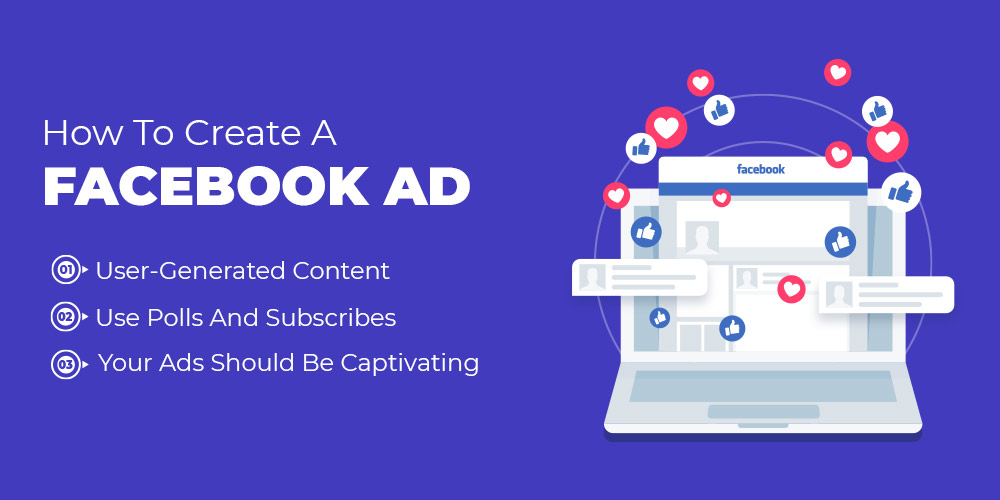 User-generated content: Your Facebook ad should be unique. It should present a message which is evident to your native audience. This would help you get the lead to your business.
Use Polls and subscribes: Your audience should be able to engage with your Facebook ads. If you are considering taking your audience's opinion as your priority, Try using Polls in your ads.
Your ads should be captivating: Use captivating videos or images in your ads. This will help you connect with your audience and get their interest in your products and business.
What are the types of Facebook ads?
Facebook advertisers have tons of targeting options and campaigns to choose from. Businesses of all sizes have been using Facebook's ads to promote their products and grab their audience's attention. When it comes to creating your ad, there are some of the most popular types of Facebook ads. Selecting the right type of Facebook ad for your business goals is the key to driving conversions. Dive down to know more about the types of Facebook ads.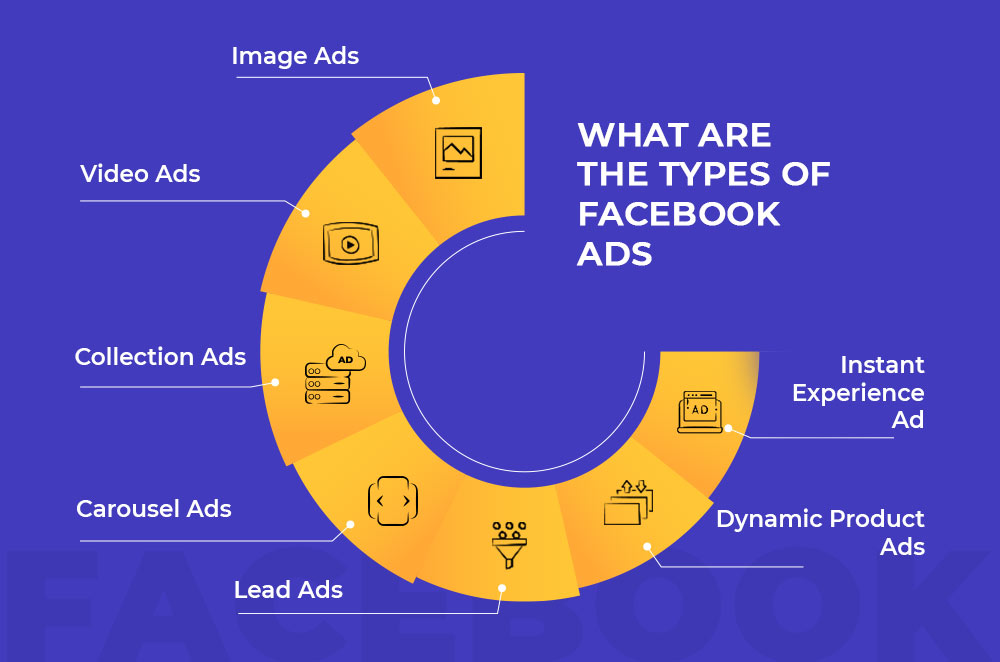 Image ads
Image ads come right up your alley for driving visitors to your website or Shop through a quick creation process. These are one of the most popular types of Facebook ads. Image ads allow you to show off your product, service, or brand using a single captivating photo.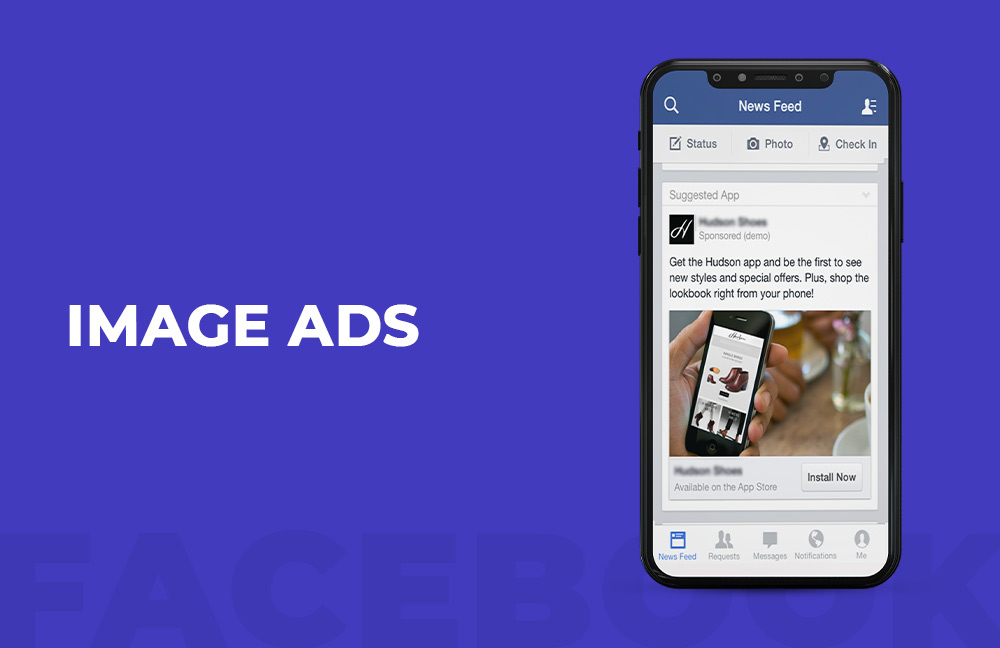 Image ads appear in multiple placements across the Facebook networks like a Facebook newsfeed, Instagram newsfeed, Messenger, and Audience network. Besides, you can use Images ads to:
Raise awareness of your product: Choose an attractive image of a product and encourage the audience to know more about it.
Deliver a simple message: Image ads help you portray a clear message. Through the ad, people can understand the intent of the ad.
Drive traffic to your website: If you're going to drive high volume traffic to your store, a simple image ad can be an appropriate choice for you to produce inexpensive clicks.
Using an image to display your product helps build curiosity in your customers' minds regarding the product, brand, and business.
Video ads
Video ads on Facebook are shaping the way businesses tell their stories. Now, it has become easier for you to connect people with your brand in an interactive video experience. The Facebook video ads help you educate your audience about your product features and services. However, video ads can be effective for product demonstration, brand building, prospecting new customers, and much more. These types of Facebook video ads usually appear in: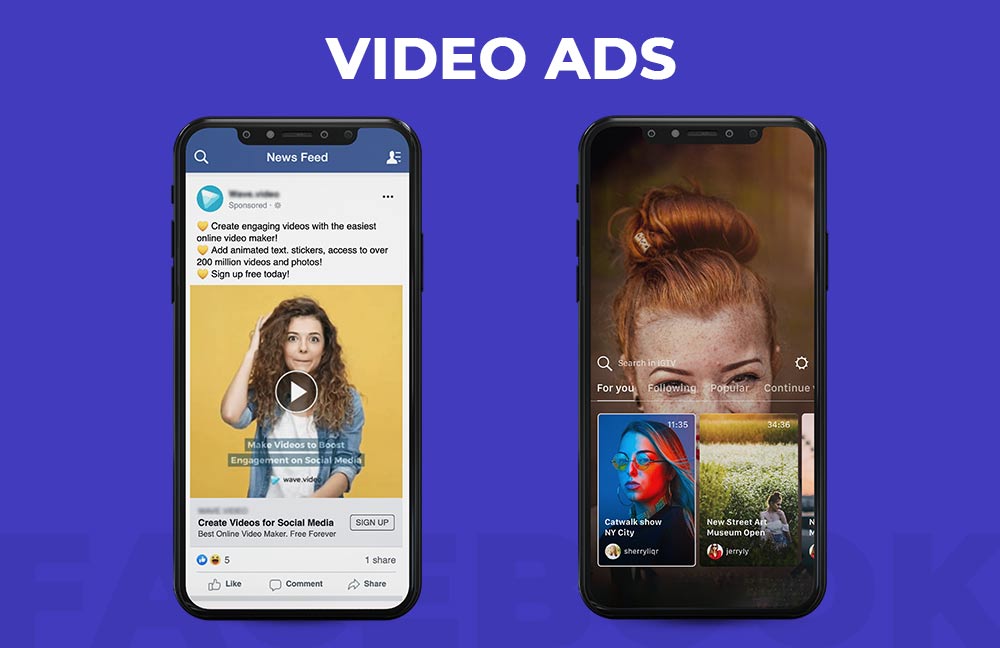 In-stream videos: You can create an ad that is played before, during, or after the streaming video on Facebook or Instagram that most of your target audience watches.
Facebook & Instagram Stories: You can turn your existing videos into ready-made story ads with our easy-to-use templates in Ads Manager.
In-feed: Most of the users come across a Facebook video ad while scrolling through their newsfeed.
According to a recent survey, 90% of people say videos help them make purchase decisions. Thus, you need to make sure that your video must be able to convey its messages within the first five seconds of playtime. Videos effectively catch the user's attention, make the product appealing in the eyes of the customers, and encourage them to watch the ad.
Carousel ads
Carousel ads contain multiple images, videos, or a combination of both. Each image in this ad has its own headline, description, link, and call to action. You can create a carousel ad from your Facebook Page or in Ads Manager.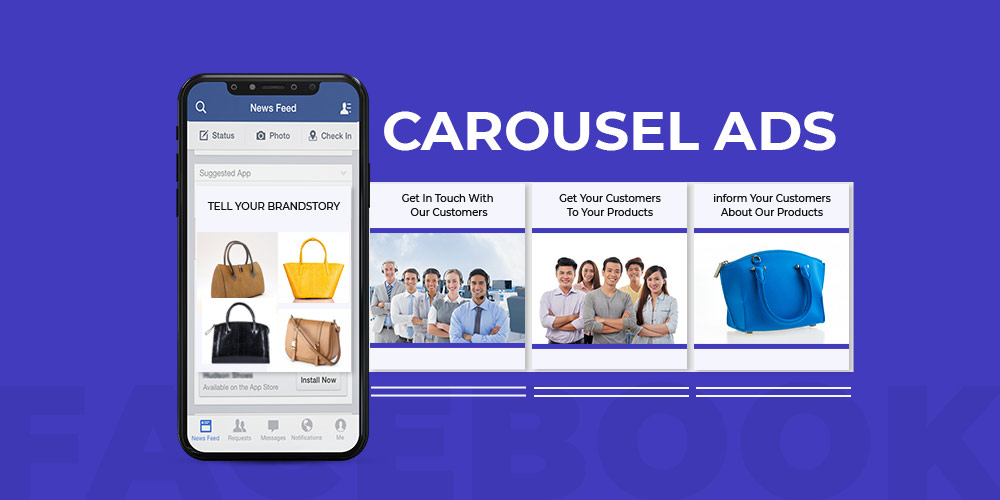 Some of the best practices for carousel ads are:
Use all the carousel components to tell your brand story: Carousel ads contain information that gives context, details, and encouragement to your audience to look after your product. You can use upto ten cards in a carousel ad.
Take similar types of images and videos: Use the images or videos that co-relate to each other. When you use videos in your carousel ad, it is recommended the square (1:1) aspect ratio for each video.
Get in touch with your customers: Use attractive images or videos to target the audience and convert your visitors into potential customers.
Pair with a landing page: Your ultimate goal would be to bring users directly towards a specific product to generate a greater number of sales.
Facebook & Instagram Shopping got newer with Facebook Business Extension and other exciting features. Ease your selling process across Facebook surfaces and leverage Facebook ads all from a single location.
Dynamic product ads
Dynamic Product Ads are the ads that are personalized according to the individual consumer's need. Thus, making an ad useful, informative, and more effective. Dynamic ads automatically deliver relevant ads to people based on their interests, intent, and actions. For example: if a shopper expresses their interest in a product from the catalog, Facebook would generate an ad for that person and deliver it automatically on mobile, tablet, and desktop.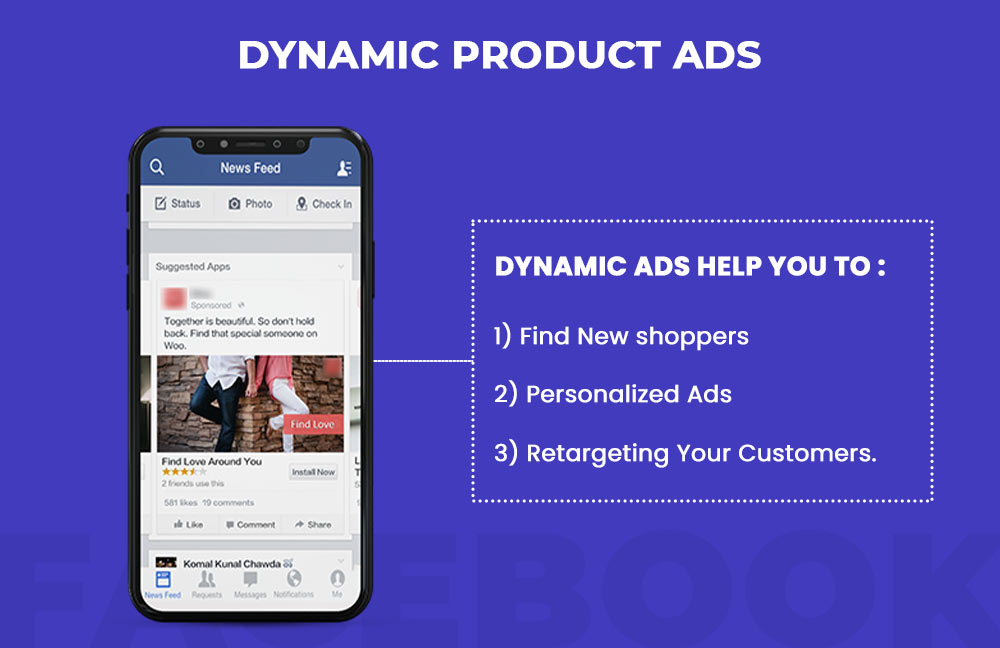 Dynamic ads help you:
Find new shoppers: Reach a new audience who has shown interest in your product or business.
Personalized ads: Deliver the relevant content and creative to customers based on their behaviors and interests.
Retargeting: Retarget your shoppers to your website or Shop and remind them about the products/services they are interested in.
Collection ads
Collection ads are a type of Facebook ad that lets people move from discovery to purchase in a smooth and immersive way. Each collection ad features a primary video or image with four smaller accompanying images below in a grid-like layout. Whereby, customers can tap on your collection ad to browse or learn more about the product or service, all without leaving Facebook or Instagram. The collection ads are specially designed to appeal to mobile users.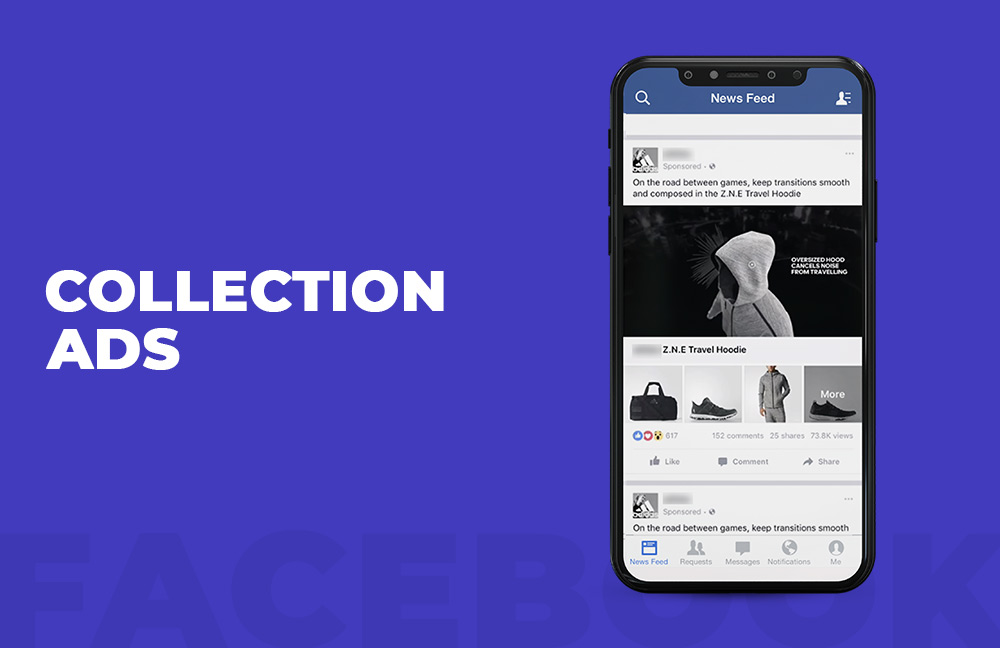 You can use collection ads for:
Brand awareness: If you are new to Facebook ads, Collection ads are the best choice for your business. These ads help shoppers know more about your products and services; by demonstrating the product images in bulk.
Seamless browsing experience on mobile: Collective ads are specially developed for mobile users. Thus, people who tap on your ad through mobiles can easily browse more products or learn about your product in a full-screen experience.
Show off your product catalog: You can add images of multiple products in your ads to showcase unique products and prompt multiple purchases.
You can go to Facebook Ad Manager to create Collection Ads
Lead ads
Lots of people want to hear from your business, but filling in forms can sometimes be challenging. Facebook lead ads make the lead generation process easy. People can tap your ad and can redirect to a product detailed form, where you can collect details like name, email address, phone number, and more. In the lead ads, you add the Call to Action button as "Shop Now," "Subscribe," "Know more."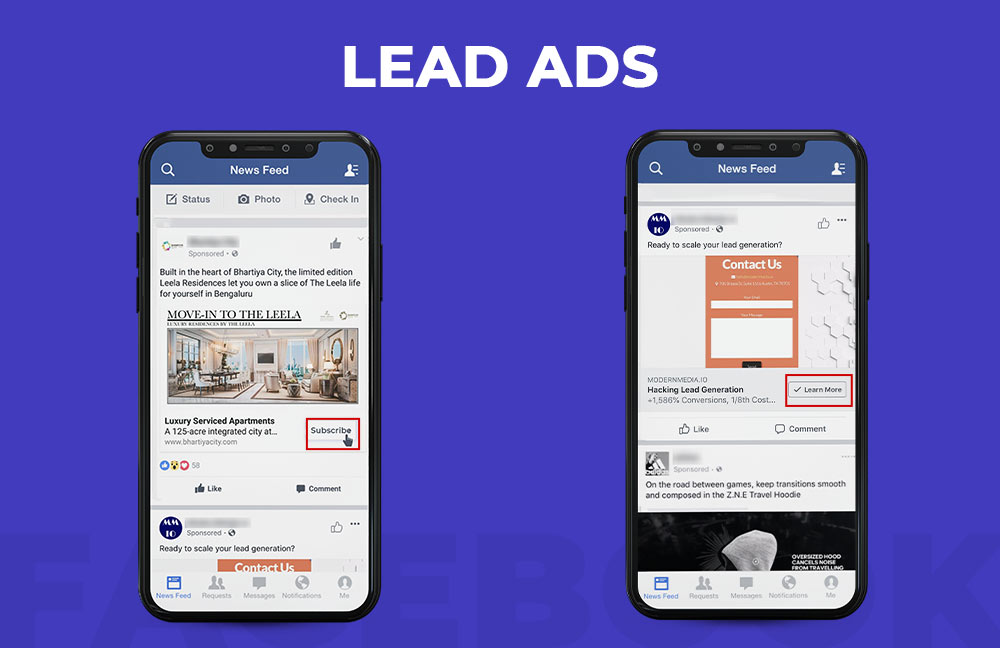 You can use Lead ads to:
Collect subscribers and potential customers for your business.
Generate your customer's information for further interactions.
Understand the interests and behaviors of potential clients.
Get people to enroll in your programs or inform them about the updates.
You can create a Lead ad through Facebook Ad Manager or from Facebook Page. Lead ads appear in Facebook News Feed, Facebook Stories, Instant Articles, in-stream videos, Instagram feed, Instagram Stories, and more.
Instant experience ads
Instant Experience ads is an improved version of Facebook's Canvas ads that allows businesses like you to tell your brand story in a visually compelling way. These types of Facebook ads enable you to add images, videos, product carousels, form fill-outs, and tag products to your ad.

Instant experience ads are mainly used for:
Capturing your audience's attention: Instant experience ads are designed for mobiles. Thus, they are fast-loading. These ads work in all formats including, single image, video, carousel, and collection.
Highlight your products: Create engaging visual experiences for your customers. You can now connect your catalog with selected templates to use more features.
Add more content to your ad: These ads can appear almost everywhere, i.e., on Newsfeed, Facebook and Instagram stories, Feeds, Messenger, and more. Thus, you can add more content to your ad to create a better user experience.
To create an Instagram Experience Ad, explore here:
How to choose the right type of Facebook Ad
While, after going through all the types of Facebook ads, you might be wondering which Facebook ad fits right for your business?
Well, don't worry, we have bought down the few points you should remember while creating your Facebook ad. This will help you choose the right set of Facebook ads according to your campaign:.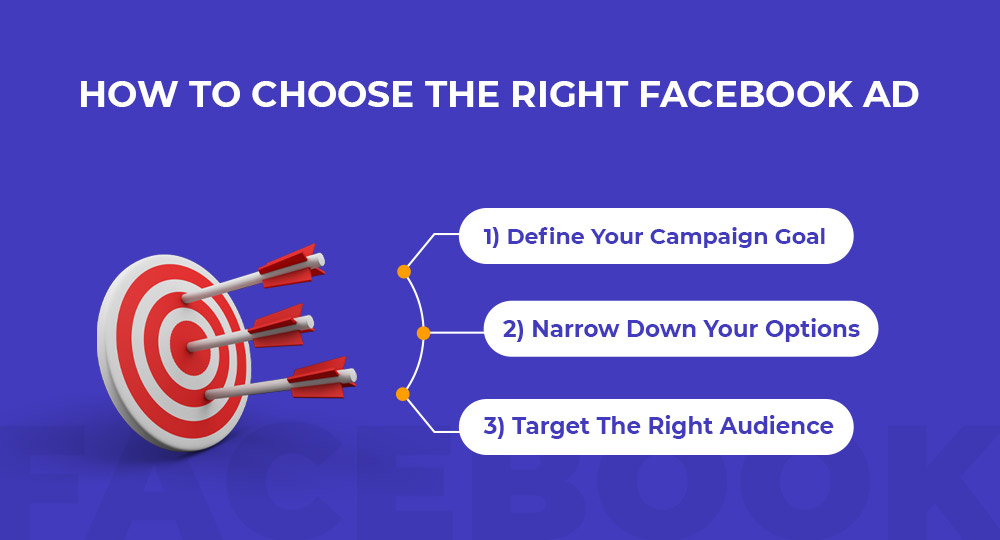 Define your campaign goal
Before you start creating your Facebook ad, make sure you define your campaign's goal. Do you want to drive traffic to your website? Drive more awareness about your product or get more conversions on your website?
For each of your objectives, there is a different campaign. For example, Conversion objective is mainly used when you want to promote your website or want more visitors to your website. OR. when you are new to Facebook ads, your objective would be to inform your customers about your product. In this case, you need to drive awareness objectives instead.
Narrow down your options
Once you have decided which ad campaign suits your objective, you can start searching for different types of Facebook ads. For this, choose the ad type you think is preferable for your campaign. For example, if your goal is to drive leads from your customers, you can mainly select the Facebook ads from:
Clicks to Website
Website Conversions
Lead Generation
Offer Claims
Target the right audience
The major objective of Facebook ad targeting is to find the people who are correlated with your business. Once you publish your Facebook ad, Facebook automatically shows your ads to people who are most likely to find your ads relevant. Besides, you can choose to further target your ad delivery with three audience selection tools:
Core audience: You can distinguish an audience based on criteria such as age, interests, geography, and more.
Custom Audiences: Retarget your audience who have engaged with you once or more.
Lookalike Audiences: Reach new people whose interests are similar to those of yours.
What Facebook ad creative will do to your business
With so many active users, Facebook provides an excellent opportunity for businesses to reach their potential customers. Having said that, with the different types of Facebook ads available to your business, you can now generate leads, convert your visitors into potential buyers with a multitude of advertising campaigns. Nevertheless, if you need expert guidance regarding how to scale your business through Facebook ads, what types of ads are effective and much more. Feel free to schedule a free consultation with our Social Media Experts. We are happy to help you at every step.