Revive your leads and notch-up your sales with Facebook Retargeting Campaigns
Running short of time? Get PDF of the blog in your mail.

Play Now
If you run an online business, you must be aware that advertising plays a crucial role in attracting shoppers to your eCommerce store. But what if they are not ready to make a purchase when they visit your store for the very first time? Or if they become sidetracked before making a final decision on their purchase? According to Business Insider, 97% of people who come to your website for the first time leave without making a purchase, which means that unless you can draw them back to your webstore, they are basically lost to you forever. One of the most effective ways to entice back your shoppers is through running Facebook Retargeting ads campaigns.
Explore further to know more about Facebook retargeting ads and how leveraging it could prove to be beneficial for your business.
Table of Content
What is Facebook Retargeting?
Retargeting on Facebook is a pay-per-click approach in which you display your ads to individuals who are already acquainted with your brand. They have either been to your website or engaged with your Facebook or Instagram pages in the past.
Simply put, retargeting displays your ads to individuals already familiar with you to target and convince them to head back to your store and shop. Now, read on to see how Facebook retargeting advertising could benefit your business.
How does retargeting on Facebook help your business?
Facebook retargeting gives your brand an excellent chance to reach out to more potential shoppers. You can retarget your leads and drive them to conversion as it assists you in:
Increasing the level of customer engagement
When your consumer sees your brand or products advertised on every website they visit, they will be more interested in your brand. It encourages people to re-engage with your brand, which ultimately results in increased customer engagement and retention.
Creating More Brand Awareness
It's almost impossible to persuade individuals to make a purchase from you unless they've known you. As a result, having a strong brand identity is essential. Retargeting ads can assist you in getting the word out about your business to a broader audience.
Personalizing every ad for each consumer automatically
Retargeting with dynamic ads lets you automatically show people the products they're most interested in. Facebook Dynamic Ads assist you in personalizing your pitch by displaying products that are relevant to the individual seeing the ad, regardless of whether or not the person has previously visited your site.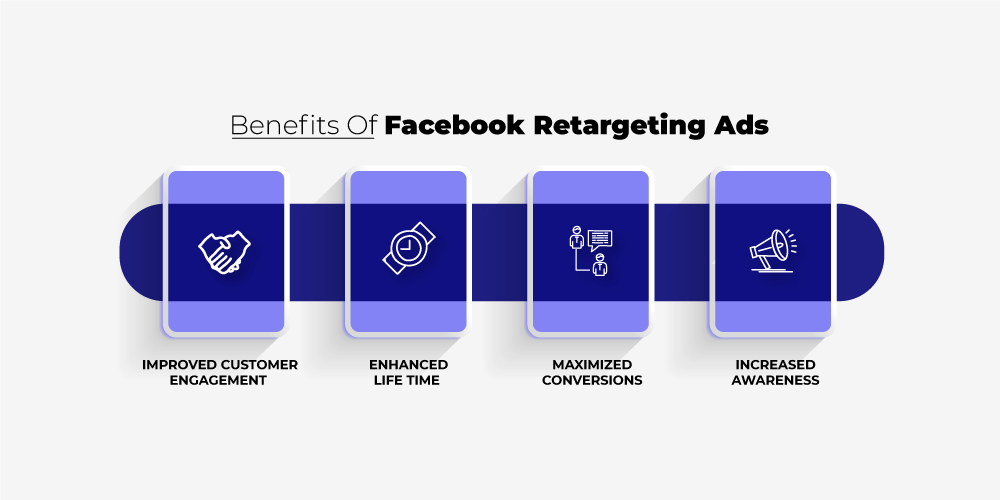 Improving your customer retention
When a consumer has a positive experience with your brand, it is your responsibility to retarget that customer in order to encourage them to make another purchase. Thus, improving customer retention.
Moreover, it also helps in building your brand loyalty by showcasing new products to your best customers.
Increasing conversions
Ad retargeting campaigns are designed to increase sales for your business. Re-engagement with your ads increases the likelihood of customers purchasing from you. That means that the conversion rate is going to rise.
Enhancing Customer Lifetime Value
Since the retargeting advertisements are shown to the shoppers frequently, they are more likely to demonstrate interest and trust in your company. Thereby, enhancing the customer lifetime value.
What should you do to devise powerful Facebook retargeting campaigns? 
While creating retargeting ads, is a relatively simple procedure, you should be aware of several subtleties and best practices when setting up your Facebook retargeting campaigns.
Take your retargeting to the next level with Facebook Dynamic ads
Facebook dynamic ads automatically target those customers who have demonstrated interest in similar products anywhere on the internet. It automatically finds the correct people for each product and always uses up-to-date pricing and availability.
Layer your custom audiences
Retargeting through Facebook ads provides you with an option to layer your custom audiences. The more relevant your ad seems, the better it is for you. It is highly beneficial to your business since it helps you narrow down your audience and target individuals more precisely.
So, instead of focusing on a broad audience, your ad will reach a more focused group that is more likely to respond to it.
Exclude people once they convert
People don't like to watch an advertisement for a product they've already purchased. It may cause people to get irritated with your firm since you continue to promote that specific product to them.
Make sure your Facebook remarketing campaign is set up to exclude those who have previously converted when you run it. This will ensure that your consumers are satisfied.
Retarget people who abandon carts
People seldom buy a product the first time they see it. Many consumers add items to their shopping carts but don't complete the purchase. Either they become distracted or are indecisive about purchasing. These individuals are on the verge of conversion.
You can create a Facebook retargeting ad campaign with the products they were considering purchasing. Provide them with a compelling cause to buy. You need to instill a feeling of urgency in these leads so that they convert right away.
Test your retargeting ads
You should constantly test your remarketed Facebook advertisements, just like any other ad. It is advisable to use A/B testing to evaluate which version of your ad is the most effective for your intended audience.
You can test a variety of components in your ad like the image, CTA, your headlines, etc. By doing this, you will be able to create the most successful ad for your target demographic. As a result, your company's conversion rate will go up.
How to create an effective Facebook Retargeting Campaign using Facebook and Instagram Shopping?
For retailers like you, the CedCommerce: Facebook and Insta app offers a one-stop destination. It not only allows you to sell without fuss but also helps you manage your inventory and orders. And now, with the soon-to-be-released Ads Feature, the CedCommerce: Facebook & Insta app will enable you to run your ads on Facebook as well. You will also be able to keep the track of performances of your ad campaigns using the Analytics section under ads.
Using CedCommerce: Facebook and Insta to create retargeting ads campaigns on Facebook is a breeze. To create a Facebook Retargeting Ads campaign, follow the steps below:
Navigate to the dashboard of the app and click on "Facebook Ads."
Proceed to Create Campaign and pick "Retargeting Campaign" as your desired option, and then press "Create Campaign."
On getting to the Campaign level, you need to provide basic information such as the Campaign Name, Campaign Budget Type (daily or lifetime), and Campaign Budget Amount.
After this, you will reach Ad set level. Here, you will have to name your ad set, choose your catalog & catalog set. Then pick the event type as shown. You can also create a tailored combination to combine many conditions by your preferences and then choose the start and end dates.
Note: The end date would be mandatory if you have selected a lifetime budget at the campaign level.

You have to enter the ad's name and pick the catalog and catalog set at the ad level. Enter your ad's primary text, title, description, website URL, and CTA from the menu.
Now, activate the dynamic ads option. This will adjust the order of your Facebook advertising automatically to reflect the content and promotions relevant to each person.
After completing all necessary steps, you can preview your ads in a variety of formats to see how they will appear after they go live.
To activate your Campaign, switch ON the Toggle button on the status bar.
Setup your Facebook Retargeting Ads Campaign Now!!
Facebook retargeting ads are one of the quickest methods to increase sales and conversion rates. A smart retargeting plan on Facebook can significantly boost the return on your paid advertising investment.
Eventually, the goal is to maintain your brand in the minds of shoppers who are still considering buying from you. At Cedcommerce, we have years of experience running social media campaigns that drive results. Our eCommerce and social media professionals are available for free consultations whenever you need them. We're here to guide you at every stage of creating your retargeting campaign a success.