This Holiday Season, make record-setting sales with Facebook Commerce
Running short of time? Get PDF of the blog in your mail.

Play Now
Can you believe it? We are already in the final quarter of the year and the holiday season is approaching with the speed of light. While the gala time for shoppers is about to begin, businesses selling across Facebook Commerce platforms should leave no stones unturned to reap the benefits of the holiday season 2022 and make it a memorable one by breaking all the sales records.
This handbook will arm you with the comprehensive knowledge you need to make your Facebook and Instagram Shops Holiday ready.
Table of Content
Read on to learn how to grow your business tenfold this festive season.
Holiday discoveries happen on Meta
During the holiday season or Mega Sales Days, shoppers expect experiences that are tailored to them as individuals. Meta, by employing its Discovery Commerce System and creative tools shows what buyers want to purchase. Consequently, it was found that 1 in 3-holiday shoppers bought a product they discovered via a personalized ad on Meta Commerce Platforms.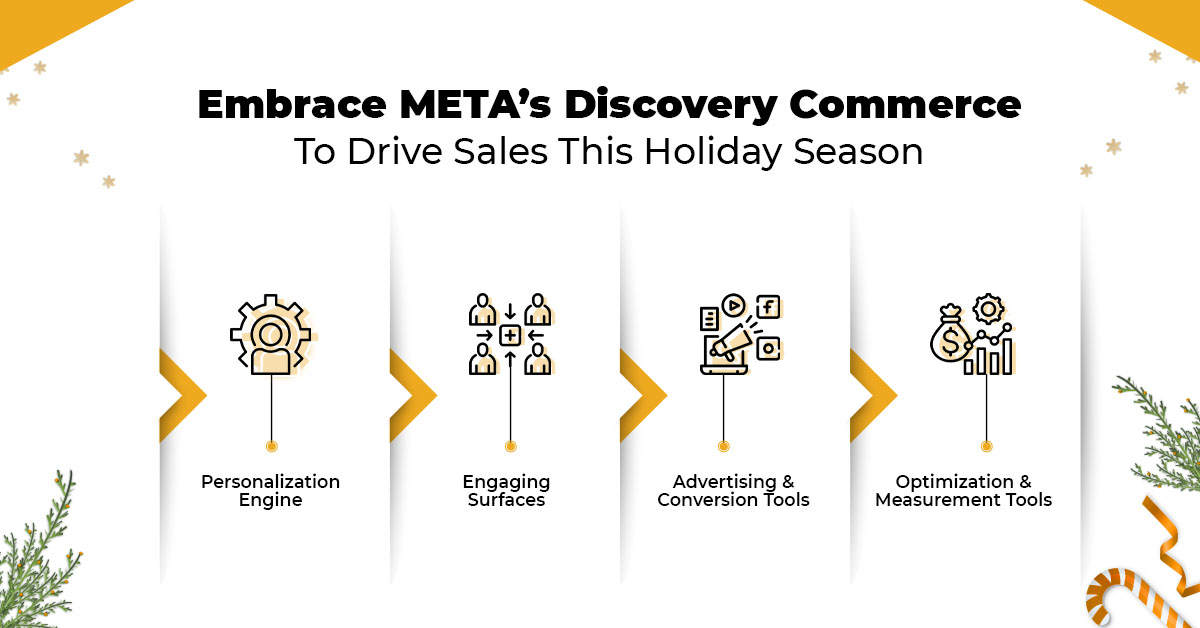 Tailored results with Personalization Engine:
By employing its personalization engine, Meta helps you to reach the right set of shoppers and discover new ones. You will have a better understanding of people's interests, preferences and behaviors. This will assist you in showing people products and ads they care about and will help you have a hold on potential customers.
Entice with creativity on Engaging surfaces:
Meta platforms such as Facebook, Instagram, and WhatsApp have become engaging surfaces. Around 3.65 Billion people are using at least one of these platforms. Massive! Isn't it?
The best possible way to attract shoppers is through creating innovative ads, reels, stories, etc on the Meta engaging surfaces.
Convert with Facebook Advertising:
Facebook Advertisements play a crucial role in converting prospects into shoppers. They help people move from discovering products to purchasing them. Furthermore, by leveraging Facebook Business Partners you get to enjoy expertise in setting up your Ad campaigns based on the Interest, Demographics, and Behavioral aspects of your audience at NO EXTRA COST.
Evolve your holiday strategy with Optimization & Measurement Tools:
An understanding of what factors influence results is essential for an effective holiday strategy. Tools like Facebook Ads Analytics lets you know about the performance of your Facebook ad campaigns. The actionable insights produced by optimization & measurement tools help you in making smarter business decisions.

With that said, let us get insights into what is trending on Facebook & Instagram during the holiday season.
Holiday Trends on Facebook & Instagram
The next few months open a window of opportunities to reach widespread shoppers as shopping peaks during Mega Sales Days. According to a survey, 81% of year-end shoppers purchased a product during MSDs in 2021. Moreover, Meta technologies are the primary source of discovery for end-of-year shopping since more than half of shoppers find Mega Sales Days offers through them.
Every Mega Sales Day has its own set of consumer behaviors and motivations. The likelihood is that consumers will spend money on themselves on 10/10, but by Singles day which occurs on 11/11, they will likely be preparing for the Holiday season. Black Friday and Cyber Monday sales tend to be skewed toward IT and home-related products. The majority of sales on Doubles Day (12/12) are driven by the upbeat attitude towards Christmas preparation and gifts. Since the reactions and behavior of shoppers vary, you must plan accordingly.
Here are the trending products that shoppers like to shop for during the Holiday Season:
Curious to know when the Mega Sales Days are happening?
From spooky Halloweens to spectacular New Year's eve, the Holiday season 2022 is all set to give you big selling occasions. Take note of key dates as you prepare your seasonal offerings, and keep in mind that buying usually starts with décor before moving on to gifts. It is essential that you stock up on your products in advance to benefit from the increased traffic leading up to these events.
Make 2022 your business's best holiday season ever
1. Early establishments to avoid last-minute hustle and bustle
It may have just turned fall, but now is the perfect time to refurbish your Facebook & Instagram Shops for the forthcoming holiday season. Moreover, adding some holiday flair to your stores is one of the best ways to build your brand story.
Let's begin with
Embracing an Omnichannel experience with Meta Commerce Platforms tools:
One of the most notable trends impacting holiday sales is Omnichannel retailing. By leveraging all the Meta Commerce platforms such as Facebook Shops, Shops on Instagram, and WhatsApp Shops, you can implement this integrated sales technique and give holiday shoppers a seamless and straightforward shopping experience.
Building strong foundations with an enhanced catalog:
A high-quality catalog not only helps buyers discover your products in search results but also increases conversion by giving them the details they need to make a purchase. Make sure your product catalog is up-to-date and represented well with eye-catchy visuals.
Getting your shops' window holiday-ready with collections:
By using collections creatively, you may enhance your brand while giving your store a festive feel. Utilize eye-catching images and design components to create your own brand identity, personalize your collections with the products you want to showcase and encourage holiday shopping.
Compliance with ads and commerce policies builds trust:
Before the festivities begin, it is advisable for you to go through the Meta advertising and commerce policies. A business lost $5M due to a single non-compliance event. Reviewing the feedback scores can help you understand how well are you meeting customer expectations.
Figure out the maximum number of ad sets your budget can sustain:
A well-thought holiday season sales strategy is all about allocating the right amount of budget to each of the holiday Facebook campaigns. We urge you to consult with our digital marketing pandits to prepare your holiday promotion master plan.
2. Reach Customers early to stay on top of their minds
Get in front of holiday shoppers on Facebook well before your sales peak so that they remember you when they want to make a purchase.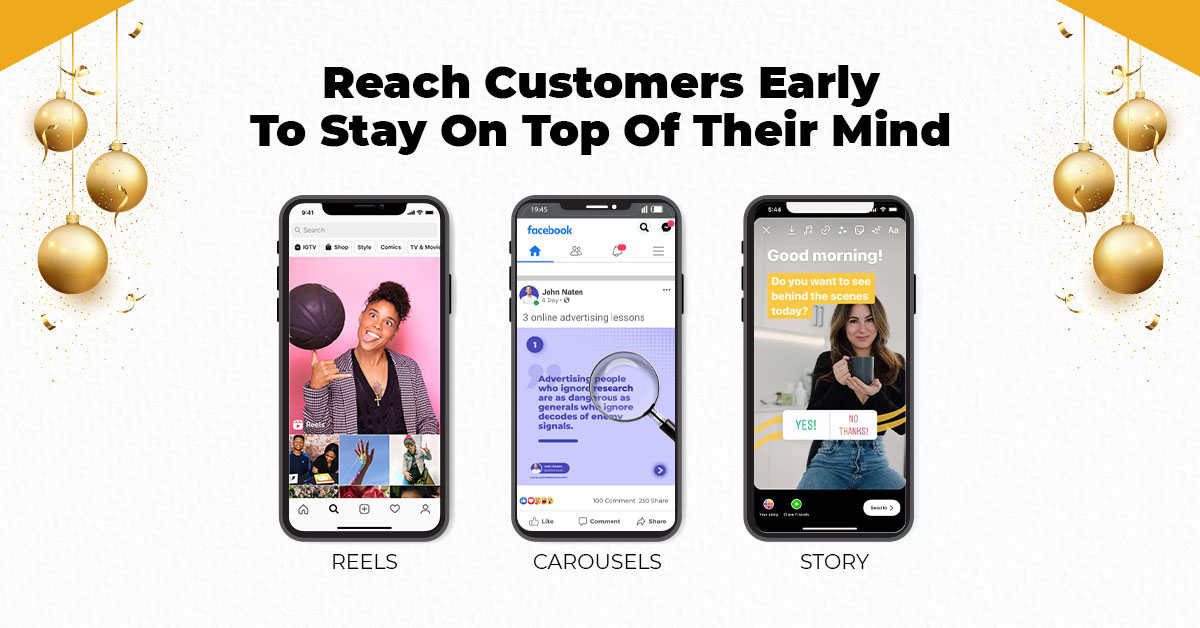 Hop onto the following ways to stay on top of buyers' thoughts:
Diverse video formats introduce your brand in a fun and engaging way:
Around 40% of holiday shoppers surveyed found Facebook videos helpful to find gift inspiration. Since most of the users watch videos on Facebook & Instagram, combining video creatives on In-Stream to tell your brand's story is one of the many ways you could easily pique shoppers' interests.
In addition to this, you automatically become eligible to monetize your reels on Facebook with overlay ads once onboarded to in-stream ads.
Creative variety can uncover new audiences on Facebook & Instagram during the holiday season:
Shoppers are tired of seeing the same kind of ads over time. Therefore, you should use a wide range of innovative approaches to appeal to a variety of consumers and their reasons for shopping over the holidays.
Using mixed formats such as reels, stories and carousels can help you entice shoppers.
Furthermore, messaging is also one of the factors influencing purchase decisions. So, you can craft customized messages for different audiences and persuade them to buy your products.
Drive product discovery with the shoppable content
Shoppable Content acts as a catalyst for improving your product discovery.
Well! All thanks to Product Tags. Product Tags make your content shoppable. They give holiday shoppers an opportunity to make a purchase directly from the posts and stories on Facebook and Instagram.
To boost your holiday season sales across Facebook Commerce platforms, use Product Tags frequently across different formats such as in feeds, videos, and stories. This will eventually enhance your product discovery. You can also use them to reveal essential information about the product – such as price and a short description – with just a tap.
3. Maximize purchases to make the most of the Festive Season
During the key sales moments, build momentum to maximize your revenue.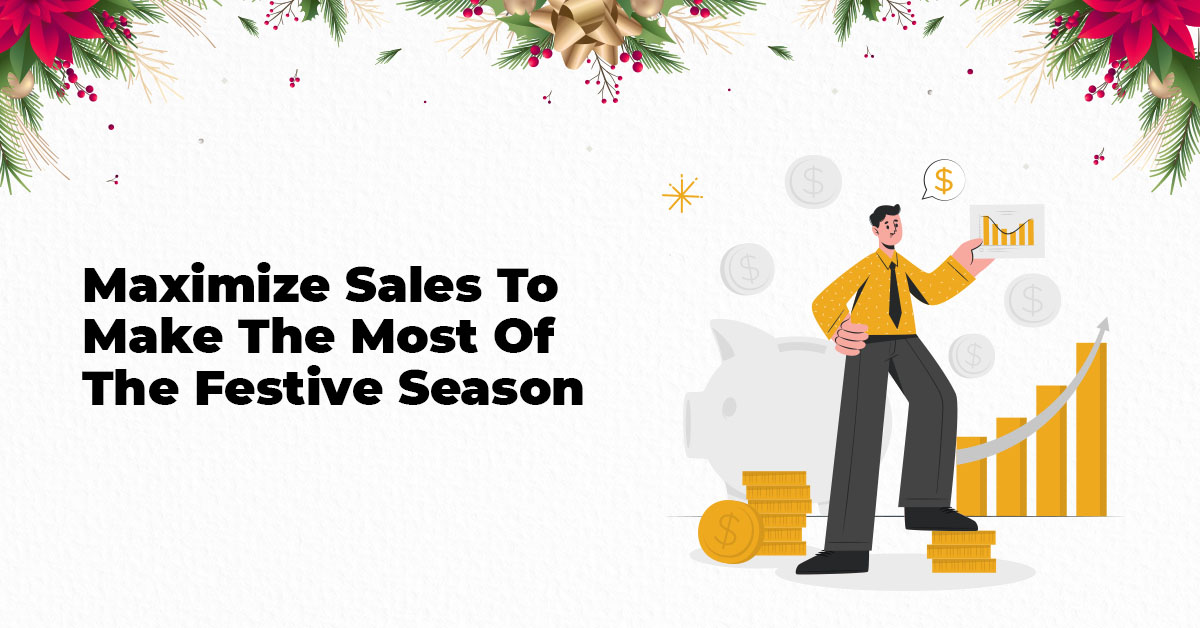 The below-given strategies are tried and tested. So, without giving a second thought you may employ these:
Improve holiday season sales by embracing Facebook Business Partners:
The temptation to live up to customers' lofty expectations and gratify their ever-growing wants only increases as the holiday fever spreads.
However, with the assistance of Facebook Business Partners, you can sell across Facebook Commerce Platforms with no hitch. They handle everything, right from listing products to managing inventory and orders. Along with this, you get 24×7 FREE SUPPORT from the team.

Reach the people most likely to buy with personalized ads:
Buyers are expecting shopping experiences tailored to their unique needs and interests. Now the question is, how can you meet this expectation?
The answer is " Launch Facebook Dynamic Ad Campaigns."
With Facebook Dynamic Ads, you can display products to the shoppers that are relevant to them, making the pitch feel more personal.
Retarget Your Shoppers Who Have Browsed Your Facebook Shop:
There are times when holiday shoppers browse your Facebook or Instagram Shops but leave without making a purchase. Now, in such circumstances, it is essential to draw them back to your store. And What could be more effective than launching Retargeting Ads campaigns to bring them back? You can run personalized retargeting campaigns to target and convince them to head back and shop. So, use retargeting ad campaigns to improve your holiday season sales on Facebook & Instagram.
Get set for a prosperous holiday season in 2022!
We hope that this guide will assist you in prepping for the holiday season in 2022. However, it is advisable to take holiday readiness with a step-by-step approach, and before you know it, you'll be ready to greet your cheery customers. Having said that, it's time to pull up your sleeves and get ready to witness skyrocketing sales across Facebook Commerce this holiday season.
Moreover, If you're looking for assistance, our eCommerce mavericks are just a call away. Schedule a meeting and get your Holiday Season sorted!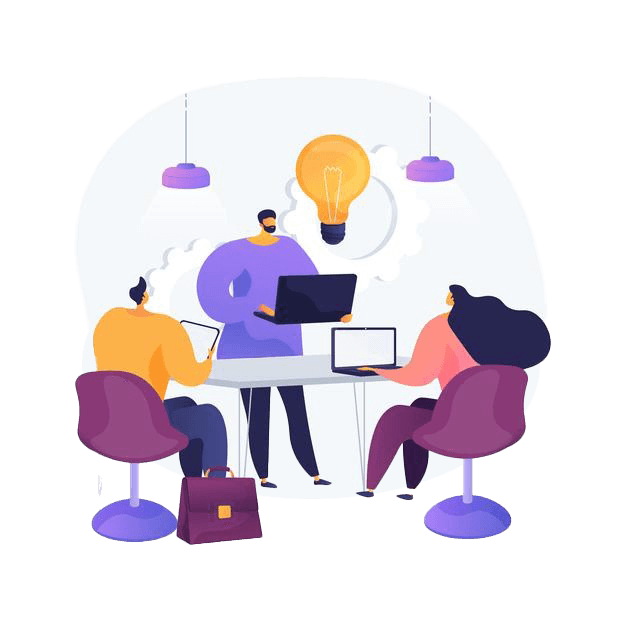 Conquer this Festive Season with CedCommerce!
Schedule a meeting to get your Holiday 2022 sorted.