An Ultimate Guide to Monitoring your Facebook Ads Campaigns
Running short of time? Get PDF of the blog in your mail.

Play Now
There isn't a better way to raise your business profile, expand your customer base, and improve sales than using Facebook ads. So, you decided to launch a campaign to increase awareness of your brand. You began by selecting the campaign objective, budgeting funds, and establishing your Ad Campaigns on Facebook.
But how will you monitor the efficacy of your ads?
To assist you in measuring your campaigns' effectiveness, we have come up with this blog. Embark on this journey to learn in-depth about the metrics you should keep an eye on and the tools that will assist you to analyze the performance of your Facebook Ad Campaigns.
Table of Content
Why is it necessary to analyze the performance of your Facebook Ad Campaigns?
Effective marketing requires knowledge of what drives outcomes.
Therefore, knowing the aspects that will make or break your advertising initiatives is essential. By tracking and analyzing the performance of your Facebook ad campaigns, you will be able to –
Analyze and Get ready for what the future holds – By analyzing your active Ad Campaigns, you can get insights into what is actually working and what doesn't need much of your time. 
Know how much your marketing is worth as a whole – With tight budget limits, it is essential to know the overall amount you spent on your ad marketing campaigns.
Get insights you can use to strategize your marketing – The insights you get by tracking your Facebook ads help you strategize your future campaigns.
Tools that help you Measure The Performance of your Facebook Ads and Level Up your Business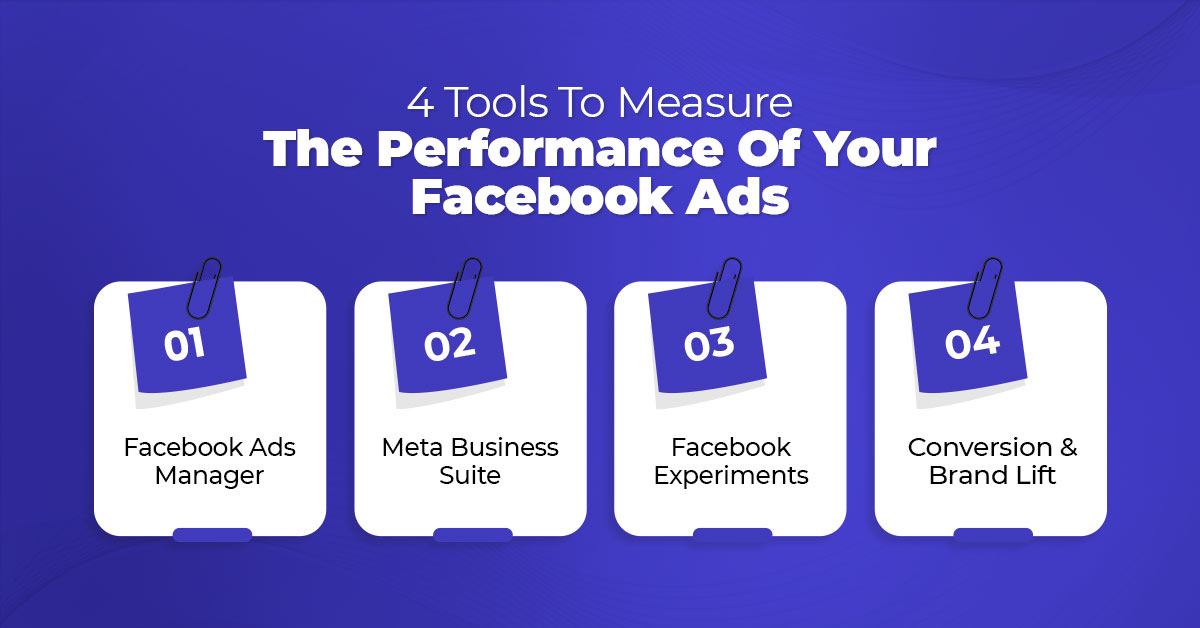 Facebook Ads Manager – Facebook Ads Manager lets you track your Ads performance through customizable reports.
Meta Business Suite –  Meta (Facebook) Business Suite provides you with insights that help you understand the outcomes of your paid traffic.
Facebook Experiments – An experiment is a unique tool by Facebook that allows you to compare your campaigns and see which one is performing better through A/B Test, Holdout Test, Brand Survey Test, and Campaign Budget Optimization Test. 
Conversion and Brand Lift –With Conversion and Brand Lift, you can compare the groups of people who saw your Facebook ads and those who didn't. It helps you figure out how it affects your business goals, such as brand recognition or conversion.
Facebook Ads Manager
Facebook Ads Manager lets you see insights into the performance of each ad you run on Facebook. When you open the insights side pane by clicking View charts, you will get a graphical depiction of your  Facebook ads' performance. You can also see the chosen campaign, ad set, or ad information; including its Performance, Demographics, Placement, and Delivery (for reach and frequency ad sets only).
The insights include the data like:
The number of individuals who viewed your ad.
The amount you spend on your ad.
The number of people who click on your ad.
The Ads Manager account overview page displays notifications, suggestions, and actions you can take to enhance or unblock your campaigns. It compiles crucial data and instructions for assessing and improving the performance of your campaigns. The dashboard displays:
1. Alerts: 
Issues that need to be fixed immediately in your account, like rejected ads or expired payment methods.
2. Recommendations:
This is a list of things you can do to improve your campaigns, like following delivery recommendations.
3. Campaign Trends:
These are top-level campaign insights that highlight trends in your campaigns' key performance indicators (KPIs), such as the number of ThruPlays for video watch campaigns or Page likes for interaction ads.
4. Access to a Facebook Marketing Expert:
This is where you can learn more about Facebook strategies and talk to a dedicated Facebook Marketing Expert (limited to certain audiences).
5. Ad Limits:
As you get close to your Facebook page's ad limit, a progress bar will show you how many ads are currently running. You can click "See ways to reduce your ad volume" to learn how to avoid exceeding the ad limit.
6. Tasks:
If there are any pending setup tasks for your ad account that could help your ads do better, Facebook will let you know and tell you how to finish the task here.
Meta Business Suite
With Insights in Meta Business Suite (formerly called Facebook Business Suite), you can see how well your paid efforts on Facebook and Instagram are performing in one place.
For example, if your business has a Facebook Page, an Instagram business profile, and an ad account, you can look at insights for all of these things at once in the Insights section of Meta (Facebook) Business Suite. Once you get the insights of your Facebook Ads, you can use them to figure out which strategies work and how to spend your money and time on Facebook platforms in the best way.
Insights let you look at metrics, trends, and visual reports that show which strategies are effective and where you can make improvements.
You will receive the following insights about your account, platform, and post level:
Your ad account's spending on cross-platform.
Boosted post content engagement, including likes and comments.
Demographic and geographic summaries of people who like your Page and follow your Instagram business profile.
Facebook Experiments
Using Facebook's scientifically rigorous experimentation technology, Experiments lets you set up tests quickly and look at the results. You can select from a number of templates that help you measure your advertising accurately and get step-by-step advice on how to improve it.
Some of the tests present in the Experiments are A/S Test, Holdout Test, Campaign budget optimization test, and Brand survey test. Depending on the test you want to create, you can:
See which advertising campaign works the best by comparing one or more of them.
Measure the impact of your running Facebook Ads on brand recognition.
Use a holdout to compare the incremental performance of several ad campaigns or measure the incremental lift of your advertising.
Evaluate the effect of new advertising strategies compared to current ones.
The Experiments tool is free to use and keeps all of your test findings, including those generated in Ads Manager, in one location.
Conversion and Brand Lift
Running a lift test is a very effective technique to comprehend the incremental impact of your Facebook advertising. This is a kind of experiment where Meta compares groups of individuals who had the chance to see your Facebook ads with those who did not; in order to determine its causal influence on certain business goals, such as brand awareness or conversion.
Your holdout group consists of persons who fall inside your target market but are purposefully excluded from viewing your advertisements (also referred to as the control group).
Lift is effective because it can show you how your Facebook ads perform on their own; apart from your other marketing efforts. A test will include a lift percentage that is specific to your chosen business goals, a confidence percentage (or power calculation) that shows the causality of your test, and other information about the results of your test.
Randomization into test and holdout groups is a part of the methods Meta uses; they are meant to make it easier to figure out which sales were directly caused by your Facebook ads.
Important Facebook Ads Metrics you must keep an eye on
Although you must check all the measuring metrics, some important ones essentially need to be checked to measure the effectiveness of your Facebook Ad campaigns.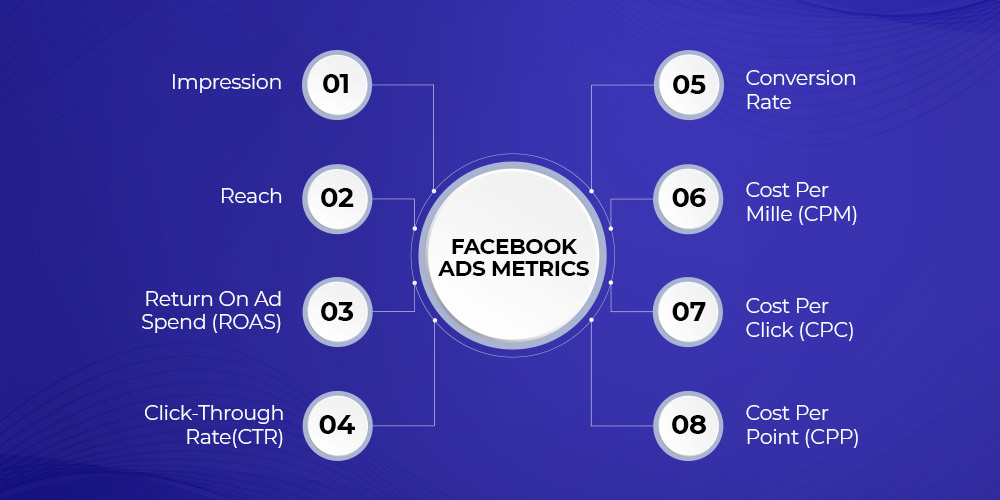 1. Impression 
The Facebook ad impression metric "shows the number of times your advertisements were shown to your audience. The more impressions your advertisement gets, the greater your brand recognition.
2. Reach 
 The number of individuals who have seen your ads at least once. You may get confused between Impressions and Reach. Reach refers to the overall number of people who saw your ad, whereas impressions refer to the total number of times your ad was seen.
3. Return on Ad Spend (ROAS)  
ROAS (Return on Ad Spend) is the income generated for every dollar spent on advertising. ROAS is one of the most informative indicators for determining the performance of a Facebook Ads campaign. You can measure ROAS directly inside Facebook Ads if you're running an eCommerce campaign and tracking sales with the Facebook Pixel. For other campaigns, you will need to compute this depending on the conversion value of each obtained result.
You can calculate ROAS using the formula ⇒ ROAS = Revenue / Ad Spending
4. Click-Through Rate (CTR) 
Click-Through-Rate is the ratio between the number of clicks and impressions. This measure represents the ratio of clicks to impressions for individual advertising. In other words, the ratio between the number of times a person clicked on your ad and the number of times it was shown on Facebook.
5. Conversion Rate 
The conversion rate is the number of people who click on an ad and purchase products from your company.
6. Cost Per Mille ( CPM)  
The cost to generate 1000 impressions is known as the CPM; (Cost per Mille, where Mille is a Latin word that means a thousand). CPM is a standard measurement used in online advertising. It evaluates how successful a marketing effort is in terms of cost. It's an excellent indicator to use when comparing prices.
CPM is also useful for figuring out how the cost for your preferred placement fluctuates.
Facebook Ads operates on an auction mechanism. So, it is beneficial to understand how prices change for the location you have selected. Is your CPA rising because your target market is being cut-throat? Or is it a result of your declining conversion rate?
7. Cost Per Click (CPC)  
The cost per click, or CPC, refers to how much you spend for each click on your ad. It is one of the most often monitored metrics. You can compute CPC by finding the ratio between cost per click and the overall frequency of clicks.
8. Cost Per Point (CPP) 
CPP is an acronym for Cost Per Point. It is the key element in determining if the media acquisition was successful. CPP is proportional to the cost of purchasing one rating point or one percent of the overall traffic in a specific market or place.
Finding the ratio between the total amount spent on a given television station and the total value of GRPs yields the CPP ratio ( Gross rating points ).
Ads Analytics of Facebook & Instagram Shopping App – A Perfect Alternative
While measuring your Facebook Ads' performance might seem like a tedious task, you can easily leverage Facebook & Instagram Shopping App's Ads Analytics Section to track your ads on Facebook. The Analytics Section lets you analyze your Facebook ads by providing you with Graphs and Bar Charts.
The app lets you sell and promote your products across Meta Commerce Platforms from one location. All you need to do is to integrate your Shopify store with Facebook & Instagram Shopping app in just 4 easy steps. And that's it!
You can launch your new campaigns with the newly introduced Ads Feature and track their performance from the Ads Analytics section. Moreover, our social media wizards are available round the clock to assist you. They will also help you in strategizing your ad campaigns.

Wrapping it up!
Now that you have learned about the tools and metrics for measuring your ads, it's time to analyze the performance of your running Facebook ad campaigns.
If you are a Shopify merchant keen to sell and promote your products across META Commerce Platforms, you can integrate your store with the Facebook & Instagram Shopping app. You can track your Facebook ads' performance through the Ads Analytics Section of the app. Hence, providing you a single gateway to sell and promote your products and measure your ads performance on Facebook.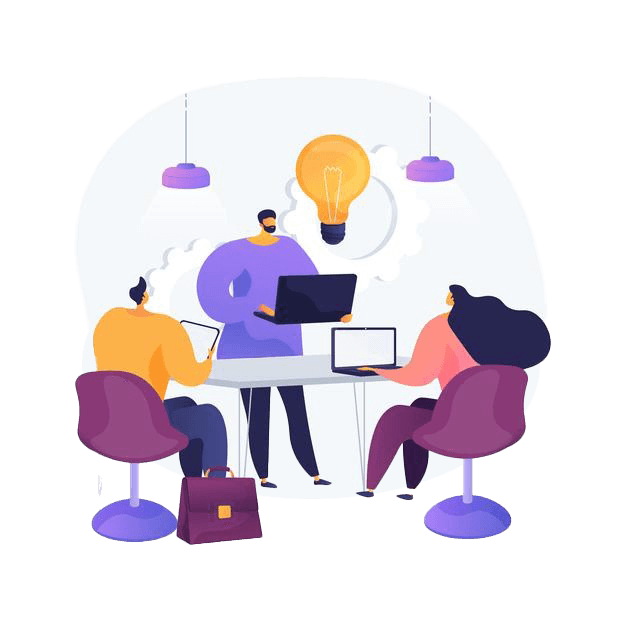 24*7 Free Support
Schedule a meeting with our Facebook Marketing Experts!