Make your Festivities Extraordinary with Facebook Commerce Platforms – Your Ideal Holiday Selling Guide
Running short of time? Get PDF of the blog in your mail.

Play Now
 The grand festive season is in full swing. Holidays, family get-togethers, and a great deal of happiness accompany the season. The widespread celebratory spirit gives people enough reason to indulge in delicious foods and thrilling shopping sprees. Apparently, shoppers are willing to spend significantly more during festivities than on regular days. This season offers numerous opportunities for businesses selling on the Facebook family of apps; particularly small vendors, to increase sales, acquire new clients, and prosper even more. You can boom your business by leveraging these Facebook Commerce platforms.
The festive season brings a significant increase in consumer demand for a variety of goods, and small businesses like you, require guidance and assistance in order to maximize their sales and effectively handle the festive demand. On that note, here's an ideal Holiday Manual helping you with the know-how and ways to expand your business on Facebook Commerce platforms.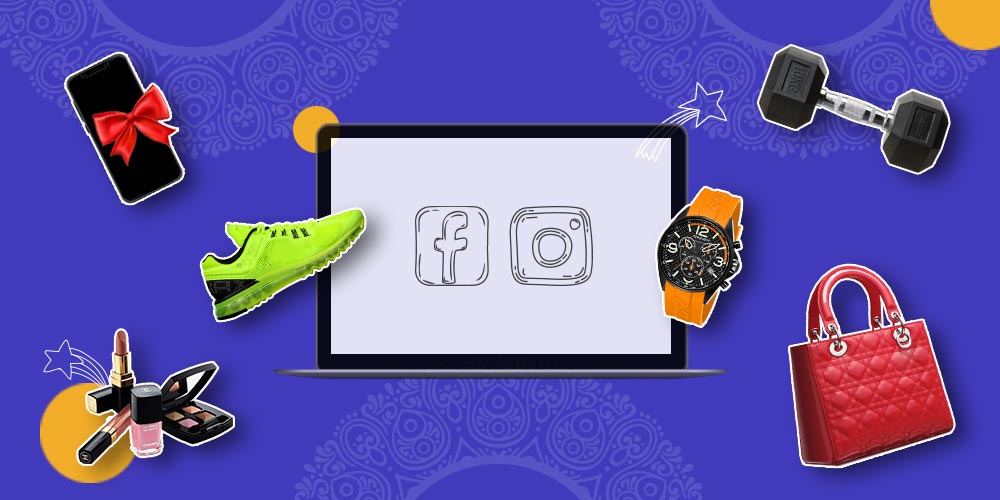 Facebook Family of Apps – The Perfect Business Destination for Festivities
Facebook's mission has always been to bring you closer to the things you care about. This includes not only like-minded people, friends, or family but also products and brands. To help businesses of all sizes scale their ventures during the festive season, Facebook has already launched its commerce platforms (Facebook family of apps) which help brands surface products and target connections already made. The Facebook family of apps include:
Facebook Shops and Shops on Instagram: – The Facebook Shops and Shops on Instagram enable businesses to build their standalone shops on each app. Through these, brands can share their story and drive product discovery – all in a native shopping experience.
Instagram Shopping:- Instagram Shopping is a set of features that make it simple for shoppers to shop your brand's pictures and videos all across Instagram.
Facebook Marketplace:- Facebook Marketplace allows businesses to profit from existing Facebook interactions. Shoppers can find what they are looking for by filtering their results by location, category, and price.
Facebook Page and Page Shops:- Facebook Pages and Page shops let you expand your business on and off Facebook. They help you in building loyalty with new and existing customers.
In-app Checkout:- In-app checkout allows customers to buy the products they discover on Facebook and Instagram right from within the app.
Boost Your Sales with Facebook Commerce Tools
Not just platforms or surfaces to showcase products, Facebook in its commerce wing also enables various tools and exclusive features, helping brands build more loyal connections resulting in creating seamless purchasing destinations. Some of those features are:
Comments, Messenger, and Instagram Direct:- Comments, Messenger and Instagram Direct play a critical role in letting businesses connect with customers in a tangible way. When a brand responds promptly and engages with customers in a personalized manner, it generates confidence and loyalty. This converts individuals into customers and eventually customers into long-term advocates.
Instagram Drops, Lives, and Stories:- Instagram recently introduced some new features like Instagram Drops, Lives, and Stories. The Drops feature in the Shop tab will allow shoppers to discover, browse and shop all the latest product launches. It also lets you view the upcoming products. With Lives and Stories, businesses can directly engage with customers and persuade them to buy their products.
Shopping in Reels:-  Shopping in Reels is also one of the new features of Instagram that allows customers to explore and purchase things. Reels with product tags appear in the Reel tab, where millions of Instagram users could discover your products.
Livestream Shopping:- You can employ Livestream Shopping to demonstrate how to use a product, give a product review or recommendation, and/or respond to customer questions.
A survey conducted by Facebook revealed that 92% of holiday shoppers discover businesses on Facebook Commerce. Almost 62% of North American shoppers have agreed that they enjoyed discovering products they weren't actively looking for. With overwhelming choices available, Facebook Commerce is becoming increasingly useful in providing consumers with motivating and individualized purchasing triggers.
Festivals to Dwell upon
As the holiday shopping season draws near, retailers are seeking to cash in on the holiday cheer after a tumultuous year. Mega Sales Days and Global Festivals are the key calendar moments that retailers should always plan ahead for and prioritize their efforts.
It is also essential to execute effective promotional strategies to make sure you get your message across in time; as there is a lot of cash up for grabs.
Mega Sales Days
The year-end season will be full of shopping moments that businesses and shoppers are looking forward to. Mega Sale Days like Black Friday, Cyber Monday, Singles Day, and Doubles Day are happening from November to December around the world, prompting shoppers' expectations to transcend beyond the typical holiday season.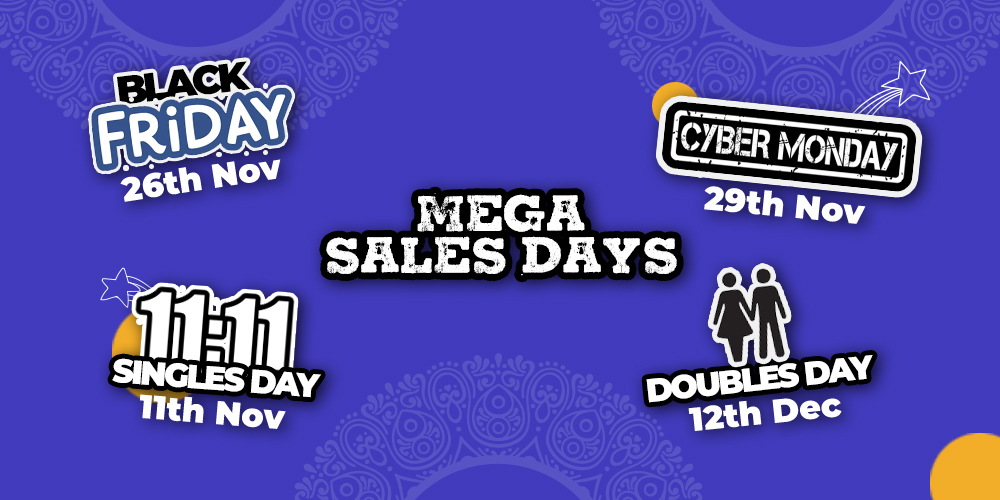 Mega Sales Days are the shopping events that many price-conscious buyers wait for. Almost 1 in 2 festive shoppers make purchases during an MSD event. Hence, you must not miss out on the golden opportunity of selling on Facebook Platforms during Mega sales events.
As the shift to ecommerce intensifies, retailers and brands must be innovative in their approaches. To bring the physical shop environment to the digital realm, Facebook has introduced numerous features:
IGTV, Live, and Stories can help you bring the excitement of Mega Sales Days to life. With Facebook and Instagram Live, businesses can interact with shoppers and gain insights through Shares, Comments, and other features.
Polls in stories is another important feature rolled out by Facebook to drive customer engagement.
You can also save the Live events and later transform them into Short Videos to retarget shoppers.
With Instagram Drops, businesses can create buzz for festival-themed products and attract shoppers.
Global Festivals
When it comes to year-end shopping, customers are open to exploring products across borders; and how businesses engage with consumers from different markets is also vitally significant.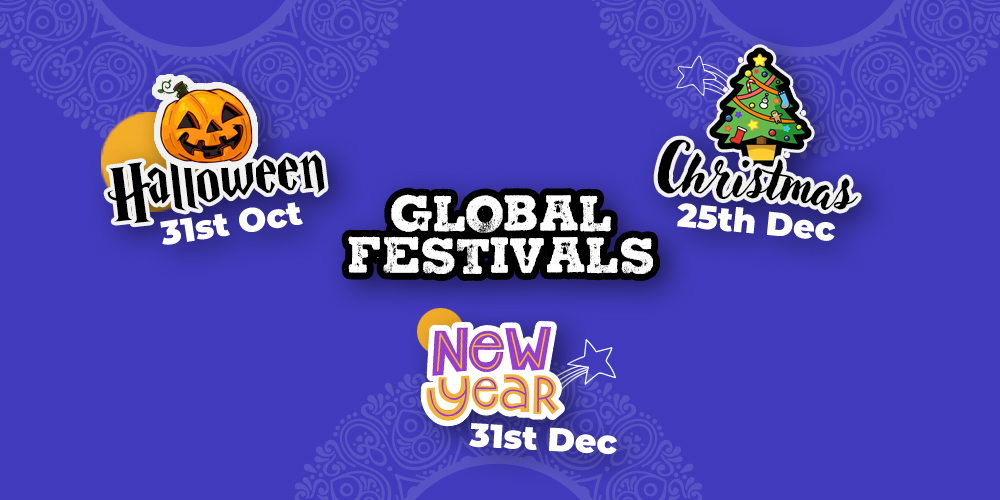 Global holidays such as Christmas, Halloween, and others provide opportunities for vendors to trade across boundaries. By leveraging Facebook's cross-border business tools, businesses of all sizes can become multinationals. These include:
Facebook releases festival-themed stickers that businesses can use creatively to entice customers.
Businesses that have enabled Instagram Shopping can tag their products while creating reels on Instagram. The reels with product tags allow businesses to foster product discovery.
To scale up during the festive season it is necessary to make sure that your store is holiday-ready. Facebook lets you customize your shops in accordance with the festivities.
You can feature your holiday special products by creating Collections as well as change the look and feel of your shops.
How can Business Partners help businesses sell seamlessly on Facebook and Instagram during the festive season?
With excitement and joy of festivities comes pressure to meet the expectations and fulfil the rising demands of buyers. CedCommerce, being vetted as an official Business Partner of Facebook can help you sell with ease throughout the festive season. With Facebook and Instagram Shopping app and Social Commerce by CedCommerce, you can make your storefront holiday-ready in a few clicks. By integrating your normal eCommerce store with Facebook Commerce platforms, you can manage your inventory and orders from one centralized location; thereby eliminating the need to go back and forth to acknowledge or cancel from all the places. You will be updated with real-time notifications for errors, stock-out, & orders right away in the apps. Along with this, the applications also allow you to upload products in bulk in just one click. Thus, incorporating the official business partners in your growth journey makes success – a piece of cake for you.
Conclusion
Your competitive edge will come from getting your products in front of more customers and providing them with an excellent purchasing experience. Holiday shoppers are expected to purchase more online in 2021 than they did in past years. The combination of connecting with shoppers in a more personalized way and expanding your reach by embracing Facebook Commerce can give a potent combination. This will ultimately boost your sales. So, What are you waiting for? Connect with us now to make the most of the busiest shopping period of the calendar. Prepare yourself for a fantastic selling experience during the holiday season on Facebook Commerce.