How Shops on Instagram is Bringing New Ways to Cater More Shoppers
Running short of time? Get PDF of the blog in your mail.

Play Now
Commerce on Instagram is flourishing. It provides a huge opportunity for brands looking to sell products on Instagram. With Shops on Instagram, you can curate a list of products that are directly shoppable through your Instagram profile.
Besides, Instagram holds more than 1 billion million daily Instagram users, and 90% of the audience follows at least one business. In addition, the launch of Shopping and Shops on Instagram is paving the path into eCommerce for all merchants out there. But what exactly are Shops on Instagram, how will it help you grow your business, and how can you set it up? Read to find out.
What are Shops on Instagram?
Shops on Instagram are an immersive full-screen storefront on your profile, making it seamless and it is easy for people to discover and buy your products. Businesses like you to build your brand story and drive product discovery; all in a native shopping experience. People can visit a shop from your Instagram business profile, feed, or through Stories.
You can integrate your Facebook product catalog with your Instagram profile and sell effortlessly across the platform as a business. In turn, this allows you to promote your products directly to your targeted audience through posts, Stories in the Explore tab, and a special Shop tab on your profile. Besides, you can also tag products in your posts and gain more product visibility.
What are the benefits of using Shops on Instagram?
Launched in 2019, Shops on Instagram features are now widely popular in the US; and now popular in other countries. It is this feature of Shops that helps in turning the inspiration into a point of sales; and shortens the buyer journey making it quick, easy, and simple to purchase items. The audience usually maintains an interest in purchasing through the product visuals they see on Instagram. Some of the listed benefits of Shops on Instagram are: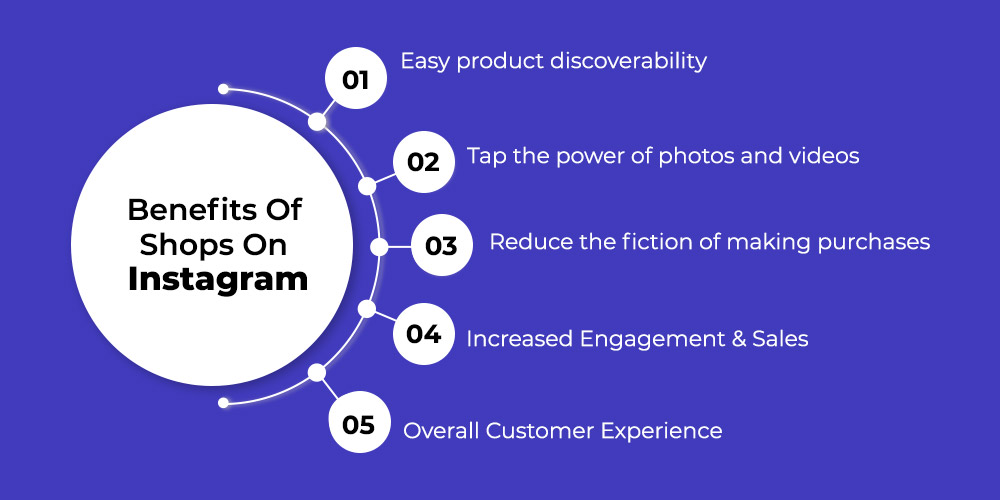 Easy product discoverability
With Shops, product discoverability becomes extremely easy. The potential customers can click on the shoppable tags to explore the product details in real-time and make a purchase decision.
Tap the power of photos and videos
Use real-time images and videos of your products to create an interactive, visual shopping experience that deepens connections and shows off your products to the world.
Reduce the fiction of making purchases
Shops on Instagram come with a checkout option. So if you are an entrepreneur having a business in the US; you can ease the purchase process for your customers by offering them instant purchases through checkout.
Increased Engagement & Sales
The primary objective of Shops is to increase user engagement and sales. Having a Shop can help users to make their purchase decision into action instantly.
Overall Customer Experience
Shops aim at providing an optimum consumer experience with its renewed features. Shoppers can now explore their favorite brands, and view products of their choice without any hassle. Also, Shops on Instagram helps in building a brand image & loyalty in the minds of customers.
How to set up Shops on Instagram?
To set up your Shops on Instagram, you need to fulfill the following criteria:
Confirm eligibility: If you happen to have your business in the supported market, sell eligible products and agree to merchant terms and conditions. You are eligible to set up your Shops on Instagram.
Create your Business account: To be applicable for Shops on Instagram, you need to create a new Business account. OR convert your personal account to a Professional account.
Connect your Instagram account with the Facebook page: The next step is to connect your Facebook page with the Instagram account to have a smooth selling process across the platform.
Upload your Facebook product catalogue: After connecting your Instagram account to your Facebook page, you need to sync your product catalogue to it. This will also allow you to promote your products directly across Facebook Commerce.
Set Up the Instagram Sales Channel: Next, you need to select Instagram as your preferred sales channel. You can either proceed manually through the Commerce Manager or through the Facebook Business Partners.
Fill in the details in Commerce Manager: In the Commerce Manager, you can select the checkout method, your sales channels and then add products to your shop by connecting your product catalog.
Wait for Your Account to Be Approved: Once all the details are filled in, you can submit your account for review.
Once approved, you can enlist your products in your Shops. Also, enabling Shopping on Instagram allows you to highlight your products in the photos and videos across feed and stories.
Connect with Facebook Business Partners
As an entrepreneur, to make your selling process smooth across Instagram surfaces, you can connect with Facebook Business Partners. The partner's integration app like Social Commerce and Facebook & Instagram Shopping provides you with exciting features and benefits. By onboarding through the partners, you can manage your inventories, get your orders synchronized between your eCommerce store and Facebook surfaces, enhance your product catalogue, upload your products in bulk, and much more. Also, you can leverage the benefits of checkout on Instagram and enable instant checkout for your customers and make the selling process seamless.
How to Promote Your Products on Shops on Instagram
It's high time to rethink how to promote your products across Instagram. Wondering why?
Because, with the platform's rapid evolution and growth, the opportunities for eCommerce retailers have increased. Having said that, 130 million Instagram accounts tap on a shopping post to learn more about products every month. Thus, making it one of the most popular platforms for retailers and customers engagement. With this said, here are the ways you can promote your products on Shops on Instagram.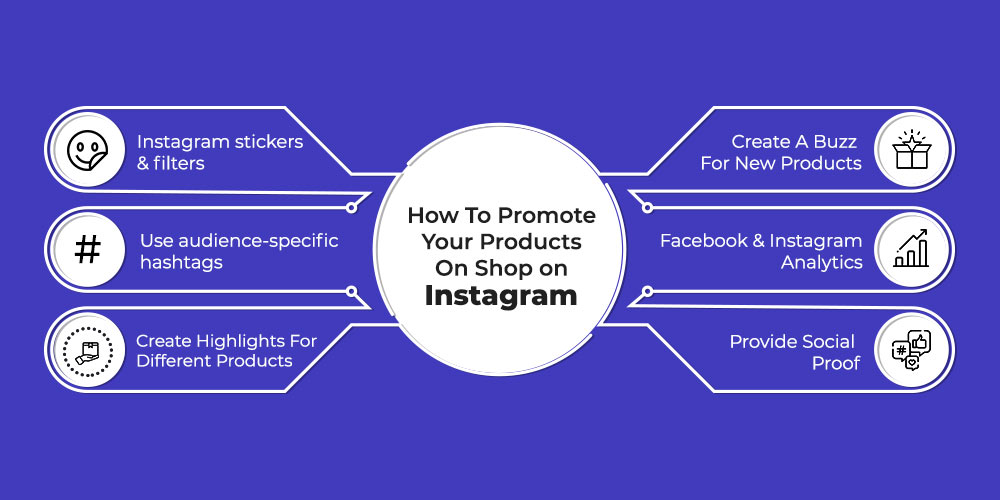 Use audience-specific hashtags
Hashtags are a way to group ideas and concepts. It makes it easy for people to find the products they are looking for. By including the audience-specific hashtags, you can effectively reach your target customers.
Instagram stickers and filters
Instagram stickers and filters help you target your users more effectively. According to the recent survey, it has shown that 1/3 of the most viewed stories are from businesses.
Facebook and Instagram analytics
Use Facebook and Instagram analytics to know when your potential customers interact with your brand the most. Knowing this will help you post your content at the peak hour. And thus, help you retain your customers better.
Create highlights for different products
Use your Instagram profile to bring your product into the spotlight. For this, you can create story highlights for different products. And use question stickers in your stories to open them up to questions on your products. This way, the audience gets to know more about your products and it eases their purchase experiences.
Create a buzz for new products
Create buzz for new products by showcasing the glimpses of your product without fully revealing it. For the launch of your new products, you can also opt for Instagram Live too. As it helps in gathering your attention to your newly launched product.
Instagram Drops
The Instagram 'Drops' section is available under the Shops tab. Brands like you can drop your newest collections, create a buzz, hype, and exclusivity among shoppers for forthcoming products in the days and weeks.
Provide social proof
Nearly 63% of consumers say they are more likely to purchase from a website that has some form of social proof like product ratings and reviews. It is recommended to add some social proof on your Shops. For this, you can encourage your customers to post photos on Instagram using specific hashtags and use the same on your profile.
Conclusion
In this digital age, consumers are looking for easy & superior online experiences. Shops on Instagram attempts to do this by bringing the shop to the users. The feature of Shops helps businesses like you to leverage the power of social media in increasing brand awareness, engagement, and sales. If you are still wondering whether you should get your business across Instagram. You can connect with Facebook Business Partners and schedule a meeting with our experts. What are you waiting for? Try it now.