How To Use Instagram For Etsy Holiday Sales Promotion
Running short of time? Get PDF of the blog in your mail.

Play Now
It's the Holiday Season, the time of the year when Etsy sellers are looking forward to the boost in traffic and sales that comes with it. But the most successful sellers don't just sit back and wait for the traffic to arrive. They do everything they can to drive traffic to their shop. They're always thinking about things like how to use Instagram for Etsy, how to leverage Facebook, how to leverage Pinterest, etc. You need to have the same mindset to have success and build your brand.
But it's difficult to do promotions on multiple channels alone when you're running your business. So we'll show you why and how you can use Instagram to promote your holiday season sales and products.

Why Use Instagram For Etsy Holiday Sales Marketing
In our opinion, there are two main reasons why you should be using Instagram for Etsy marketing. First, it's a platform that is more focused on visual appeal, and therefore creative Etsy sellers like you are more likely to succeed over there.
The second reason is the numbers, Instagram has racked up some pretty solid stats that are unavoidable for small and medium business owners. Let's see a couple of them to understand the power of this social platform.
"Listen to Our Podcast on How To Use Social Media to gather traffic on Etsy"
According to Sensor Tower, Instagram was the most downloaded app in the world in Q4, 2021.
According to this article on SproutSocial, 50% of users who see a product-related story end up visiting the website.
According to Instagram, 90% of users on Instagram follow at least one brand. And another research done by Instagram showed that 70% of their users actively use Instagram to find new products.
These 3 stats alone should be enough to convince you that using Instagram for Etsy marketing is the right thing to do. And with that let's get to the main part and look at how to use Instagram to promote holiday sales and products.
The bulk of what we'll discuss today will assume that you have set up your Instagram shop. If not, then we have an exclusive guide on setting up your Instagram Shop. Check that out first!
Analyze How Other Successful Etsy Sellers Use Instagram For Marketing
There are successful sellers in almost every niche that are using Instagram for their Etsy marketing strategies, it's part of what makes them successful. And you can do it too.
Your first job is to look at the Instagram pages of sellers in your niche and try to break down what they are doing and what's working for them. You may want to look at the following things –
How often do they promote their sale and products?
Do they use more images or more videos for promotion?
Follow them and notice if they do Live promotions.
What feelings or emotions are they trying to draw out through their images and copy? People's buying decisions are mostly driven by feelings and emotions.
Analyze what hashtags they use when promoting their sale (both their quality and quantity).
Once you've done this for a couple of sellers, you should have a handy set of answers that will help you in figuring out your own promotional strategy.
Check out this Amazing Holiday Season Webinar that covers all the winning strategies you need to know about getting massive success during Festive Sales.
Use Instagram Live Shopping To Sell Your Products
We'll start with the most effective strategy first. Social media is about being visible to your audience, and Instagram's Live Shopping feature is the best way to do it. And if you use a social media scheduler to schedule your post on Instagram, you might get a good chance to get higher engagement. 
When you go Live, Instagram pushes your content to the top of users' feeds which means you get more visibility. Another benefit is that people get notified when you go Live so people are more likely to join.
Here are some helpful tips to get you started with Instagram Live –
Plan your Live sessions ahead of time. Select which products you're going to promote and prepare accordingly.
Promote your Live Shopping session a few days in advance so that people are aware of the broadcast.
Instagram needs to approve the products before they go live so upload your product collection ahead of time. You can add up to 30 products in one collection.
"Listen to Our Podcast on the Tips TO Boost Etsy Sales during the Festive Season"
While you're Live, you can use Instagram Live Shopping features to help enhance the quality of your broadcast. Here are a few useful ones –
Multiple broadcast hosts – You can use this feature to add co-hosts to your live stream. This is a great way to tap into influencer marketing as well.
Still Images and Videos – This feature allows you to share images and videos on the screen while broadcasting. This is a great way to show how your product can be used.
Audience Interaction – This feature allows you to add questions and comments to your broadcast and make it an interactive experience for your audience.
Drive Traffic With The Instagram Stories Link Stickers
Instagram used to give you the option to add a swipe-up link to your stories, but since August 2021, they have replaced this feature with link stickers. Now you can put links directly on your stories and drive people to your shop directly from Instagram.
How to use the Link Stickers For Promoting Your Etsy Sale
Follow these simple steps to create link stickers for your sales events–
Design an image showcasing your sale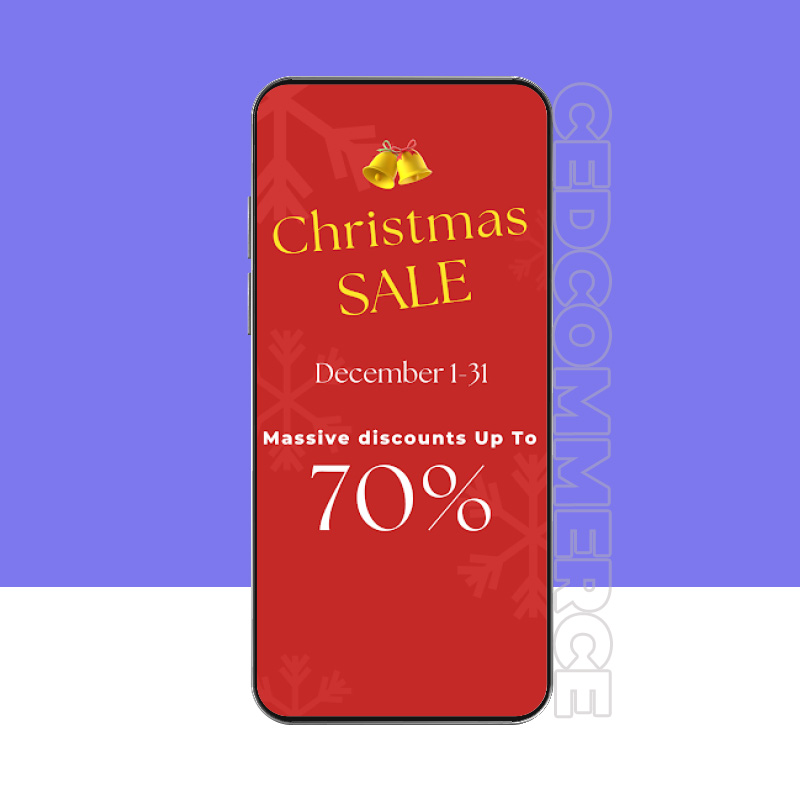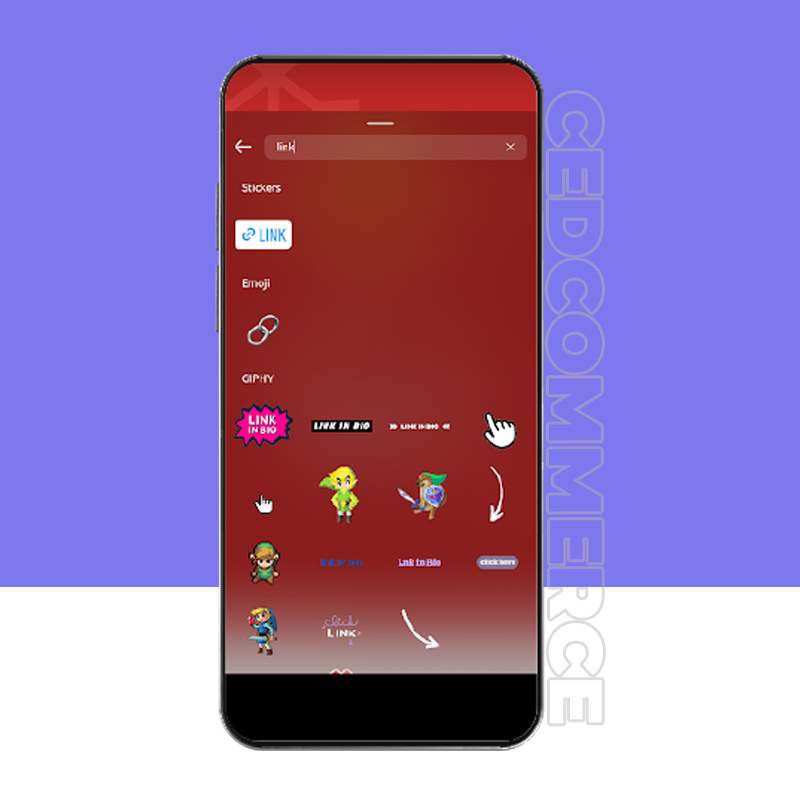 Add the link to your shop and the link text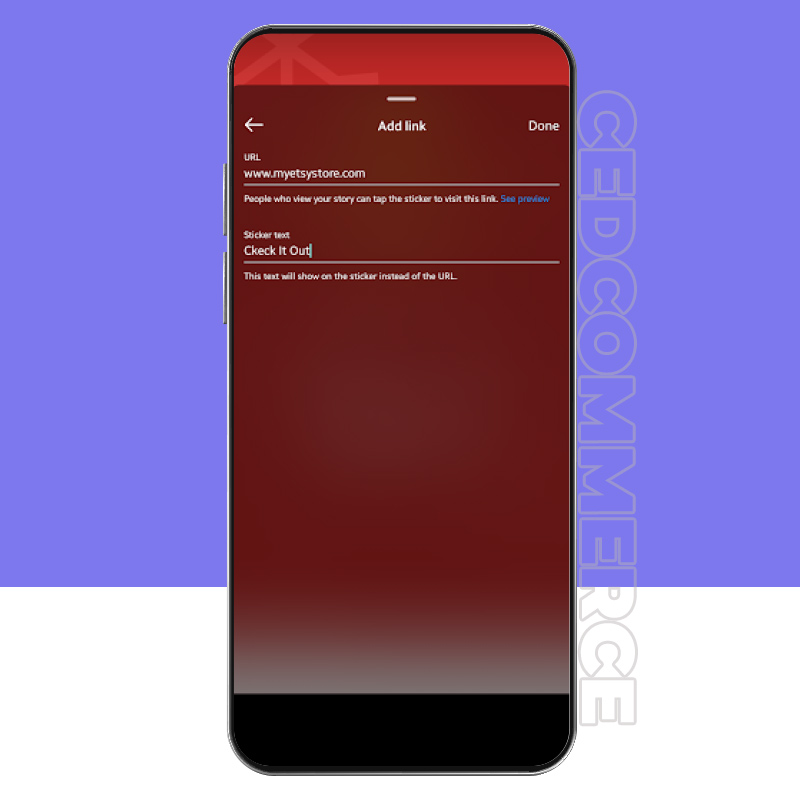 And that's all you have to do. At this stage click on Done and adjust the placement of the link and you're good to go. The final result will be something like shown in the image below.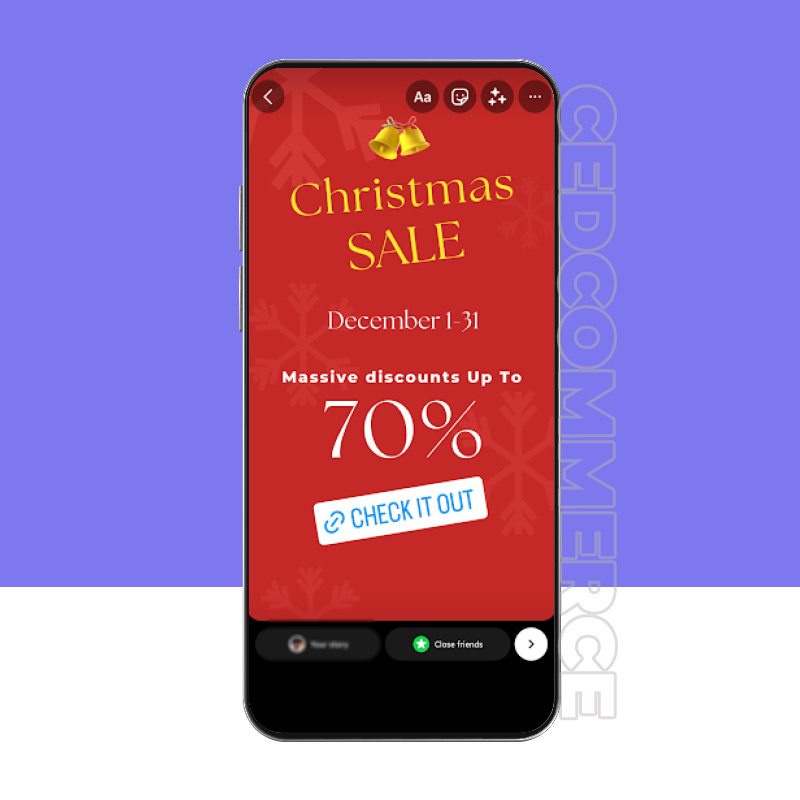 Turn Your Instagram Sales Stories Into Highlights
Instagram stories last for only a day, but you can turn them into story highlights to make them stay on your profile permanently. This is a great way to grab the attention of your audience for your Etsy Holiday sales events.
You can create an attractive Highlights cover photo that is click-worthy. Then you can go on to create similar highlights for all the sales events that you run for your business.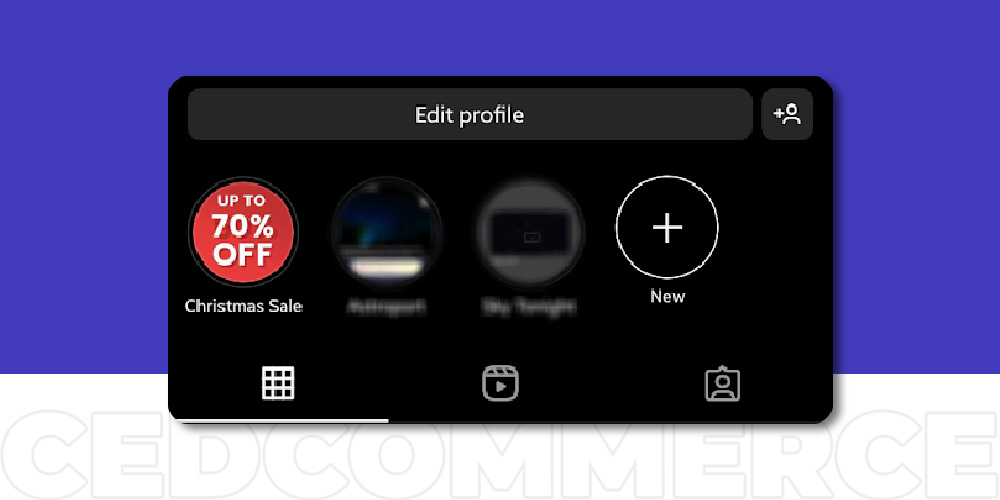 Promote your products in Reels
Instagram Reels became an instant hit as soon as it was introduced by Instagram. And when they added the product tag feature, it became popular amongst businesses as well.
Product tags can be added to reels on Instagram by companies and creators who have set up Instagram Shopping. Through quick entertaining videos, you can highlight your products, show how a product is used, and mix your creativity to encourage people to interact with your brand.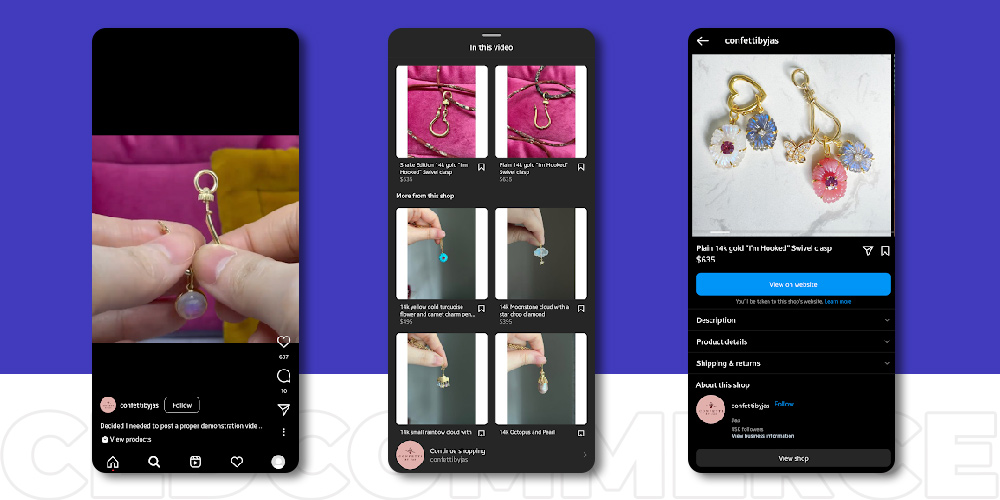 To enable Shopping in Reels, you should follow these steps:
To choose Reels, tap "+," or swipe to the Instagram camera and select Reels.
Create your reel. Tap "Next" after recording your reel or uploading an existing video from your phone.
Tap "Cover," then slide the image at the bottom to create a cover image, followed by a caption.
After you've finished recording your Reel, select "Tag Products."
Add the item(s) you highlighted in your Reel. Product collections can also be tagged. Select "Done."
Tap "Share" to make your Reel public.
Invest in Instagram Ads
It is no mystery that running sponsored ads is the fastest way to make some quick money. And it is the same on Instagram as well. Talking about how to run Instagram Ads is a big topic on its own, and we'll cover it in a later blog. Till that time check out the article on why Instagram Ads are a popular choice for promotions.
Conclusion
So we talked about how to use Instagram for Etsy Holiday sales promotion and we came up with 5 different ways we can do that. The best way is to leverage  Instagram Live Shopping followed by Instagram Stories Link Stickers, turning your promotional stories into Highlights, using Instagram reels to tag your products, and finally Instagram ads which should be a part of every marketing strategy as it allows you to earn quick money which you can then reinvest in your business. We'd love to hear your thoughts on this and also let us know what strategies you are using to promote your Festive sale events.