Etsy Holiday Trends [2022] | The Ultimate Guide To The Etsy Holiday Season
Running short of time? Get PDF of the blog in your mail.

Play Now
It's that time of the year again when Sellers on Etsy make the biggest chunk of their income. Yes! The Etsy Holiday Season is almost upon us, and this is the best time to sell seasonal and occasion-specific products to make the most out of the shopping frenzy that is about to be unleashed by shoppers worldwide.
But before we dive into the different Etsy trends in 2022, let's talk a bit about multi-channel retailing.
Multi-channel retailing
The ever-evolving shopping patterns and customer behavior have made multi-channel selling the single most important aspect of the success of your online retail business. You can no longer afford to sell on just a single channel if you want to gain an edge over your competitors.
Multi-channel simply means selling opersonalized items every dayn more than one channel at the same time.
For example, you may have your own Shopify store, but you can simultaneously sell on Amazon, Walmart, Facebook, and basically any platform which has an established customer base.
Fortunately, as a seller of creative, vintage, handmade, and custom products, you have an edge over all other online retailers simply due to the fact that Etsy is the only major marketplace you should focus on. It has currently over 95 million active customers looking for creative and personalized items every day.
Check out our  CedCommerce ‑ Etsy Integration App! With over 20k users, 1200+ reviews on the Shopify App store, and an average rating of 4.8/5, it is one of the best Shopify Etsy Integration apps out there.


With that out of the way, let's get to the heart of the matter.
The Holiday Season Sales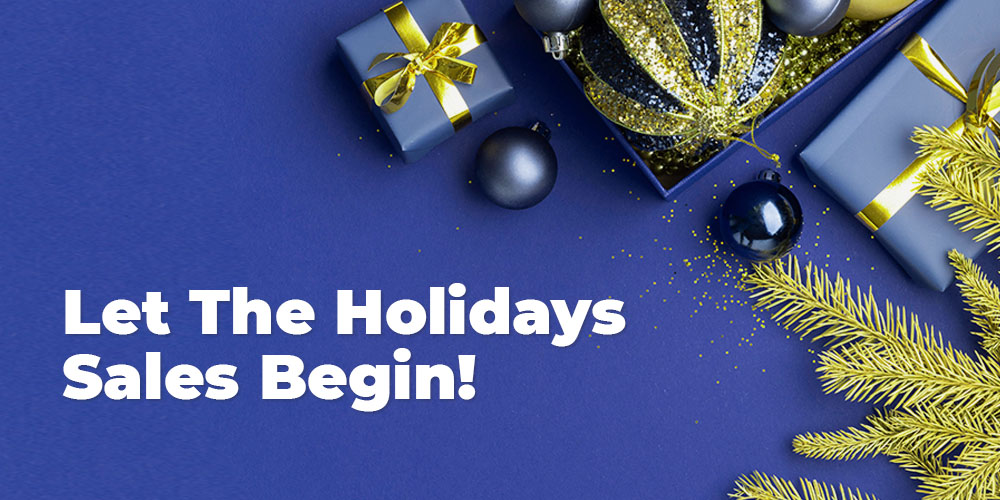 Whether it's Back To School or Halloween, Thanksgiving day or Christmas Eve, Black Friday or Cyber Monday, it's high time to start stocking up your Shop with essential seasonal items to make sure you don't fall behind your competitors who are going to be more prepared than ever this Holiday Season.
We say that because we expect an increase in the Holiday Season sales figures compared to last year in 2021. More and more people are starting to get used to the old normal when large gatherings and exchanging gifts were commonplace during festivals and holidays.
It's the best time for you to build a special and meaningful connection with both your old and new customers by offering them what they are looking for. This is exactly why we've written this Ultimate Etsy Holiday Season Planning Guide for 2022 so that you can be best prepared for the coming few months filled with special occasions.
2021 Etsy Holiday Season (Q4) Sales Stats And Opportunities For 2022
2021 Holiday Season Stats
In the final quarter of 2021, which was the peak of the Holiday Season, Etsy reported a 16.5% increase in Consolidated Gross Merchandise Sales (GMS), an 11.8% increase in Etsy Marketplace GMS, and a 16.2% increase in Revenue compared to 2020.
In terms of tax dollars, this amounts to a whopping $3.8 billion Marketplace GMS, 11.8% higher compared to 2020 and 154% higher compared to 2019. And this was during the time when the world was unraveling due to the impacts of COVID-19.
Josh Silverman, the CEO of Etsy, Inc. had this to say about the record-breaking 2021 Holiday Season – "During the holiday season, our sellers — most businesses of one and insulated from widespread supply shortages or complex fulfillment processes — brought the benefits of shopping small to scale. Shoppers continue to love their experiences with Etsy and are coming back for more."
In the Full Year 2021 Results, Etsy mentioned, and we quote, "our record fourth quarter GMS performance was driven by an early and strong kick-off to the holiday season in October and extended strength through December."
Some major highlights of the 2021 Etsy Holiday Season
Many holiday records were set, including an 8% year-over-year growth in GMS per buyer on Black Friday.
A record 2,000 orders per minute on Cyber Monday and nearly a half million sellers participated in Cyber sales, up 27% from 2020.
Etsy's GMS per active buyer on a trailing twelve-month basis was $136, a growth of 16% from 2020 and 31% from 2019.
Etsy acquired approximately 10 million new buyers in Q4 2021, the highest ever acquisition rate achieved by Etsy.
Etsy also managed to reactivate 6.8 million buyers who had not purchased in a year or more.
Regular shoppers on Etsy, people with 6 or more purchase days and more than $200 in purchases in the last 12 months grew by 26% compared to 2020 and 224% from 2019.
The GMS that came outside of the US was 44% of the total GMS, an increase of 20% compared to 2020.
The GMS from paid channels was 19% of overall GMS, a decrease of 200 basis points compared to Q4 in 2020 due to the rise in traffic from organic channels.
Initiatives by Etsy in 2021 to help their sellers grow their business
Etsy increased the number of ways in which shoppers could find products on Etsy which had a direct impact on sales.
Etsy enhanced the triggers for targeted buyer outreach so that sellers could target more relevant buyers.
Etsy launched many new product initiatives to establish itself as the major gifting destination, which included setting up an interactive Gift Finder Hub.
Etsy encouraged its customers for early holiday shopping by promoting holidays that it didn't use to promote in the past, like Diwali, Singles Day, Advent, etc. They also introduced on-site features like 'Seller Spotlights' to highlight their close connections with creative entrepreneurs worldwide.
There is a ton of more data that Etsy released in their Annual report, but we think we have made our point. Etsy is doing everything it can to encourage and help Sellers like you to participate in the Holiday Season Sales.
Opportunities for the 2022 Holiday Season
By now, you must have realized that Etsy has been growing consistently year by year, especially during the Holiday Season, and 2022 will be no exception.
We expect the same level of growth in GMS as in previous years, if not more. And we don't even need to go very far to make that prediction; all we need to do is to see the 2022 Q1 and Q2 stats to predict that this Etsy Holiday Season will see even more people shopping compared to last year, and Sellers will make more money than an any other Holiday Season in the past.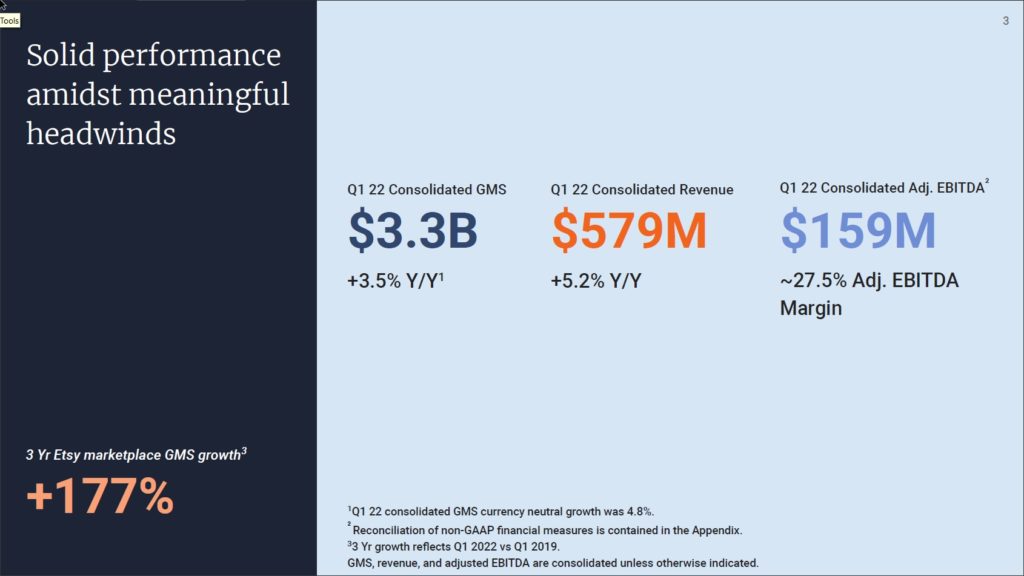 Source – Etsy's Official Quarterly results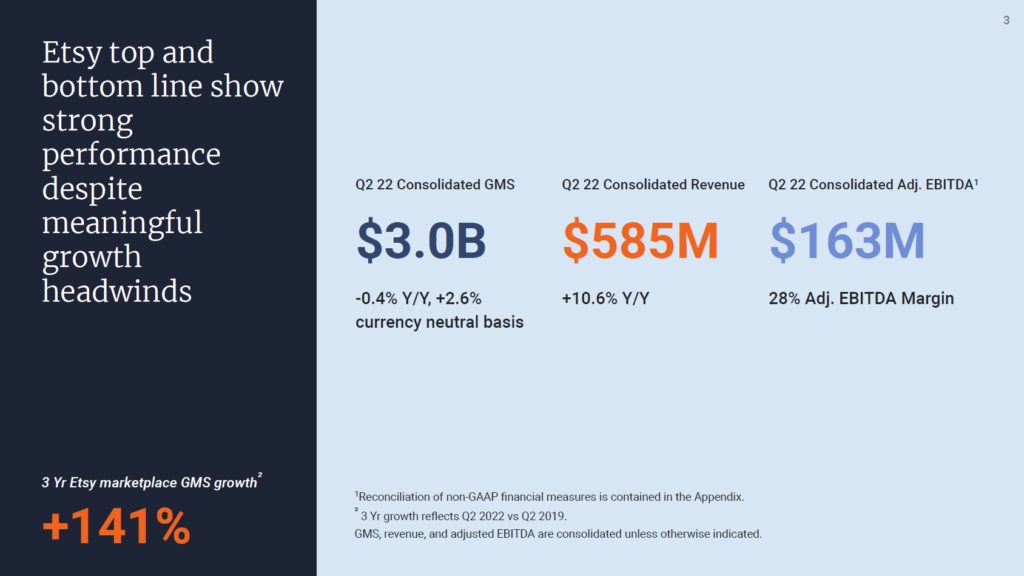 Source – Etsy's Official Quarterly results
Note – We'll update this article with 2022 Q3 stats as soon as Etsy releases it.
Now that you know WHY you should prepare your Etsy Shop for this Holiday Season, let's discuss the HOW.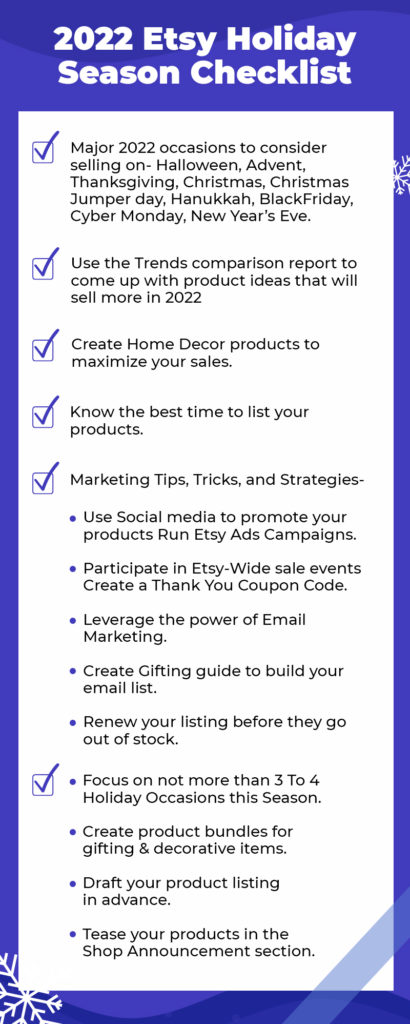 Key Fall And Holiday Occasions In 2022
Even though the Holiday season practically starts in September when Fall approaches, August is the Back To School month. And in 2022, it is going to be significant for Etsy Sellers because students are literally going back to school after 2 years, and they will be looking forward to expressing their nostalgia for classroom learning with their clothing, decoration, and other items.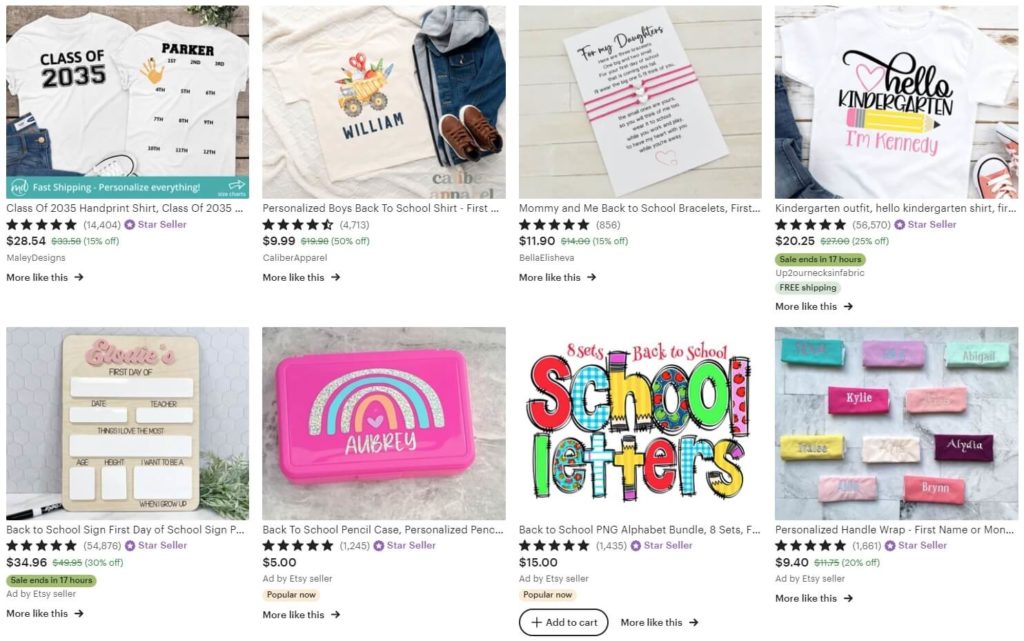 Sellers should be prepared with clothing, accessories, decorative, prints, papercraft, notebooks, and other items that showcase the love for classroom learning and everything associated with it.
Tune into this podcast to see what sells most on Etsy throughout the year –
Here's a list of all the major occasions that you should be focussing on this Fall and Holiday Season –
Halloween
Advent
Thanksgiving
Christmas
Christmas Jumper Day
Hanukkah
Black Friday
Cyber Monday
New Year's Eve
However, you can also look at the complete Holiday Season Calendar to see if we missed an occasion that could be significant for you.
Fall And Holiday Trends Comparison – 2021 vs. 2022
Even though the Holiday Occasions remain the same, the shopping behavior changes a little every year. The best way to understand this change in behavior is to keep up with the yearly Etsy Trends report because the guys at Etsy have all the user data at their disposal to analyze what is trending at any given time.
So, we are giving you the Etsy trends comparison data so that you don't have to spend a ton of time doing research. You can refer back to these trends anytime you want during the Etsy Holiday Season.
And remember the fact that trends don't just disappear into thin air, so you can still use some of the popular trends from 2021 to come up with new product ideas.
Note – Etsy calculated the 2021 trends data by comparing the user search behavior during the Holiday Season of 2020 vs. the Holiday Season of 2019. However, the Etsy Trends 2022 data was calculated by comparing the user search behavior from March to May 2022 vs. March to May 2021.
Let's dive into the comparison of 2021 vs. 2022 Etsy trends –
The Emerging 2022 Etsy trends You Should Focus On
Even during the Holiday Season, you must not forget that the Etsy trends that have emerged in 2022 since January will still stay in full swing, so if you've not yet caught on to those trends and introduced products that serve them, this section will outline all the things that are trending on Etsy in 2022.
Early 2022 Etsy Trends (% growth compared to 2021)
The following keywords have been searched more extensively this year compared to 2021 –
Emerald green items –  67%
Pastel room decor – 2,627%
Squiggles – 177%
Storage tools – 11%
Y2k – 50%
Digital planners – 94%
Storage organization – 993%
Pastel candle – 275%
Prism or suncatchers – 54%
Personalized items – 81%
Convertible, nesting, or modular tables – 14%
Abstract shape rugs – 71%
Marble candle holders – 263%
Denmark Pastel – 28,705%
Decorative lighting – 20%
70s lighting – 368%
Blazer dresses – 75%
Vintage plaid items – 66%
Pastel goth clothing – 34%
Velvet chokers – 365%
Moss agate – 150%
Butterfly brooches – 62%
Cardigan knitting pattern – 96%
Mending – 1180%
Teacher greeting card – 21,166%
Dragon toys – 24%
Colorful wedding items – 311%
Personalized wedding dress hanger – 372%
Square neck wedding dress – 142%
Spring and Summer 2022 Etsy Trends (% growth compared to 2021)
The following keywords have been searched more extensively this year compared to 2021 –
Plant lover gift – 83%
Wooden outdoor furniture – 5,474%
Pastel decor – 439%
Lotion candle – 54%
Leather keychain personalized – 284%
Tuft rug – 167%
Bar cart accessory – 25%
Ribbed vase – 40%
Japandi – 975%
Wide leg linen pants – 57%
Puff sleeve dress – 86%
Crop tops y2k – 1800%
Quilt jacket – 44%
Barrette clip – 139%
Friendship bracelet custom – 139%
Wide leather belt – 24%
Flower greeting card – 28%
Easy sewing pattern beginner – 64%
Crochet pattern – 23%
Granny square cardigan pattern – 149%
Bridal bow – 144%
Pearl veil – 124%
Short wedding dress – 21%
Colorful glassware – 5,881%
Granny square – 58%
Geometric wood wall art – 126%
Source – This data has been collected from the Etsy Seller Handbook Report – Early 2022 Trends and 2022 Spring and Summer Trends.
The trends that have grown significantly in 2022 will carry over into the early months of 2023 as well, so preparing your Shop for these trends will give you benefits for at least the coming 6 months and even beyond that.
Home Decor Trends to Watch out for in 2022
Shoppers spend the majority of their budget on decorating their homes for the Holiday season, which makes Home Decor the most sought product category on Etsy during the last few months of the year. You should be prepared with all sorts of decorative home items to target as many shoppers as you can.
Here's a list of all the Home Decor Trends in 2022
The percentage growth is based on a comparison to the user search behavior in 2021.
Funky mirrors – 156%
Fun home decor – 76%
Nostalgic decor – 71%
Bright wall art – 56%
Linen living room curtains – 345%
Wabi sabi decor – 271%
Handmade pottery bowls – 89%
Live edge bar tables – 30%
Gradient rugs – 228%
Ombre, gradient, or dip dye candles – 146%
Aura art – 125%
Ombre or gradient art – 41%
Modular wall shelving – 138%
Hanging room dividers – 57%
Convertible coffee tables – 35%
Space-saving tables – 28%
Minimalist decor – 221%
Stone address signs – 200%
Concrete lighting – 193%
Neutral rugs – 40%
Source – This data has been collected from the Etsy Seller Handbook Report – Top 5 Home Decor Trends in 2022.
2022 Etsy's picks in Home Decorations –
Key Timings To List Items This Holiday Season
As important as it is to prepare your Etsy Shop for the coming Holiday season with items that shoppers are looking for, it is also equally important to know when to list those products to take maximum advantage of the first wave of shoppers.
Here is the list of Timings To List Your Products For Major Holiday Occasions
Halloween

Traffic – Begins around August 1, peaks around October 3, and dies off around October 31.
When to List your items – Last week of July

Thanksgiving

Traffic – Begins around September 1, peaks around November 4, and dies off around November 28.
When to List your items – Last week of August

Christmas Day

Traffic – Begins around September 1, peaks around November 28, and dies off around January 2.
When to List your items – Last week of August

Advent

Traffic – Begins around September 15, peaks around October 15, and dies off around December 25.
When to List your items – End of the first week of September

Christmas Jumper Day (UK)

Traffic – Begins around October 1, peaks around December 5, and dies off around December 25.
When to List your items – Last week of September

Hanukkah

Traffic – Begins around October 10, peaks around November 9, and dies off around December 10.
When to List your items – First week of October.
Source – This data has been collected from the Etsy Seller Handbook Report – August Shop Checklist and Holiday Calendar.
This shall give you a general idea of when the first wave of shoppers starts looking for occasion-specific items on Etsy. It's usually 3 to 4 months before the actual Holiday. The bigger the occasion, the earlier the traffic kicks in.
Therefore your goal should be to list your items at least a week before that. You can even list them 2 weeks before the 3 to 4 months period if you want to give Etsy's search algorithm even more time to index your product listings.
How To Market Your Holiday Season Products
Recognizing which products to sell this holiday season and listing those products early at the start of the season is only half of the job done. The worst thing that you can do is to just sit in the hope of getting sales. Remember that failing to plan is the same as planning to fail.
Deliberate and strategic marketing efforts are the difference between average revenue gains and massive revenue gains. Here's a list of 7 marketing tips and strategies you can use this Etsy Holiday season to up your game.
Leverage the power of social media
This is the most obvious of all marketing tips. But what's not obvious is the fact that you need to create the Holiday and Winter season vibe when sharing your product photos on social media platforms like Instagram, Facebook, Pinterest, etc.
The key is to showcase the gifting prospect of your products or have them sit in a snowy background to elicit the Holiday emotions in your buyers. Take a look at this Instagram image from tinkandreu, for example; it creates a perfect Christmas gift vibe instantly.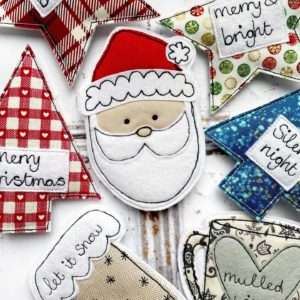 The second bit of social media marketing tip is to research and find trending hashtags and use them with your captions and/or in the comments as well. Some of the most popular and obvious ones are – #holidaygifts #holidaygiftguide #holidaygiftideas #holidaygifting.
The idea here is to use hashtags with a wide range of the number of posts. You need to use hashtags in three categories – ones having a large number of posts (around a million or more), ones with a medium number of posts (around 250k – 500k posts), and one with a low number of posts (around 5k – 50k posts).
The final social media marketing tip we have is to use the Facebook and Instagram Live features to go Live and give your customers the opportunity to see your products before they can buy them. Check out this 2021 Facebook stream from 'Artform Hair Spa' to get an idea of how to go Live and showcase your products.
Pro-Tip – Study the social accounts of some of the most successful sellers in your niche and try to figure out what strategies they are using to generate user engagement and drive sales. Incorporate these strategies into your own marketing plans.
Run Etsy Ads Campaign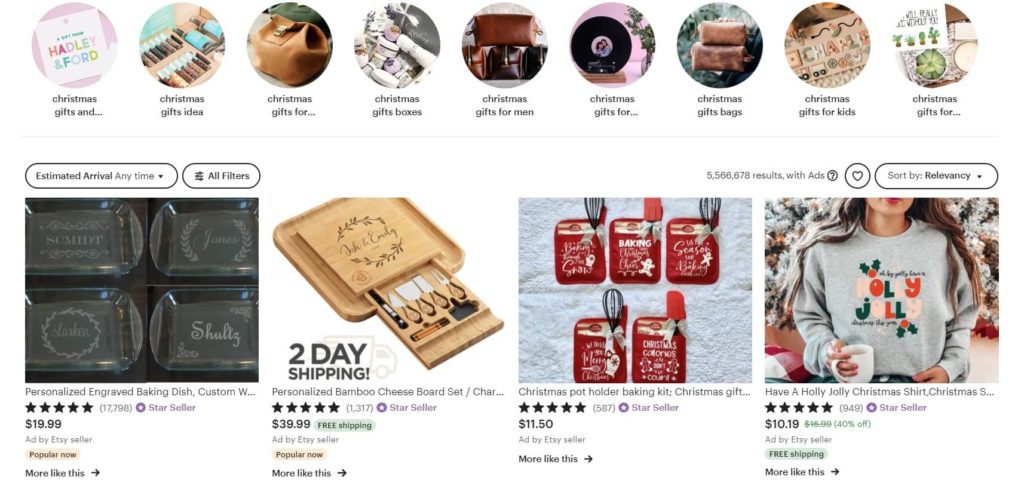 It's no secret that Ads are the fastest way to get traffic to anything, and it's not different with Etsy Ads. Promote your listings to appear in the first few pages of the Etsy Search results. The best part about it is that once you set your budget and run the campaign, Etsy will automatically optimize how your budget is spent for efficiency.

Participate in Etsy-wide sale events
Participating in Etsy-wide sale events will give your products the best chance to be seen by a large number of shoppers who are looking to buy stuff in your niche. Check out this article by Etsy to know everything about how to run a sale on Etsy.
Make sure to share the details of your sale on your social media accounts to reach even more potential customers.
Create a Thank You Coupon code for your customers
Sending a Thank You coupon to your customers is always appreciated, and it increases their likelihood of shopping with you again in the near future. All you need to do is set up a coupon code using the inbuilt sales and coupons tool on Etsy while also enabling the "Send as thank you" option, and Etsy will automatically send that coupon to your customers 24 hours after you mark their orders as complete.
Use your email list to reach out to customers
If you have an email list, you can use it to update your customers on all the products you are offering for each Holiday occasion. Remember that even in 2022, Email Marketing is still one of the highest ROI-generating strategies, and you should not miss out on it.
We're sharing an example product update email to inspire you to create your own.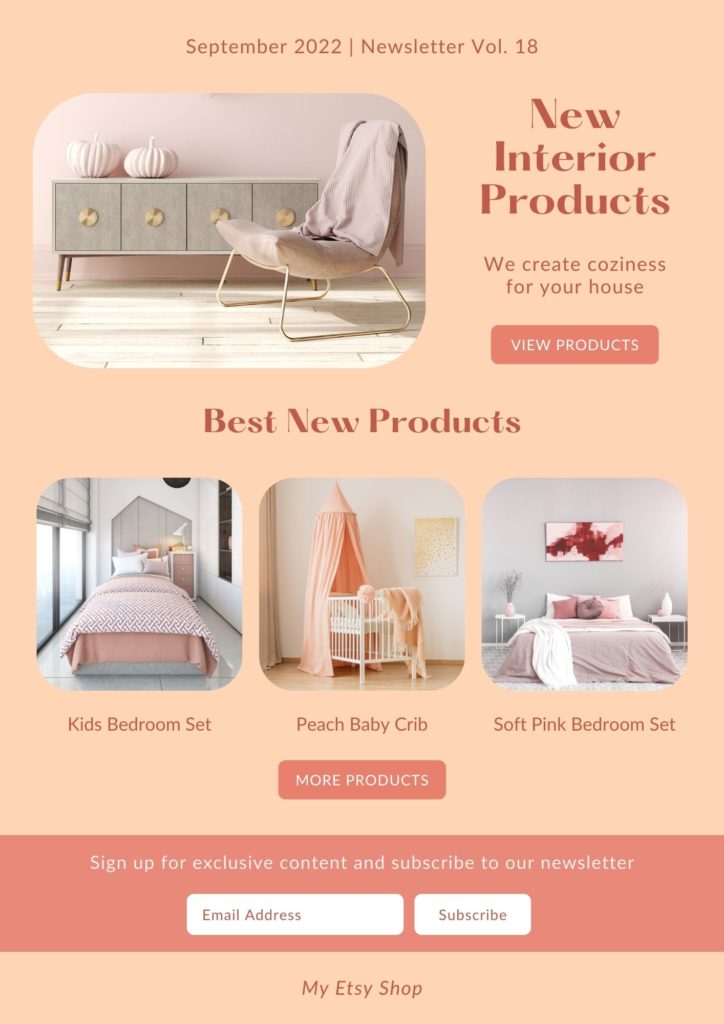 Create gifting guides to build and/or grow your email list
If you've not already built an email list, you are missing out on one of the biggest ROI-generating channels, as we just mentioned above.
Building an email list is not as intimidating as you might think. Just create a couple of Gifting Guides for products in your niche and offer them in exchange for an email. It's one of the easiest and super effective ways to build an email list in practically any industry you can think of.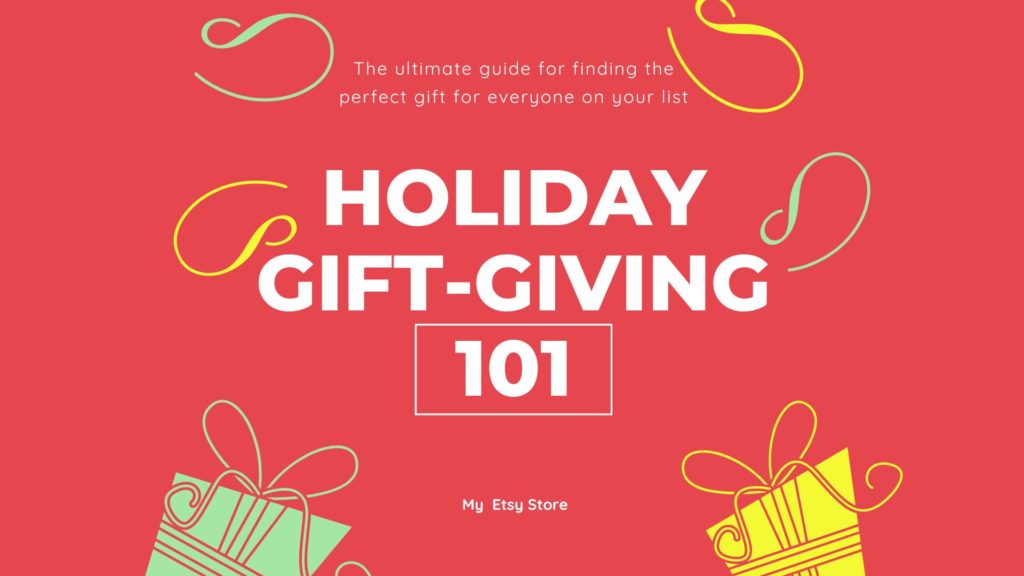 Create campaigns to run on social media, blogs, ads, or anywhere else you connect with your customers to promote your gifting guides. Put the link to the guides in your Shop Announcement section as well. All you need to do is create a simple landing page where people can give their emails in exchange for the guide.
Don't lose your listing SEO momentum
The risk of your products going out of stock unnoticed by you is the highest during the Holiday Season. Once your product goes out of stock Etsy will deactivate the listing, meaning that Etsy's algorithm will no longer have the listing indexed, resulting in the loss of all the SEO momentum it gathered since it was listed.
Make sure you are always monitoring your stock during the Etsy Holiday Season to keep your listings from going out of stock.
Focus On Your Shop Visuals To Stand Out From The Crowd
The theme and the visual look and feel of your Etsy Shop during the Holiday Season have been proven to influence the buying decision of shoppers. It's the perfect way to both build your brand and build connections with new shoppers who might find your Shop for the first time this season.
When you update the look and feel of your Shop based on certain occasions, people start to notice and realize that you are a true professional and you pay attention to little details, and the same would be true for your products as well.
And honestly, you don't have to do a lot to update your Shop visuals. Just change your Shop banner, and order receipt banner, and if you wanna go a little further, you can incorporate a few visual elements in your Shop icon too, and that's all you got to do.
For example, for Halloween, you could change your banners to something like these –
You're selling on Etsy, so we're counting on your creativity to come up with something that is right for your brand.
Quick Tips To Make The Most Of This Holiday Season on Etsy
Focus On 2 – 3 Key Holiday Occasions
Let's be practical, there are literally more than 20 Holiday occasions between now and New Year's Eve, and if you had to target every single one of them, the truth is that you won't be able to maximize on any of them. Unless, of course, you had a big team to back you up, but we're not taking that into account here.
You should simply pick 2 to 3 major occasions, a maximum of 4 maybe, and try to nail down every single aspect of what we told you in this ultimate guide to the Etsy holiday season. Doing that will allow you to be laser-focused on one thing at a time rather than being occupied with 20 different ideas, which is a recipe for disaster anyway.
Don't rely on just one one two products
Yes, you may think that you can create just a couple of products and rule the Holiday season, but the truth is that more products mean more chances to appear in the search results, which gives you more sales, which gets you to rank higher in searches, and the cycle continues.
The other major factor is that people love buying product bundles on Etsy during the Holiday season for gifting, decoration, and all sorts of purposes. So creating product bundles also gives you the opportunity to sell more and make more money.
Draft your product listings in advance
This is more of a precautionary tip rather than a selling tip. By drafting your listings, we mean that you should have your titles, descriptions, tags, and attributes figured out way before you are going to actually list the products.
The major benefit of doing this is that you will get time to improve your drafts as you keep learning more and more about the ongoing trends as you analyze your competitors and understand buyer behavior.
Tease your products in the Shop Announcement section
Let's say you are going to list some new products in a week's time; you can give a preview of your products to customers by teasing the products in the Shop Announcement section by writing something along the lines of "New Product Coming Soon."
This will build anticipation within your customers and make them come back again and again to keep track of when the product is actually coming. This gives you the opportunity to showcase your whole product line one by one.
The Ultimate 2022 Etsy Holiday Season Checklist
We're putting down all the tips, tricks, and strategies we've given you in a neat little infographic that you can download and use as you go through the process of preparing your Shop for the 2022 Etsy Holiday Season.
Click here to download the Checklist.
Conclusion
To sum it all up, the 2022 Holiday Season on Etsy is bringing along with it a huge opportunity to prep your shop and enjoy selling as the number of shoppers goes up. Therefore prepping your shop should include the following –
Understanding the 2022 Etsy trends and bringing in new products to cater to those trends
Listing your products at the optimum time to target the first wave of holiday shoppers
Marketing your products on different platforms like social media, email, blogs, ads, etc.
Make your shop stand out from the rest by updating your shop visuals based on the occasion you are targeting.