Instagram Launched Shopping in Reels
Running short of time? Get PDF of the blog in your mail.

Play Now
As an exciting part of the shopping updates, Instagram launched Shopping in Reels today. While the beta phase was earlier announced in October this year, the new feature is now rolling out to global creators and businesses using Instagram Shopping.
With Shopping in Reels, both businesses and creators will be able to tag their products when they create Reels — the 15 seconds short-form videos, which can be created from the tab in Instagram following the last month's redesign.
What is Shopping in Reels?
Instagram is the ideal place for businesses to connect with a vibrant community of shoppers. Shopping in Reels is a new way to share your favorite products, get discovered, and reach new audiences with short videos that entertain and inspire people at large.
With the new update, when people play the reels, they will tap on the "View Products" button and get the list of all the products tagged into that. This will further help them to either buy, save, or learn more about the featured products.
The roll out of Shopping in Reels has now made shopping available in every format on the app, namely — the Feed, Stories, IGTV, and Live. Apart from this, businesses and creators can now add a "Branded Content" tag to their Reels to clearly disclose if the post collaborates with the brands to promote their products.
Why Use Product Tags in Reels?
Ever since its major launch in August 2020, Instagram Reels has been loved by a humongous array of people, creators, and businesses. While it is increasingly adopted by the Millennials, Gen Xers, and Xennials, the update makes Reels – a focus point for shopping from within the video itself. When you tag products in reels, it helps you:
Reach your followers and new audiences: Reels featuring product tags are viewable by your audience and discoverable through both tabs – Reels and Explore.
Create an entertaining shopping experience: With music, editing tools, and filters, Reels provides engaging and entertaining video shopping experiences on Instagram.
How to Enable Shopping in Reels?
Businesses and creators who have set up Instagram Shopping can tag products when they create reels on Instagram. Additionally, you can feature specific items, demonstrate how a product is used, or show your creativity to inspire people to engage with your brand through short entertaining videos.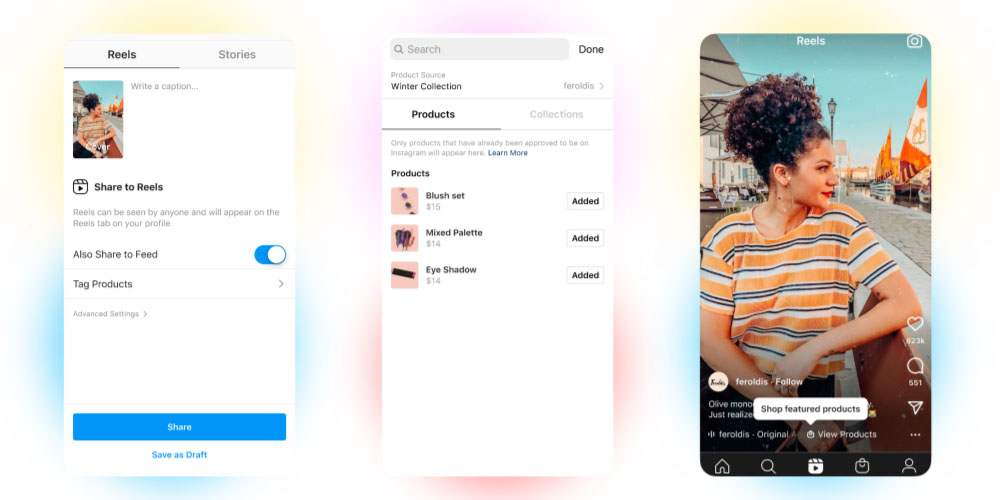 To enable Shopping in Reels, you should follow these steps:
Tap "+" to select Reels or swipe to the Instagram camera and tap Reels.
Create your reel. You can record your reel or upload an existing video from your phone and tap "Next."
Tap "Cover" and slide the image at the bottom of the screen for a cover image, then add a caption.
Once you've recorded your Reel, tap on "Tag Products."
Add the product(s) you featured in your Reel. You can also tag product collections. Tap "Done."
Tap "Share" to publish your Reel.
You can tag up to 30 products in each Reel.
How to Shop with Reels?
As you record and share your Reels, viewers can discover your video in their feed, on your profile, in the explore tab, or in the new Reels tab. Reels in "Explore" showcases the best of trending culture worldwide and helps people discover more of what they love on Instagram.
People can tap the "Shopping Bag" icon on the bottom of the screen to access your product list.
From there, people can know more about the product by navigating to your shop or add products to their bag directly.
When ready, viewers can either purchase from the brand's store or checkout within Instagram.
Checkout is currently available to US-based businesses only.
Shopping in Reels enables connections to explore, engage, and buy products all from a single funnel in an entertaining and friction less shopping experience.
Tips to Make Impact from Reels
As Shopping kick starts on Reels; creators and brands of various types and sizes will straightaway start harnessing the power of shopping through videos. You need to pack valuable tips to get speedy engagements and conversions in between all of this.
Stay relevant: Reels is all about what is new and trending. When you create Reels, try to focus on trendy topics, themes, and cultural moments that conjoin with your audience.
Surprise and delight: Pull the viewer in quickly and find ways to incorporate a surprise or twist into your content. Try to carry the interest of the audience to the very last.
Be authentic: Organically weave in product tags wherever it makes sense, without becoming overly commercial. Do not try to show much eagerness.
Tell how to buy: Show viewers how to make purchases by prompting them to 'add to bag,' "go to website," and "check out."
Remind the audience: In your description, remind viewers that your Reel is shoppable.
Consider similar products: If you feature a "T-shirt in your Reel", they may be interested in shirts or trousers. Make the most of that shoppable moment by tagging similar items.
How can you leverage Shopping in Reels?
Instagram has constantly been evolving with the advent of Shopping into it. With a vision of growing commerce, Facebook is encouraging businesses to turn their pages into online storefronts. As a catalyst, Facebook has also extended its ecosystem to marketing partners who help brands move to social commerce.
CedCommerce, in the league, helps the small and medium businesses grow their presence across Facebook and Instagram. The brands based on Shopify and WooCommerce can leverage this extraordinary chance to onboard directly on Instagram Shopping with minimum efforts and utmost ease.
Shopping in Reels will surely open up a wider window of opportunities with global audiences as an active part of it. It's time you make the right move; Apply for Instagram Shopping Now!