High-Converting BFCM Ideas to Level Up your Social Commerce Game
Running short of time? Get PDF of the blog in your mail.

Play Now
To start off the Black Friday and Cyber Monday shopping season, businesses offer a variety of in-store deals on Facebook, everything from electronic gadgets, cosmetics, and makeup items, home appliances to kids' items and toys. It is a great opportunity for everyone selling online to leverage the evolving social commerce features coming up from Facebook platforms, including but not limited to, Facebook Page, Shops, Marketplace and Instagram Shopping to reach usual connections and audiences at large and enable them to discover products at the convenience of their daily feeds.
Wondering when the Big Days are??
Black Friday, a prominent North American shopping holiday, is now known worldwide for its humongous deals. It marks the beginning of the holiday shopping season in the US, which culminates in Christmas and Boxing Day, later extending to New Year. This year, Black Friday is on November 26th, the first Friday after Thanksgiving in the United States.
Moreover, Cyber Monday is a follow-up to Black Friday and occurs on the Monday following Thanksgiving. Cyber Monday 2021 will take place on November 29th, and it will be the final shot for customers to get everything new or old at the cheapest prices possible.
How to prepare for Black Friday and Cyber Monday on Facebook and Instagram?
As social media continues to grow, Facebook commerce gives users more possibilities for browsing and purchasing items through various surfaces or channels discussed above.
Facebook commerce fills the gap created when consumers go online without knowing what they're looking for; or even an intention or a purpose of purchasing something. Of online shoppers who use Facebook platforms weekly, 83% of shoppers discover products on a Facebook platform. It is assumed that most of the product discoveries happen through videos. Therefore, to make your products more discoverable you can utilize video marketing in various formats across Facebook Commerce Platforms.
Make the most out of Video Marketing to lure your shoppers
Businesses frequently employ video marketing to keep their clients' attention on their brand. During the holiday season, video views are expected to have increased by more than a half. Video, with its blend of sight, sound, and action, tends to generate experiences that are memorable, moving, and inspirational at their finest. You can drive shoppers to your Shop with long videos and short clips.
Take a look at these insights: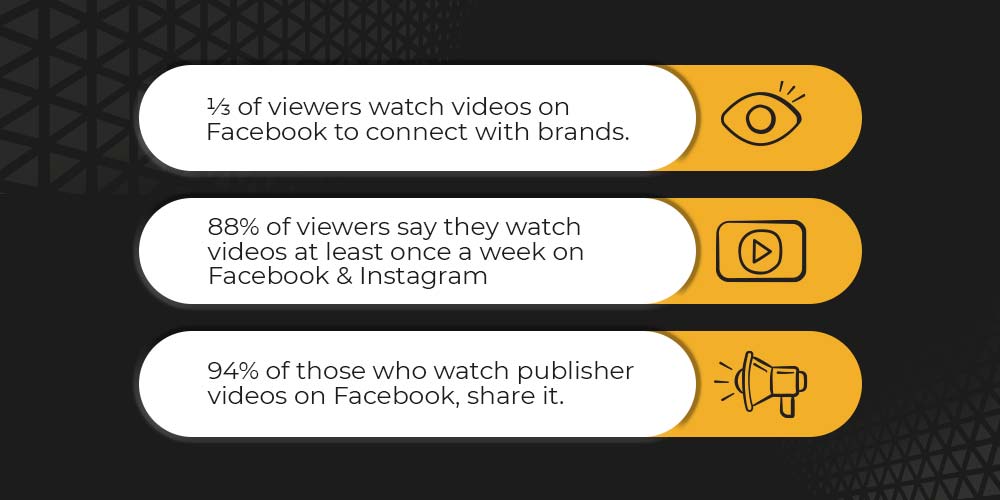 Video tends to generate experiences that are memorable, moving, and inspirational when it combines sight, sound, and motion. You can increase awareness, attention, and sales in your Shop by using videos in various formats such as:
Create attention-grabbing Reels
Express your brand story by creating multi-clips videos for up to 30 seconds, and get innovative with easy-to-use text, AR filters, and audio to grab shoppers' attention. You can also create ads that link to Instagram reels and target your prospective Black Friday Cyber Monday shoppers.
Shopping in Reels is another Instagram feature that you can use and apply, to let people explore and purchase items right from the reels. You can create trendy reels showcasing your products while further adding a shopping tag to them. The reels will be accessible to everyone around the globe on a tap of the Reel tab; from where millions of Instagram users can find your items and straightway check out its details and buy them.
Entice shoppers with immersive Facebook and Instagram Stories
Facebook and Instagram Stories give businesses the ability to communicate themselves in a variety of ways, while also making it easier for them to interact with the buyers. Online businesses and ecommerce portals should employ stories to convey their brand's uniqueness and encourage customers to take action.
Billions of people watch Instagram Stories daily. This Black Friday and Cyber Monday, don't miss out on the opportunity to target these people by leveraging Shopping in Stories on Instagram. Shoppers could get to know about your product details as soon as they see the sticker in your stories and tap on the bag icon.
Build seamless video experiences with Facebook Instream Ads
Facebook in-stream ads format allows companies to embed ads in video content. The Facebook in-stream video placement offers you the chance to drive longer view durations; can assist deliver more complicated marketing messages. You can utilize videos from five seconds to ten minutes in duration for this ad placement.
Having an online store gives you leverage where you can simply connect your stores by building shops on Facebook or Instagram. Along with surfacing products on the platform through the Facebook & Instagram Shopping app, you can also create, run and track your video campaigns right within the app.
Leverage Facebook/Instagram Live
This pandemic has placed an emphasis on leveraging digital tools to develop your brand online. eCommerce businesses can creatively pivot and use tools like Facebook Live and Instagram Live to raise awareness, engage with customers, and form meaningful connections.
You can utilize Live Shopping to give people the feel of in-person shopping. With this feature, you can tag products from your Facebook/Instagram Shops or catalog before going live. When customers tap on one of them, the tagged products appear at the bottom of the Live stream, where shoppers can instantly view items, add them to their carts, and buy them.
What to expect from Facebook and Instagram?
People are looking to spend less time in physical stores and increase their reliance on mobile-first ecommerce. Safety is at top of everyone's mind; with shoppers avoiding physical contact and crowded locations. To adapt to the new expectations, Facebook is assisting businesses in the following ways:
Lays the foundation of simple shopping
Facebook has always been concerned about providing a place to experience the joy of shopping. And to accomplish this, Facebook is steadily transforming its social platforms into Commerce.
To ease the buying process, it introduced in-app Checkout. By facilitating this feature, you can make frictionless selling; as it lets your customers buy products right after the moment of discovery without having to leave the app.
With the assistance of Facebook Business Partners, selling is indeed a cakewalk. All you have to have is an online store. This Black Friday connect with Business Partners and sell effortlessly across Facebook Commerce.
Makes communication quick and easy
Gone are the days when businesses had to seek ways to interact with their shoppers. With messenger on your side, shoppers can swiftly land onto your shop and in the event that they like your products; they can send you a "hi" and talk about the product's range and purchasing options.
Messaging inspires trust hence it can help you turn their real conversations into customer loyalty. Businesses like yours can interact with shoppers easily; by using tools to automate replies and quickly respond to their messages even when not available.
You can set a greeting message to automatically introduce consumers to your business; set an away message when you're unable to answer; or save time with rapid replies to re-use answers to frequently asked queries.
Help people discover things they'll love
Businesses can increase the discovery of their products through shoppable content. By leveraging Instagram Shopping, you can use its features like Product tags, that let you highlight products from your catalog directly in your images and videos; so that shoppers can easily shop directly from the posts and curate items into Black Friday Cyber Monday themes such as new arrivals, gifts, trends and much more.
Apart from this, you can also interact with your potential buyers by running immersive Facebook ads. Facebook dynamic ads are designed to match the appropriate products with the right people; automatically showcasing products to customers who have shown interest on your website, in your app, or elsewhere online. If you have an online store, all you have to do now is connect to the Facebook and Instagram Shopping app, bring products on its commerce platforms and create targeted campaigns.
Trends to follow this Black Friday and Cyber Monday
People have been preparing for online shopping marathons on Facebook; with millions of talks about holiday shopping already taking place around the world. The conversations are focused on all things related to Black Friday (#blackfriday), Cyber Monday ( #cybermonday), holiday season gifting (#gift, Facebook Cyber Monday deals, Black Friday Facebook deals), and relationships and loved ones (#love, #family) based on hashtags featured.
Here are a few strategies that you can employ to get along with the trends and soar your sales on Facebook and Instagram this Black Friday and Cyber Monday:
Harness the Power of Facebook Groups
People are craving social interaction now more than ever, especially with people having similar tastes and interests. They yearn to belong to something- to feel like they fit in. Facebook groups provide a context for these interactions between like-minded people. For businesses, it provides a wonderful way to strengthen their connection with loyal and potential customers.
With the onset of mega sales events, Shops in Groups have been also rolled out to help you build strong relationships with the people. This Black Friday and the following mega sales events, harness the power of Facebook groups to enhance your brand awareness.
Hot items Shoppers are looking for this Black Friday and Cyber Monday
As Black Friday 2021 is approaching, shoppers on Facebook are more likely to prepare for big deal purchases, mainly with smartphones, home living, and electronic devices, home appliances, sports, health & wellness, and fashion and accessories.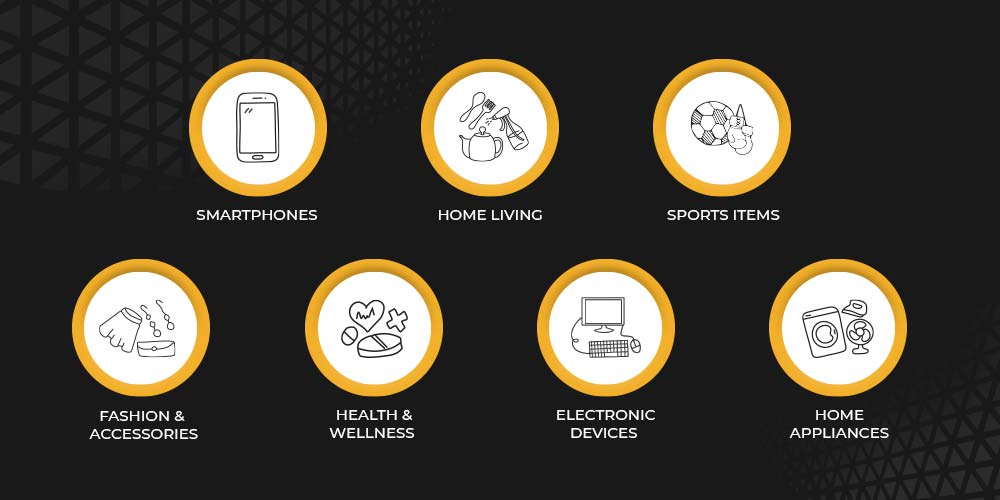 The increase in online shopping sprees during Black Friday and Cyber Monday
Mega-deals may be the shopping extravaganza that many price-conscious customers are looking for. Almost one-third of global respondents indicate they desperately wait for a promotion, deals, discount, or sale on Facebook Commerce Platforms before acquiring a product; and Black Friday is the perfect time for such shoppers. Thus, online businesses and e-commerce portals should make each mega sales day feel like a personal sale day. By using creative methods to communicate different messages in unique ways based on varied motivations and shopping interests.
Average spent 2020 vs what is expected in 2021 during BFCM
According to a survey conducted, 54% of people shopping for the holidays made a purchase during sales season on Facebook Commerce; and 43% of those people went shopping on Black Friday last year.
Global participation in huge sales events like Black Friday and Cyber Monday is expected to rise this year; driven by a growing desire for deals and a preference to avoid the hassle of shopping in person.
The trend of self-gifting affordable luxuries is likely to be pronounced this Black Friday; as more people normally self-gift at this time – with an average of 74% of global shoppers surveyed researching gifts for themselves and around 78% for others.
What should you do? How to join the sales on Facebook and Instagram
As the world prepares to shop online, your stores across Facebook Commerce should begin planning as soon as possible to prepare for the surge of holiday consumers seeking the greatest Black Friday and Cyber Monday deals and offers.
The combination of communicating with customers in a more personalized manner and broadening your reach by embracing Facebook Commerce is a powerful combo. This will eventually increase your sales. So, what exactly are you waiting for? Connect with the Facebook Business Partners right away to make the most of the busiest shopping season of the year. Prepare for a terrific selling experience on Facebook Commerce during Black Friday and Cyber Monday.