Here is How You Can Expand Your Reach with Facebook Live Shopping Fridays
Running short of time? Get PDF of the blog in your mail.

Play Now
As a seller, you always need to find new ways to continue to grow. The online landscape is constantly evolving. For empowering businesses and enhancing buyers' experience; Facebook expanded its Live Shopping Feature, with a promotional event scheduled from this Friday, May 28th, 2021, through July 16th, 2021; Facebook introduced the weekly shopping event " Facebook Live Shopping Fridays" with 8 giant beauty and apparel brands.
There are thousands of merchants selling a gazillion products. And it's challenging to stand out and provide a personalized shopping experience to shoppers. But, Live shopping for sellers is now the de facto standard in offering online shoppers this experience through engaging with them in real-time.
What are Facebook Live Shopping Fridays?
Commencing from May 28th, beauty, and apparel brands will be able to engage with shoppers by answering their queries, sharing tips and demos, with Live demonstrations of featured products during the Facebook Live Shopping Fridays. It's an opportunity for businesses across the Facebook surfaces to start selling Live, in the same manner, using Facebook Live shopping feature. Meanwhile, brands can build relationships with shoppers, offer engaging content and simplify the purchase process through the checkout with "Shops."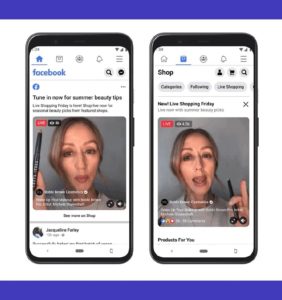 Shoppers can join Facebook Live Shopping Fridays on the respective brand's Facebook Page or visit the Shop tab or bookmark on their mobile.
What is Facebook Live Shopping?
Facebook introduced Live shopping in August 2020; which allows businesses to sell their products Live in real-time while interacting with shoppers. In Facebook Live shopping feature, businesses can tag products from their Facebook Shop or catalog before going live. Once people tap onto any of them, the tagged products will be shown at the bottom of the Live video; from where shoppers can easily view products, add in their carts and make a purchase.
How to Sell Products on Facebook Live
Facebook Live shopping can be used by businesses to reach shoppers worldwide with just a tap. Facebook Live shopping is emerging as the best channel to sell products and directly interact with the audience to acquire potential customers. You can explain about your products while interacting better than writing product descriptions, right? Live shopping allows you to demonstrate more information about your products, answer questions, and clear doubts.
Businesses having Facebook Page have three options from where they can feature their products by going Live;
A Commerce Account with Commerce Manager, a linked Facebook Page, and a product set in your Facebook Catalog.
If you have a Facebook Page but no commerce account, you can still add products and links manually, which you want to feature just before going Live.
If you haven't created a Facebook Page yet, you can still go Live from your profile and feature previously created listings, new products, and links.
How To Enable Facebook Live Shopping
Visit the "Create" section on your Facebook page.
Tap Live Video.
You will have two options: a) Products from your shop that enable checkout directly from the live stream. b) New products where shoppers can message you directly to buy or get a quote.
If you are adding products from your shop, click on a product set for the live video. If you haven't created a product set, create one in Commerce Manager.
For adding new products, tap to upload photos of your products and add details. Add at least three new products.
You can add links as well. Tap on Links. Add the link you want to promote with a description. Make sure your URL contains https:// or https:// in the beginning.
When you are done adding the products you want to feature, press Start Live Video.
While you are interacting Live, you can tap on Feature a product and select what you want to feature when you are talking. You are allowed to feature one product at a time.
Choose Feature next to change the product and Stop Featuring when done.
How Will it Benefit the Brands and SMBs?
Facebook Live shopping aims to turn viewers into buyers. A viewer watching a live sale on Facebook can directly purchase the products featured without leaving the platform. By going Live, sellers have the opportunity to display their product in real-time, answer questions, build relationships with customers, and encourage viewers to make a purchase; by creating confidence in the buyers regarding size, fit, quality, and authenticity. Through Facebook Live shopping Fridays, Facebook encourages merchants to start strategizing and give this feature a try.
Old Wine New Bottle
The tedious, manual process of collecting information about interested people from the comment section has now become seamless because of innovations in social spaces like Facebook's Live shopping feature. However, to help businesses sell with Facebook Live streams effortlessly, making the entire process smooth, right from the beginning with powerful/robust integration solutions, CedCommerce, being a Facebook partner, is happy to assist you.
Leverage the features of Facebook Surfaces with Facebook & Instagram Shopping app, which eases your workload and assists you right from the account setup to the end-to-end onboarding process. It's delightful to witness small and medium businesses growing in different horizons using the innovations being made in social commerce. Get in touch with us to make the most out of this opportunity.