Are Etsy Ads Worth It? Etsy House Rules and Advertising Terms
Running short of time? Get PDF of the blog in your mail.

Play Now
Are Etsy ads worth it? What are the significant differences between Etsy ads and Etsy Offsite ads? How much should you be spending? Should you be taking out advertising on all of your listings? Do you believe you need a better understanding of Etsy Ads? Hang on tight because we will talk about Etsy ads and how this can help you prepare for your Etsy store success!
On Etsy, you have a world of possibility at your fingertips. Millions of buyers come to Etsy looking for stuff like yours, and the only way to reach them is to run your business here. However, how can you further broaden your reach? Advertising can be beneficial.
Hence, as an Etsy seller, you have two advertising options; on Etsy and across the web.
Etsy ads elevate your listings to the top of the search results for millions of shoppers on the site. Whether you're just starting a new campaign or aiming to strengthen an existing campaign. Here in this article, you'll discover solutions to frequently asked questions by Etsy sellers.
What are Etsy ads?
You can advertise on Etsy just like you can on other e-commerce websites. When someone searches for a keyword; and your product listing contains that keyword, Etsy Ads will prioritize your listing in the first row of search results. As a result, buyers will first see your listing. Typically, after searching; the majority of people will only look at the first page of results. They occasionally proceed to the second page but rarely to the third, fourth, or fifth. As a result, it is critical to have your product listed on the first page. For accomplishing this, Etsy Ads can easily assist you.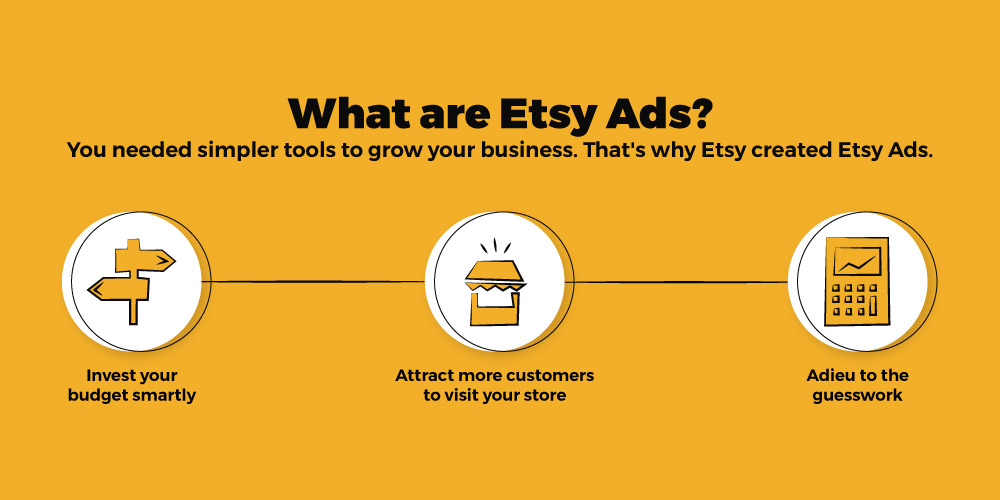 Etsy Offsite Ads
Etsy leverages its financial resources and experience to market your products on various high-traffic websites; including Google, Facebook, Instagram, Pinterest, and Bing. Etsy charges an advertising fee if a shopper clicks on one of those online advertisements of your products and makes a purchase from your shop within 30 days. You only pay an advertising cost when a sale takes place, removing the risk of paying for ineffective ads. Etsy Offsite ads are only available on Etsy. It was created specifically for the needs of Etsy sellers.
Etsy Ads
Etsy has added an advertising component to its platform in the last couple of years. Which allows merchants to purchase paid advertising space to show up higher on search results pages. On Etsy, we know them as "Promoted listings" or "Etsy ads."
Before September 2019, there were two types of advertising on Etsy.com;
Google Shopping.
Etsy Promoted Listings.
Etsy Promoted Listings and Google Shopping were paid on a bidding basis. Thus, you choose the maximum amount you are willing to pay for a single click on your listing ad. Etsy ads work similarly, allowing you to promote your listings on both Etsy and Google. With a bid of how much you wish to pay per click with a maximum of your daily budget. Because Google Shopping is now included in Etsy Offsite ads, Etsy will no longer use the Etsy advertising budget for Google Shopping.
How do Etsy ads work exactly and are Etsy ads worth it?
Sellers often wonder, "are Etsy ads worth it"? Today you will discover how they work and why you should opt for Etsy ads. Etsy selects ads through a bidding process for ad space on Etsy's properties. Then submits "bids" on a seller's behalf for this ad space based on the seller's daily budget. In particular, Etsy ads set the cost and placement of ads through a generic bid/auction system.
In other words, ad inventory is "auctioned off" at a range of prices based on the level of competition for a particular query. For instance, if more Etsy ads match a given search query, the auction price may also increase.
A bid is by far the maximum that a seller can be charged if a buyer clicks on the seller's Etsy advertisement. Etsy determines bids depending on the information provided by sellers; such as their daily budget or the listings they desire to feature in Etsy ads.
How to set up Etsy ads?
To set up Etsy ads, go to Etsy.com and click shop manager.
Click on advertising.
Then simply click on marketing.
Set a daily spending limit. Your daily advertising budget should be capped at this amount, if possible.
$1.00 is the primary daily budget for all users by default. Always keep in mind that you have the option to adjust your budget at any point.
Start advertising by clicking the start advertising button.
How is my Etsy ads budget used?
When you select a daily budget for Etsy ads, you specify the maximum amount of money you're willing to spend on advertising daily. Keep in mind that you may not utilize your entire daily budget. As you are only charged when a buyer clicks on your ad and visits your listings or shop. If a buyer views your advertisement but does not click on it, your budget is not used.
Do sellers often wonder that are Etsy ads worth it? Yes, they do, when it comes to budget but don't worry; Etsy will never go over your daily budget. Once your budget is depleted, Etsy will pause your ads for the day.
How to choose the countries in which buyers see your ads?
Your ads will be visible exclusively to shoppers in the countries to which you ship. If you're using shipping profiles, the following steps will guide you through the process of selecting the countries to which you ship:
Find shop manager on Etsy.com.
Simply click on the settings button.
Click on shipping options to change your shipping options.
Tap shipping profiles to see a list of shipping profiles.
To make changes, click the edit button next to the profile you want to change.
Locations can be added or removed.
To save your profile, click save profile.
How to select which listings to advertise?
By default, when you begin an Etsy ads campaign, all of your current listings are advertised. You have the option of editing or updating the listings you wish to advertise.
To begin or discontinue advertising for specific listings:
To view your Etsy ads listings and their advertising status, navigate to your Etsy ads page.
Toggle on and off status.
To begin or discontinue advertising for a collection of listings:
Advertised listings can be accessed via Etsy ads.
Examine the listings you wish to advertise. You can pick or deselect all items at the top of the screen, filter by section or advertising status, or search for listings.
Click the update button.
You can modify advertised listings at any moment. Ascertain that the listings you promote adhere to Etsy's advertising and marketing policy.
How to make daily budget adjustments?
You can specify a daily budget, which is the maximum amount you will spend on advertising every day. Etsy spends your advertising budget exclusively.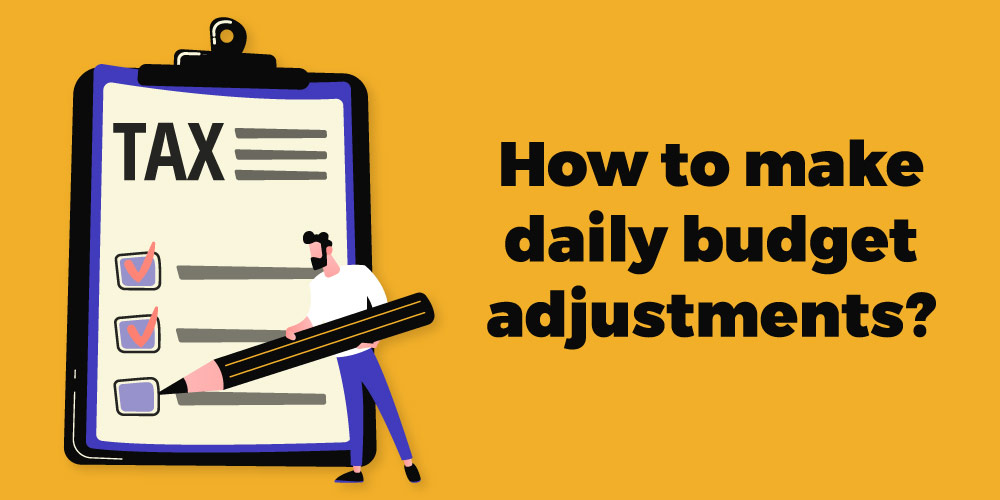 To make a daily budget adjustment:
Manage your budget via Etsy ads.
Create a new daily budget for yourself.
Click the update button.
What determines the upper limit on my daily budget?
There is a limit on the amount of money you can set aside for daily expenses. To determine the upper limit on your daily budget, Etsy considers your average spending, along with your current payment status and payment history. Etsy will gradually increase your maximum daily budget if you consistently spend your entire daily budget.
All sellers start with a maximum daily budget of $25.00. Etsy recalculates this budget weekly for sellers enrolled in Etsy payments and monthly for sellers not enrolled in Etsy payments.
If you have advertised in the past, when you restart your campaign, you'll have the same maximum budget that was in place when you last advertised.
What is the billing structure for Etsy ads?
Etsy charges a fee if someone clicks on one of your ads, regardless of how many people see them. Etsy decides the price of your ad by the number of people who click on it and the relative value of the location where it is appearing. The cost per click in search results may vary from listing to listing and from time to time.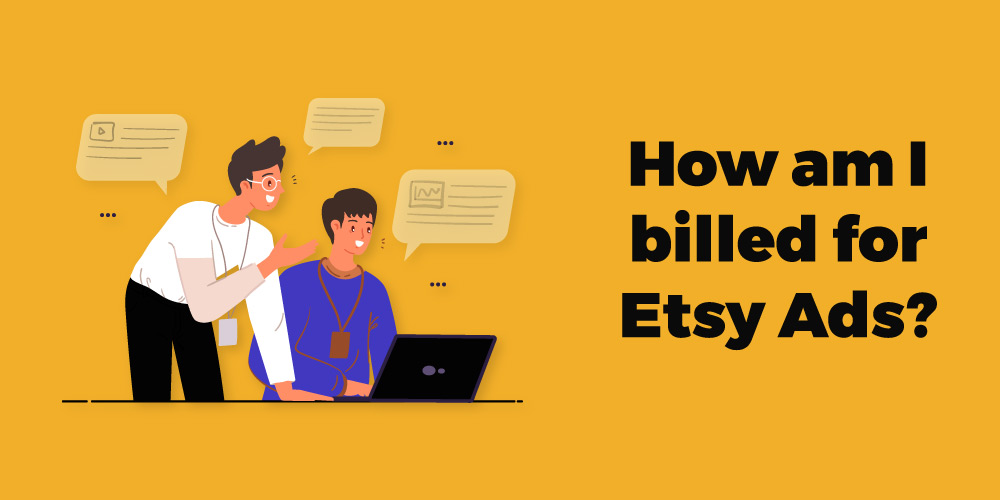 The charges for each day's clicks go straight to your payment account the following day. You'll never go over your daily budget. Etsy will stop showing your ads after charging you for enough clicks to deplete your daily budget.
How to disable Etsy ads?
You have the option to stop advertising individual listings or turn off Etsy ads completely.
To disable Etsy ads, follow these steps:
At Etsy.com, visit shop manager.
Tap marketing.
Click Etsy ads.
Select other options.
To stop advertisements, click the disable button.
What is the recent Etsy Offsite ads update?
Etsy purchases Offsite advertising from a network of participating suppliers, including social media platforms and search engines. The list of participating shopping engines on Etsy is subject to change at any time. At the moment, Etsy syndicates listings to several channels.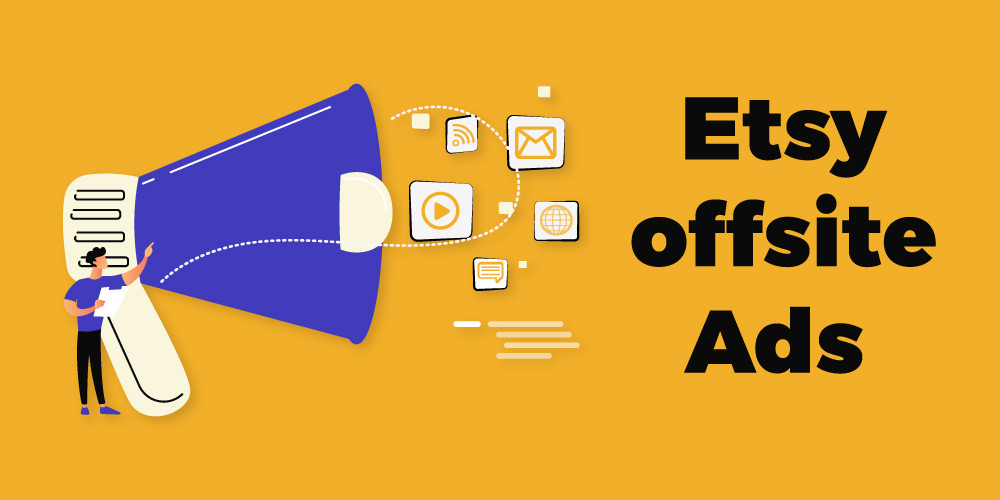 Etsy covers all upfront fees associated with advertising on these providers through the Etsy offsite ads program. If such advertising includes your listing and a customer clicks on it and then purchases something from your shop within 30 days after the click, you will pay an advertising fee for these orders.
Is Etsy's Offsite advertising optional?
Etsy enables Etsy Offsite ads for all sellers. Certain sellers have the option of opting out. In contrast, others are required to participate based on the following criteria:
Sellers who exceeded the $10,000 USD threshold in any consecutive 365 day period after 20th February 2019, will be mandatory to participate in Offsite ads for the duration of their shop, even if they fall below that threshold at a later date.
Sellers who have not exceeded the $10,000 USD threshold in any consecutive 365 day period after 20th February 2019, or else as required by law, may opt out of the program.
The consecutive 365 day period will be extended to 366 days during a leap year. Eastern Standard Time determines the dates. To determine the $10,000 USD requirement, multiply the item price by the number sold minus any discounts or formally canceled orders.
How to opt-out from Etsy's Offsite advertising?
To opt-out from Offsite advertising:
Click on shop manager at Etsy.com.
Navigate to settings.
Click Offsite ads.
Stop promoting by clicking the stop promoting my products option.
Confirm that you do not want Etsy to promote your products any longer.
Confirm stop promoting my products.
You can re-enroll in Offsite ads at any time by visiting the Offsite ads page and clicking restart Offsite ads.
Does Offsite advertising provide an insufficient return on investment (ROI)?
Online advertising pricing structures frequently vary by platform, including cost per impression and cost per click. Offsite ads charge on a cost per conversion (or cost per acquisition) basis, which means Etsy will not charge you for impressions or clicks on your ads until they result in a sale. You only pay an advertising fee if you make a sale, as Etsy covers the cost of impressions and clicks upfront.
If a buyer clicks on an Offsite ad promoting one of your listings and then makes a purchase from your shop within 30 days, that order(s) will be attributed to the ad. You do not pay a fee if a shopper clicks on an ad for your item but does not make a purchase. You only pay an advertising fee when a transaction is done, minimizing the risk of paying for ineffective ads.
What determines my Cost-per-Click?
For each listing on Etsy, Etsy calculates the bid value based on the expected revenue generated by each ad click. Unique buyer purchase chance and listing price determine the predicted sales from an ad click. For instance, if the Etsy ads algorithm believes that a buyer is likely to purchase an expensive listing, to display your ads, the bid increases.
Quick tips for taking your Etsy ads campaign to the next level
The data in your Etsy ads dashboard can assist you in making smart campaign selections. Regularly reviewing accessible data enables you to optimize your advertising in response to seasonal trends, inventory changes, and developing marketing objectives. Now that your question, "are Etsy ads worth it"? is answered; continue reading for an overview of the additional statistics available when running an Etsy ads campaign, as well as ideas for tailoring your approach to your shop's specific results.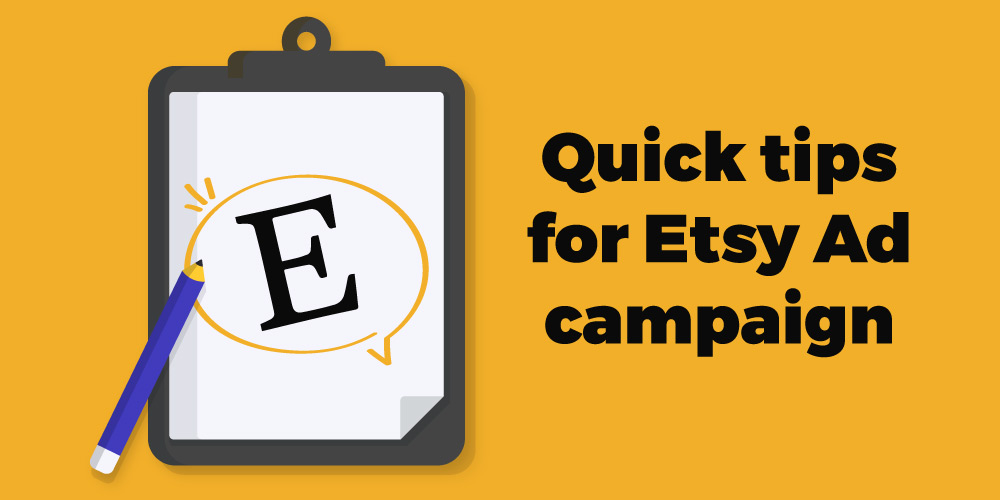 A quick look at the changes
Now, you can view the click rate and return on ad spend (ROAS) for each of the listings you're advertising in the Etsy ads dashboard. The click rate indicates the proportion of ad views that result in a click. The return on advertising investment (ROAS) metric indicates how much profit you made on each dollar spent on advertising.
These more specific statistics will assist you in determining which advertisements generate the most traffic – and profit – so you can maximize your advertising budget. Swiftly start or stop promoting a specific listing based on its performance.
A simple way to make listing-level changes
Etsy recommends that you promote all of your active listings when you initially begin running an Etsy ads campaign. However, after at least one month of running your Etsy ads campaign, you may optimize your paid advertising by refining which listings you promote, depending on the results.
Watch the ROAS metric
A typical method for determining your top performers is to examine which listings generate the best return on advertising expenditure (often referred to as "ROAS"). The ROAS calculation provides a crucial answer to a critical question: How much income is generated for every dollar spent on advertising?
Although ROAS differs widely by industry, a standard benchmark is 2.8 ROAS.
To determine your current ROAS average to create a custom benchmark, take your entire income for the last 30 days and divide it by your total expenditure.
Metrics to keep an eye on: Click-through rate
Low click-through rates (CTR) may prompt you to change some aspects of your listing to make it more appealing to shoppers browsing your listing in search results. Change your key photograph or update your title or tags to reflect buyer expectations for the item to increase engagement.
Monitor and make any necessary adjustments
Continue to monitor your campaign, and each time you make an adjustment, allow time for data collection before making any changes. We recommend waiting approximately one month following each significant modification to allow time for your new campaign to optimize.
There are over 4.66 billion internet users on the planet, and providing personalized, frictionless experiences brings them closer to you. It's why we build the things we build and why you should use them. We want to make commerce better for everyone.
Success is Handmade
All of these measures are taken into account when a potential buyer visits your shop – and they are altogether worth investing time and attention into; before beginning online advertising to maximize the effectiveness of your advertisements. Bear in mind that your first attempt at online advertising is quite unlikely to be effective. Ascertain what works and what does not, and then utilize that information to inform your subsequent campaigns. Consider your plan as a work in progress rather than a completed product and be open to experimentation.
Are you still thinking, "are Etsy ads worth it"? Now that you've got a good mix of advertising efforts to spread the word about your Etsy shop, you're well on your way to success! Remember, growing any business will take some time. Luckily, CedCommerce team is here to help you every step of the way. Get in touch with us today for everything Etsy. The Etsy waters are warm and we look forward to you cannonballing in.