How to Skyrocket your Sales by Etsy Promoted Listings?
Running short of time? Get PDF of the blog in your mail.

Play Now
You are on Etsy, and you are selling. That's why you are here. No? Then, You must be here wondering what this Etsy Promoted listing is?
As a matter of fact, you want more than selling now and are willing to grow with your Etsy shop, yet you're not sure how?
Here is the Catch! Etsy allows every seller to voluntarily advertise their listings to get potential buyers and showcase their products on the search results.
How?
Through Etsy Promoted Listings.
A magnificent way to improve discoverability within Etsy search results and to compete with other sellers.

The above image displays how a promoted listing on Etsy is displayed on top of every search result in assigned spaces inside the list of items on Etsy.com and in the Etsy app.
Amazing! Isn't it?
Well, if you liked what you read till now, you'll definitely love to learn these topics in detail: 
What is Etsy Promoted Listing?
Etsy Promoted Listings is the Etsy advertisement program whereby you can promote listings on Etsy and promote your shop.
Like other marketplaces, Etsy also gives the option of promoted listing Ads to the sellers. On average, one in every four rows of results on Etsy is reserved for Etsy Promoted Listings.
Etsy accounts for 96 M Buyers in comparison to 7.5 M Sellers. As an Etsy seller, you have a large pool of customers you can quickly drive to your Etsy listings. To emphasize, here comes the role of Etsy Promoted Listings.
Paid advertising is always the best way to market Etsy shop and grow your reach. Etsy promoted listings open up opportunities for you to promote Etsy listings daily by spending the designated amount of budget, and Etsy will pop your listings up on the search results. This means that Etsy advertising can make you have that bunch of wishful potential buyers in your store in no time. 
Do you run a Shopify store? If so, then have a look at this app that can do wonders.

Now let's move on to an interesting topic about Promoted Listings on Etsy – the factors.
What are the Factors Affecting an Etsy Listing Performance?
Since you are not the only seller out there using the Etsy advertising tool, certain factors affect your Etsy listings performance. They are:
Bidding Amount: The higher bid you make, the higher is the chances for your promoted listings to appear at the top search results.
Search Relevancy: The extent to which your Etsy listings match the User's Search term.
Timing: The traffic throughout the day on Etsy is not the same. Therefore, the timing, season, and availability of the listings also matter.
Listing Quality: It depends on how compelling you make your listings, its Title part and Description, and so on. The use of keywords is necessary to get discovered easily. Etsy SEO comes into play here.
How to Promote Etsy Listings? How to Set up an Etsy Promoted Listings.
You should always be in the race for a top-rated seller's hub. For instance, you should make all your listings eligible for the Etsy Promoted Listings. To promote Etsy Listings, follow the steps:
Log into 'Etsy Account' and Goto 'Shop Manager.'
Locate the 'Marketing' tab and 'Promoted Listings.'
Set Daily Budget.
Configure the settings.
Enable 'Promoted Etsy Listings.'
Now let's understand these steps in detail:
Log Into Account and 'Shop Manager'
To start with the Etsy Promoted Listings, first Log-in to your Etsy Seller Account.
As soon as you are logged into your seller account, Locate the "Shop Manager."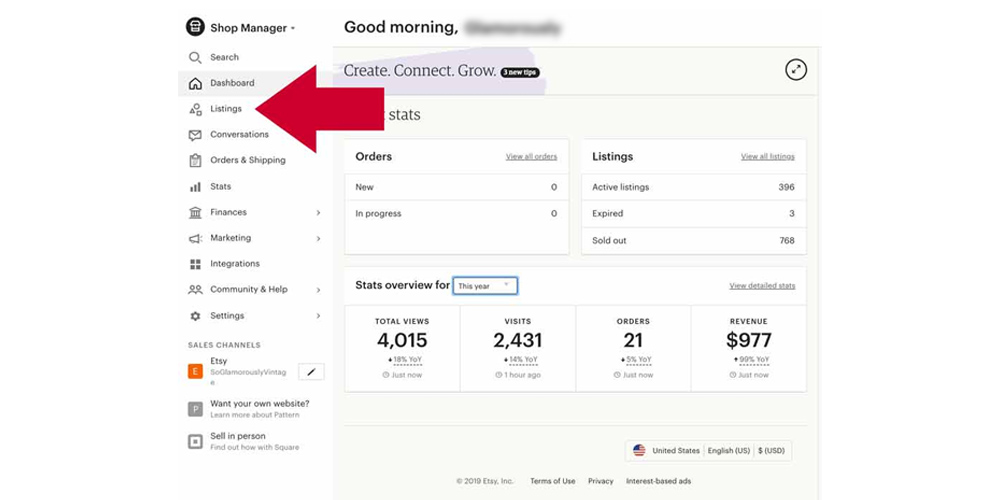 Locate 'Marketing Tab' and 'Promoted Listings'
As soon as you click on the 'Shop Manager,' your dashboard appears. From your dashboard:
Locate the 'Marketing' option from the extreme left verticle tab.
Henceforth, Click on the 'Promoted Listing' option from the drop-down option.
After clicking on the promoted listing, you can click on 'Start Advertising.'
Setting Daily Budget
Once you get started with Etsy Advertising, you need to set a daily budget for the Ad fees. The daily budget is the maximum amount you will be paying daily for your promoted listings.
The minimum bid for a day is as low as $1.00.

Try bidding high initially later experimenting it with low CPC bids.
Configure the Settings
In the meantime, when you are done with setting up the daily Budget, Make sure to configure the ad setting according to your needs and requirements.
Click "Manage' in the Ad Performance Section of your Dashboard.
Go to 'Advanced setting' to get multiple options to enable/disable your Etsy promoted listings.
In the Advanced setting, you will come across the following options:
Advertise new listings automatically: By default, you should keep your listings under the automatic Etsy promoted listing section so that your spending doesn't get out of hand.
Show bidding options: Always enable this. Don't trust the Etsy algorithm for setting-up your bidding budget.
Set maximum cost per click: Decide your maximum CPC based on the overall profitability of your campaigns. Don't forget to test different bids!
Tip: Additionally, with the default bidding on all of your promoted listings. You can also set individual bidding for every new listing accordingly
Enable 'Etsy Promoted Listings
To put the Etsy promoted Listings in use.
Scroll down to 'Ad Stats and Settings' on your dashboard.
Here you can select the listings that you want to run an ad on. 'Tickmark' the applicable.
Click on 'Turn On' to get the Promoted Listings on work.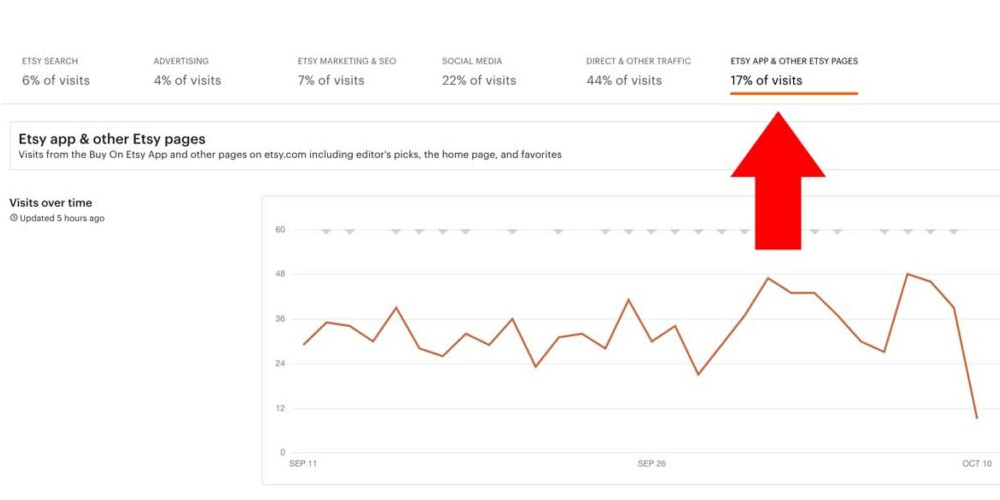 How to Advertise on Etsy?
When it comes to advertising, Etsy let you advertise in two ways:
Etsy Promoted Listings
Google Shopping Ads
While Google Shopping Ads are wholly governed under Google rule, You need to spend the daily budget, and Etsy forwards the same to Google. Google, in return, according to its algorithm, promotes it on Google search whenever someone searched.
In contrast, when it comes to Etsy Promoted Listings, it is different. Etsy Promoted Listings give you more freedom and customization to promote your listings on Etsy and make them appear more often on the prospects' search results.
Your work process for promoted postings should resemble this:
Pick a couple of good postings that have been already gaining popularity among shoppers.
Moreover, keep a check on their title and description part to be in perfect shape.
Improve SEO and pictures, test distinctive variations
Begin with low offers at $0.10/click as per your calculations.
Step by step, increase your offer until you achieve your edge.
Proceed with the procedure with different postings
Common Etsy Promoted Listings Strategies
Here's how to make Etsy Ads and Promoted Listings Strategy work for you:
Discover what your top-of-the-line things are. In a perfect world, your smash hits sell no less than three times each month or more. Just advance items that sell, not fresh out of the box, new things.
Make sense of the amount you can stand to spend per posting. For example, if your change rate is 1% on Etsy (1 Sale for every 100 Views), at that point, you can compute the amount it will cost to advance your thing.
If your Etsy thing is $20, and you are burning through $0.20 per click, at that point, 100 ticks will cost you $20 on Etsy Ads to offer one thing for $20, which implies you will lose cash. That is the reason it is essential to discover what your typical change rate is (Sales per Views) and what your max CPC ought to be.
It's as simple as that. So, promote things that sell well, and advance things where you can stand to burn through cash on Ads.
If you find the blog slightly longer to read, you can check out this video summarising all about Etsy Promoted Listings. Have a look!
Etsy's Booster Tips – A Quick Action Plan
The Sum You Offer and Your Catchphrases Matters
Etsy appears at 250 pages of things when you complete an essential hunt. If your watchwords are unsatisfactory, you'll be on page 5 or 10, or 25. You won't be seen.
If you offer $1.00 yet expect that $1 to cover 45 things, you won't be seen. Keep your primary concern pay in more than $1 and ensure your catchphrases are SPOT on.
Your Offered Sum Matters
If you offer your things at $.05 each, and another shop offers at $.15 each. Which one do you think Etsy will prefer? You can offer up to $.99 per click.
Except if you are paying $20 per day, that $.99 snap will close down your promotion before it begins.
There is a computerized sum; this sum decides how much different shops are paying and will endeavor to come amidst the line.
It won't knock you to the front of the rundown, yet it won't let you wait at the back. For some, it is okay. However, if you intend to complete a custom sum, begin around $.15-.25, and perceive how it goes.
Promote a Couple of things, not a Ton
When your Etsy advertising ends and you hit your day-by-day spending limit, it isn't easy to manage when it's spread out to more than 50 things. Instead, focus on 3-5 words at most. Specifically, adhering to 3 gets the best outcomes.
Anticipate that the majority of your financial plan should be spent. It is more than likely that you discover a sweet spot going through $30-$100/day on your postings, typically making $70-$300 in benefits.
What is the cost to Promote Listings on Etsy?
All things considered, you surely need to know that Etsy Promoted Listings works on CPC (Cost per Click) model, which means that you will be charged every time a buyer clicks on your listings.
Etsy Promoted Listings mainly work on bidding, and bidding differs according to the type of product. The same amount of bid for the jacket will not work for a pendant.
For those of you who still don't know what is Bidding?
It is the most astounding offer you're willing to pay for a single tick on your posting.
The mechanized offering framework breaks down your posting cost and past change rates and examines the posting's intensity, dependent on the title and labels.
The higher the cost of your thing, the more probable it is for a tick on the leaning to prompt a deal, and in this way, the higher the mechanized offering framework will offer to promote that posting for you.
In case you're utilizing a programmed offering, you can set a most extreme expense for every click (max CPC). If you have a maximum CPC set up, none of your programmed offers will surpass that sum.
Remember these 2 things:
A maximum CPC does not have any significant bearing on custom offers. Postings with a custom offer higher than a maximum CPC may result in higher click costs for those specific things.
A maximum CPC doesn't naturally build your offers or influence your postings' current arrangement. This setting just cutoff points how high your computerized offers can be as they modify after some time.
How are you charged for your promoted listings on Etsy?
You're charged for a Promoted Listing when it's clicked from an advanced spot in list items. The budget per click is summed for every day and added to your Payment account the following day.
The charges for Promoted Listings are shown under Cost on the Promoted Listings postings. Your Payment account is likewise refreshed every day for Promoted Listings charges so you can monitor what you're spending on clicks.
To see Promoted Listings charges on your Payment account:
On Etsy.com, click 'Shop Manager.'
Click 'Finances.'
Click the 'Payment Account.'
Subtleties insights of your promoted listings or postings:
Impressions: The number of times your advertisement was seen.
Clicks: The number of individuals navigated to your page.
Cost: The substantial sum deducted from your everyday spending plan.
Requests: The number of applications straightforwardly got from the advertisement.
Income: The amount or the measure of profit have produced using the promotion.
How to Stop Promoted Listings on Etsy
In the event that you are done with the Etsy Promoted Listings, you can turn it off. You can enable/disable the promoted listings according to your will.
Scroll down to 'Ad Stats and Settings' on your Promoted Listings page.
Click the switch symbol attached, with each listing on the extreme right.
Disable the promotion by making it dim.
To quit the complete Etsy advertising on various postings, Locate the 'Advertising Status' bar and click Turn Off/On over the administration table.
Don't merely depend on promoted postings. Ensure you are advertising your items utilizing social media. Facebook, Instagram, Pinterest, and Twitter can get you natural followers and a crowd. You can likewise pay for publicizing on these social stages; watch for our next blog entry on that!
If you are a Shopify seller looking to expand business on Etsy, this is the best way to do so – 

Now lets have a look at some of the terms that you need to be aware while managing promoted listings on Etsy.
Terminology At a Glance
CPC (Cost-per-click)
The measure of cash you pay whenever somebody taps on your advertisement or advanced posting for this situation.
CTR (Click-through Rate)
The level of individuals who click on your advertisement in the wake of seeing it; if your promotion got 1000 impressions and 25 ticks, your CTR is 2.5%.
CVR (Conversion Ratio)
The level of individuals who purchase your posting in the wake of visiting it (or, for this situation, tapping on the advertisement), on the off chance that you had 100 ticks and seven orders, your CVR is 7%.
Website Optimization
Website design improvement, different strategies individuals use to influence their substance to seem higher in pursuits on the Internet.

As you acclimate to the most modern look and feel of the refreshed Teams and Forums and start to investigate new highlights, we've ordered the accompanying assets to enable you to benefit as much as possible from the network understanding.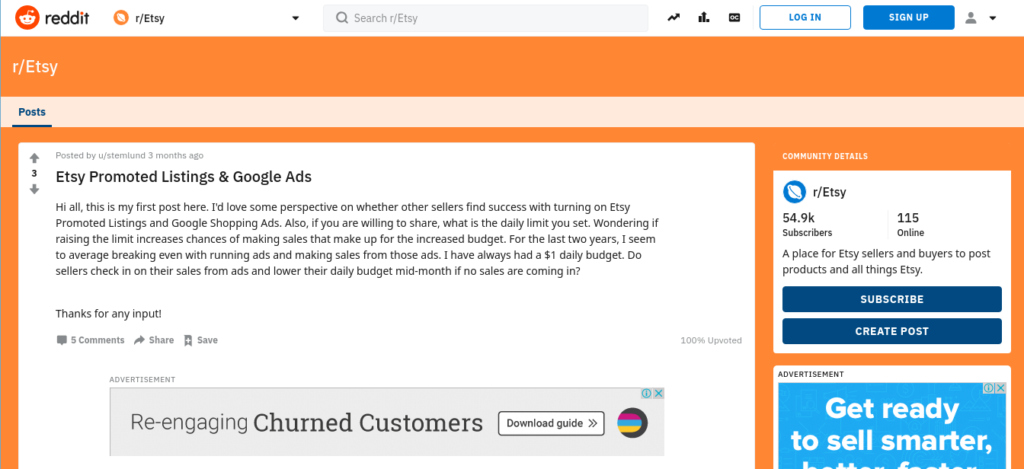 We'll likewise post other gatherings exchanges during this time to feature more approaches to exploit these updates, so stay tuned!
Final Thoughts
Just begin. Begin moderate, beyond any doubt (perhaps only advance a bunch of items). Be that as it may, put it all on the line. There is generally okay, and it can genuinely enable your shop to take off.
Along these lines, if you vacillate about Promoted Listings, I trust that this gives you somewhat more certainty to go out on a limb.