Etsy Fees and Payments: How much does it cost to Sell on Etsy?
Running short of time? Get PDF of the blog in your mail.

Play Now
Etsy is an e-commerce marketplace that enables artists to sell handmade, unique products to interested buyers worldwide. With 3.5 million active sellers and 80 million active listings, Etsy has enabled retaining the buyers and welcomed new buyers to its platform, even in the Pandemic. Since Etsy provides different services to the sellers and charges a nominal fee, every seller on Etsy should know that a business of any size can easily grow using the platform. Before you plan to set up your store on Etsy, you must know how much it's going to cost your pockets. However, Etsy readily supports handmade sellers to sell easily and grow their brand without worrying about the hefty fees.
How much does it cost to sell items on Etsy?
When you start selling on Etsy, some fees are fixed, whereas some are optional for the sellers to pay. It depends on you how you plan your store. Understanding all Fee types is something you should do before setting up a store on this platform. Etsy offers two pricing plans where various other fees are levied from listing an item to selling it.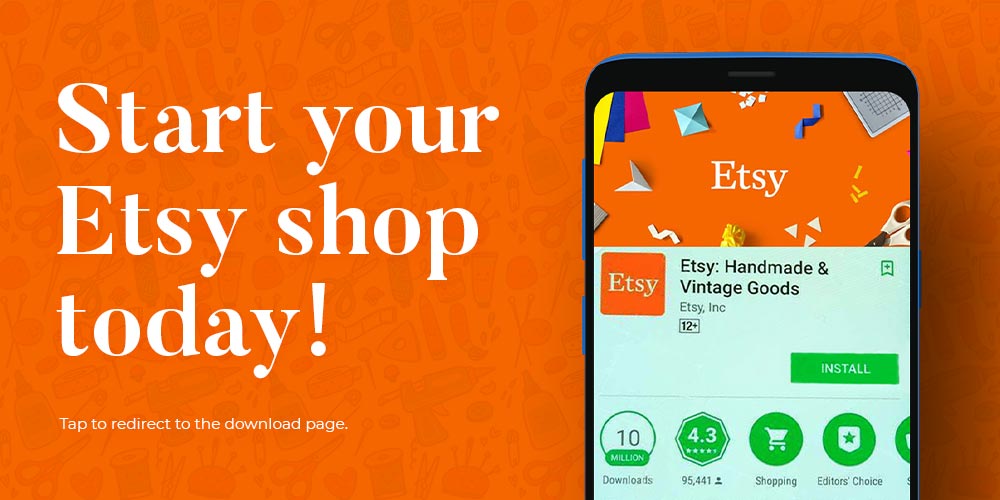 The Pricing Plans
Standard Plan
It is a free seller account with all necessary tools made available by Etsy.
This Plan allows you to list Etsy's products, buy and print discounted postage, and sell your products with coupons.
Plus Plan
Etsy sellers may opt for the Etsy plus subscription package, with an expanded set of tools for growing the brands.
The Subscription charge is $10 per month.
Your Etsy plus Subscription fees are deducted from your current balance every month and shown in your payment account.
Etsy will charge sales tax on monthly subscription fees for sellers located in the US.
You may cancel your subscription anytime by visiting the subscription section of your shop manager's settings.
The Plus Plan subscribers are provided with:15 listings credit that is visible as $3 in listing credit in the payment account.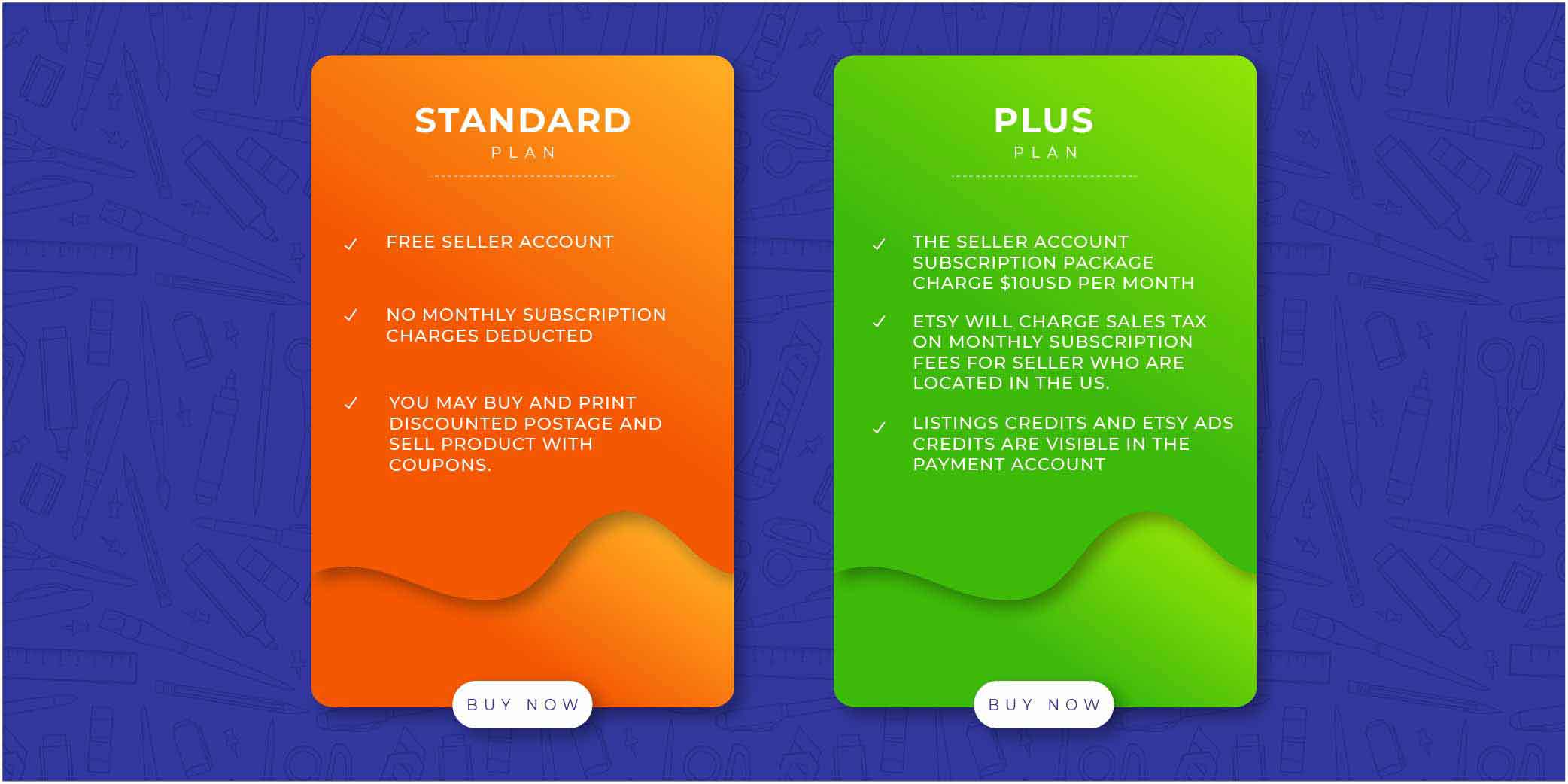 Break down of Etsy Fees
Listing Fees: The listing fee is imposed on each item listed for sale on Etsy. Each item is charged $0.20 once at the time of listings. There are no additional listing fees for the things that are already listed. You will be charged when listing and renewing it, no need to pay for editing. Whether the listed product is sold or not, you need to pay the listing fees until and unless you have created the private Listings, where you need to pay when an item is sold. Also, if you have many quantities of one listed product, so at the time of initial listing, you will have to pay $0.20, but as and when each quantity is sold, you are charged for each item automatically.
Transaction Fees: When you are making a sale through Etsy.com, you will charge you 5% transaction fees of the product's price displayed and gift wrapping. The currency conversion section is provided to you, just in case if you are listing items other than the payment account currency's terms. If you are selling from the US or Canada, the transaction fee does not apply to Sales Tax, GST, or Harmonised Sales Tax, unless these include your listing price. If you sell anywhere other than the US and Canada, the transaction fee will apply to the listing price, postage price, and gift-wrapping fees. Any optional personalization for an additional fee is added to the listing price you display. The Transaction fees are deducted from the currency balance when a sale occurs and get reflected in the payment account. 
Here is an announcement that Etsy is raising seller transaction fees up by 1.5%. This move has been taken to improve the marketing and support to further extend our strong momentum.
Advertising and Promotional Fees: Etsy provides various services to advertise your listings and promote your shop by Etsy Ads and Offsite Ads. If you choose Etsy Ads, you need to select your daily maximum budget, whereas If you choose Offsite Ads, you need to pay the amount for the Ad per click.
In-Person Selling Fees: You being the Etsy seller, has the option to sync your listings with "Square." For In-Personal Sellers, You can use The Square reader to process payments. If you sync listings with Square, the charge will be the same $0.20 renewal fee, whereas non-synced listings will be charged a $0.20 transaction fee, which would appear on the payment account as a "Square Manual" fee. 
Payment Processing Fees: Etsy shops that are eligible may use Etsy Payments for accepting various payments. Etsy is charging payment processing fees for each transaction made through Etsy Payments. The payment processing fees vary as per the location of your bank account. The payment fee is processed based on the total amount of the sale, including tax and postage. It is deducted from the sale amount in the payment account, whereas deposit fees are deducted from available funds.
Delivery Fees: Etsy offers you the ability to purchase postage labels to attain orders from buyers. The Price of the postage will rely on the delivery carrier, origin, destination, weight, and dimension of the package. If you buy the postage labels, you may also purchase parcel insurance via a licensed insurance carrier. If you are a US Seller and have purchased USPS postage return labels, It will charge you after delivering the returned package. You must need to accept Etsy payment or Paypal as the method of payment.
Pattern Fees: The pattern tool is to create a personalized website for free for 30 days. The monthly subscription fee is $15.00. Sellers located in the US will be charged Sales tax on their monthly subscription. The first monthly fee is prorated, while full subscription on costs for each month you use pattern. If you, as a seller, also buy a domain through Etsy's partner Tucows, Inc, It will also charge them to register the domain name; the pattern fees are reflected in the payment account and deducted from the current balance.
Why would you need to know about the Etsy Fees?
Before starting your store on Etsy, it is crucial to know about Etsy's fee structure. You cannot price your listings correctly and identify profit unless you know overall costs and fees. It is essential to understand the Etsy fees, as paying the Fees on time will help you maintain your goodwill. A good reputation means you can subscribe to Etsy Plus, which gives you access to additional tools and advantages to enhance your business successfully.
When a seller avoids paying a fee, it is considered as Fee Avoidance, which is strictly prohibited by Etsy. The price mentioned in each listing description should be an accurate representation of the sale. Just for the sake of avoiding Etsy transaction fees, Sellers cannot edit the item's price after the sale. They cannot misrepresent the item's location; another user's account without permission is not allowed.
How to Make a Payment to Etsy?
Etsy enabled the deduction of fees automatically from the seller's payment account. Your payment account should have sufficient funds to pay the fees; if not, you need to pay the Etsy fees within 15 days from your monthly statement. If the amount is not paid even after that, Etsy may charge you and take some actions to lay out the fees as per the Payment Policy. The statement is available in the payment account at the beginning of each month.
Etsy payment processing fees cost 3% + $0.25, which allows you to accept payment from the buyers by many payment options like:
Credit cards
Debit/bank cards
PayPal
Etsy Gift Cards and Etsy Credits
Apple Pay
Google Pay
iDEAL (the Netherlands)
Sofort (Austria and Germany)
Klarna Invoice payments (Germany)
How to expand your business along with Etsy 
Many sellers are happily selling on Etsy, but somehow they are lost in the crowd of similar businesses. Etsy has provided a platform to various like-minded creative sellers like you to showcase your talent through your products. Depending upon the product's popularity and buyer's performance, the seller's position cannot remain constant. Hence it will also be fruitful for you if you own a unique brand website. There are various eCommerce builders, but most of the Etsy creators go for Shopify. 
Shopify enables you to create an online store for your products, manage them, and handle them easily. It also provides you with unlimited store size, order, and sales. The service guarantees a smooth ride at the expense of just monthly subscriptions. You can expand your Etsy shop to increase the sales from your website. Within a few clicks, you can link your Shopify store with an Etsy store and enhance your business and profit to the next level.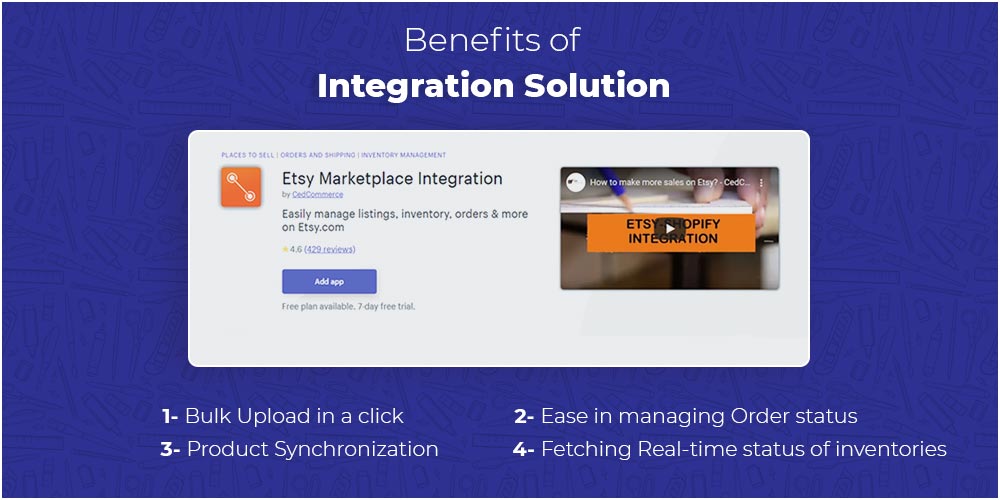 How to Connect Etsy to Shopify
When you connect your Shopify store with the Etsy store with the integration solution's help, you will experience the fastest uploading on both platforms and real-time sync of inventory between both platforms. You can add your products on Etsy straightaway from your Shopify store in bulk. The Etsy Shopify Integration App helps you avoid extra work and automatically manages your Inventory and orders without any hustle.