Etsy SEO Tips To Optimize Your Etsy Store And Rank First On Etsy Search
Running short of time? Get PDF of the blog in your mail.

Play Now
Are you wondering why Etsy SEO has suddenly gained so much hype? Well, many sellers need help to achieve high conversion despite high-quality products, and competitive pricing is true.
Etsy SEO comes to rescue Etsy sellers who have put in their best efforts but still waiting for expected outcomes.
It is annoying not knowing the right keywords to target, irrelevant product descriptions, incorrect URL structure, product title, and header is not SEO optimized, and product page not optimized for search engines.
Let's dive deeper into the nitty gritty of how to improve Etsy SEO for higher conversion rates.
But First, Worry Not!
Why Etsy SEO is of Utmost Important (And Can't Be Overlooked)
Etsy SEO, when done correctly, will position your store to compete with competitors. Moreover, if you are a newbie seller ranking high on the search results will help you gain better visibility for products without investing in ads and influencer marketing.
You Might Be Inquisitive about How Etsy SEO Works
The logic behind which product listing will show at the top in the search result and which won't is on query matching and ranking. Etsy checks for the specific search term input by the shopper to locate those terms in the inventory. It is a query matching.
The ranking of products is based on eight factors. These are mainly as below
Relevancy – It measures how well tags, titles, categories, and attributes align with a shopper's search query.
Listing Quality Score – The score is measured based on how likely clicks, views, favorites, and purchases are to convert to a purchase.
Recency – New listing is ranked higher in the search result over an older one for a limited time.
Shipping Price – Sellers whose products are applicable for free shipping or are at discounted shipping are given higher priority over the rest. After all,it has a strong influence on the buying decision.
Customer & Market Experience – Fully completed About Us section and customer reviews have a strong influence.
Translation and Language – The language of your store has to be the same as the language chosen at the time of account creation.
Shop Location – Local items appear higher in the search results than other products.
Shopper Habits – The shopper buying pattern is considered while suggesting appropriate products to buy.
Red Flags That You Need To Work On Etsy SEO (Right Now)
How can I be sure that Etsy SEO for my store is done correctly or needs to be upgraded? Here are a few major red flags to observe keenly and fix at the earliest These red flags are as below
Etsy SEO Red Flags That Demands Immediate Attention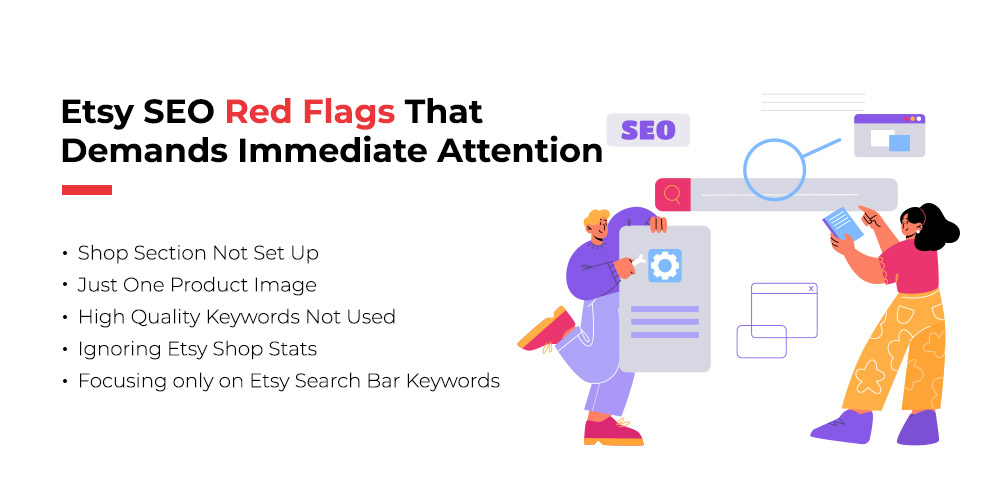 How To Fix These Etsy SEO Red Flags (The Right Way)
Shop section – If this section is left uncompleted, it means missing the opportunity to reveal to customers the types of listings a shopper can expect at your store.
If you find the below left incomplete. It is a sign your Etsy SEO for the store shop section needs to be fixed
Banner image
Logo
Announcement section
About section
Policy section
An updated shop section helps customers with the details required to purchase with confidence.
The Pro Tip –After every couple of weeks, revisit the shop section and update it with the latest details.
Product Images
Uploading a single product image will not improve customer experience.
Customers expect to view products from different angles. It helps them envision the products working and better decide how much ease it can bring into their life.
Therefore, uploading multiple high-definition images is of great help in grabbing customer attention and convincing them for the purchase.
High-Quality Keywords
Long tail keywords (three words or long) are considered high quality because they display your listing to customers with high purchase intention. Hence, increasing the likelihood of achieving a better conversion rate.
Moreover, Etsy recommends incorporating them in product listings. Long tail keywords fetch more high-quality traffic than generic keywords.
Etsy Shop Stats
These stats are of great help in terms of segregating traffic sources. It will reveal sources bringing in maximum traffic to your Etsy store.
As a result, you can prioritize the proper channels to put maximum effort into and invest in it to reach out to high potential customers before they change their minds.
Etsy Search Bar Keywords
As an Etsy seller, it is vital to consider the keywords search suggestions provided in the Etsy search bar. But, only relying on them won't be enough.
Because these keywords reveal recent search terms and not necessarily popular search terms. Therefore, it is one source to find keywords, but never make it the only place to look for potential keywords.
Few more methods to find relevant keywords to enhance your Etsy SEO
The How Shoppers Find You Metric – You can easily access this metric in the Stats section under the Shop Dashboard. It will reveal which keywords bought the maximum number of visitors to the shop.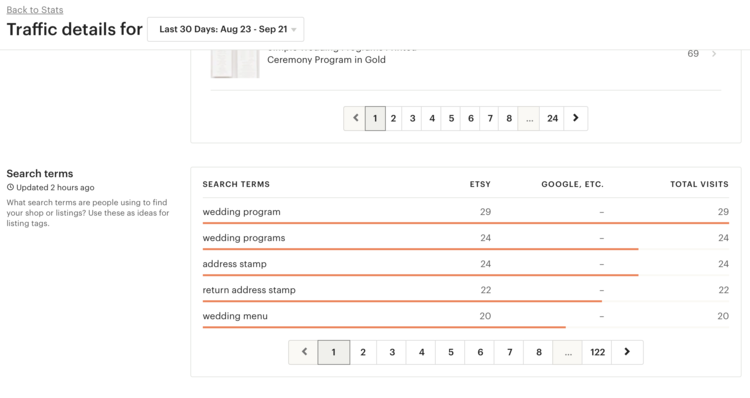 Image credit – valeriefreeman
Using Etsy Ads – Navigate to Etsy Ads and scroll down to click on listings. It will reveal the following details
Keywords with the highest click rate
Keywords ideas with respect to ads performance in the search
This data helps gather new keyword ideas that match user keyword search phrases. It also tells which keywords are still relevant and has stood the test of time. These are evergreen keywords.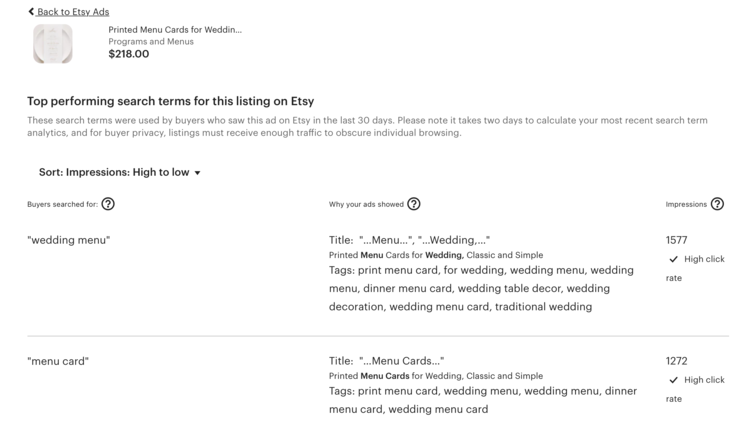 Image credit – valeriefreeman
Few More Do's and Don'ts For Good Etsy SEO
The Do's
Use of keywords with very high competition.
Ignoring exact match keywords and using generic keywords.
Choosing categories that are not as specific as they can be.
The product description can answer customer's obvious queries.
Use multiple tags (all 13 if applicable) to engage maximum customer groups with products. As every tag is unique, it grabs the attention of different groups of shoppers.
Update your listing at regular intervals. It will strongly signal Etsy to consider your listing fit for customers.
The Don'ts
Repeating keywords in the product title.
Long Tail keywords missing from title and tags.
Use of the same tags over and over again.
Worrying for the plurals. Because the search phrase used by Etsy shoppers is matched with the root word.
How To Choose The Right Keywords (Must Not Go Wrong)
Choosing the right keywords has been critical to the success of Etsy SEO. It sets the direction in which all efforts are to be put. And we all agree that,
Change is good — if it's in the right direction – Frank Sonnenberg
The keywords your shoppers are using for searching the product will not be a daunting task. Let's delve deeper into it.
Do The Brainstorming
Brainstorming means discovering all search terms customers use to find your store products. Note down all the relevant keywords.
Seek Google Help
Search these keywords (found using brainstorming) on Google and scroll down to the bottom to find suggestions by Google. These are high-potential keywords frequently used by shoppers eagerly searching for products you sell on your Etsy store.
The Pro Tip: Using prefixes like "how to" or "where can I" will help extract long tail keywords. Long tail keywords have very high purchase intention.
Try Google Keyword Planner Tool
It is one of the most reliable keyword research tools for finding keywords. After all, data is provided by Google. Using it, you will quickly discover the below data. Average Monthly Search Volume Competition level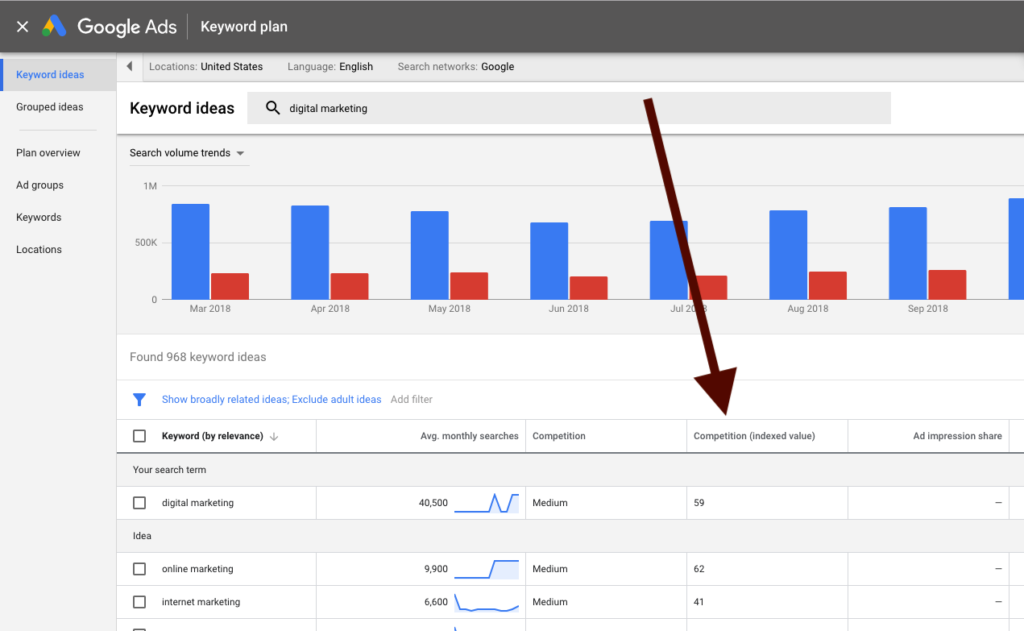 Image credit: shopify.in
Moreover, it helps find many new keywords related to your business. Among these, consider ones with low competition but higher search volume.
The Pro Tip: Thinking like a buyer is the best strategy to uncover keywords to optimize your Etsy store in the long term. One effective way is to approach your friend or colleague who is on the lookout for products listed by you on Etsy.
Search Analytics (Please Don't Miss On It)
Search analytics is a fantastic feature that is in the beta stage. It provides the below details, with which choosing the right keyword will not go wrong.
Search Query – These are the words Etsy shoppers use to reach your product listings.
Impressions – Another essential parameter revealing the number of times your product listing was visible to shoppers.
Position – The average position at which listings appear for a particular query on the Etsy search result.
Orders – This is among the most accurate metrics for positioning your Etsy SEO efforts to achieve maximum output.
You get to know the search queries shoppers use to locate your Etsy store and make the purchase.
Conversion Rate – It shows the percentage of visits from a query that resulted in a product purchase.
These details are essential in deciding which keywords are most often used to search for products listed in your store.
Where To Use The Right Keywords (Must Not Go Wrong)
Keywords play the most significant part in ensuring your product appears over the rest when Etsy shoppers enter a particular search phrase.
You might wonderwhere and how to use keywords to strengthen my Etsy shop SEO score.
Categories
Choosing the most specific category is recommended to ensure the product matches with search results used by shoppers looking for the same product.
Adding subcategories gives the advantage of getting products listed under all categories of which the subcategory is a part.
Title
A short, crisp, and concise title makes it easy for shoppers to find your product quickly.
Use keywords that reveal the correct definition of the product. Customers prefer to give a shot to a product whose purpose is easy to understand. And they do not trust titles that are complex to understand.

image credit: Etsy
Above is a perfect example of an SEO friendly title that is appealing in terms of presenting the purpose of the product and leaving nothing to the imagination.
Etsy sellers can achieve it using descriptive words, But at the same time, it is essential to avoid too many keywords in the title. It might confuse the shopper about product features.
Ensure thekeyword used as the first wordof the title must reveal the purpose of the product, even better if it is easy to spell. Customers usually prefer to type commonly used words in the Etsy search bar.
Listing Description
It is another vital ranking signal considered by Etsy to determine product position in Etsy search results. The best practices to optimize your listing description and improve Etsy SEO are as below
The ideal approach is to write in easy-to-understand language with high search volume keywords naturally inserted. Excessively long sentences reduce customers' interest.
Use bullet points to present important product details like size, color, material, and specifications. All pieces of information that matter most to shoppers must be easily readable.
Ensure you never copy and paste the title under the listing description. It's a blunder and a big one.
You can extract details like keywords used to find your products on Etsy using shop stats. Leverage them to craft more convincing descriptions.
Provide a link at the end for related product listings on your store. It boosts the chance of customers exploring your entire store instead of just a single product.
Tags
Use all 13 phrases to describe your products better.
Include multiple word tags. More words in tags increase the chances of the product being better understood by the shopper.
Use regional phrases equivalent to your product name. It helps show products in search results for customers using different keywords to search for your product. For eg- Purse in the USA is known as a wallet in the UK
Long tail keywords are capable of describing what makes your product unique. For eg- Cutting board is not as descriptive as Rustic Wooden Cutting Cheeseboard.
Tags describing product uniqueness and special techniques used to make it are excellent to reflect your expertise.
When product size is decisive for finalizing product purchase. Use tags to convey the right shape and size.
The Pro Tip – Use keywords that aptly describe the product's utility instead of simply telling what is already mentioned on the product or the product feature. Thinking like a buyer is always more helpful in choosing the right keywords than feeling like a seller.
Which are the Best (and Free) Etsy SEO (Keyword Research) Tool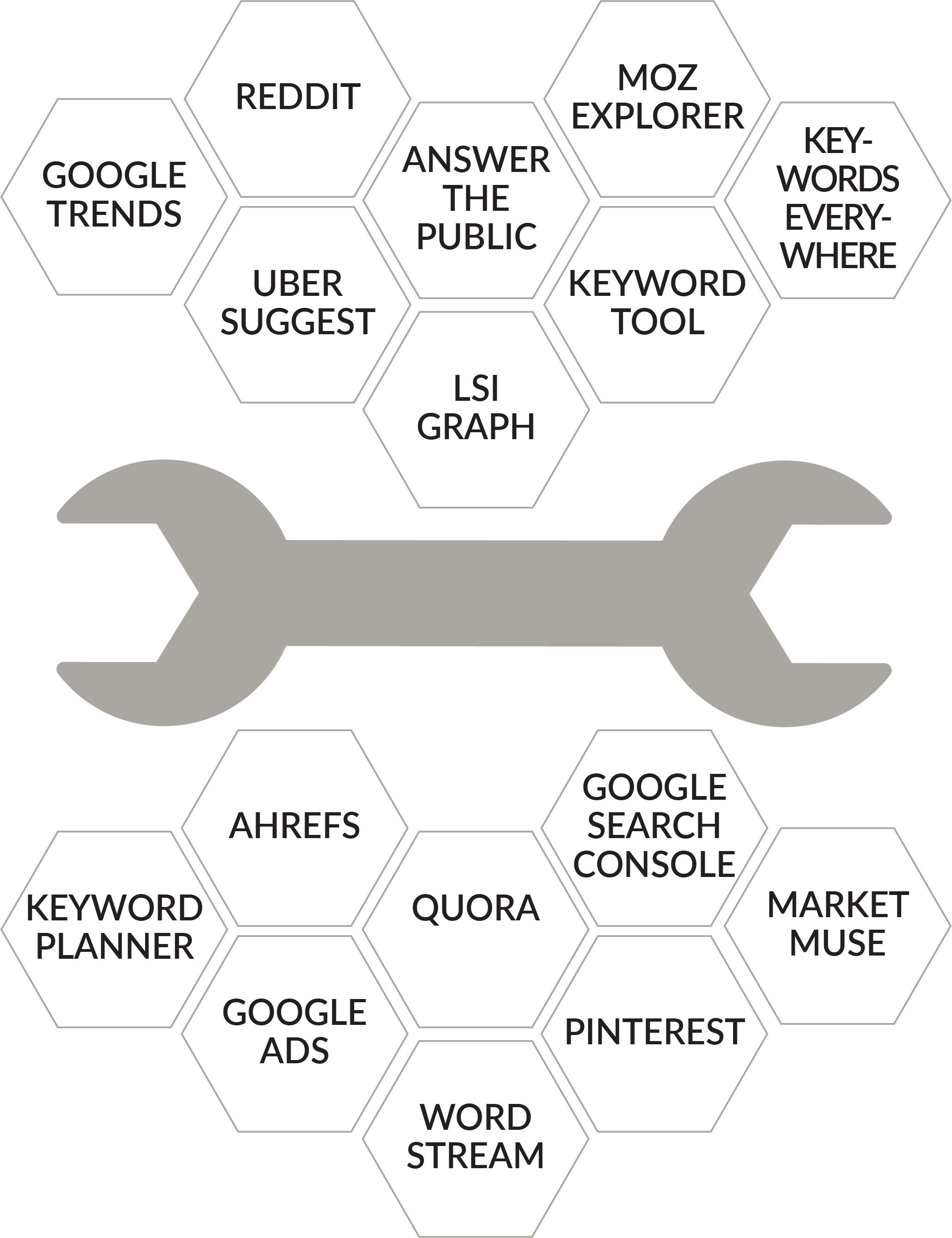 Image credit – valeriefreeman
Reddit
A fantastic free website for social news aggregation. Exploring the subreddit related to your business niches to discover the goldmine of keyword ideas.
Always select subreddits with a minimum of 20,000 subscribers; even better if people actively engage with topics and share new ideas.
Answer The Public
A tool intended to provide loads of search queries related to seed keywords. Interestingly, it reveals a plethora of questions (which, why, how, when) used by potential customers during searches on Google.
Moreover, it's also an excellent resource for generating new content ideas if you publish blogs about your business.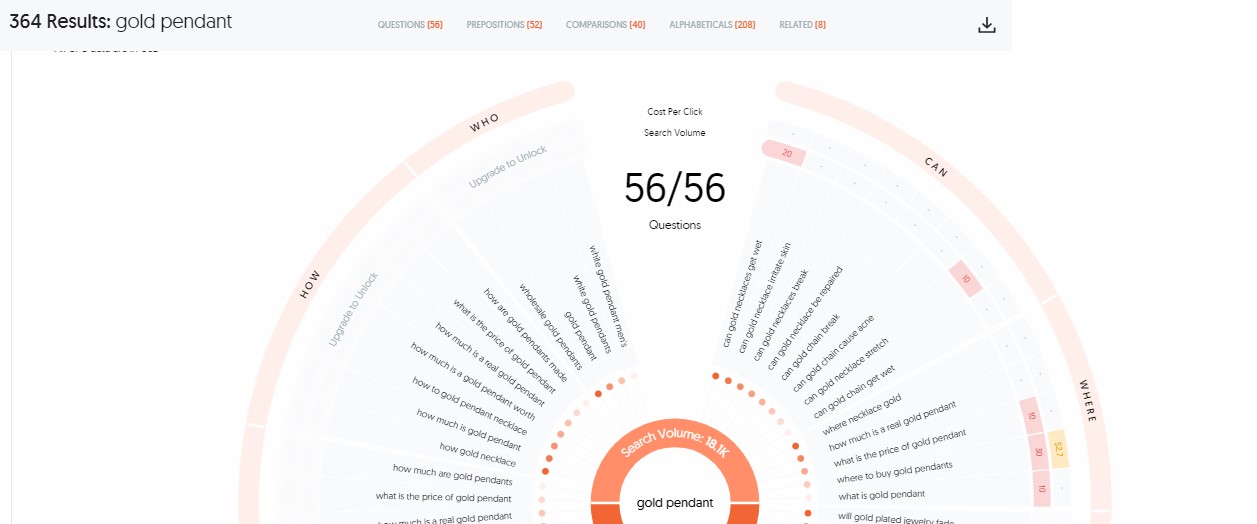 Image credit answerthepublic.com
Google Trends
Get a quick sneak peek into trending keywords related to your business. It gives accurate data about the popularity of your keywords using Google trends. It lets you decode the time of year and location where product popularity is maximum.
As a result, this data will be of great use for improving Etsy SEO strategy. You can leverage it to target the right location and the best time for Etsy ads for maximum engagement and reach.
Quora
It is one of the most popular social question-and-answer websites, with 300 million unique monthly visitors.
Scrolling through hundreds of questions on Quora related to your business (products offered) helps in giving a crystal clear idea about the below
What are shoppers searching ?
What are the maximum shoppers searching?
Which format is best to engage shoppers?
As a result, you get fresh insights into shoppers' perspectives about your business and products.
How Long Does It Take To Rank On Etsy First Page
You took all the pain(in terms of time and money) to optimize your Etsy store as per SEO best practices.Now, you are hoping you will not lose on sales worth hundreds of dollars that would have otherwise been missed due to the poor ranking of the product.
At the same time, you are anxious about how much more time it will take to see the results.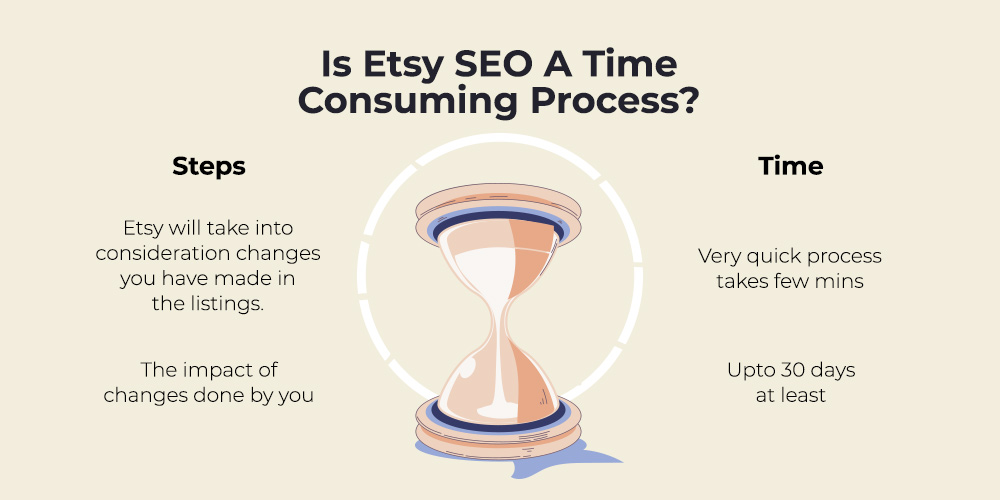 Final Words – Etsy SEO Tips To Boost Product Visibility
The aforementioned SEO tactics and strategies help enhance product visibility on Etsy search results. Therefore, products will be found by the maximum potential customers. As a result, more shoppers will be inspired to click "Add to basket" and complete the purchase.