Videos- An important SEO Ranking factor!
Running short of time? Get PDF of the blog in your mail.

Play Now
The shift towards an online business brought opportunities, but with opportunities, the competition also got tougher. Now, most businesses are online, and the major objective is to reach the masses by ranking higher on search engines. Thus, to make this task easier, we will highlight an important SEO ranking factor, videos!
Do You Know?
Adding video to your website increases the chances of ranking in SERPs exceptionally.
This is why 85% of marketers prefer to use video as a tool!
Getting ahead with this, we will be discussing
How do videos help in SEO?
How to make the most out of the video? – The technical details
Conclusion!
Starting with the first,
How do Videos help in SEO?
So, before we know how video helps in SEO, let's have a glimpse of what SEO or Search engine optimization is.
The end result of any business is to make more and more revenue. And to increase your revenue, you need your target audience to know about your brand. The more awareness, the more customers will be attracted.
So, Search engine optimization is the process through which you rank on search engine pages. The higher the ranking, the more visible you become to the audience. The ranking done by Google is based on the relevant queries and keywords on which your content of the website and supporting content formats like blogs, articles, backlinks, etc., are drafted!
There are many more factors that affect your ranking on search engine pages. They combine to create an impact and decide your search ranking.
When talking about the videos, the best part is the video covers all the important factors and impacts directly in your ranking to upscale them if done correctly!
Let's see how video helps in SEO!
The Impact of videos is HUGE! Here are the factors:-
Creates Rich snippets:-
According to Bright Edge, Google showcases the video with a thumbnail in 26% of the search results. Now, when the video is shown in the results, it becomes more likely to be clicked by the viewer rather than any other results in written formats.
When the thumbnail is shown in the spinners of the search results, which tends people to click more often becomes a rich snippet! Thus, making videos an important SEO ranking factor!
A rich snippet is highly structured data that is presented in the search results through Google's algorithm.
Most of the marketers also believe and state that Google lists the website with videos higher in the search results compared to the ones that don't have them!
But yes, we don't have any norms based on this. This is what marketers believe and states this as a truth.
One thing is sure, having a video will only benefit you on all parameters and don't have any flaws!
Getting more Backlinks with Video Content:-
We are in a zone with abundant content flowing all around us. In fact, more than the capturing power of a person. But still, we find videos going viral and reaching the maximum audience websites with videos have double the time spent on them than the ones that don't have videos.
People re-share them and use them in their content; thus, their reach is enhanced! We all must admit that most of the time, we also spend our time scrolling the reels over YouTube, Facebook, Instagram, and other social media platforms.
Therefore, stepping into video marketing and creating some compelling video content allows us to show up to the masses and grab more and more backlinks.
Google then realizes the authority of the content and marks them higher in ranking.
Higher Time Spent over Website:-
People prefer to watch videos rather than read long articles and info posts. According to research, websites with videos have double the time spent on them than the ones that don't have videos.
The reason behind this is that video gives you an extra edge. The viewer on your website scrolls through the content and stops to view the video. Now, the time spent on video totally depends on the following factors
How engaging is the content of the video?
Is the video eye-catchy?
What value is it generating?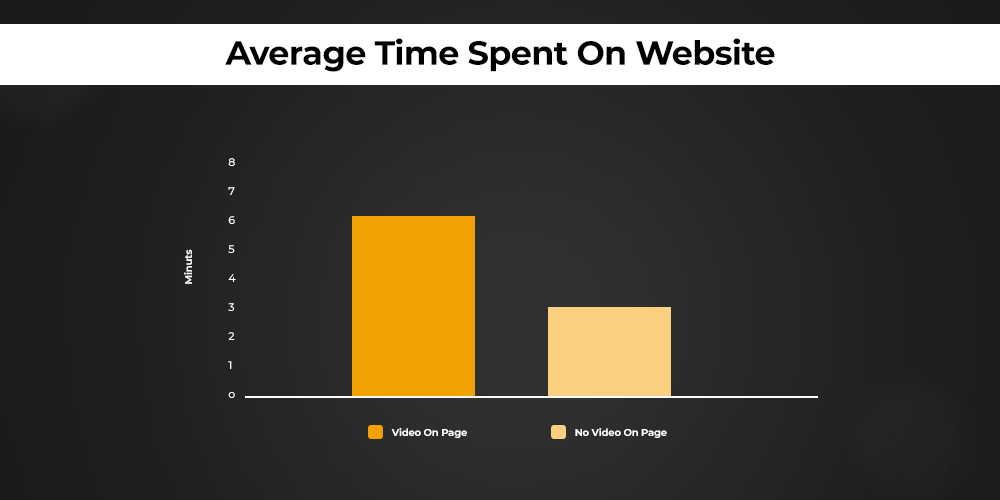 The theory behind longer time spent on websites gets ranked is that Google's algorithm is set as such. People only spend time on pages that have something valuable and fruitful.
According to Hubspot, The first 5% of the video retains 77% of the audience upto the last second on average.
Video is such a great tool making YouTube the world's second-largest search engine (and the first for video search) with more than 2.6 billion active users!
Moving ahead, we have the technical aspect through which we can make out the most of the video on our website.
How to make the most out of the video? – The technical details.
The task does not end up just by creating and embedding the video to your website and YouTube. To extract the maximum benefit from it, you need to focus on a few of the most important technical aspects, and this is the most important SEO ranking factor. They are
Title
Description
Transcript
Tags
Thumbnails
Likes/Dislikes
Comments
Watch time
Focus Keyphrase and supporting keywords
Once you have created your video, you need to upload it over YouTube. From there, you can extract the iFrame link and use it on your website's backend. In this way, you will be able to Have a video on a website without hampering and having heavy CSS. Your page loading time is also not increased!
So, you will be good from your backend part!
Now, things to focus on
Title
Have a compelling title to your video which contains your focus keyphrase.
Description
Here, you can give a complete insight into your video with the relevant query and target keywords. This gives a boost to your rankings both on youtube and Google search pages.
Transcript
Adding a transcript to your landing page backend helps you create some powerful content for your website and helps rank your website easily.
Tags
Tags are the focus areas and queries on which you want your video to showcase and rank. This provides you a broad way to increase your visibility.
Thumbnails
Now, this is love at first sight. The viewer interacts with your thumbnail first. So your thumbnail should be very attractive and eye-catching so that the viewer tends to click on the video and watch it.
Likes/Dislikes
Through this pointer, you can check what patterns viewers are showing in relation to your video. They may like it or not. And based on that, you can make the necessary edits and changes to your next campaign or video.
Comments
This is the interactive pointer through which you can communicate with your audience. They can bring up their queries, interact with you, give suggestions, etc. Through that, you will be getting more answers to your questions.
Watch-Time
From the analytics, you can always check the watch time of your video. This will help you analyze that at what point your video has loosened the gravity, and people lost their interest and many more questions like this.
Focus Keyphrase and supporting Keywords
Now, this is the main section. One of the most important SEO ranking factor. You need to see that your focus keyphrase and supporting keywords are present wherever required and relevant. This will add up to your rankings.
Apart from all this, you need to optimize your video content regularly so that it remains fresh and more and more audiences watch and like it!
Conclusion
Now, these are the factors that video content acts as the most important SEO ranking factors nowadays. All you need to do is create compelling and fantastic video content for your website and embed it.
You may need expert Guidance. So, search for the best industry expert and make your job done easily and smoothly. In case of any concern, you can come down to the comment section or reach us directly over Skype or Whatsapp. All the very best!