On-Page SEO: A Simplified Guide To Getting It Right
Running short of time? Get PDF of the blog in your mail.

Play Now
Search engine optimization is not overhyped but is the reality and the ingredient of success in this millennial era. Having a website optimized both for users and the search engine is crucial for a successful growth strategy. SEO is not just high ranking and visibility on search engines. SEO is the base where search engines and users meet. It connects and converts the right people at the right time.
What is Blog SEO:
Website SEO is a broad term, but writers/bloggers often ask what we can do around SEO for blogs. The answer is to improve their blog SEO. In simple terms, blog SEO is optimizing the blog text with its HTML content and the site structure, making it easy for search engines.
Blog SEO includes:
On-page optimization
Installing plugins
Improving the site speed
Internal links
Checking the broken links, if any
Most people believe that on-page SEO is just placing a few attractive keywords, which is false. It is much more exciting and complex than the assumption. Let's get started.
On-Page SEO Basics:
In this section, we will learn about on-page SEO and why it is essential for search engines, users, and website owners.
What is On-Page SEO?
On-page SEO or on-site SEO is optimizing the web page content to get crawled and rank higher on the search engines. This includes optimizing the text and HTML part of the content. We will discuss some on-page elements further in this blog: title tags, headers (H1, H2, H3), meta, URL, links, and more. You must be thinking about why to do all of these things when we can add some keywords, links, and images to our blog and get it live on our page. But on-page SEO is important both for users and search engines.
Let's see some of the pointers:
When your webpages are optimized, it attracts the search engines, and you rank on the top
Your webpage looks organized and well maintained at the backend, which makes it easy to manage
It helps you get connected with the relevant audience on the content level
On-page SEO will give you the organic traffic you are looking for
Google wants happy users, and when you have user engagement, there is a chance that you get into the featured snippet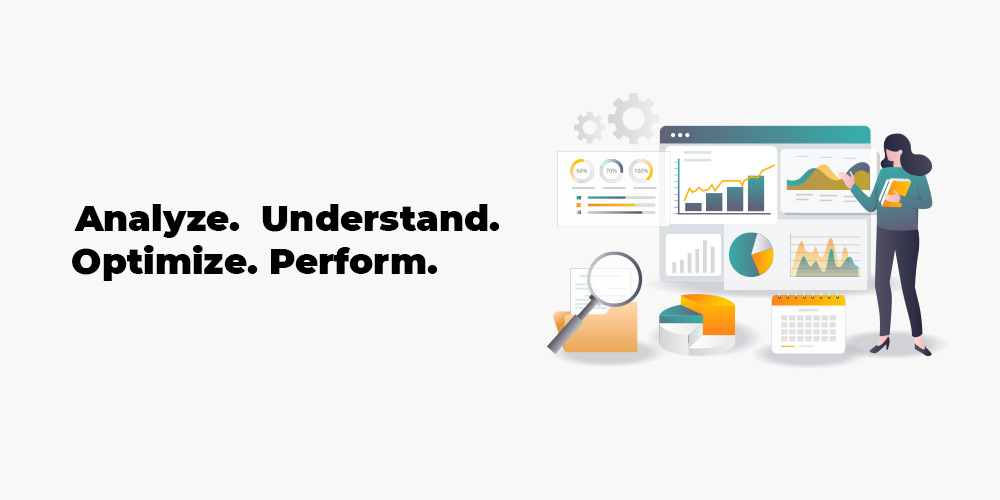 Which Elements to look for?
Suppose we are willing to optimize something; whether it's a webpage or a website, there need to be some segments. This section will look at the on-page elements that need optimization and will help you reach on top.
Let's start.
The Title Tag:

Great writers understand the importance of an attractive and well-written title. The title is the first thing that the user sees and makes half of the purchase decision there itself. The title needs to be precise, clear, and explain what your product or website is about.

While using any CMS tool, you will see the HTML version where the title tag looks like this <title>. Try to keep the title short in 60 words or less, and don't forget to insert the focus keyword in your title.
Note: When the keywords used in the search query are present in the Google search results, the user is impressed and satisfied. It's because he got what he was searching for.
Meta Description:

Meta Description is something that many websites do not follow rigorously. A meta description is one of the meta tags which describes the content of the website. The description includes- what is the website about; its content, services, and quality are visible to web admins by its meta description. The description cannot be longer than the character limit; otherwise, it will be cropped by the search engines, and you will end up with a mismatched description.

The meta description should not be more than 155 characters.
Must contain keyword phrases
Should be in active voice
Try adding CTA (Call to action)
Note: The character limit can be different; some websites prefer 160-165; therefore, research and apply according to your content.
Header Tags (H1, H2):

Header tags in HTML describe the headings in the blog, and the number goes from H1-H6. Headings are the most important as they help you come to the blog's main points. These tags are HTML part of the content, and most CMS convert the title into an H1 tag by default. Header tags are helpful to divide your content strategically in an organized way. The title should be in H1, but your content should contain H2 and H3 tags depending on the flow.

Keywords (Focus, Related, LSI):

Keywords, focus, related or LSI, affirm the user that they are on the right page and will get what they are searching for. The proper usage of keywords in your title and meta description will enhance your ranking on Google and other search engines. It improves SEO, visibility, ranking and, most importantly, gives you the organic traffic you aim for. You can use various methods for doing keyword research-

Try Google Ad Keyword Planner
SEMrush Keyword Magic tool
Ubersuggest
Google organic search
Related searches and queries will give you an idea of the buyer personas of a particular industry

Internal and External Linking:

Links are sometimes ignored but linking, be it internal or external, are extremely important. Having high-quality internal and external links makes the blog content-rich and readable. Internal links help your users to find more relevant content on your website. These links also enhance the accountability of the domain and engage more users. People sometimes think that the readers will leave their site if they link other websites' blogs to their own blog. However, the reality is that outbound or external links bring more visibility and outreach to your website.

You must at least have 2-3 internal links and one external link.

Site Loading Speed:

We all have been irritated and switched to other sites due to the slow page loading. Page speed or site loading speed can either enhance your on-page SEO efforts or make you lose your audience. If your website takes more than a second to load, the user will quickly bounce onto another website.
Some favourable actions which can help you in your site loading are listed below:

Shift to faster-hosting services
Reduce redirections on your website
Support the website with Browser Caching
Revamp your plugins and multimedia images
Clean and fix up your HTML & CSS coding

After applying these and optimizing your website, you should do a site speed test. You can do this with the help of Google PageSpeed Insights which crawls your website, provides you with a score and recommendations to improve it.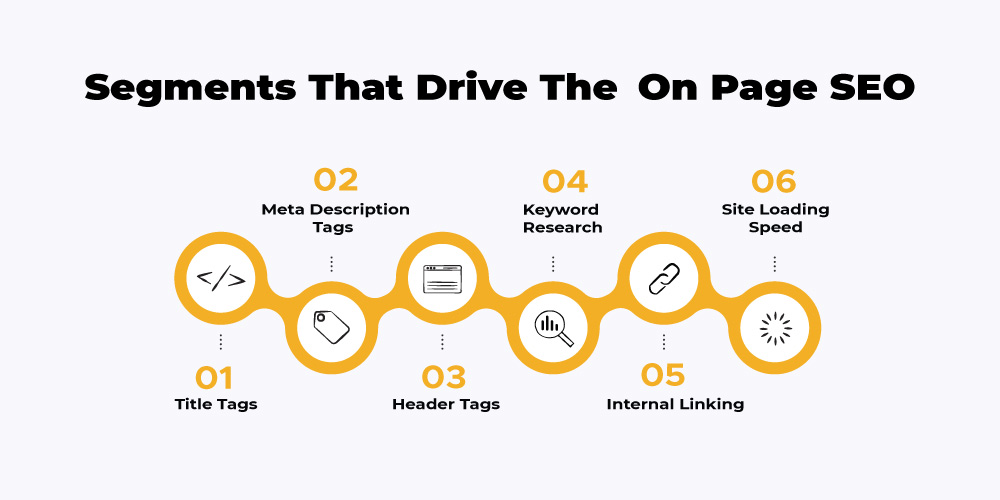 Factors to consider for Content Optimization:
On-page SEO efforts can work if you have unique and excellent content to drive your users. Good content takes a lot of time, patience, effort, and persistence. Content optimization is the process of making well-written content that is useful and reaches the target audience on a large scale. Content is definitely about well-drafted content, but it also has some other factors. Let's look at them.
Captivating Text:

Google is always searching to deliver the users the information in the best precise way. This implies that your content needs to be apt and must answer the queries of the users. Just picking up a topic and writing plainly to it won't satisfy the needs. The most important rule is to take one focus keyword per blog. That particular keyword should not repeat in your other blogs. Try to include the primary keyword in your title, meta description, and in the first two paragraphs of your blog. It will result in better ranking, and you will be able to present SEO- friendly content in a relevant manner.

Multimedia Files:

What would you prefer? Reading a two-page blog with just content or going through the blog that has colourful and insightful pictures? The second one, right! The blogs having multimedia/graphic files have always seen ranking on top. The reason behind this is it attracts and engages the reader to skim through the content. Including compelling images, videos, slides, graphs, or statistics can impress the reader and perform well.

Optimize the Images:

Just adding images and videos won't do the work. It would be best if you optimized the pictures to get them right. Adding the images with the alt text allows you to connect with the search engines and users closely. Alt-text is a written descriptive copy that appears in place of an image if the image fails to load. Using the targeted or focused keywords in the alt text is a great way to proceed. There are other requirements such as image size, the title tags, the content copy of the images that need to resonate with your blog content.
Comeback with On-Page SEO Pro Tips:
Once you are thorough with the on-page basics and their elements, here is a list of a handful of SEO tips that you implement.
Focus on creating a clear and concise URL. Don't forget to add a focus keyword in your URL
Create a snappy title
Structure your text and arrange heart tags from H1 to H6 in an organized manner
Use original content and jazz it up with captivating images, videos, GIFs
Keep the meta title and descriptions persuasive and in specified character limit
Draft an article that is mobile friendly and is easy to read
Provide social media sharing buttons to readers
Embed useful internal and external links to keep the reader engaged
Publish content on evergreen topics
Final Thoughts:
Understanding the basic strategy of Google and aligning it with your on-page SEO is the catch. For more traffic and genuine engagement, web pages need to be optimized effectively. Understanding the errors and sorting them out will require your time, effort and patience. Optimizing your on-page will give you results in the form of increased organic traffic, loyal customers, and an excellent opportunity for you to play with your competitors.
"You can't just SEO your website and be done. It's a forever moving goal post."- Stoney deGeyter.
I hope, in this article, you have learnt about the basic idea of on-page SEO, its elements and the hacks to keep in mind to optimize. We would love it if you could share your thoughts and experiences on managing SEO.