Amazon Keywords: A Comprehensive Guide for Optimum Results
Running short of time? Get PDF of the blog in your mail.

Play Now
Amazon is a marketplace where the sellers and the buyers come together to make a purchase. Keywords in this search play a vital mode of communication between the two parties and the platform. Also, by understanding the trend and evolving search style of users, sellers can upgrade their sales strategy. To know more, let us dive deeper and understand the whole Amazon keyword research game.
What are Amazon keywords?
A keyword is a search term that a buyer uses to find the best option available on the web. These keywords act as trigger points for prospects when used as seeds in product listings and backend. Depending upon the need of the user, these terms can be short, medium, or long. However, long-tail keywords with three or more words show better results for a high conversion rate than head keywords having 1 or 2 words.
These keywords play a significant role in improving traffic and enhancing product visibility. It is optimal to use keywords that are low in competition and high in search volume. You can also use tools like Semrush, Moz, etc., to find such high-performing keywords based on targeted analytics.
Types/categories of Keywords on Amazon
Depending upon factors like competitor listings, current trends, or search intent keywords for amazon may be of three types,
Product terms: These keywords are dedicated to the audience who know what they are eyeing and an exact search term for their query.
Competitor terms: These terms are based on the competitor's listings and understanding search terms working for them.
Audience terms: These keywords offer a wide net for the possible prospects or casual visitors on the web and may prove to be a potential buyer if directed well to your product page.
Also, Keywords on Amazon are of two types based on functionality and usage,
Frontend keywords: These are the keywords that we generally use in the product listing, title, product description, etc. They are forward-facing and are visible to the buyer on your web page or in their search results and directly impact them.
Backend keywords: These are the generic keywords that play a significant role in attracting visitors, but from the backend, i.e., users cannot see them. Backend keywords act like alt text for your product. They are implemented from the seller end and have an indexation limit of 249 bytes only, w.e.f. August 2018. To understand better, each element, from A-Z or 0-9, constitutes 1 byte but the byte size changes for special characters. Optimizing your backend keywords is one of the quintessential steps while optimizing Amazon keywords for your product.
Key parameters while deciding Amazon keywords
Let's understand some key influencers that play a significant role in the growth of your eCommerce business on Amazon,
Amazon's A9 Algorithm
With the help of the A9 Algorithm, the products that fetch more traffic and show high sales history are ranked higher in the user search. Excellent product ranking is a cumulative effect of Amazon flywheel. Here sellers integrate the right keywords to attract genuine prospects. Thus driving more traffic to their product page. These products will cause conversions once they are listed thoroughly and directed well.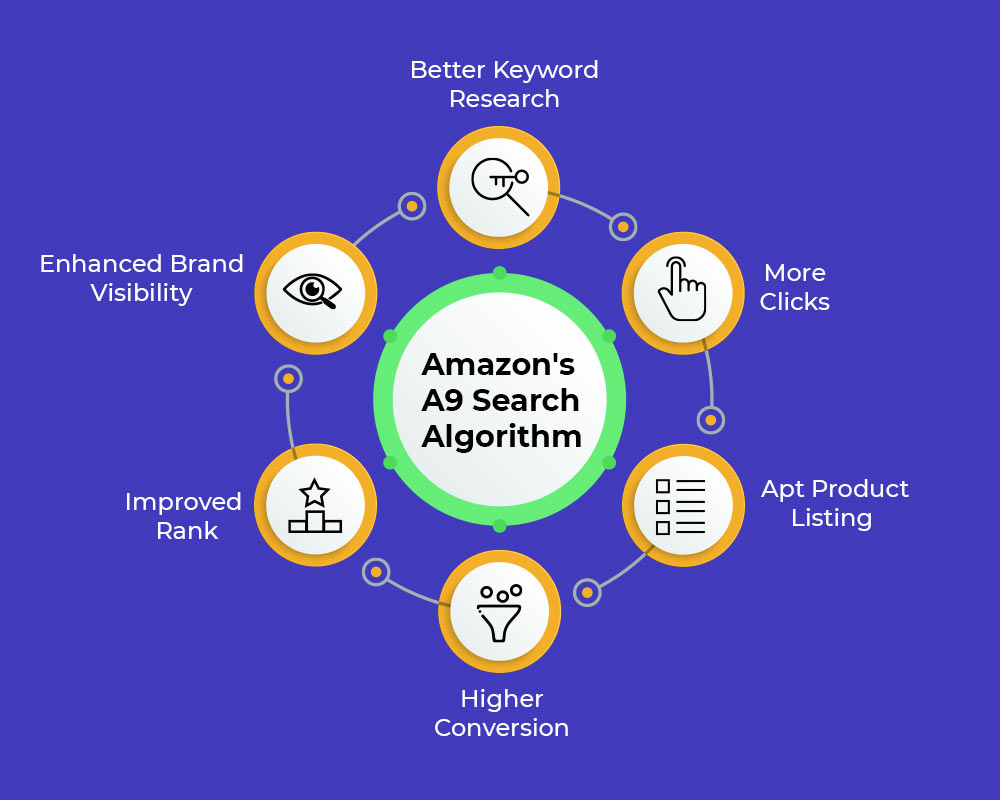 Further, these conversions will create a successful sales history and rank the product even higher on search. Better performance in search results will add to brand visibility. Thereby, pulling in more customers and traffic.
Product Relevance
Most visitors decide on a purchase by scrolling through the images, product details, and feedback. When keywords are synced strategically with your product listings, it enhances your product relevance. The listings must consume the chosen keyword aptly and must rhyme with the tone of your product.
Make the product title catchy and persuasive.
Use proper narration, structure, and flow to your product listing.
Bullet points to break down details of your product's functionality and USP.
High-quality images and social proof techniques to entrust the relevance of your product.
Keep in mind specific rules for using Amazon keywords effectively. Let us understand,
Always prefer to use the same keyword strategy throughout the marketing funnel or on social media channels.
As per the Amazon A9 Algorithm, excessive keyword stuffing can deteriorate the readability score and increases your chances of rejection.
Never use irrelevant and subjective keywords to make your product visible in the search results. This approach can adversely affect the brand in many ways.
Also, using comma, spaces, and repeated words in your backend keywords can kill the available space and are no good.
Note: It is essential not to forget the screen size. Always remember your prospects can search for your product on Amazon through different devices. Hence, it is advisable to use your focus keywords at the beginning of your product title.
Tricks for ultimate Keyword Research on Amazon
The sole purpose of Amazon keyword research is to drive in potential buyers for specific products or search queries to do business. Based on these insights, let's discuss a few tricks to make the whole process an easy walk.
Manual Search on Google
Invest a reasonable amount of time on Google. Also, look for the People Also Ask section to find related keywords for your Product Listing. These topics are usually the most trending search terms based on user queries.
Use available Free Tools
Google Trends and Google Keyword Planner are a few free tools that give away an in-depth understanding of keywords with good stats.
Amazon Auto-Complete
Amazon suggests other terms related to your product query in its search bar. These options reflect varied buyer choices. And tapping on this information can reap excellent results.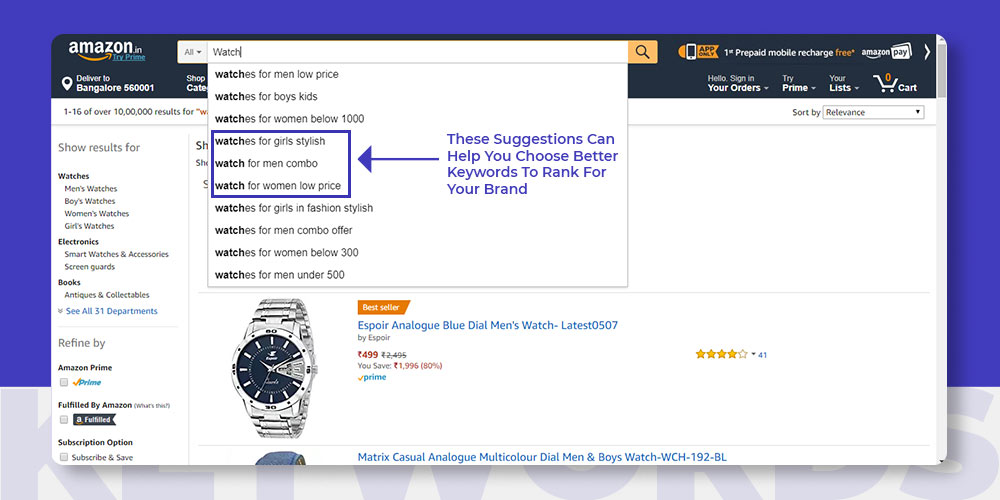 Know your Competitor well
Analysis of your competitor's listings gives an insight into the keywords causing competition. Also, it gives you an understanding of the strategies other sellers are using to attract prospects.
Improve your Product Listings
It is highly recommended to use your focus keywords for Amazon smartly in your product description to attract the right audience. Also, this improves your brand visibility on Google.
Use keywords research tools to extract the best keywords with related stats
Tools like Semrush, UberSuggest, Keyword Tool, MerchantWords, Sonar are few such examples. They suggest, track and analyze the keywords for Amazon and make the whole process hassle-free.
Keep track of customer reviews
For any business, the customer is the king. It means that if the customer is happy with your product, your business is bound to sail high. Customer Reviews are a key to make this equation work. Sell more on the features they like and curtail the issues that turn them off.
Use Amazon-specific keyword tools
You can use Amazon Search Term Report or Amazon Brand Analytics for better results. Amazon Advertising Reports also play a significant role in identifying healthy keywords as well.
Empathize with the user
Use your personal experience to understand the customer search approach better. Also, be adept at understanding the possible range of keywords a user can search.
Track your keyword performance
Regularly track the performance of your chosen keywords to rank higher. Techniques like manual SERP evaluation, search traffic analysis, volume, no. of clicks, etc., explain the relevance of used keywords.

Conclusion
The success of Amazon keywords depends solely upon the traffic it generates. By attracting prospective buyers and eventually elevating transactions they help boost sales. Overall, sellers must upgrade their approach as per evolving search intent and buyer persona to generate maximum sales on Amazon. For more such insights, you can visit CedCommerce, where we offer a vast range of valuable extensions and integration tools specially designed to scale your eCommerce business to new heights.