How to market better in the new age of buyer's journey & intent.
Running short of time? Get PDF of the blog in your mail.

Play Now
Change is the only constant – not just in life – it is equally evident in the marketing world too. The recent shift in consumer behavior due to several factors like the pandemic and economic crisis is affecting the way the buyer's journey unfolds. Moreover, it is causing difficulties for marketers and brands to predict search intent. And this change is eventually compelling businesses to remodel their marketing plans – quite seemingly.
The marketing funnel today is no more a straight path from the stage of awareness to consideration and ending on purchase. People are broadening and narrowing their search several times, thus reshaping the consumer's journey, and resultantly, the marketing funnel. Making it need of the hour to unlearn a few facts around the conventional buyer's journey and revamp your marketing strategy. 
Role of search intent in consumer's online journey
Search intent is the intention behind a search, typically an online search. In simple words, search intent is what a user is looking for online. Are they up to learn something? Or buy a product, hire a service?. So, search intent could be anything around which the user is fetching information or updating in the online world.
And why is it so important to know the search intent or buyers' intent? This is because it helps businesses understand what their target needs. Search intent or user intent determines the "how" and "why" in a buyer's online journey. 

As a study by ahrefs, aligning one of their core landing pages increased its organic traffic by around 677%. Also, alignment with the search intent helps you gain more targeted traffic, increasing your chances of conversions. Not just that, knowing the search intent of your target audiences helps in every step toward building a holistic marketing strategy.
How is the shift in user intent affecting the buyer's journey?
As per Google's study of clickstream data of around thousands of users in the last six months, no two buyer's journeys look identical. The report further reveals that consumer's buying path takes different turns even within the same category of search. Giving way to some fundamental changes:
Unique buyer journeys
As mentioned above, the marketing funnel is no more a linear path. It is expanding into a multi-level funnel (not even a perfect funnel any more) as people are taking multiple turns in their online journeys. People are narrowing and broadening their search multiple times before taking action. And throughout their online tread, users are reshaping the traditional marketing funnel.
For example, Juliet, when buying hypoallergenic makeup, first learns about 'what is good hypoallergenic makeup'. She then browses through several brands and even turns to Youtube. Juliet eventually arrives at a brand; however, her journey continues as she considers a few other brands by widening and narrowing her search a few more times – before finally heading-in to buy the product. Unlike Juliet, some users don't stretch their online search across several platforms. And since no two buyer's journeys resemble perfectly each other, you cannot rely completely on a single consumer's analysis. 
Complex consumer paths
With unrestricted access to a pool of information, consumers have turned more hungry for information. With everything just a click away, people have become more "research-savvy" and "hyper-empowered". They want to know every minute detail throughout their purchase journey. Whether it's about buying a toothbrush or home decor – or finding a way to a new office – users are leaving no stone unturned when it comes to online research. And this change in consumer behavior leads to an increase in customer touchpoints – that eventually gives a complex picture of their journeys.
The customer touchpoints are points of interactions where your prospective customers come in touch with your business. The more customer touchpoints your brand hits, the more conversions can drive in.
Talk to our Digital Marketing Mavericks to establish your brand identity and grow your business with a robust mix of online marketing strategies.

Click Here: https://t.co/hTeg8pDNja#digitalmarketing #ecommerce #marketingstrategy pic.twitter.com/jQBKKTrwjr

— CedCommerce ? (@cedcommerce) December 15, 2020
A never-ending search
The goal of a business or brand accomplishes when a visitor or prospect buys their product/service. With the user, however, that is not the case. Today, the consumer's end of the journey isn't just buying a product or services. They tend to go beyond it and keep their research on long after they have taken action. For instance, after ordering the latest smartphone online, people tend to make a move to Youtube, and social media for its reviews and best possible usage of its features – even before the phone arrives at their doorstep. Although this research-obsessed behavior of internet users complicates the buyer's journey, it creates more opportunities for businesses to reach consumers.
Every minute detail counts
In present times, consumers are not just hungry for information – they have become highly demanding as well. Since people have so many sources of information, they feel empowered by verifying every tiny detail. It is because people don't want to take any risk and reap maximum benefits out of whatever they are paying for. People gather knowledge about every aspect to ensure that they are making the best decision.
What does it mean for brands and marketers?
#1 Be proactive as a brand
The way consumers are making moves online – it is clear that they crave assistance at every step. Take an example of a customer visiting your physical sore. Just like a customer prefers going to shops or stores with supportive customer service and warm welcome, people online opt for all-time assistance too. In the online purchase journey today, people are seeking assistance everywhere – more than ever before. And to extend all-round service to your audience online, you need to know them well enough.
That means you need to revise your buyer's personas, their journeys, and catch the right signals your audiences leave. The best way out is to measure and analyze the performance of your marketing efforts and draw out the loopholes. Fill in those gaps by streamlining your branding efforts with the customer touchpoints and right marketing platforms.
#2 Add your touch
Everyone is online, but not everyone gets visible. The online environment we are trading is flooding with brands. Indeed, everyone is online – working towards growing their customer base. However, not everyone gains as many eyeballs as they desire. The reason is simple – they fail to stand out from the crowd. Maintaining your social media, running a blog, and making targeted videos are certainly indispensable activities. But, the answer lies in 'how' strategically you do it.
Brainstorm ideas that speak about your business in a manner that you get noticed. Of course, taking inspiration from others – particularly your competitors – is a pretty standard marketing exercise. However, to add a spark to your online presence, you would want to add your unique element.
#3 Personalize user experience
As a brand, you need to be relevant to your audience's needs. Hence it is vital to understand the latest consumer tendencies. Create media that resonates with your target group, satiating their queries and at the same time, adds value to your brand.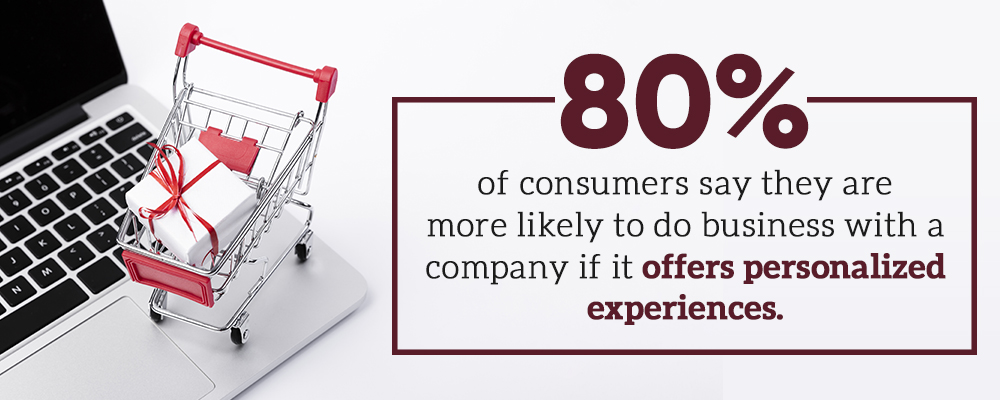 Know that some customers will be willing to spend more than others. So, once you understand the difference, the pain points, and the motivation of your different prospects, you can dish out the most relevant information. Remember, the more relevant you are as a brand, the better your audience's responses will be.
#4 Focus on automating processes
The primary reason why people are turning more to online information and services is the ease of access. Whether it's about ordering food online or getting the latest news updates – everything is just a few clicks away. It has turned people perpetually impatient. The best example is – people drive away from a website quickly if it takes too much time to load. Thus, to be successful as a brand, you must deliver customer experiences that are easy going and swift. And for that, you should invest in machine learning and marketing automation.
Machine learning helps you predict intent in ways that may not be possible to understand manually. Moreover, it enables you to understand the missing parts of the bridge you're building between your customers and business goals.
#5 Be flexible 
Being flexible in your marketing tactics is as important as being firm. Certainly, being steadfast is a trait of any business person or marketer. But considering the scenarios these days, flexibility is another trait you must adhere to. It is important to make a marketing plan, follow it to the T, however, it is equally needed to be open to new learnings. You must know that times are changing and so the marketing world around us.
That being so, you should have alternatives in your marketing strategies too. It keeps you prepared for any kind of "Black Swan" situation and minimizes the losses. And talking about the present circumstances, you must not shy away from investing handsomely in marketing across digital channels. After all, when moving out is restricted, how else are you going to reach your prospect other than the online mediums?
To conclude…
The online environment is changing with time, making consumer's purchase path unpredictable in many ways. Nevertheless, the new normal has even opened new possibilities for online marketing. By keeping customer's wants & desires at the forefront, unlocking innovation in marketing solutions, and maintaining a problem-solving attitude, the businesses can survive no matter how bumpy the road ahead becomes. And if you still find it hard to cope, take help from experts who can help you in producing a long-term plan for attracting more customers online.