6 Experts on future of marketing automation and doing it the right way
Running short of time? Get PDF of the blog in your mail.

Play Now
The advancement in the capabilities of Marketing Automation in 2021 has brought forth its contribution towards better targeting and increased ROI for businesses. As per a report, the market size of Marketing Automation technologies in 2019 was approximated to be at US $3.3 billion which is supposed to reach US $6.6 billion by 2024. It is equally important that trends of marketing automation are to be kept under view to get the best results.
The marketing automation enables sellers to first segment different buyers according to their purchasing behavior and then send out tailored emails to increase the conversion. The chances of getting new leads increases from fifty-fifty to almost eighty-hundred percent with the implementation of marketing automation tools.
Furthermore, it helps to schedule social media marketing and content marketing efforts saving marketers thousands of hours annually. The cascading effects result in higher productivity, better ROI, and personalized engagement. There are a number of CRM platforms but choosing the right one is essential for the health and growth of the business.
Therefore, let's take a look at what leading marketers and CMOs have to say about the evolution of Marketing Automation and CRM services.
Indulge in customer lifecycle management in its entirety
Trends in marketing automation to look out of in 2021
AI. Artificial intelligence
This will help marketing automation tools to become more targeted by learning from each customer. A tailor-made campaign will help to lift customer satisfaction for segmented personas. AI-powered chatbots will also continue to gain traction and help marketers achieve sales figures through smart working.
Customer Management
Online sellers can use HubSpot integration for both, customer lifecycle management and customer relationship management(CRM). Sellers can write new blogs, articles, to attract new customers and generate leads. Moreover, it also helps in tracking conversions, nurturing leads, segmenting customers based on their purchase history and interest are some of the parameters through which sales can be increased. In addition, anything in the sales and marketing realm can be controlled easily through HubSpot CRM tools.
Contribution in SaaS industry
Marketing automation continues to be a must for growing businesses as we undergo a tech revolution. Furthermore, with so much opportunity, the marketing automation SaaS industry has become cluttered. In addition, over 200 marketing automation software vendors are present across many automation platforms.
For your business, consider what marketing problems you have today. Are they email, sales nurturing, content related? Make a list of the biggest needs for your team. From there, you can weed out the tools that aren't right for your business and use review sites to help find the product for you to be successful in 2021 and beyond. The use of CRM is easy but it requires expertise that can be learned over time.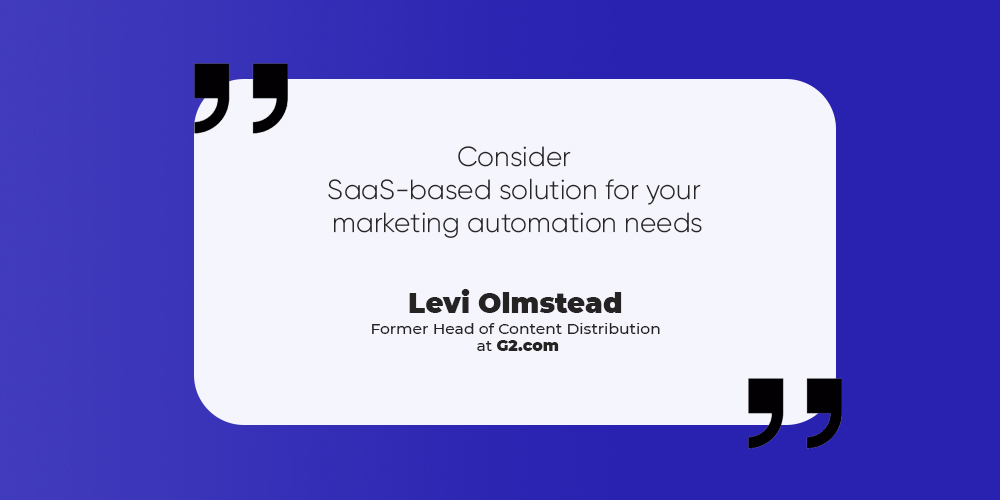 Levi Olmstead – Former Head of Content Distribution at G2.com
Evolve beyond CRM to CXM
We all know the customer journey has grown increasingly complex over the past decade. In addition, consumers use multiple devices when deciding to make a purchase, and they'll freely jump between preferred service plans and products while a customer. So, how do you automate marketing, while retaining a personal touch for customers?
I'm a huge advocate of evolving beyond the CRM to the CXM, or customer experience management platform. With the proper CXM in place, your marketing, sales, and customer service teams can come together into one portal, maintaining singular prospect/customer profiles throughout the consumer's journey.
This reduces redundant questions, minimizes unnecessary cross/up-sell offers, and increases customer insight. Now, when a new or long-time customer calls in with an issue, they aren't blindsiding the customer service team with an issue, because the CS team has a detailed history of this particular customer's needs, thanks to automatically logging calls, emails, and texts (both inbound and outbound). These are some of the prominent features of the CRM tools and Marketing Automation platform.
Marketing automation is simply a must in 2021 for businesses of any scale. Additionally, that doesn't mean we need to sacrifice care and attention. We simply need to unite our internal teams behind a common cause – providing excellent customer service, no matter where (and on what device) a customer may be in their journey.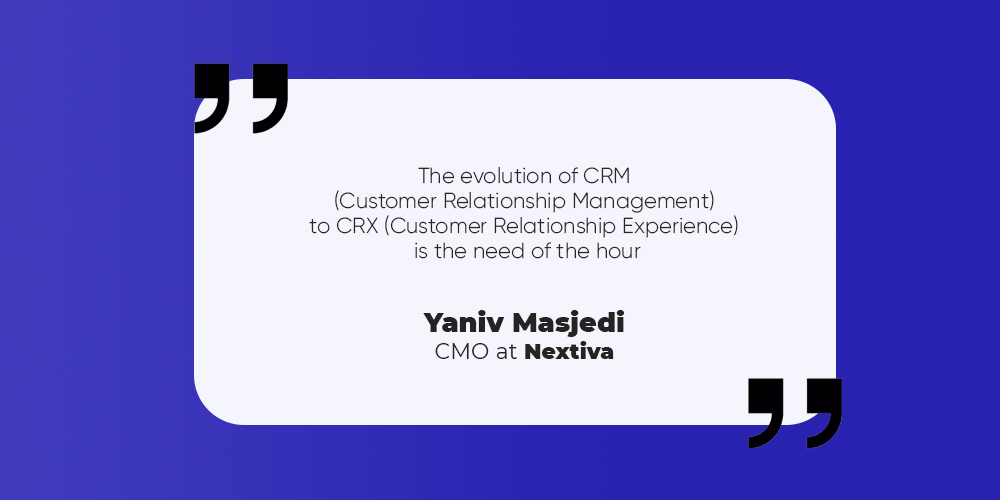 Yaniv Masjedi, CMO at Nextiva
Focus More on Personalization and Segmentation
Firstly, as more and more inboxes fill up with automated newsletters, promos, and sales pitches, getting your lead's attention is harder than ever. Secondly, not only that, but new filtering mechanisms on major inboxes like Gmail make many of your automation hit promotions folders or sometimes even spam. The trend for those looking to win in digital marketing must be increasingly centered around personalization and segmentation marketing automation is equally important.
So what specifically can be done? Start by segmenting customers based on interests and purchase history or any existing data you have on their personal profile. For instance, if you know someone bought a dress from your eCommerce store, targeting them with women's clothes emails will get you better results than generic links to the overall website for men's and women's clothes. Similarly, just asking on an opt-in form on your website what they are most interested in so you can send them relevant coupons is another easy path. Also, try to ask targeted questions of your customers in the automation and get a dialogue going. If you get a client to respond to an automated email, their chances of converting are upwards of 20% higher from our company's experience.
Next, invest in personalization. It can be a personalized video message, a personal letter on a special date or a gift card, discount to a store you think they might like. The idea is to build rapport and brand loyalty by making things personal.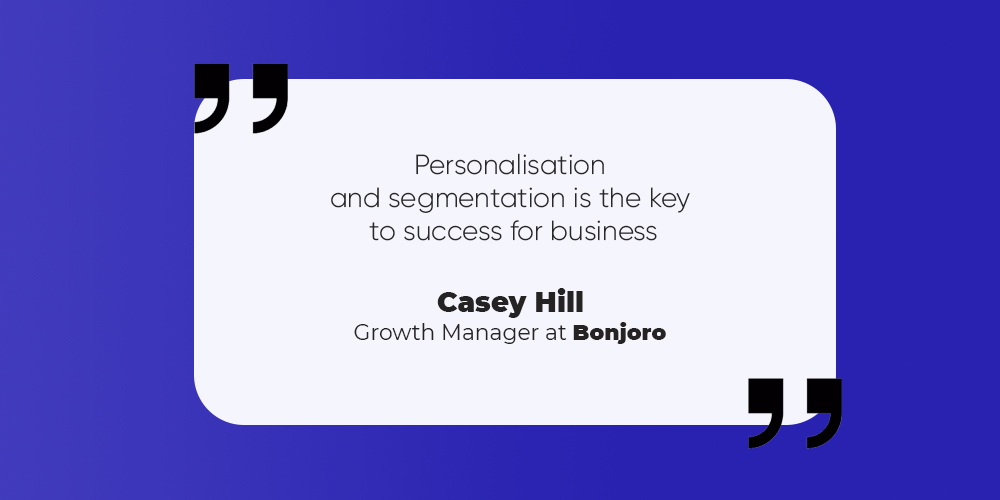 Casey Hill – Growth Manager at Bonjoro
Optimize Sales Conversion Funnel
The sales conversion funnel is the framework for business automation. It helps to forecast customers' behavior and sales, correct the deficiencies on a certain stage, understand the needs and demands of customers.
Conversion funnels require deep and accurate analyses because there are too many factors that may influence the success of its implementation. For example, tools for promotion, segmenting target audience, pricing policies, USP, etc. It is necessary to track conversions to reveal the stages of client flight and to manage sales. Consequently, there are special services for this purpose.
The most important thing is to calculate conversion to see its value. How likely are the visitors to convert and how much are each of them? The accurate conversion funnel analysis is the very beginning of its improvement. The traffic growth does not guarantee sales growth and that's why the conversion of every stage should be improved simultaneously.
Moreover, you should expand the first stage constantly to increase outreach via your USP and your exact choice of the target audience. Your method of optimization depends on your goal. It is rational to use a blog to attract new visitors. When popularizing your blog, pay attention to cross-promotion in social networks. Create valid content on social media to increase the number of referrals. Use PPC to attract leads to your LP and to collect their contacts via lead magnets.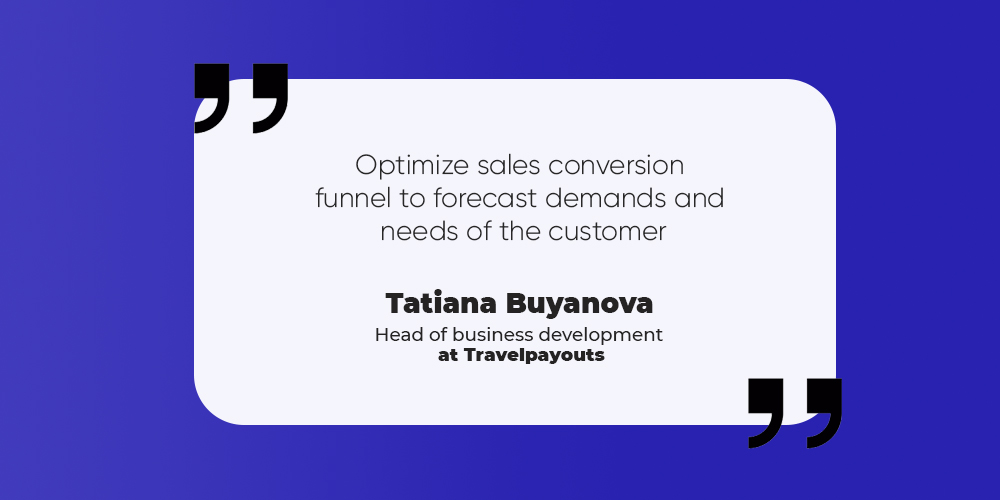 Tatiana Buyanova, head of business development at Travelpayouts
Invest in Future
The following five trends of marketing automation tell us that personalization will continue to rise in digital marketing.
Machine Learning + AI-based tools
These tools will see an increasing use to organize data, identify patterns, and optimize marketing communication. In the same way, this will also help marketers to create hyper-personalized experiences for customers and customers will also feel related to the products and services.
Multivariate Testing
Although A/B testing is essential, automation will lead to increasing demand for multivariate testing where marketers will analyze a combination of multiple variables. With modern software and tools, marketers will be able to optimize their customer service in real-time.
Voice Search
Marketers will use voice search as the means to communicate automated marketing messages to the users. Voice-activated personal assistants like Alexa, Siri, Google assistant can help you to search for what you are looking for.
Customer Journey
Marketing automation and CRM tools will make it possible to target consumers throughout their lifecycle, creating more opportunities for sales. As a result, you can cross-sale during a customer service encounter, making the most out of every customer touchpoint.
Chatbots
Chatbots will become increasingly sophisticated to be used for lead generation, improving customer experience, sending marketing messages, customer support, and even customer education. Some of the chatbots can already talk like human customer care executives.
All these trends related to marketing automation will have a tremendous impact on the marketing space.
One of the first things it will lead is to blur the line between sales and marketing. Efficient automation will require marketers to align these two activities together more efficiently. It will help marketers discover insights about why consumers are or aren't happy with your product or service. Marketing automation will allow you to make quality offerings more scalable. For example, in customer service or lead generation, marketers will be able to provide quality service to a large number of consumers simultaneously. The integration of marketing channels will help marketers provide consumers with a seamless customer service experience.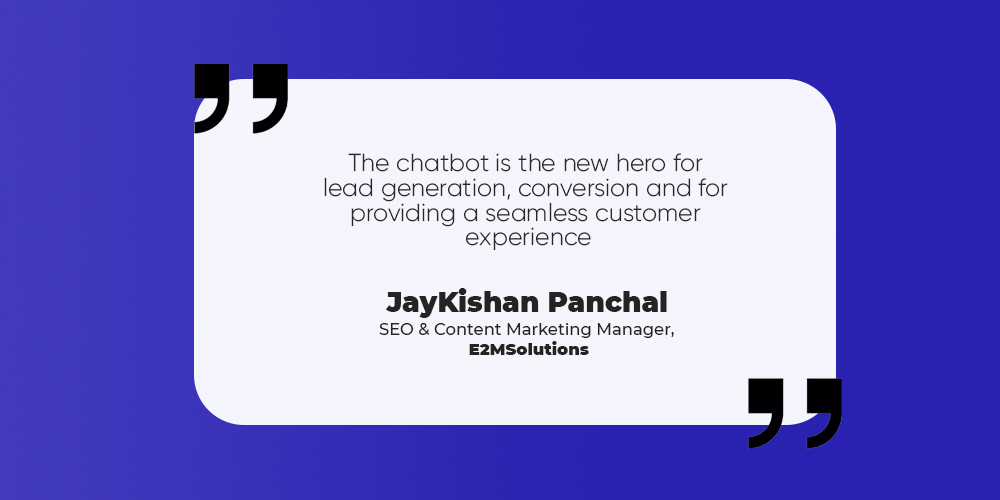 JayKishan Panchal, SEO & Content Marketing Manager, E2MSolutions
Personalized Customer Service
As a digital marketing agency owner, I work with marketing automation on a daily basis. For our clients in fact I believe I have the experience to answer your questions.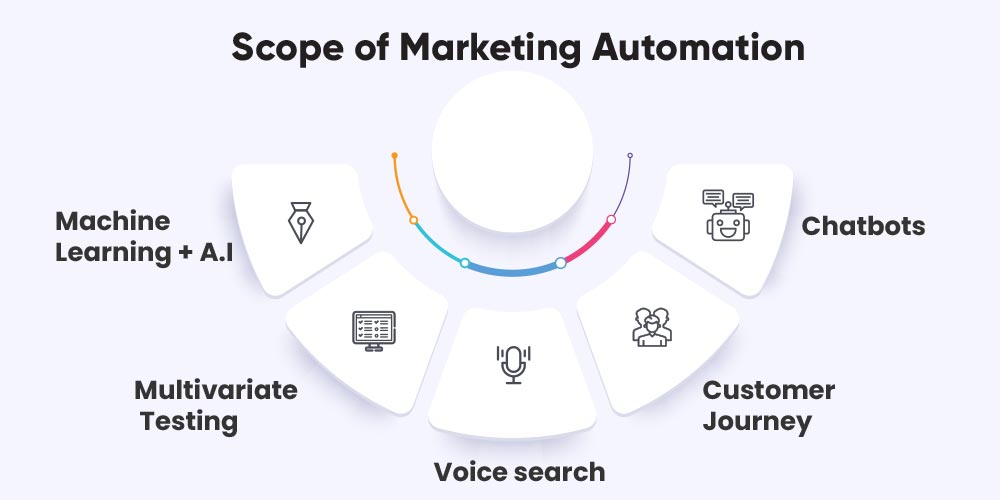 We're looking towards the trends of marketing automation that reflect the personalized customer relationships.
Artificial Intelligence and Machine Learning: We are just at the premises of what AI and ML can do. The more data we'll gather, the better marketing automation and customer service will become.
Voice Search and Visual Search: These 2 technologies are at their beginning with on one side voice assistants like Siri or Alexa and on other sides the proliferation of software using image recognition and facial recognition to offer better customer service.
Personalization at scale: Personalization is already a norm but it will become even more important in the future. Not just the first names will be personalized, everything will be: types of content to share, job roles of the recipients, content personalized to the customer journey, etc.
The impact of  Marketing automation in the nearby future is huge for businesses of all scales.
1. Entire lifecycle: Marketing automation won't be just used for lead generation, it will be used to cover the entire customer journey (Awareness- Curiosity – Consideration – Trial – Purchase – Loyalty – Referrals)
2. Omnichannel Customer Service: There will be an integration of technologies to offer outstanding customer service from different channels.
3. Faster and Better: Thanks to personalization and chatbots, customer service will be done in real-time. You won't need to wait 24 hours to receive a personalized answer.
4. Predictive Customer Service: With AI and machine learning, it will even be possible to anticipate issues and complaints and offer help, answers, or customer service before customers even ask for it.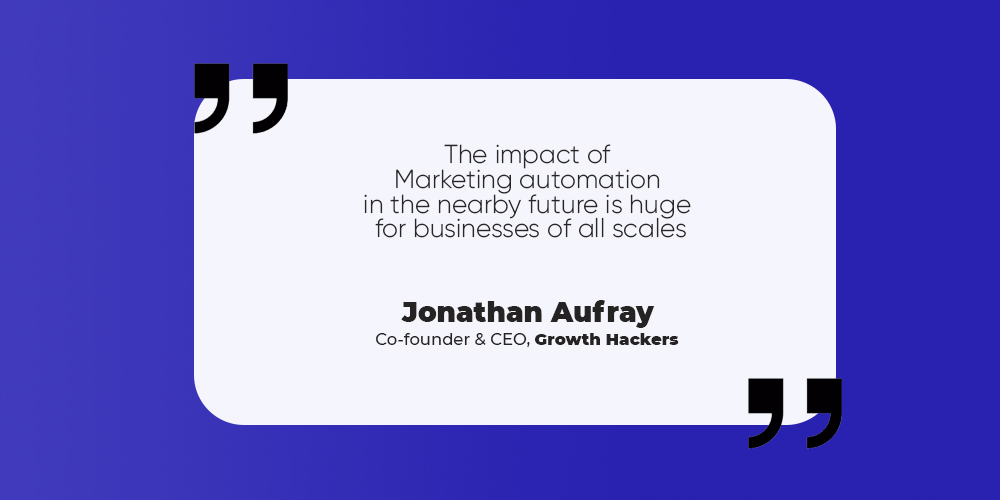 Jonathan Aufray, Co-founder & CEO, Growth Hackers
Conclusion:
Marketing automation technology helps teams refine their strategies by connecting the efforts across both the art and science of marketing. As a result, marketers are streamlining campaign execution with the ability to better target, engage, convert, and analyze the business in more meaningful ways, both qualitatively and quantitatively. Therefore, more and more businesses will adopt marketing automation to streamline their operations and increase the effectiveness of their marketing efforts and sales figures.
More from Cedcommerce: