Benefits of marketing automation for ecommerce businesses
Running short of time? Get PDF of the blog in your mail.

Play Now
Are you ready to take the marketing of your eCommerce business to the next level? Well then, marketing automation is the solution for you. Marketing automation for eCommerce business will help you in myriad ways. Let's find out.
When it comes to marketing your eCommerce business, the process can prove to be time taking and complex. In addition to losing time, you might still end up with not so satisfactory results. This is where you need marketing automation for eCommerce.
Businesses today are largely opting for marketing automation. Reason being its capability to help eCommerce business to grow. Marketing automation for eCommerce is not just restricted to usage by big business. It is now being deployed by both small and medium enterprises (SME's), Owing to the large availability of a large number of economical and powerful solutions.
Now with variety comes the need to identify what suits one's requirements. The variety of marketing tools available can make it even trickier for you to make a choice. But, the decision won't be difficult to make if you know well what your business needs are.
What is marketing automation?
Marketing automation is a tool that automates the marketing processes that are otherwise done manually. These are softwares that take care of business marketing needs. Marketing automation tools also help serve your sales objectives by driving sales and improving customer engagement. Following are the areas where a good marketing automation tool can help your business:
Helps in driving sales
Streamlines marketing processes
Creates automatic email campaigns
Simplifies lead generation process
Helps in nurturing customers and retaining them
Marketing automation in eCommerce businesses is becoming increasingly popular going by the Ultimate Marketing Automation usage statistic: An average of 51% of companies are currently using Marketing automation. A little over half of the B2B companies (58%) plan to opt for it in the near future.
Why marketing automation?
Well, before you plan to take a call let's see how can marketing automation for your business be beneficial.
1-Lead Nurturing
Lead nurturing is as much an important part of the sales cycle as is acquiring them in the first place. A new lead may not want to purchase products from your online marketplace immediately. It might require a certain level of nurturing to be able to make the purchase decision. In the absence of a marketing automation tool, your sales staff has to be present at all times to understand the needs of your potential customer. Here's where you'll need a marketing automation tool for your eCommerce business.
80% of users that opted for marketing automation saw an increase in the number of leads whereas a good 77% saw improved conversions.
The marketing tool will work towards creating personalised email campaigns for targeting customers to drive responses.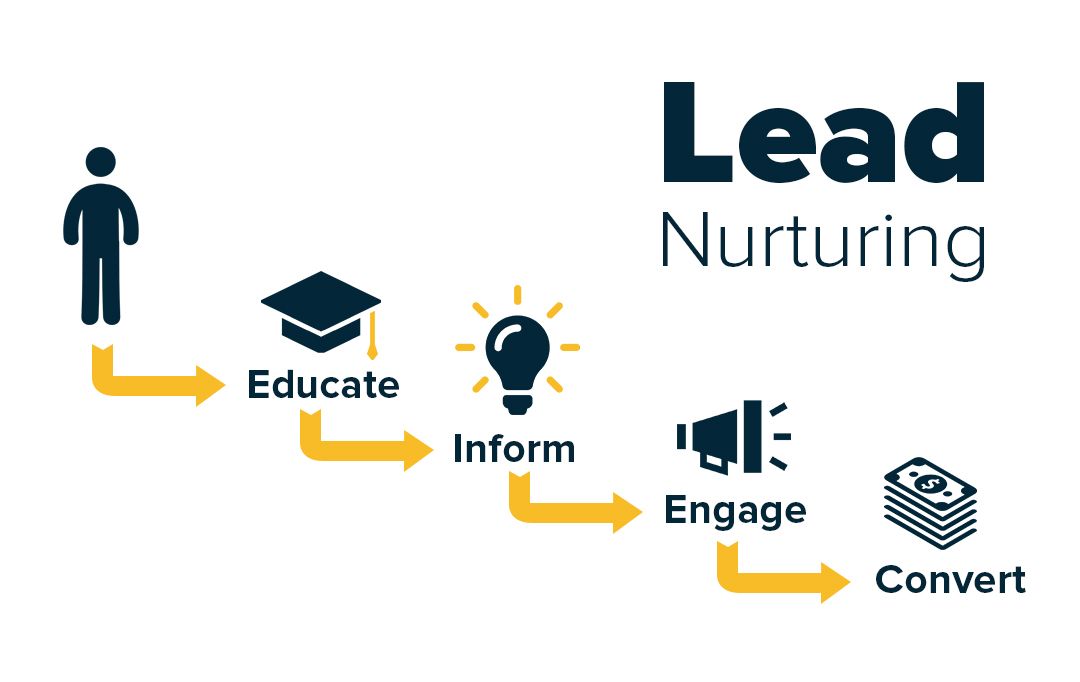 Source: Getgist.com
2-Personalised experiences
Almost all businesses want to build personalised experiences for their customers for better engagement. Presenting your branding content to customers in their unique style is not an easy thing to accomplish. Marketing automation for eCommerce helps you do that with a lot of ease. Personalisation helps with building better customer relationships and improves sales figures. All for the simple reason that personalised content establishes better connect and stands out from the usual run of the mill correspondence. Marketing automation tools for eCommerce help create personalised emails targeted to cover all sale touchpoints. Additionally, buyer's behaviour can be analysed to send across product recommendations which are tailor-made basis the customers' choice history.
3-Monitor sales across channels
Omnichannel marketing is lucrative for businesses. It is a well-known fact that a customer journey may begin on one channel, go through multiple others and end on another. Whatever the channel be, the experiences on all should have a common sentiment. The brand shall not lose its spirit on either of them. As attractive and profitable omnichannel marketing might sound, it becomes tricky to monitor all channels together. This is where marketing automation tools come in. Marketing automation for eCommerce allows you to create tailor-made customer experiences for all channel while they are still tied to the common brand strategy. With Omnichannel marketing automation the overheads to create such experiences is reduced and the process becomes easier for all touchpoints. With proper segmentation and detailed insights strategising for multiple channels becomes a not so difficult job.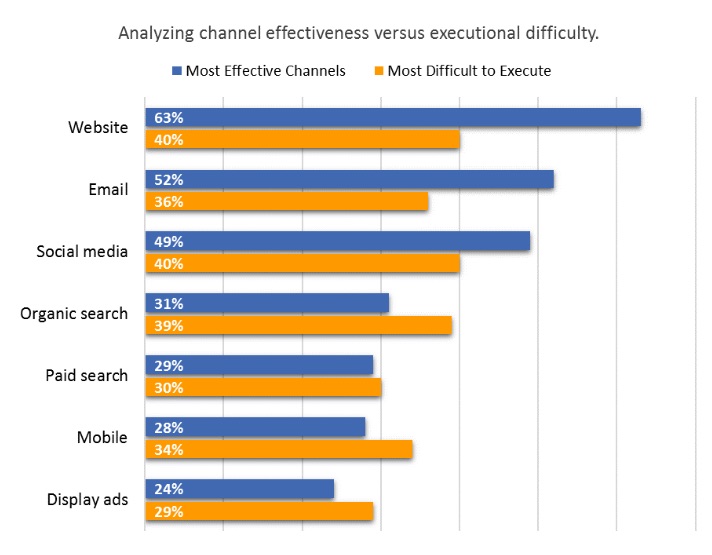 Source: learn.g2.com
4-Reduction in cart abandonment
According to Statista, in March of 2020, a huge 88.05% of online shopping carts were abandoned.
This is the revenue that a business has high chances of losing if proper measures are not taken. Cart abandonment might happen due to several reasons. Going by the high numbers of abandoned carts, the actual sales figures would have been high in its absence, or even if they can be recovered.
Source:FitSmallBusiness.com
Marketing automation for online businesses can help recover the lost revenue due to abandoned carts. Marketing automation tools enable you to send automated cart reminder emails to customers. This saves a lot of time and also helps generate sales. Carefully crafted cart abandonment emails addressing the possible reason and has high chances of getting your potential customer to convert. These cart recovery emails should be well spaced out so as to not appear as spam, but also keep in mind that the customer can be forgetful owing to the huge number of distractions when working online. 3 hours, 6 hours and 12 hours after the abandonment are the ideal times to send out reminders. Email marketing automation workflows are very important when trying to recover the lost revenue.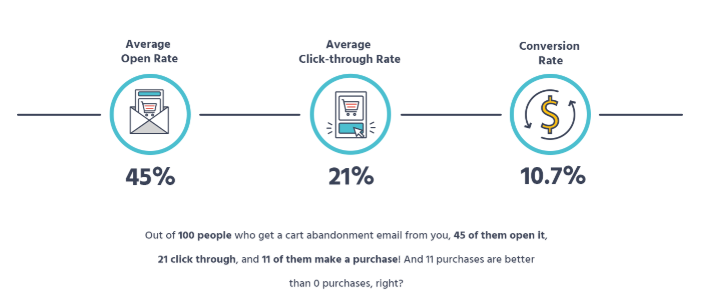 Source: activecampaign.com
As per data, 45% of people receiving abandoned cart reminder emails end up opening them. A little reminder can push your customer to take action and complete the purchase. Motivating a customer to make a purchase by creating a sense of urgency has proven to be successful in lots of lost sales situations.
5-Work towards customer retention
Customer retention strategy is the secret ingredient to making your eCommerce platform a success. Acquiring new customers often become such a priority that eCommerce businesses tend to not focus on the continuous leak out of the old ones. However, data proves that retaining old customers not just requires fewer efforts but is also less expensive than acquiring new ones.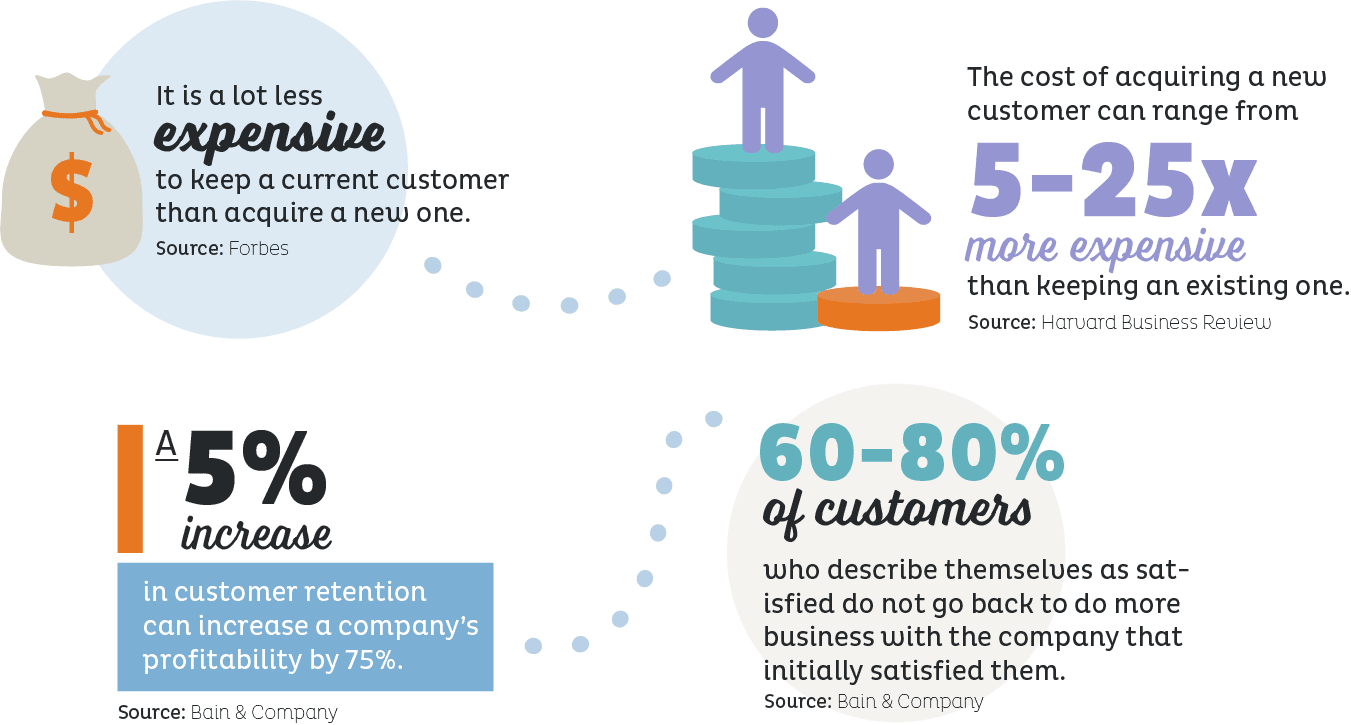 Source: ocreativedesign.com
Final Thoughts-Which marketing automation tool you should use?
As we've come to the conclusion that marketing automation tools open a pandora's box of opportunities for eCommerce businesses, it's best to not wait and lose out. However, as a first step to choosing the right marketing automation tool for your online business, you must understand the specific requirements of your venture. Understand the processes that you will need to automate and to what extent. One done, the right marketing automation tool will not be difficult to pick. The world of online marketing automation is constantly evolving for the better. In order to stay ahead of your competition, you must deploy the best tools and drive increased sales.
We are now Hubspot Certified App Partners committed to delivering top-notch solutions that help you connect, expand and scale at lightning speed.