How to create a Marketing Campaign for Holidays
Running short of time? Get PDF of the blog in your mail.

Play Now
The nature to fight adverse circumstances and stand against the odd makes Humans a unique species. Covid harmed almost every field and business. But, companies fought their way back through various means such as digital marketing, marketing automation, customer relationship management, and many more business tactics. Since the festive season is around the corner, businesses will have the busiest time of the year. This useful article will discuss the best practices and tips for designing a Marketing Campaign for the festive season for companies to attract more customers and achieve sales figures.
Relation between Businesses and Festival season
For many Online businesses and the eCommerce industry, the festive season (Christmas followed by New Year) is the busiest time of the year. The " brick and mortar stores" are being opened, and competition is increasing day by day. Hence, coping with competition, attracting new leads, and converting them into paying customers becomes crucial.
From updating the Landing pages to offering coupons, multiple things can be done to create a positive impact. COVID is still at large! but businesses around the globe are expanding, and hence challenges are also increasing. Therefore, marketers are gearing up to end the year strong. Finding new ways to target customers and boost sales figures task seems endless. The holiday season formally begins with Christmas and New Year. Hence, it's never too late to start an effective campaign.
Suppose you have not started your holiday marketing campaign. Don't panic; we are here to guide you through the best practices for devising an efficient marketing campaign in the least time.
We have mapped out a comprehensive guide with essential tools and tactics to help your business grow in this holiday season. Here are some of the ideas you should surely try
What makes a profitable Marketing Strategy
Planning a successful campaign at any time of the year is a hectic task. Hence, sticking to the basics of marketing with the use of advanced tools can make your task easy and efficient.
Analyze your old marketing campaign
Learning from your old mistakes will open the doors for future success. Sellers can look back at the statics for better understanding, and if you dont know how to get the reports, you can use HubSpot as a reporting tool. In addition, analyzing your previous data will help you to avoid similar mistakes and save time.
Use of reporting tools will fetch your details such as gender of customers, leads, demographic, area of interest, spending.
Design a theme for your Campaign
Creating a campaign does not mean making fancy images and offering coupons that are not useful. Therefore, aligning marketing channels around goals and sales should be the sole motive. Since holiday campaigns run for a limited period of time, the theme should attract new customers and provide convenience so that visitors can easily purchase stuff. Using HubSpot's predefined templates and eye-catching design will directly or indirectly boost your sales.
Identify marketing strategies that fit your business goal
No holiday campaigns are similar to each other. In order to get ahead of your competitors, dont mirror their strategies. The success of marketing campaigns in the holiday season lies in understanding your target customers.
For example, if your target customers are young, then effectively use social channels to drive more traffic towards your webstore. If your business has brick and motor location, use should think about gift ideas at the time of delivery.
Know your KPI's
While designing your marketing campaign, you have to define your business KPI's in terms of achieving sales and revenue targets. Determine the customer engagement tools, business processes, and communication channels to communicate with your customers will help your business grow. HubSpot Tools provide templates for follow-up emails and businesses processes that are fast and efficient and can be used in the festival seasons.
Abandoned cart recovery, data syncing in real-time, etc. are some of the features of HubSpot Integration tolls that help your festive marketing campaign work efficiently and seamlessly.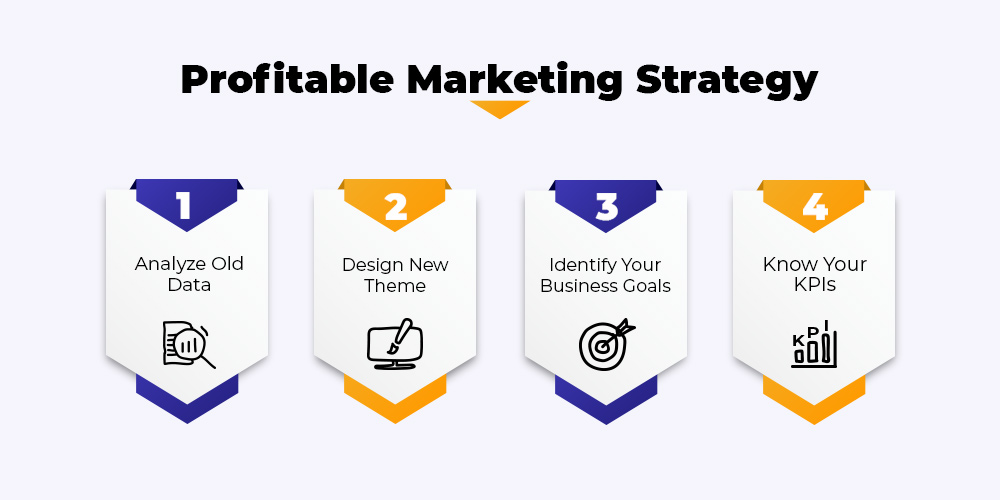 Personalize your website
Get that personalized touch for your website and make visitors feel connected with your products and services. With the state of art designing, marketing tools, and services, you can attract more customers and can convenience them to buy more. Revamp your home page to show that your business is prepared for the holiday season and give customers a better user experience by making your website fast and reliable. Small things that you can add to your website are
Use Of Festive CTAs
(Call to action) so that users can quickly go to the desired product pages and checkout pages in the least time. Festive CTAs are a great way to get your visitors into a shopping mood. In addition, use the right color and design that matches the festival vibes. For example, use CTAs such as (Click here for latest offers, Feel free to contact, Know what's there for you)
Clear Message
The content of your website should be crystal clear and positively attract visitors. The message should convey that ultimately, customers will benefit from the festival season sales and your product.
Personalize Greetings for registered visitors
Visitors always feel connected when personalization is done means when returning visitors see his/their name on the greeting card they connect with the website instantly. So, you can include personalization to make visitors stay on your website. This tactic will surely increase your sales number. Although, you can use a live chat system or Chatbots to engage more customers in real-time because people want instant replies.
Pop-Up and banner
A banner containing sales information, offers, coupons, and how customers will get the best product at the least cost. Moreover, Pop-up and banners instantly attract visitors, which helps them make quick decisions.
Optimize page
It is seen that a slow loading page will result in an increased Bounce rate. For example, 3 seconds is an ideal time for page loading. However, slow-loading pages result in a loss in sales, and revenue will impact your festive season campaign of Christmas and New Year.
Use proper keywords
The use of proper and well-researched keywords on the home page, product pages, services, or blogs, youtube descriptions will increase your website traffic and video engagement in many possible ways. It will also attract leads interested in your products and services.
Give some privileges to your existing customers.
Giving early access to registered users and customers gives them a sense of pride. This method will also encourage new visitors to enroll themselves in services offered by your business. Furthermore, it gives a sense of privilege to visitors and registered users.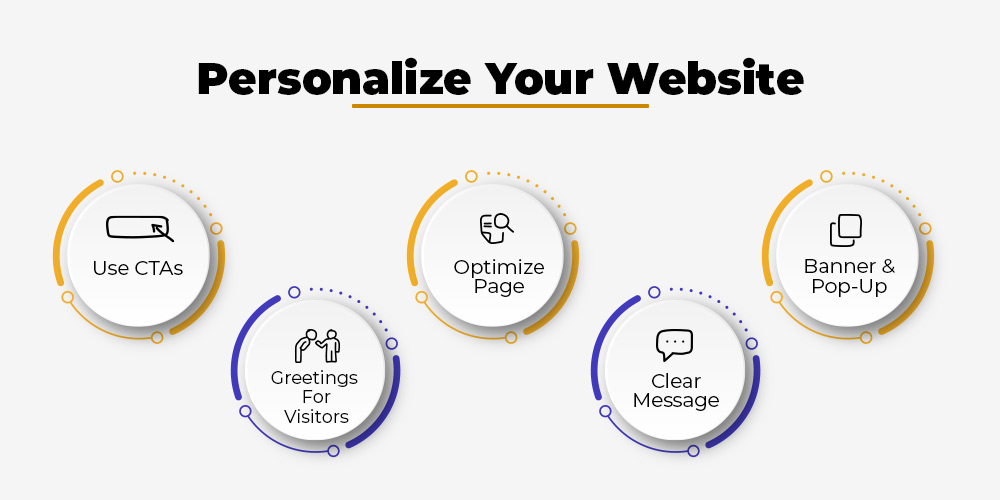 How to effectively manage tasks and make marketing campaign success
Maybe the points explained above seem to be easy, but I believe, its requires expertise and excellent knowledge of business and domain. Managing different processes and attending to customers simultaneously is not an easy task for businesses. Hence, here comes HubSpot Integration solutions and HubSpot Onboarding services that will take care of everything from scratch. Below are some of the prominent advantages of using these solutions and services.
Lead generation: HubSpot solutions help in acquiring genuine and authentic leads that are willing to enquire and purchase products and services offered by your business. They sort out the list based on predefined criteria set by the sellers.
Recover abandoned carts: One of the most critical steps to take your sales figure to the next level is to recover abandoned carts. HubSpot Integration solution and Onboarding services will help your business with this also.
Insights that are useful: Creating and generating valuable insights is very crucial and HubSpot will assist you in that. In addition, insights obtained will be used to create marketing campaigns and devise various strategies to uplift your business standards and overall exposure.
Customer Relationship Management: HubSpot itself is incredible when it comes to sales marketing and inbound marketing. HubSpot can help you keep track of the sales pipeline in real-time, sync customer data, and create a contact list based on their interest and behavior.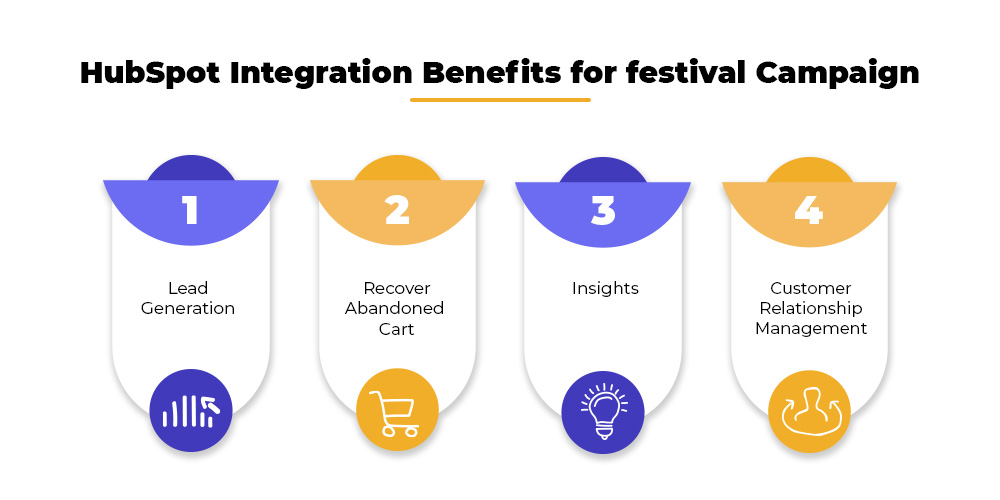 HubSpot Integration perks
Integrates store data with the Hubspot database seamlessly.
A dashboard that gives a clear view of synced data, error logs, support to assist your business at every step. In addition, it will help you to stay organized, track and manage details, and organize your sales.
Recovery of the abandoned cart through the automated console.
Helps sellers in pitching Cross and Upselling.
Wrap Up
The festive season is the best time of the year to connect with people around the globe through an emotional bond and convert them into paying customers. By segmenting your customers based on their behavior and interest, you can make the best out of your marketing campaign using the HubSpot Integration solution. Moreover, CedCommerce being a preferred partner of HubSpot, the decision to purchase the right integration solution from the right company becomes very easy. With HubSpot integration Get the personalized experience for your customers, make the Campaign sharable, offer deals across the channel, and achieve success.