Best SEO Practices: 2021 Guide To Successfully Grow Your Business
Running short of time? Get PDF of the blog in your mail.

Play Now
Let's put it straight and simple: Having a website for your business is not enough! You need to be equipped with the best SEO practices to grow your business and sustain yourself in the hyper-competitive market.
You have put in a lot of capital, time, and energy into your business, and you would want to make your products or services sell like hotcakes. Search Engine Optimization and lead generation are undoubtedly the essential elements while creating an efficient marketing strategy.
However, before delving deep, let us first understand what exactly SEO means.
What is SEO?
To put it simply, SEO stands for the practice of increasing the quantity and quality of traffic on your website through various methods. Let's break down the definition into parts:
Quality of traffic:
You get the desired quality traffic when the search engine decides that your website is a valuable resource for a particular category of information and can be trusted.
Quantity of traffic:
Once you have developed an authority over your website and start delivering content that is fuelled with authenticity and valuable information with the right SEO practices, you will witness a surge in traffic.
Organic results:
SERPs have a portion dedicated to the advertisements or for businesses that pay to keep their pages on top. With SEO, you can grow your business organically.
But how does the search engine know what website to rank on the top? What information will be more resourceful? How does SEO work? If you are new in the business and all these questions trouble you, don't worry. We got you covered.
Here is the Search Engine Optimization basic guide to start with.
Best SEO Practices To Grow Your Business
A study by HubSpot suggests that around 75% of the users do not go past the first page of search results, which makes it the most critical reason to get your business ranked through various SEO practices.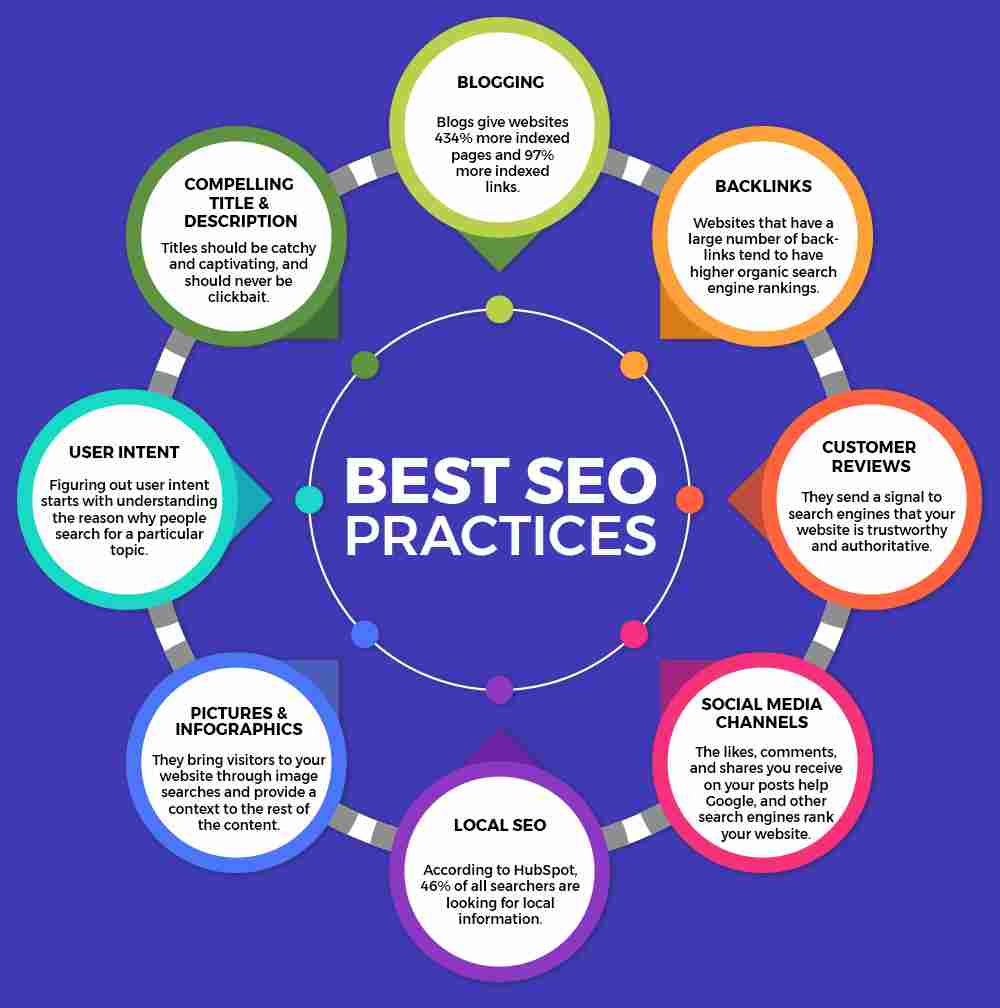 Here are the best SEO practices to rank your website and grow your business:
Blogging:
We have said it before, and we'll repeat it! Content is the king. Research done by ContentPlus indicated that blogs give websites 434% more indexed pages and 97% more indexed links. The more your pages and links are indexed, the more likely it is to translate into higher rankings and, eventually, more increased traffic.
HubSpot also reported that 80% of the decision-makers or consumers prefer to get company information through a series of articles rather than relying on advertisements.
The users don't want the products to be sold to them. Instead, they want to be educated with well-rounded articles that will help them make well-informed decisions.
Google is consistently looking for fresh content, and serving the search engine often with new and fresh content will build a domain authority around your website. The more you blog, the more you will climb up the ladder of SERPs.
Compelling Title & Description
Your page title and meta description are the first things that a reader notices while looking for information on SERP. Google says that titles are critical to giving users a quick insight into the content and its relevance to the query.
Apart from being compelling, the title should make sure that it includes the focus keyword. Meta Title should be of 60 characters, this is the length of the full title that Google will display. While the titles should be catchy and captivating, they should never be clickbait.
Providing clickbait titles and false information will increase your bounce rate and decrease your website's domain authority.
Meta descriptions, on the other hand, should preferably be of 160 characters. It is also advisable to include your focus or target keyword in the meta description since it helps improve the ranking of your web page ranking or website.
Ensure that your description provides a brief insight into your article so the users know what to expect while coming to your webpage.
User Intent
Search intent or user intent is the goal or intention that a user has while typing a query in the search engine. Figuring out user intent starts with understanding the reason why people search for a particular topic.
As much as we love to write about our puppies or the recent adventure we've been through, there needs to be a method to your madness. The intent with which you are creating your content needs to be aligned with the user's needs.
Here are a few questions to ask before covering a topic:
What is currently trending?
Is there anything relevant or newsworthy happening in your industry?
What time of the year is it, or are there any holidays nearby?
What topics are your competitors covering?
Is there a solution to your customer's query?
Search engines consistently work upon finding out user intent and improving the semantic search instead of focusing on individual keywords to easily recognize the search query context.
Here are the three types of search intent:
Informational:
A search intent is informational when a user is looking for detailed information. For example, if the user searches for 'What day is Christmas?', it would fall under informational intent.
Navigational:
Search intent is navigational when a user is looking for a specific website. For example, 'Facebook Login'.
Commercial:
Search intent is commercial when a user is looking to buy a product or is in the process of making up his mind for purchase.
So, if you want to involve best SEO practices into your business, start with figuring the user intent and then drive them into potential customers.
Pictures and Infographics
Images and infographics, undoubtedly, have to be the most underappreciated assets of a website. If used strategically, they can improve SERP rankings. They bring visitors to your website through image searches and provide a context to the rest of the content.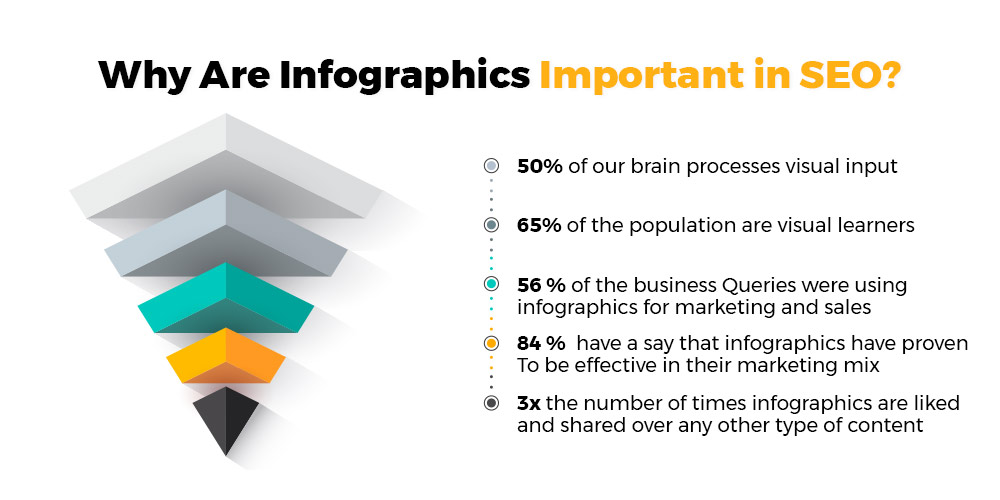 One cannot preach about the best SEO practices without involving images and infographics.
Here are a few things to keep in mind while crafting your visual content:
Use a relevant image for your content.
Images are displayed to add value. Make sure to provide all the context.
To be on a good term with your search engine, alt text is an absolute must.
Compress your images, so your page loads faster.
Understand user intent before creating infographics.
The caption should be meaningful and well-thought.
Local SEO
If you want to grow your business on a regional scale instead of natural, you need to optimize your web page for a specific location.
For example, when you search for the best salon in your area, the local SEO comes into play. This focused SEO strategy brings traffic, lead, and conversions and helps you compete more effectively against national or international brands.
By fixating on local SEO, your brand can neutralize the advantage of more prominent brands that rely on brand recognition instead of value proposition and have unlimited resources to spare.
According to HubSpot, 46% of all searchers are looking for local information. Optimizing your website for a local audience is one of the best SEO practices to incorporate. Without it, you would be losing out on a significant amount of traffic.
During the pandemic, the game of Local SEO got even more relevant and more vital since everyone went online seeking products and services. Here are some of the Local SEO strategies:
Create a Google My Business account and provide accurate and up-to-date information.
Send a personalized text or email asking your happy customers to post a review. Reviews are a crucial tool for Local SEO.
Optimize for voice searches. Nobody wants to type anymore when they can speak directly to their device. People use long-tail keywords while going with voice searches. Adjust the tone of your content to be more conversational.
Create content that speaks and relates directly to your local issues to grab the user's attention.
Your website should be optimized for mobile devices since people don't use desktops any more to seek information.
Use a location-specific 'About Us page with your store hours, name and address, testimonials, and promotions.
Social Media Channels
Social media does not directly contribute to SEO rankings but plays a crucial role in increasing brand exposure. They influence search engine optimization in few ways:
Content distribution
Improves online visibility
Increase brand recognition
Boost local SEO
Longer lifespan of posts.
The likes, comments, and shares you receive on your posts help Google, and other search engines rank your website. Social media has more of an indirect impact on SEO rather than affecting it directly.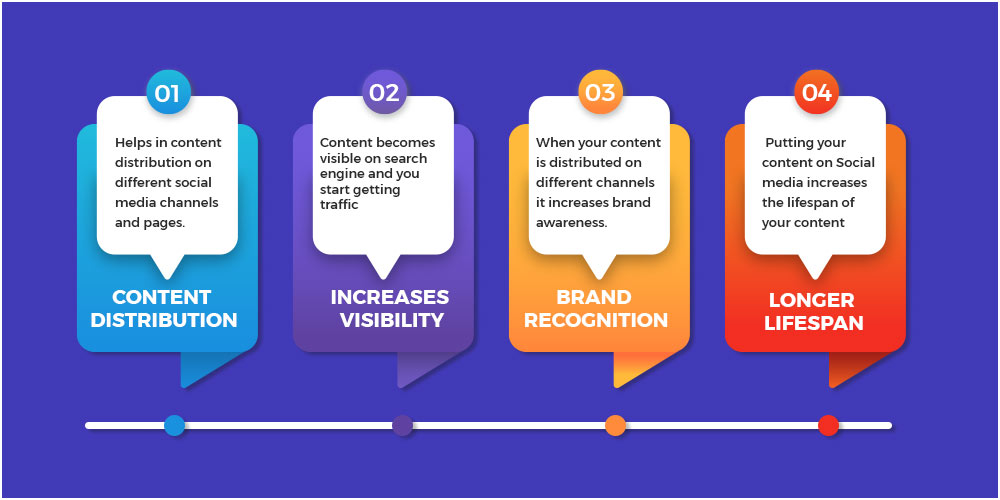 We are known more by how we carry ourselves on social media than what most people see of us. The same goes for the brands. It is essential to create a social media presence through various channels such as Twitter, Instagram, and Facebook to know our products and services better.
Here's how to get more social signals:
Create valuable and share-worthy content.
Add a share button to your posts.
Engage the audience by communicating with them.
Encourage more people to like and review your content.
Host social media content to get more shares.
Try to link yourself with social media influencers.
Managing Customer Reviews
Count customer reviews into your list of best SEO practices or strategies. They send a signal to search engines that your website is trustworthy and authoritative. The catch being, the reviews should mostly be positive. Of course!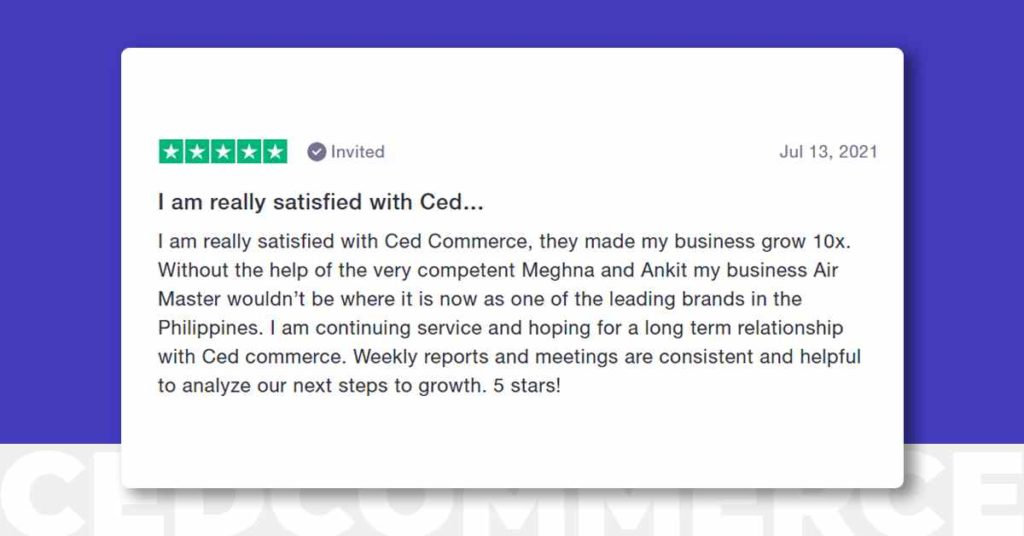 Here are the few basics to understand when managing customer reviews for your business:
The first step towards building a relationship with customers and getting reviews for your products or services is to deliver valuables. No one will spare their precious time reviewing you if what is offered to them is not of any value to them.
A great way to get reviews from dormant customers is by asking for reviews from them. Make it easy and convenient for the user to leave a review.
Whether negative or positive, every customer who leaves feedback takes out time to acknowledge and respond. When you reply to each review, you send out a message that you care about their opinion.
>Reviews and ratings give you an edge over your competition and boost your SEO by showing the search giant that your services are reliable and trustworthy.
Backlinks
Backlinks, also known as inbound links, connect one website to the other through links. Websites that have a large number of backlinks tend to have higher organic search engine rankings.
Backlinks are a sort of voting system which tells the search engine that this particular website is valuable and credible. Google has confirmed that backlinks remain one of their three best SEO practices to rank on search engines.
It would be best to focus on getting authoritative backlinks rather than linking your page to an unrelated and weak domain. For example, if you write about 'how to make luxury soaps at home' and you try to get backlinks from a tech website, Google would probably count it as spam.
Guest Postings, getting blogger reviews, and competitor research are some of the best ways to build backlinks around your website and make it rank on the top.
Conclusion
I hope you find these SEO practices helpful. If you follow these steps religiously, you will see a surge in the traffic to your website, and your business will snowball drastically.
Before calling it off, here are a few final SEO tips that will help you reach your desired goals.
If your post is no longer relevant to the users, work upon updating that page rather than leaving it as it is. You can also 301 redirect it to a fresh piece of content.
Create content that focuses on long-tail keywords, for example, 'what are the best seo practices?' rather than 'SEO'.
Keep quality over quantity, and you will see word-of-mouth spreading.
Moreover, if you need any help with your SEO or any other digital marketing techniques, you can always reach out to us at CedCommerce.