Etsy Empowers Women Entrepreneur For Outstanding Performance
Running short of time? Get PDF of the blog in your mail.

Play Now
Etsy is the must-go marketplace for a wide variety of handcrafted goods and vintage items that can be delivered globally. Today, it has emerged as a highly profitable platform for women seeking to start online businesses owing to its ease of use.
As a result, 2 million plus women entrepreneurs worldwide had their dreams accomplished.
Not a small number to ignore. What makes Etsy such a conducive platform for women entrepreneurs?
Women love the degree of control given to them by Etsy over pricing, products, and customer service as a seller. The platform equipped sellers with marketing tools and online store analytics to ensure selling on Etsy becomes profitable.
How Etsy Emerged As a Wonderful Platform For Women Entrepreneurs
Candice Leuter is a mom and Etsy seller who relied on her Etsy store (shopcandiceluter) after losing her full-time job. Today, she's a successful entrepreneur with a team of her own.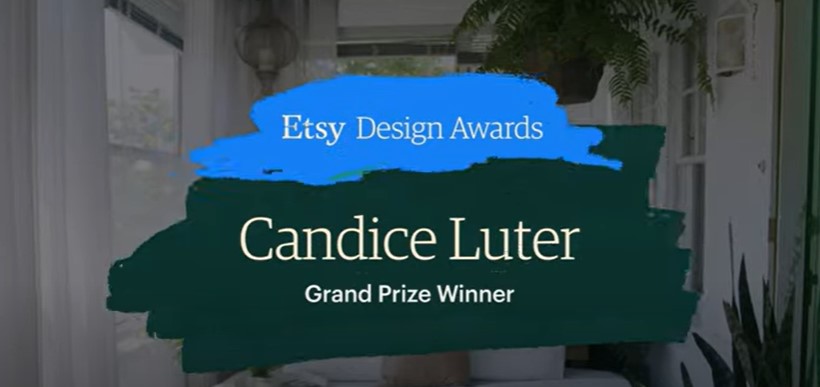 Image credit: youtube.com/@Etsy
Caster Pettway considers her Etsy store (QuiltsByCaster) as the source behind personal Joy. Etsy allows her to be part of the creative economy which is unique and remarkable.
Ellie Grin is a Russian lawyer and owner of the Etsy store EllieGrinArt. She preferred Etsy over her job, allowing her to pursue her hobby as her business. She is super impressed with Etsy user-friendliness and happy to know being tech-savvy is not a prerequisite to being a successful Etsy seller.
WontonInAMillion store owner Cynthia Koo love making adorable stickers, bags, cards, and similar stuff. She immensely thanks the Etsy forum and experienced Etsy sellers for much-needed awareness to make her products stand out among thousands of other sellers.
Why Aspiring Women Should Consider To Sell on Etsy
Etsy has encouraged women to become entrepreneurs by addressing the issues that have always been considered as significant hurdles.
Procuring huge capital for business
The negligible amount of education and awareness
Lack of desire
Etsy enables a low-barrier entry point to kickstart selling handmade craft and vintage products on its platform. Therefore, business on Etsy is not capital intensive, and technical know-how is also not mandatory.
Hence, many aspiring sellers (primarily women) could start businesses that would have never started.
The statistics favor a similar story.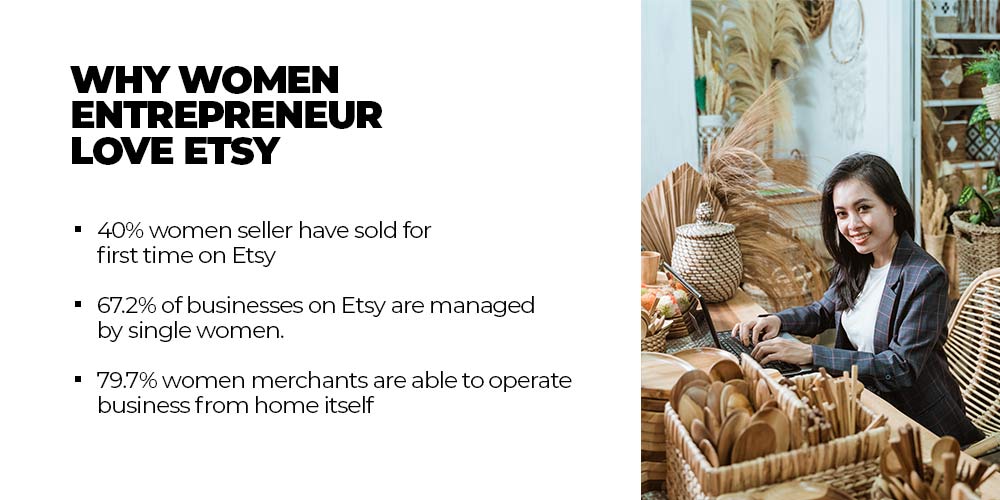 The aforementioned numbers justify that selling on Etsy is comparatively easy for women. Hence, Etsy has a maximum number of successful women entrepreneurs.
Women representation on Etsy is 83%, which is 2X more than the average 35% of business owners being women.
Etsy primarily deals in handicraft items, and women are fantastic artists capable of making handcrafted goods in very little time. Hence, while kids are in school, women can sell things like greeting cards, beads, wall decor, keychains, mugs, etc., on Etsy.
A low startup fee of 20¢ is required to open an Etsy shop. Therefore, it makes it possible for every woman who wants to run a business to kickstart selling on Etsy without financial stress. Moreover, it eliminates the need to opt for a loan.
The admiration women get from peers and friends for creative work is more satisfying than the perks of a full-time job. Therefore selling on Etsy is a preferred choice for passionate women.
How Do Women Entrepreneurs Feel About Selling on Etsy
Women find it easy to balance domestic chores, careers, and childcare.
84% of Etsy stores are run by a single person, and 95% of sellers successfully operate a business from home. Selling on Etsy is very easy.
Etsy is an apt platform to display their creative skills, and that is a constant motivation.
Seller age is not a barrier on Etsy, with 44 being the average age.
The earning from Etsy is sufficient to pay for the basic necessities of life.
7 out of 10 Etsy sellers believe their income has been steady since the pandemic. Moreover, sales have increased by 23% in the last two years.
Etsy's popularity among women is rising because, unlike other jobs, Running Etsy stores allows women sellers to carry out business from home. Hence, childcare is not a challenging job.
Challenge Faced by Women Entrepreneurs
Being a Woman entrepreneur is no child's play. They face loads of challenges before starting a business and during it.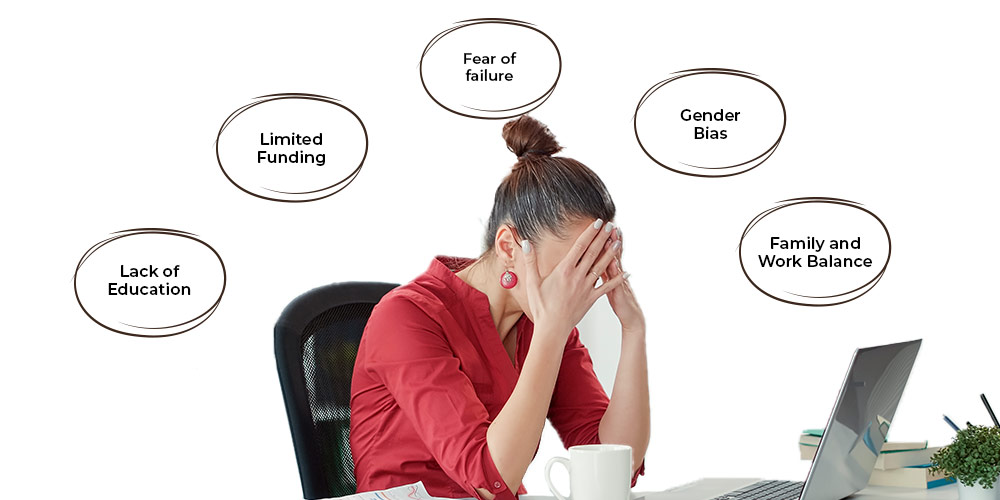 Fear of Failure – Failure is inevitable, but women face more criticism than men. The harsh and biased criticism is by people with limited perspectives. But, on the bright side, such feedback is irrelevant.
Limited Funding – Women usually have fewer opportunities to get financial support because they are denied loans due to a lack of collateral.
Gender Bias – One of the toughest challenges almost every woman entrepreneur goes through is gender stereotyping. One in every three businesswomen faces gender bias while procuring capital.
Family and Work Balance -Many women struggle to start an online business because they must look after their family members. Managing time becomes a hard nut to crack. After all, women are the best caretakers due to their empathy.
Lack of Education – The percentage of women's literacy is less than men's. Education lays the foundation for innovative ideas and finding the market gap to discover profitable business ideas.
Moreover, women are rarely encouraged to pursue their dreams.
Summing It Up – Gritty Women Achieve Greatness
Congratulations to all successful women entrepreneurs who braved the odds and stood the test of time to prove their mettle.
Sky's the limit for women who are resilient, inspired, thoughtful, tough, and have sharp business acumen. Etsy has created a conducive ecosystem for nurturing women entrepreneurs.
As a result, women with business aspirations have a fantastic e-commerce marketplace to become entrepreneurs without hurdles.